In today's hectic life, you need to have someone to assist your business model to achieve additional revenue. The online food delivery business model helps to engage customers conveniently to increase revenue.
In this competitive world, customers are highly motivated to use online services. It offers ease and convenience. Therefore, an on-demand food delivery app provides additional value to your customers. This app helps efficiently to manage the peak business hours. Also, it prevents the painful experience of wasting time in a long queue.
Conveniently, the on-demand delivery model provides a hassle-free experience for the customers. Moreover, it makes them engaged by saving their time and effort.
Online Food Delivery Market Size And Share Report 2023
The global online food delivery market size was valued at USD 189.70 billion in 2021 and is expected to expand at a compound annual growth rate (CAGR) of 10.8% from 2022 to 2028
The platform to consumer delivery segment held the largest revenue share of over 60.0% in 2021.
Asia Pacific held the largest revenue share of over 35.0% in 2021 and is expected to register the highest CAGR from 2022 to 2028.
To reach success, it is vital to choose the right food delivery business model. However, a successful food delivery app development is not easy. This guide lets us know about the best online food delivery business models.
What Are The Benefits Of Making An Online Food Delivery App?
The food delivery app like Ubereats will help you to fuel your business and better reach out to your business on completion. To get the best output on your food delivery app, it should be developed by the best food delivery app development company. Here are some reasons why users are more interested to use a mobile app for ordering meals.
Decision Convenience
Convenience offers a better customer experience. Using the business model, the online food delivery app can achieve success. The primary objective is to keep the user's experience that helps to improve your business. Besides, users can easily view the ratings and reviews of any restaurant. They can decide where to order from. Thus, this makes choosing the best restaurant fast and easy.
Access Convenience
The mobile app is easily reachable and allows users to order food instantly. The dedicated app for the customers made it easy to access from anywhere. As a result, they get hot meals as fast as possible. Fast delivery options are available where the order can be tracked easily. Hence, many of them use food ordering apps.
Transaction Convenience
It is easy to pay where there are multiple payment options. The users can pay cash on delivery or with a card or digital wallets.
Benefit Convenience
It is convenient to order for teammates or family members from different restaurants at the same time and get it straight to your home or office. It makes it fast and easy to enjoy.
Post-Benefit Convenience
Once your order, you can save your address and payment details, so that you can re-order in seconds. It is a fast option to repurchase.
By adopting a full-cycle approach, the on-demand food industry & food delivery market has disrupted traditional markets. You can experience a meal at a restaurant by three basic components: ordering, cooking, and delivering.
Ordering
Once the customer orders, the restaurant makes sure to prepare and deliver food. All food-on-demand businesses connect the users via an app. Once the order is received they also need to check the order is for their own kitchen or another meal provider with who they partnered.
Cooking
Once the customer orders, the restaurant makes sure to prepare and deliver food. All food-on-demand businesses connect the users via an app. Once the order is received they also need to check the order is for their own kitchen or another meal provider with who they partnered.
Delivering
Once the customer orders, the restaurant makes sure to prepare and deliver food. All food-on-demand businesses connect the users via an app. Once the order is received they also need to check the order is for their own kitchen or another meal provider with who they partnered.
Pros And Cons Of Food Delivery Services
Pros of Delivery Business
Product Stickiness
Once customers become acquainted with a platform, they rarely switch to a new app.
Network Effects
Since product delivery platforms are, in a bigger sense, marketplaces that connect buyers with suppliers, they end up benefiting from network effects once sufficient scale is hit.
While networks are hard to build, they are even harder to replicate. This yields substantial benefits for those who can build a big enough business.
Supply Prioritization
As a food marketplace, your business can decide which restaurants and suppliers it would like to promote. This allows you to push products with higher margins and good customer ratings.
Pricing Monopoly
Next to prioritizing supply, food delivery businesses can also set prices and commission at will once they've hit sufficient scale.
No Legal Commitment to Drivers
While ethically questionable, drivers are generally not employed by food delivery businesses, but rather work on a contractual basis. This greatly minimizes operational costs as they only get paid when executing jobs.
Furthermore, there is no requirement to pay medical insurance or allow for paid vacation.
Cons of Delivery Business
High Operating Cost
DoorDash supposedly lost $400 million in 2019 while Postmates had to lay off dozens of employees and close some offices.
Those are just two examples of food delivery businesses that had to pay the price for their massive operating cost and thin margins. Companies that operate under the full-stack model suffer from this especially since everything is kept in-house.
Operational Complexity
Developing the app, finding suitable restaurants and drivers, equipping them with the necessary equipment, or optimizing delivery routes are just some of the many problems food delivery businesses have to invest in. Perfectively running such a business is not only extremely costly but a highly complex task involving many parts to be running perfectly.
Why Are Users More Inclined To Use A Mobile App?
Apart from the major factors like convenience, time-saving, and easy accessibility. Some factors ensure the importance of an application. Those are:
Types Of Food Delivery Business Model
Generally, in today's market, there are three types of food delivery services present. If you want to succeed follow the marketplace business model. Let us see these three models one by one.
The Order Only Model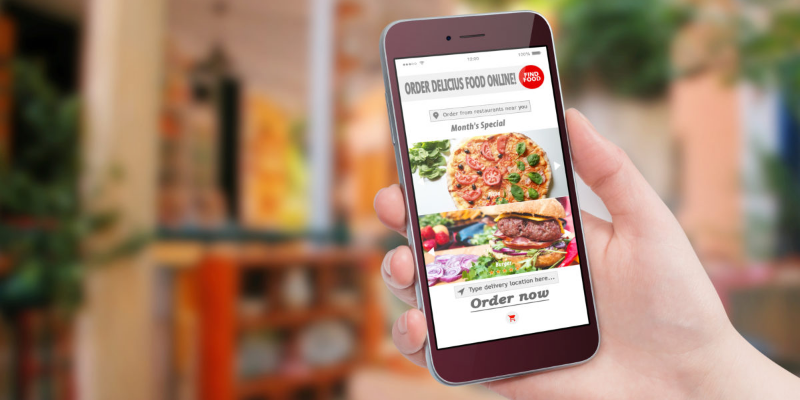 At first, this model was used by restaurant delivery services like JustEat, FoodPanda, and more. It is one of the impressive food delivery models. Between the users and the local restaurants, your online platform should act as a bridge.
By following this model you can allow the customers and restaurants to connect to place and deliver orders. By making use of the software you can bring a lot of new orders that integrate with the kitchen workflow. The goal of the good delivery business model is to reach out to the maximum number of customers.
This model, let users order their food conveniently from their favorite restaurant. This food app business model works in two-phase,
For Order allocation
The innovation of technology has made the companies easy to receive and communicate orders to restaurants conveniently. The process tends to work like this:
Consumers can place an order on the website anytime
Restaurants can receive the order through fax, email, etc.
Once the order is received, the restaurant notifies the customers by sending a message
Companies start sending orders into a Smartphone app or web app
In some cases, the companies print the order directly into the kitchen using the restaurant's POS system.
For Delivery
A restaurant employs the delivery boy
A restaurant delivery service employs the delivery boy to deliver the order to the customer's doorstep
Advantages
1. Firstly, in this type of business model, you don't have to face any issues that are related to food delivery.
2. Secondly, it's purely a software business. Hence, for every order placed you can charge a flat commission fee from the restaurants.
Challenges
At first, attracting customers to your platform is a challenging task but this delivery model has paved the way for your business opportunity. However, you need to do some research on what exactly you need to offer to the customers. Therefore, know that your success depends on the services that restaurants give to their customers.
The Order and Delivery Model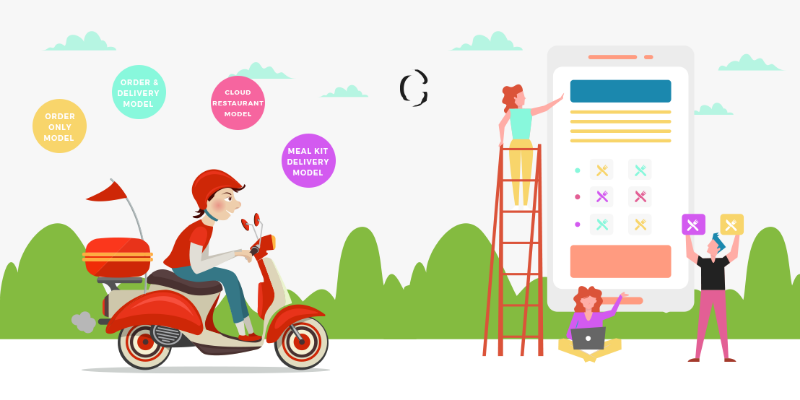 This model handles restaurants, customers, and delivery where it is one of the marketplace solutions that is used by businesses. With this type of food delivery apps, most of the eateries are engaged where they don't have to deal with the delivery thing.
For order allocations
The restaurant should register on your online platform
Using your platform customers can easily place an order from the restaurant
The restaurants receive an order through website or app notifications
As per the convenience, the customers can pay online or cash on delivery
For delivery
To deliver the order to the customer place, the nearest delivery boy receives the notification
A delivery fee is fixed based on the customer's distance
Customers can add instructions like place an order outside, don't ring the doorbell, and more
Advantages
This model's success highly relies upon the user's experience that they get from the restaurants and delivery boys. If the order is below a certain amount or far from the customer's delivery location, you can charge a flat commission to the restaurants on every order. Also, you can charge a delivery fee to the customers. By delivering quality food on time, you can get higher ratings of your food delivery business. As a result, you can achieve success.
Challenges
The challenge of this food delivery business model is to deliver the food on time where most customers expect on-time delivery. Therefore, you must improve the ways to deliver food on time. The other challenge is to manage all your business resources.
The Fully Integrated Model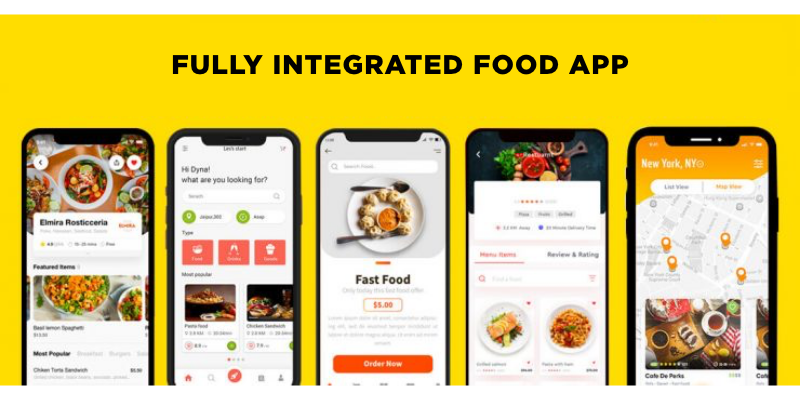 The third category of food delivery business has revolved around meal delivery startups. This model differs from the above two. If you like to start your own venture, this model completely integrates the process by limiting the number of meals and as fresh as possible within a stipulated time. This model serves only the particular area and the meal service usually partners with the chefs.
Scheduled Delivery
This model receives orders for a particular duration and delivery is scheduled later in the day. After the order is received, the food preparation starts. To avoid waste, this model accepts pre-orders, predicts demand accurately, and schedules delivery on time. The delivery man delivers the packed food instantly hot on time.
Allocation
Automatically the order is allocated to the nearest delivery boy
Automatically allocate the order to the delivery boy whose zone lies near the customer.
Delivery
The delivery is based on the first-come, first-serve basis
For customers who are near to the delivery boy's location, the delivery boy serves them first.
How Does An Online Food Delivery Application Work?

Sign Up
When a user opens your food ordering app on his/her mobile for the first time after downloading, a sign-up/sign-in page appears on the screen. Keep the process easy with third-party (Social media platforms and Google) integration.
Profile Page
Once the user signs in, he/she must be directed to the profile page. Here the user can add more details to his/her profile such as office address, number of employees, favorite food item, etc. Also, let the user save his/her bank details or other preferred payment methods.
Food Search/ Restaurant Locator Page
It is the very first thing that the user sees on his/her mobile screen after logging in to your food delivery mobile app. It has a search bar that allows the user to search for his favorite food or restaurant or both. Also, it displays "meal of the day" for breakfast, lunch, and dinner.
Easy Order Placement
After selecting their choice of food, make it easy for the user to order the food. Let them edit the order by adding or deleting food items before choosing the payment method and confirming the office address.
Multiple Payment Method
Ensure your users that the payment processing is secure and fast. Let your user leverage the facility of multiple payment methods via Paytm, Amazon Wallet, PayPal, Credit/Debit card, or Cash on delivery.
Real-Time Tracking
Send food order confirmation notification to the user. Also, provide details about the predicted arrival of the ordered food at his/her office. Real-time tracking keeps the user updated about the location of the delivery boy.
Communication Capabilities
There should be an easy way to communicate for users and the delivery team. The user can inquire about the food to be delivered and the delivery boy can contact the user when he arrives at the office address.
How To Make Money With Food Delivery Apps?
For those who want to start an online office food delivery platform, the margins on food are always a concern, which is why it is always advised to have multiple streams of revenue.
Moreover, the delivery charges should not make the value of the food rise to a level where the consumers do not consider it value for money.
One aspect that falls in favor of such a business idea is that you have to deliver all the orders in a single time. This reduces the delivery logistics as well as cost.
The following are the main revenue models that such a startup can incorporate:
Online Advertisements – Google AdSense can be one of the primary sources of generating revenue through advertisements.
Offline Advertisements – Advertisements can be displayed on the company's Food packages. In addition to this, more advertising can be made by sending printed pamphlets along with the meal.
Strategic Partnership – People willing to open a restaurant or small kitchen can sign up by paying a small fee to the platform.
Commission of Selling – Online office food delivery businesses can collaborate with restaurants on pre-decided commission rates based on the number of food orders.
Consider these reasons and develop food delivery app with the technology experts in your area. Also, choose the right business model and make the customers engage to reach success.
FAQ's Of Food Delivery App Development
If you want to develop your startup food or Any type of delivery business app then drop your mail id and contact details on the website contact us otherwise want to direct contact then send mail at info@echoinnovateit.com or call on +1 (386) 675-0158.
The cost of food delivery development varies depending on the size, complexity, nature, and characteristics of the project. Development costs to make a delivery app like DoorDash depends on the features and many-sided quality of the application. You can also use an app cost calculator to know the exact cost of the DoorDash app.