Innovation and learning go hand in hand. In this age of Innovation, many things are evolving, including education. As with many other industries, technology has infiltrated the educational system and altered traditional learning techniques. People's pocket-sized mobile phones are capable of performing additional functions. It is more practical and effective than the conventional technique. Not only have smartphones but also tablets revolutionized the platform for exchanging information. Today's pupils have a comprehensive grasp of their subject matter. E-learning mobile app development is resulting engaging and beneficial in attracting students to study in order to increase productivity. Android and iOS Mobile applications provide access to an endless amount of data and information. The educational system has been changed by this digital technology.
How Are Free Educational Apps Beneficial in the present day?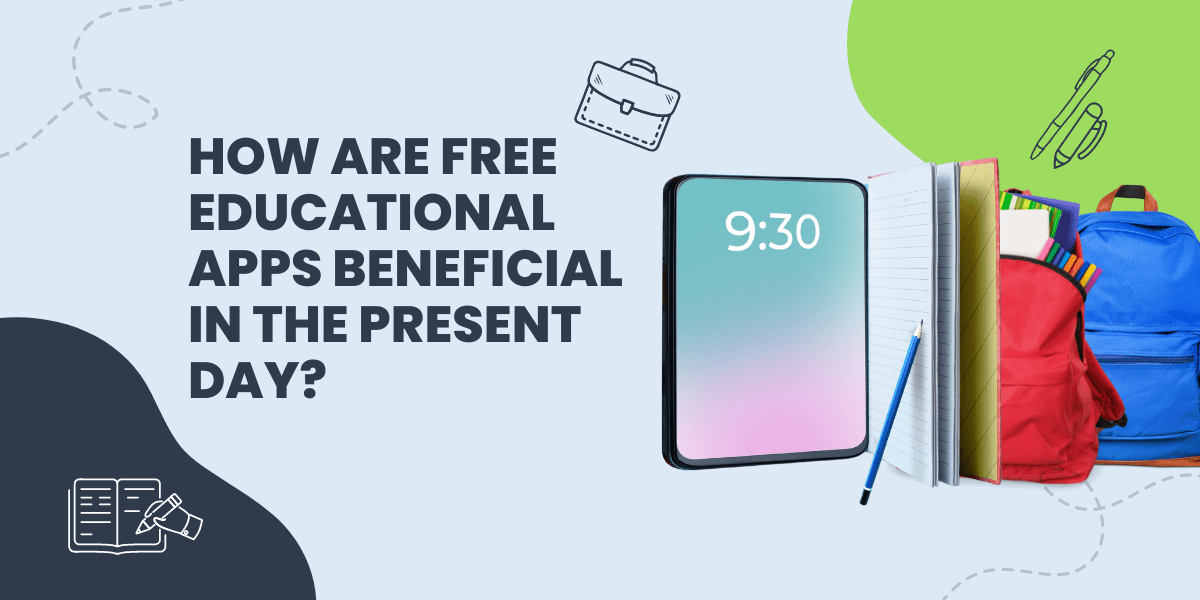 Apps for education may make many of your chores easier and save you a great deal of time. Visiting the library and picking books is no longer a problem for data collecting. Similarly, there is a digitization wave in education that is altering the trend in education. The increasing popularity of educational applications for kids is due to their unique ability to make learning enjoyable for pupils.
Let's examine the finest benefits of utilizing education apps and the significance of free educational applications for children in the modern day.
E-learning Mobile App Development Can Contribute to Enhanced Educational Achievement
Mobile education apps may enhance learning retention and, therefore, academic success. There is no educational hierarchy when it comes to app-based learning. Using mobile educational apps for kids may have access to any kind of material, even if it is not on their curriculum. If they choose, they may even learn from higher standards. In addition to classroom instruction, individuals may look for whatever kind of knowledge they choose. Students' informational appetites are being whetted through mobile learning applications.
Changing Educational Landscape
E-learning mobile app development has not only altered the method of information acquisition and retention, but also set a new benchmark against which future development will be assessed. The most effective educational applications will continue to be widely available to all users. Students may effortlessly monitor lectures and stay current with their curriculum with the app. Students are now able to conveniently obtain knowledge on a variety of disciplines through mobile applications, reducing their workload. If they are unable to comprehend it the first time, they may repeat the lesson.
Twenty or thirty students in a class makes it challenging for a teacher to know exactly where each student is in terms of having mastered all of the material. This, in turn, might cause students to lose interest in what they're being taught. In addition, it might be challenging for learners to keep up with the instructor's rapid pace. As a result, this is where education applications come in handy. The benefit of using apps for education is that it can be customized for each individual learner. Free educational apps for kids allow for personalization, rather than a one-size-fits-all approach that is less likely to be effective. When used properly, applications may help children get the individualized care they need.
Learning relies heavily on student participation and interaction. Students will need extra time to learn if they are not actively participating in class or reading assigned materials. As a result, it's more likely that students will engage with one another online, and listen to and value the points of view of their peers. Interpersonal skills are essential in the working world, and this helps students develop such abilities. Free educational apps for kids are often created with an intuitive UI and sleek style. Developers of these education apps make sure that users are not becoming bored. The aim is for children to learn independently, and entertaining apps for education may help them to achieve that.
E-learning Mobile App Development Can Enhance Cognition
Education apps directly address the psychology of students, allowing them to comprehend and retain material from a new viewpoint. Despite the importance of extracurricular activities for youngsters, apps for education may help foster intellectual curiosity and improve memory. By providing users with difficult assignments, riddles, and instructional games, the application helps their comprehension. The majority of pupils prefer the audio-visual method of instruction. This novelty in the cosmos of learning excites and motivates people to study. In general, mobile learning applications have shown potential for boosting student retention and, eventually, graduation rates.
Multimedia Capabilities Improve Understanding of Complex Subject Matter
The diversity of these educational applications is really astounding. Whatever topic you choose to study, whether it is a language, history, or mathematics, there are currently several applications accessible for you. The majority of educational applications are compatible with both smartphones and tablets. Teachers may also make video projects for their virtual classrooms using mobile learning applications. To make complex subject matter more accessible to students, professors may also create video series.
Enhancing Student Engagement Through Interactivity
E-learning mobile app development makes sure the apps are interactive and need considerable student participation, in contrast to traditional learning methodologies. This results in a learning experience that is less passive. Apps may assist students in gaining more from their classes by fostering more interactivity. Teachers will have additional opportunities to engage kids as more complex applications become available.
Environment-friendly education
In the 21st century, the globe is being swiftly consumed by climate change. There are a lot of factors contributing to this escalating climate change, such as industrialization and deforestation. Additionally, the extensive usage of paper is the leading source of deforestation. The usage of mobile applications in education, on the other hand, may reduce the need for hardcopy instructional materials, so conserving paper.
Free Educational Apps To try
Explore these free educational apps to try, offering a diverse range of knowledge-enhancing experiences. From interactive language learning to STEM challenges, discover innovative Educational App Ideas that cater to various interests and learning styles.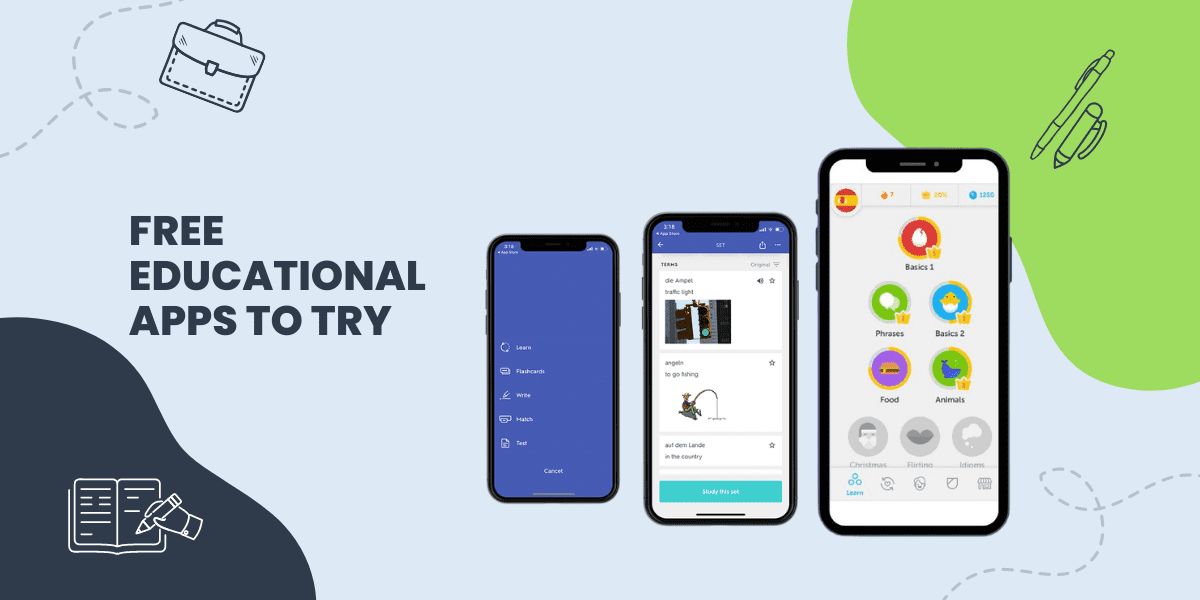 Teachers may find relevant material for their lessons from the millions of study sets available on Quizlet. You can find study packages produced by other instructors that cover precisely what pupils need to save time. With the Quizlet app, it is simple to locate materials for any topic and any grade level. Utilize engaging and interactive flashcards, games, and diagrams to review any topic with the free educational apps for kids.
Khan Academy consistently ranks first among the finest free educational applications for kids. The objective of the application is to deliver a free, world-class education to all inquisitive minds worldwide. We must confess that they are delivering it rather well. Creating an app like Khan Academy would really be beneficial for an edtech company.
Learning may take numerous forms and be accomplished via a variety of mediums. Scribd provides access to a vast library of audiobooks, periodicals, news stories, sheet music, and other published resources, allowing you to increase your knowledge in a variety of fields.
EdApp is a superior mobile learning management system created for modern digital habits, offering more interesting and effective micro-learning directly to learners whenever and wherever they are. It is an efficient, free educational app for kids that integrates scientifically supported cutting-edge features, such as microlearning and gamification.
E-learning mobile app development initiatives enhance retention rates among students and new workers by 25% to 60%. Over 45% of primary school kids utilize at least one digital learning tool daily.
E-learning is a rewarding experience due to the use of AI, data visualization, process and task automation, online evaluation, and flexible scheduling. It provides daily value to millions of students. Apps for education have the potential to change the paradigms of knowledge transmission. Exceptional instructors will have access to a worldwide platform, while poor trainers will be marginalized. Unlock the full potential of e-learning with white label app development for your education app.
If you want to make an app for education, you need to employ the finest education app development company like Echoinnovate IT, which has highly competent mobile app developers who can advance your app concepts.
What are education apps?
The term "education app" refers to a piece of mobile software meant to facilitate remote learning of any type.
How long does it take to build an education mobile app that is completely functional?
A simple version of a mobile app may take up to three months to design, but a complicated one can take over nine months.
How much does the development of a mobile application cost?
There is no straightforward response to this question. The cost of developing apps for education is purely determined by the complexity and number of features sought by the app owner.