Guide to Create an eLearning App Like Khan Academy
Guide to Create an eLearning App Like Khan Academy
The educational app development industry has had significant expansion, which is expected to continue into the foreseeable future. By the year 2020, almost 98% of small firms want to employ LMS in order to satisfy their mandatory training needs. According to the data collected, the bulk of money generated when you create an app like Khan Academy through in-app purchases made via 76% of all applications available through the Google Play Store in the United States.
Make an E-learning mobile app that is intended for children, but the advertisements might be directed at their parents if the app is designed in such a manner that it compels parents to monitor what their children are doing while they use it. Your app has the potential to be both lucrative and free if you work with a supplier of advertising services.
There is however a method that includes making purchases inside the application itself. You provide the fundamental features or the standard version of the app for free, but you charge a fee for the premium or deluxe services that are included inside the app. This requires the parents to pay a fee in order to unlock such features for their children. For instance, if your app is geared toward teaching children via songs that they can sing along to, you can consider charging a little price for additional song packs or visuals.
Strategy for Getting Profit from Educational Apps
Taking all of this into account, the alternative strategies for generating money are capable of producing cash just as well. The most essential point to emphasize is the fact that the app offers users something that justifies the cost of the purchase in some manner. If it is boring and lacks originality, the developer will be lost in the sea of applications that cannot be separated from one another, and the income will be a few issues too far to be important at that point.
Not only may these applications be used at home as a tool for unstructured learning, but they can also be employed as a part of the formal education system, where they can make it simpler for teachers to communicate with students.
Features of the educational app like Khan Academy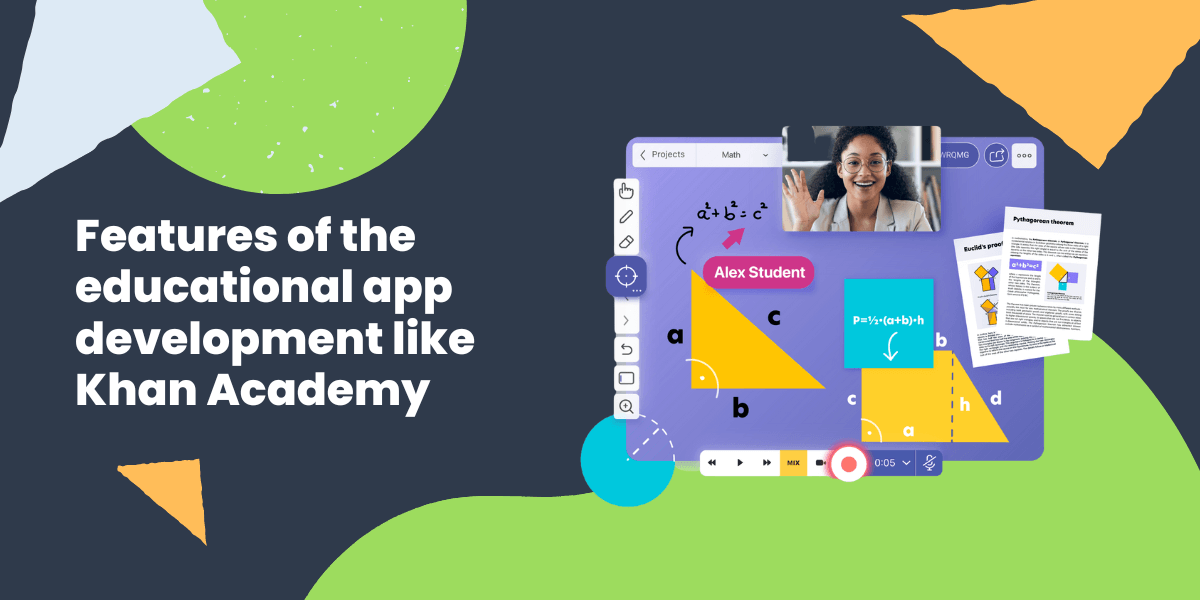 Students will engage the most when you create an app like Khan Academy. You must ensure that the UI is interesting without becoming distracting. The student panel application will have the features outlined below.
A virtual learning application's content distribution system is a vital aspect of the application. To offer content, apps contain a database that stores all information in a systematic way
Individuals are not required to view videos or listen to podcasts In order to engage in personalized learning, . The concept is that software may be used to adapt the learning experience to the way students think and learn.
The application leverages push notifications to increase student motivation and involvement with the learning process.
A superior online learning application should include examinations and quizzes. Teachers can determine if a student has grasped the material.
Teachers may employ in-application messaging to encourage students to continue their studies by sending them awards, reminders, and nudges.
Web-based education app development with social media integration makes learning more participatory.
If you are developing the best LMS platform, payment channels might be useful. You may use them to implement a paywall or in-app purchase fees.
The majority of remote learning applications allow users to download material. The "download" link next to each lesson is one option.
A web-based learning application for teachers should be intuitive and efficient. The interface, via which people interact, should be straightforward and attractive. To accomplish these objectives, designers may use several methods, such as deleting extraneous functionality and optimizing the interface's layout.
To enroll in a course, registration is required. After submitting your information, you will get an email confirmation.
This program offers to plan and teach live lessons, as well as publish video recordings of the sessions.
The capacity to answer students' questions is the most crucial function of an online teaching app for educators. It is wonderful that a course may be accessible from anywhere and at any time.
The application enables users to modify their profile, update their account details (telephone number and email address), and change their password.
As teachers design courses, they may also get comments without leaving the application. The instructor can use it to evaluate student performance and make adjustments to enhance the courses.
You may set an assignment and deadline as a teacher. Additionally, you may create a sequence of pieces.
The purpose to create an app like Khan Academy for instructors is to aid them in carrying out their daily responsibilities.
Their children's welfare is the responsibility of the parents. The app's features facilitate the user's comprehension of the child's behavior and habits, as well as their operation. Using this application, parents may track their children's academic progress. And they may see their children's activities on their cellphones and tablets.
The app's signup procedure is as straightforward as possible. The parent completes a brief registration form and then chooses one or more guardians to inform.
Guardians may use these applications to monitor their child's academic development. In addition, parents may monitor their child's activities and academic achievement.
The parent may examine each student's attendance information online.
A parent or Guardian may also access an individual student's assignments, examinations, and projects.
It allows parents to communicate with instructors, get answers to their queries, and engage in the learning process alongside their children.
Virtual applications for parents will not only make it simple to monitor your children's activities at school, but also enable you to see how they are doing in real time.
Alternatives of Khan Academy
Udemy is an e-learning application that provides courses in areas such as science and technology, designing, yoga cuisine, drawing, banking and marketing. It contains approximately 130,000 video lessons for 32,000 online courses. This application is popular among the studying population due to its distinctive features and straightforward layout.
Using this application, students may virtually visit Mcgill and MIT. One may utilize the Edx app to get a source of higher education that will aid him in his future endeavors. This software allows students to acquire a degree by participating in lectures, examinations, quizzes, and their own personal timetable. The disadvantage of this app is that some classes require really steep prices.
Skillshare is an online learning community in the United States. It was designed to learn their profession via instructional videos. The courses are available through subscription but are not accredited. All of Skillshare's courses emphasize interaction rather than lecture. They want their pupils to acquire knowledge by completing a certain assignment. Courses include design, entrepreneurship, creative arts, technology, and lifestyle.
Company's intention to be "courageous for you, the student" gave the term Udacity. Initially, it focused on giving university-style courses, now also offers vocational education to professionals.
Coursera is a hugely popular E-learning online service that has cooperated with museums, institutes, and colleges to provide students of all ages with free lessons on a large array of subjects. It offers over a thousand courses on diverse topics. A student seeking his education via Coursera may finish the course, take an exam, and get his education certification by passing the test.
Cost to create an app like Khan Academy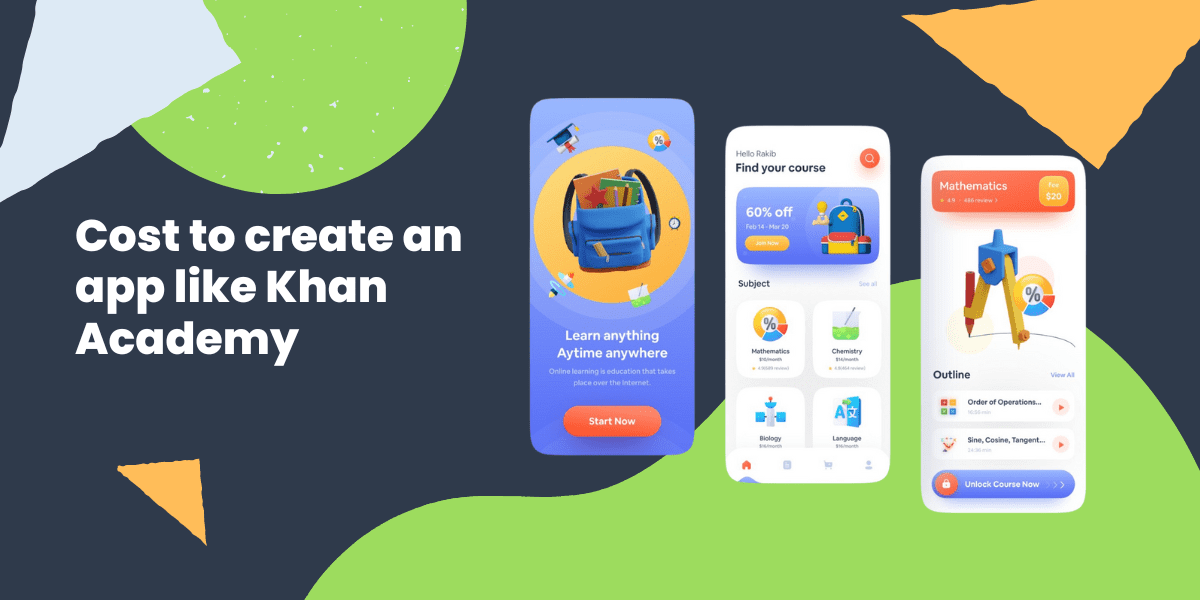 If you want to create an app like Khan Academy, it may be wise to begin by considering the learner's viewpoint. Consider what would be enjoyable for them. The app cost calculator for remote learning solutions relies on the parameters listed below.
The cost of producing an e-learning app will fluctuate based on whether it has basic or complex functionality.
The first question will be if it is an iOS or an android app development. An e-learning application built on a single iOS or Android platform will be less expensive than one with two or more platforms.
The development cost per hour for an app varies from country to region; for instance, in the United States, the development cost per hour goes from $150 to $250, but in eastern Europe and India, it ranges from $80 to $180 and $25 to $50, respectively. Therefore, the development of instructional mobile applications might cost between $5,000 and $50,000. Hire our mobile app developers to know the ultimate price.
The Khan Academy mobile app, like the other educational applications we've evaluated here, delivers on its promise of being useful learning aids. When you download these apps on your iOS or Android smartphone or tablet, you have access to a treasure trove of information and become part of welcoming communities.
There's no disputing that if you're a business developing your own educational product, you've got your job cut out for you. The good news is that, given the vastness of the market and the many ways to specialize yourself, the only thing standing in your way is your own resolve to figure it out. Echoinnovate IT, a mobile app development company in the USA, is delighted to work with you as a product creation partner, from designing your MVP to assessing what matters and expanding it sustainably across all platforms.
Khan Academy is a free learning program for children in Grades 1 through 12 that includes videos, activities, and examinations for math, science, and more disciplines.
Online Live sessions, online exams and results, a repository for session recordings, a video player, events, and chat are the essential aspects of any elearning and education application.
We give technical help 24 hours a day, seven days a week in the event of issue fixes and provide the best alternatives that have been in your shoes. In addition, if you employ our team, our engineers may work during your hours, which eliminates time zone differences.