Tutor App Development : How To Change The Educational Aspects – Ed-Tech
Tutor App Development : How To Change The Educational Aspects – Ed-Tech
All the parents wish to give the best of training to their kids so as to help them with great knowledge and information. This will not only help them to stay aware of the new age educational plan but also keep up with employment requirements. Hence; Tutor app development comes into the picture.
Thus, in the last few years, there has been an urgent need for tutors at home because students need additional guidance to improve their skills completely.
Interestingly, to meet the growing demand of tutors at home, a group of EdTech companies has come up with some of the most organized home tutor app development solutions that can be used on a smartphone for real-time services.
Therefore, no more looking up tutors or training centers for the child, but rather, only with the help of a smartphone one can arrange an individualized learning experience for their child.
How Tutoring Apps Are Enhancing The Learning Process Today?
---
1. Making Administrative Tasks Simpler
Tutor apps can automate the issuance of administrative tasks for teachers and academic institutions.
Educators spend much time grading examinations, evaluating the task, and provide valuable feedback to their students.
But technology can be used to automate sorting tasks that are involved in multiple tests.
This means that teachers can get more time with their students rather than spending long hours grading them.
2. Redesigning Learning Spaces
Most classrooms around the world, you probably will not find rows of a desk all pointing towards the front of the room.
As educators have realized their classrooms should imitate the workforce, which has inspired them to create collaborative spaces to facilitate student learning.
The incorporation of technology has supported their efforts.
The 21st-century classrooms tend to be SMARTboards instead of chalkboards and have SMARTdesks instead of individual seating.
3. Personalized Learning
Have you checked the type of personal recommendations on Netflix? The same technology is being used in how students are taught in schools.
Traditional systems are supposed to serve almost everyone but do not serve enough students.
The curriculum is designed to accommodate the largest possible number of students aiming at an 80% average.
These applications are made for assignments and final exams, ensuring that students receive the best possible care.
4. Global Learning
Education has no limits, and AI can help eliminate borders. Technology brings drastic transitions, facilitating learning of any course from anywhere in the world and at any time. driven education IA equips students with basic IT skills.
With more inventions, there will be a wider range of courses available online, and with the help of AI, students will learn from wherever they are.
Best Tutor Apps
---
Here is the list of best tutor apps that can help you academically.
1. Chegg Tutors – Online Tutoring
The online textbook seller Chegg InstaEDU developed in 2014, the establishment of Chegg tutors. Tutors create online profiles detailing their education, experience in the field, and sometimes even impressive results of standardized tests.
Image Credits : instaedu.wordpess.com
Students who need help with homework can choose from a network of tutors, most of them university students or recent graduates.
With the help of the Chegg website or mobile application, students can arrange a time to connect with a tutor.
Chegg Tutors On Play Store Chegg Tutors On App Store
2. Elite Instructors – Smart Trainers
For times when you want a tutor in person, an application can still be helpful. Instructors' target is to make rapid programming and painless with a new application that allows you to find investigated teachers, check your grades and prices, schedule an appointment at a place of mutual agreement and make a cashless payment.
Image Credits : appadvice.com
There are different versions of the application for students and teachers.
The application can specify, for example, what level or type of math you need help or what is the test that is being studied for but may have limited options tutor in your area.
3. Khan Academy – Education Tutor App
Khan Academy began more than a decade ago when the founder Sal Khan made a couple of basic video tutorials to help his cousin with homework.
Now more than 43 million students have turned to the website to help them learn math concepts, practice for the SAT and even analyze classical music.
More recently, Khan Academy acquired Duck Moose, a manufacturer of preschool educational applications, extending its reach to very young students.
Image Credits : engineering.khanacademy.org
Students can search their extensive library of video tutorials that walk through a particular concept or can answer some questions about a topic and Khan Academy will build a personalized plan to master skills class.
Khan Academy On Play Store Khan Academy On App Store
4. Tutor.com – Princeton Review's Homework Help
Tutor.com, owned by IAC, the Internet company that also runs Dictionary.com, College Humor, and Match is the largest online tutoring business in the United States.
Its 3,200 tutors have provided more than 14 million sessions of one-on-one tutoring since its launch in 1998.
In 2014, it acquired test preparation company Princeton Review, which offers "homework help "the same service as online tutoring for students in fourth grade and above.
Students can use a tutor.com website or app on any device from anywhere making it compatible with a lot of devices.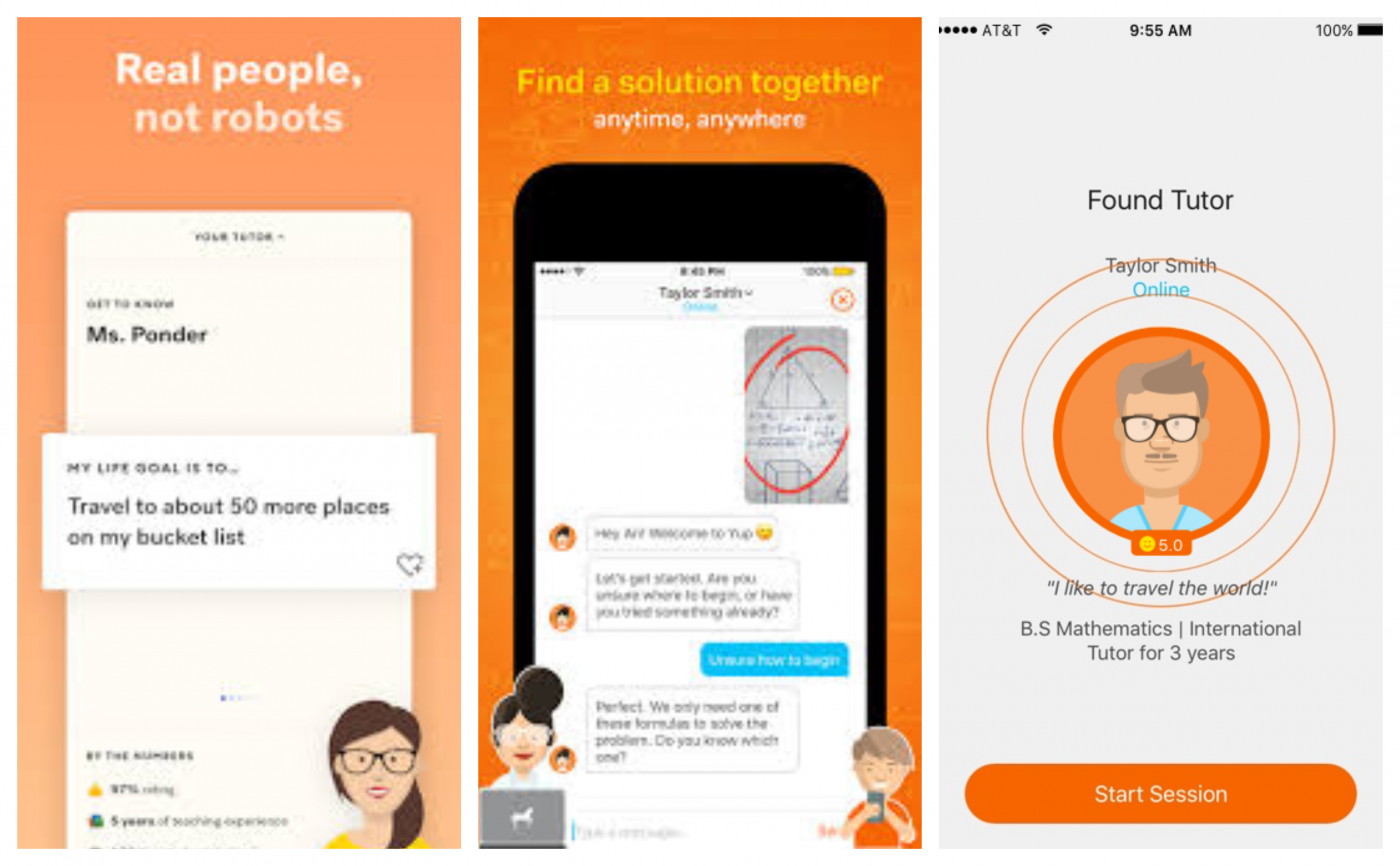 The users can save and review past tutoring sessions, whether one-to-one or with other users.
Users can store their homework problems, essays, assignments, etc. in their tutor.com locker.
Share items in your Mobile Locker with a tutor.
Tutor.com On Play Store Tutor.com On App Store
5. WyzAnt – Private Tutors App at Affordable Price
WyzAnt helps students connect with tutors online and in person. There are more than 80,000 teachers. WyzAnt tends to be higher (ie, beyond college age) and include credentialed teachers and earlier.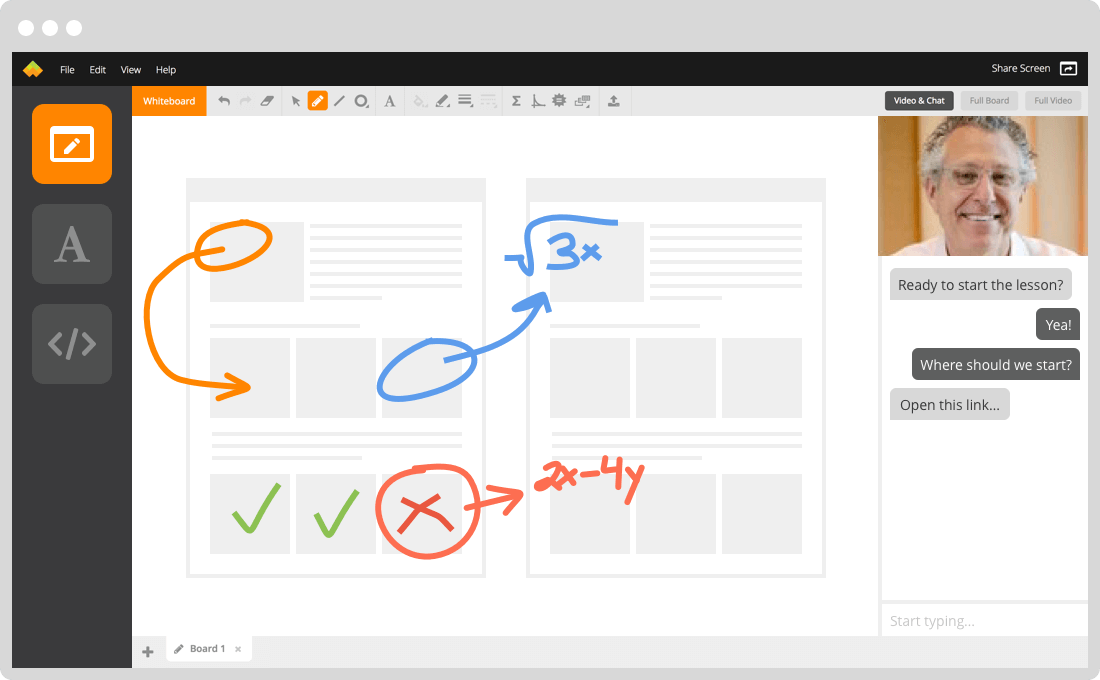 Image Credits : wyzant.com
Tutors must pass a background check and a test of competence in their area to be listed.
Before selecting a tutor, students can read reviews of alumni, and the general availability of a tutor.
WyzAnt On Play Store WyzAnt On App Store
6. Yup – Math Tutor App
Formerly known as MathCrunch, Yup has since grown to offer homework help in chemistry and physics, as well as mathematics.
Image Credits : youthapps.in
Through the mobile application, students can take a picture of the problem you are having problem-solving, or draw with your finger.
Students do not see their tutor – only the avatar of the tutor – and interact through online messaging.
Yup On Play Store Yup On App Store
Features To Have In Your Tutoring Apps
---
1. Book On-demand Tutoring Session
Students not only use the application to find a tutor of its close location but also for the subjects.
The possibility to book a tutoring session on demand for a video session with the tutor and decide whether or not to hire a tutor.
In case, you have an educational institute or a training center, you may have the need to give demonstrations of several tutors until the student chooses the best from the application.
This tutor application is a big hit among educational organizations.
2. Search by Location To Find Tutors
This is probably one of the best features that users like in the development of tutor applications more than anything else.
Any expert company can include the search feature for location, providing the option to find nearby tutors and their search results filter according to it for their tutor app development.
3. Chat Messaging To Communicate
What else than a video call would be beneficial for students and teachers alike if they want to connect with each other?
An expert in creating applications online tutoring knows the importance of integrating the function of chat messages or instant messaging features so that they are able to talk to each other whenever necessary.
This can also help to mark the meeting points and schedules for the class if the demand for students is to have a Demo at home for the tutoring contract.
4. Online Payment Methods
It is certain that a search application online tutor helps meet tutors from other regions to connect easily.
There is another feature that each tutor finder applications developer would add an application.
It is the payment gateway integration application that facilitates the students to pay tutors using an electronic card or purse. secure online payments lead to more people flocking to its application time and again.
5. Reviews & Ratings
Students should be able to give ratings and reviews/guardians information based on their services.
This can be a 5-star rating or written comments that would help other students to choose a tutor without confusion.
As you have many options when it comes to using Uber for tutors application in Canada, scores are of great help.
Cost of Tutor App Development
---
The app development cost depends on a number of factors. Mainly, the cost varies region-wise. It is always beneficial to choose the right developer and in the right region.
Therefore, the calculation of all general expenses, an average can cost $ 7,000 to $ 30,000 for one platform (either iOS or Android).
Choosing a multiplatform application or adding more features can raise the cost of the app development up to $ 45,000.
However, spending around 70,000 guarantees apply to the conservation of the top of the seat between the strong competition out there.
Wrapped Up
---
The tutoring business is booming. Students needing help with their homework can hire a neighborhood tutor to come to their home, or seek out after-school centers. Online tutoring sites allow students to work with a tutor at any time of the day. Making it a very innovative and helpful concept.
At Echo Innovate IT we can help you with your tutor app development idea. Ask our experts what suits your needs the best. Contact Us! Today.