It has never been easy for people to choose between Magento and Shopify. Today, these are among the most popular e-commerce platforms in the market. It is estimated that by the year 2040, approximately 95% of all shopping deals will be done online. Therefore, the e-commerce platform of your store or business could be a great option for achieving great success. If you are planning to launch an online business or looking for an option to migrate to, then you will definitely come across the Magento vs Shopify discussion.
Magento and Shopify are widely popular e-commerce platforms. They both have their own advantages and disadvantages. You need to choose between these platforms to assess the amount of effort and time you would like to invest in your business endeavor. In this article, we will be providing you with a comprehensive Magento vs Shopify comparison that will help you make an optimal choice for your business.
What is Shopify?
Shopify is an easy-to-use platform for building an online business. It provides cloud hosting as a part of its service. Once you create a Shopify account, owners gain access to their shop.
Services and functionality vary for each shop owner based on their selected subscription plans. Marketing, storefront, payment, and shipping processing tools are some of the core Shopify functionality available on any subscription plan.
The technology stack of Shopify is locked. Shopify uses proprietary tools such as Liquid-template language. In comparison to Magento, Shopify provides shop owners with limited capabilities in monitoring, managing, and optimizing the loading speed of their stores. Also, it provides lesser options on customization.
What is Magento?
Magento is an open-source software platform developed for online business. It is built on PHP, Symphony, Laminas, and other frameworks, which provides online shippers extended adaptability and control.
Shop owners get everything they require to modify the shopping process and design of their store to expand their reach and stand out in the crowd.
Magento came into existence in the year 2007 by Varien Company. Whereas in the year 2015, Magento 2.0 was launched. Currently, the Magento 2 is developed by Adobe, which bought this platform in 2018.
Advantages & Disadvantages of Magento & Shopify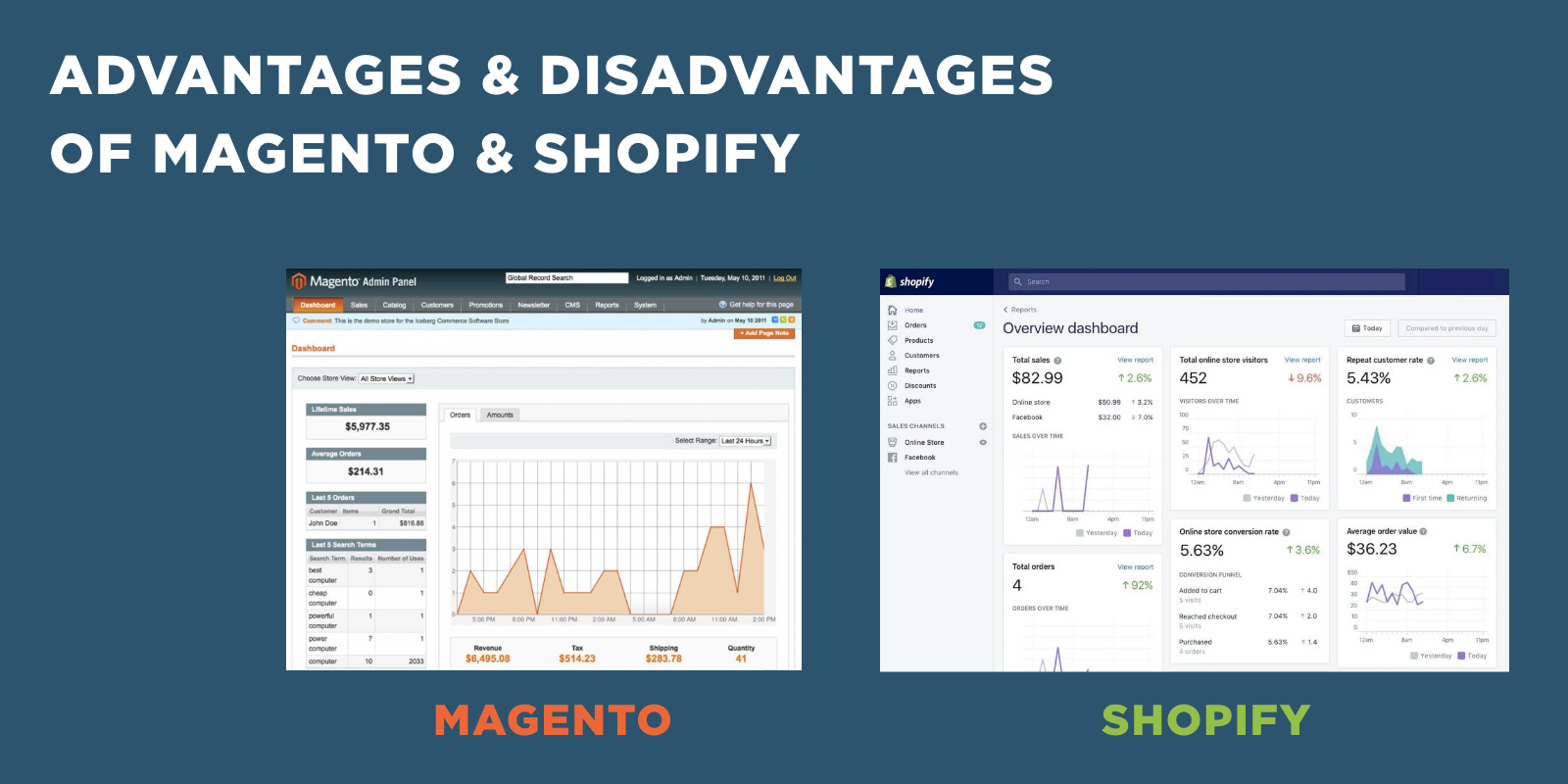 Magento Pros & Cons
| | |
| --- | --- |
| Magento Pros | Magento Cons |
| Large user community – The Magento Forum has a comprehensive answer for anything | Unsuitable for beginners – knowledge of coding is required but the software uses web developer jargon which is not very beginner-friendly |
| Highly flexible platform – you have countless options to design your store as attractive as you want to but you need to know the coding | Not easy to install – unlike other open-source software, it's harder to find a hosting provider that will support Magento |
| Ideal for medium to large businesses – an advanced platform that is great for businesses that have their own web development teams or that have a sufficient amount of money to hire a developer | |
Shopify Pros & Cons
| | |
| --- | --- |
| Shopify Pros | Shopify Cons |
| Multichannel selling – sell on Facebook, Instagram, Amazon, and eBay | Transaction fees – only platform to enforce its own fees, unless you use Shopify Payments |
| 70+ mobile responsive themes – 10 free options, plus 64 premium options starting from $140 | Cost of apps – it's easy to get carried away installing lots of paid apps |
| App store – an extensive range of apps to extend the functionality of your site | |
Magento vs Shopify – Themes Comparison
The theme is the first thing that your customers will notice about your online store as soon as they visit your website. Approximately 48% of visitors consider the design of a website as one of the most important factors and accordingly they determine the reliability of a business.
Therefore, considering this you are required to choose an outstanding template for your website to make a great first impression and gain users' trust.
Shopify scores 3.7/5 in the 'design' research category. It offers 10 free along with 64 premium themes and it costs between $140 and $180 each. The cost is comparatively less in comparison to the average theme offered by Magento.
Templates offered by Shopify are all mobile-responsive which means they will look equally amazing when displayed on a mobile or a tablet. Also, in the last 6 months, around 79% of smartphone users have made an online purchase.
After selecting your Shopify theme, you can do a lot of great things even without knowing how to code like customization by adding new pages, changing the color palette, moving and resizing elements, integrating social media feeds, etc.
Magento scores 3.5/5 in this category. Magento offers ready-made themes that do not require any coding customization, and custom themes that demand the skills of a professional developer.
The average cost for a ready-made theme is $100, while the cost of custom themes is somewhere between $600-$25,000. The custom themes are generally suitable for large businesses that have high budgets.
Magento vs Shopify – Themes: Verdict
Shopify has a wider and affordable range of themes in comparison to Magento. No coding is required for the customization of themes. This makes it easier for you to tailor your chosen template depending on your business needs.
Features to increase eCommerce sales on Magento & Shopify
If you have access to powerful marketing tools, then you can easily reach new customers and grow your business.
Shopify offers excellent marketing tools, including the ability to run email campaigns through third-party integrations with Seguno, Klaviyo, Constant Contact, etc. You can also advertise and sell directly on Facebook, Instagram, and Pinterest. Most of the users have appreciated Shopify's ability to support multilingual sites, helping you sell products in different languages.
Contrastingly, Magento relies on its Marketplace for the bulk of its marketing tools. For instance, you'll require installing extensions, such as Remarkety, to run email campaigns. You might have to also rely on the skills of a web developer to integrate your marketing tools for amazing features. But on the other hand, Shopify provides plenty of built-in marketing tools which have the capability to scale your business or store.
Magento vs Shopify – Marketing Tools: Verdict
Shopify clearly wins this one. Both Magento and Shopify rely on their respective app markets for the most important marketing features, such as the ability to create email campaigns, but Shopify enables you to advertise on social media as a built-in feature.
Payment Processors and Transaction Fees
Payment processors allow your business or online store to accept online payments. Both Shopify and Magento platforms offer this functionality of connecting your store with a payment processor in just a few clicks. Let's see which platform offers the best:
Shopify has its own payment processor, Shopify Payments, which imposes zero transaction fees (aside from the regular credit card processing fees).
Have a look at the table below to understand how much you'll pay in extra fees per transaction, with each Shopify plan, in case you don't use Shopify Payments:
Shopify Transaction Fees
Shopify Basic
Shopify
Shopify Advanced
2.9% + 30¢ per transaction
2.6% + 30 ¢ per transaction
2.4% + 30¢ per transaction
With Shopify Payments, you'll only pay for each transaction fee imposed by the credit card processor and not Shopify –that means the above fees would be waived.
Shopify supports over 100 different payment gateways, which, unlike Shopify Payments, all come with a transaction fee imposed by Shopify. These are popular gateways like PayPal, Stripe, Amazon Pay, and Apple Pay.
Magento supports over 150 payment gateways, but they target large businesses like WorldPay. You have to install a theme from the marketplace to integrate your online store with the more common payment processors like Stripe or Square.
Also, Magento lets you sell directly through Amazon while using your own Magento-based inventory. This is quite effective to reach more customers via the Amazon marketplace.
Magento vs Shopify – Payment Processors: Verdict
Here Magento is the clear winner as it has better payment processor options in comparison to Shopify. Shopify has lesser payment gateway options, and it imposes its own transaction fees unless you use its own option. Shopify Payments can be quite restrictive.
Which platform has the best SEO functionality in Magento or Shopify?
SEO enables you to gain more visitor traffic to your website through search engines. That leads to more loyal and paying customers on your website and you can also generate more revenue.
Magento excels in SEO, and comes with lots of SEO guides and prompts to help you get started. You can edit image alt tags (that will help Google understand the idea of categorizing an image on the image search platform), and customize URLs to enable search engine users to find your web pages more easily. All of these are built-in features, too.
Whereas, Shopify is more reliant on apps for its SEO. While you can edit page titles and image alt tags, you'll require to search the app store for the majority of your SEO tricks.
Magento vs Shopify – SEO: Verdict
Magento wins over Shopify in the SEO department. As Magento has a wider range of built-in SEO features, like SEO prompts and the ability to customize URLs. Whereas, with Shopify, you'll have to search for and install apps for your SEO requirements.
Pricing Difference Between Shopify & Magento
The key difference between the two platforms is that Shopify is a hosted platform, whereas Magento is self-hosted. Shopify being a hosted platform takes care of all your hosting worries. Your monthly plan includes all hosting costs with no extra effort or expense required from you. But, Magento is free to install, but you'll have to pay for web hosting, security, extensions, and your domain.
Shopify has three main price plans with fixed monthly rates to choose from. But, the total cost of Magento will depend on several other factors.
You'll have to pay for your web hosting to use Magento. For example, on SiteGround, you can choose from three hosting plans.
| | |
| --- | --- |
| Shopify Pricing | Magento (SiteGround) Pricing |
| Shopify Basic: $29/month | Startup: $9.95/month |
| Shopify: $79/month | Grow Big: $19.95/month |
| Advanced Shopify: $299/month | GoGeek: $29.95/month |
To use Magento, you'll have to pay for your domain, which usually costs around $10-$15 per year. To register your domain, you'll have to visit domain registrars, like Domain.com.
Magento extensions and themes can be costly and can cost thousands of dollars each, based on the web development agency that created them. Therefore, the true cost of your Magento online store will vary enormously.
If you are planning to spend a few thousand dollars per month on your Magento store, then keep in mind that Magento is aimed at large businesses that have high budgets to boot, and are expected to grow quickly.
Magento vs Shopify – Pricing: Verdict
It's a tie-in case of pricing. Magento and Shopify offer different pricing models. Magento is an open-source platform that means the costs will entirely depend on your requirements, whereas Shopify has three fixed price plans which may seem cheaper on the surface, but you'll also have to pay for apps and themes.
Summary
Now that you have seen the key similarities and differences between Magento and Shopify in this article, you can choose the right platform for you. Let's quickly summarize the main differences between the two.
In comparison to Magento, Shopify is more user-friendly. Shopify provides you with a support team and enables you to get online faster.
Magento is more of a project which will take time and technical knowledge to bring your vision to life, and you'll be highly reliant on a Magento forum (or on developers).
Prefer Shopify if:
You wish to run your store in a lesser time
You've been using an e-commerce website builder such as Wix, Squarespace, or Weebly and wish to switch to something more powerful
You are planning to develop a fully-fledged e-commerce business
You want an all-in-one payment and a support team on hand
Prefer Magento if:
You know to code, and you want to build an online store for your medium or large-sized business
You wish for complete creative freedom with coding
You already have a global audience or international aspirations
You aim to develop a big brand that is capable of generating high revenue and prepared to invest your time and money into the design.
That summarizes our Magento vs Shopify battle. You can pick any of these platforms depending on your business requirements; we are sure that you will make the right choice and build an outstanding online store.
| | |
| --- | --- |
| Companies That Use Magento | Companies That Use Shopify |
| Ford Motor Company | KKW Beauty |
| Coca-Cola Company | Kylie Cosmetics |
| Procter and Gamble Company | Penguin Books |
| Olympus Corporation | Fitbit |
| Tommy Hilfiger | Red Bull GmbH |
| AsusTek Computer | Hyatt Hotels Corp |
How to find the Best eCommerce Development Company?
In today's era, online shopping has become more and more popular and advanced. The demand for online shopping, applications, and products is strong, and the number of e-commerce service-providing companies in India has also grown rapidly over the years. Therefore, choosing the best e-commerce company for our business has become difficult. Setting up an e-commerce website is no joke, and choosing one of the many e-commerce platforms is not easy. There are various factors to be considered while finding the best e-commerce app development company. Let's have a look at how you can determine whether an e-commerce app development company is a good fit for your new endeavor.
Dig into the Company's track record
Take a closer look at their processes
How they intend to manage your project- Ask questions such as: What kind of project and development methodology are you using? How is each part of the project scoped and organized, such as design, development, and testing? How will each phase progress into the next?
Analyze their design abilities
Ask about their development and integration process
Ask about the company's support and maintenance services
You Might Like These Blogs Too:
Echo Innovate IT, a rapidly-growing e-commerce development company understands the changing market trends of the industry and accordingly shapes your business concepts into workable solutions.
Let your enterprise have its footprint in mobile e-commerce through our e-commerce development services. Before we conceptualize your idea into a successful business solution, our teams are committed to working on the pre-requisites like market research, competitor analysis, performance graph of other similar ideas, and accordingly, evaluate the right strategy in designing the best e-commerce app. Our team has highly skilled Shopify developers as well as Magento developers. We at Echo Innovate IT have the best developers for the e-commerce store or business. Get in touch with our experts now!
FAQ's
Is Magento good for eCommerce?
In general, Magento is a good platform to build your online business. For more specific, it is packed with powerful eCommerce features to help you step up your business game.
Is Magento better than Shopify?
The battle between Magento and Shopify is quite neck-to-neck so it's very hard to choose the better one. If you want to have an all-in-one service to start your business, go for Shopify. On another note, if you want to freely customize your website, opt for Magento.
What are the pros and cons of Magento vs Shopify?
Shopify is fairly easy to use, however, it doesn't allow users to freely customize their source code. On the other hand, with Magento, users can personalize every element on their online store, but this solution is quite complicated for non-tech users.