Best Web App Ideas To Make Money In 2023
Best Web App Ideas To Make Money In 2023
If you are looking for web business application ideas in 2023 to make money and want to become an Entrepreneur, then this blog is dedicated to you. You've come to the right place. Here, we'll talk about the best high-profit web app ideas for businesses that can generate you money, as well as how to get your web app ideas 2023 into internet marketplaces and portals.
A web application is a type of computer software that runs on web servers and may be accessed via a web browser connected to the internet.
It necessitates the use of a web server to manage client requests and an application server to carry out the necessary operations.
Server-side scripts (PHP, ROR, and ASP) and client-side scripts (Java and HTML) are used in simple web applications, as well as advanced frontend JavaScript technologies like Angular, React, and Node.
Customers can use online forms, content management systems, and other tools to engage with firms or others.
Employees will benefit from the ability to create documents, sheets, conveniently share papers, and work on shared documents.
The new face of business is a web application. For long-term success, most businesses use innovative web app project ideas.
Some of the Best Web Application Examples:
10+ Web App Ideas to Start a Business in 2023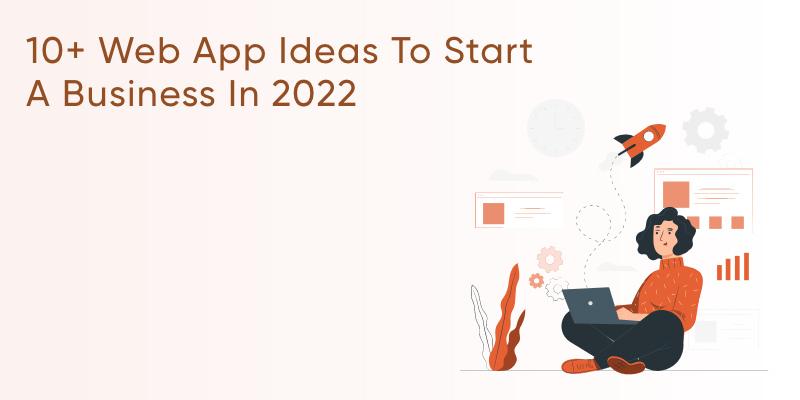 Do you want to know what the finest web application business ideas and features for 2023 are?
There are numerous easy web app ideas, but none of them generate revenue.
Here are a few interesting web app business ideas.
Services that are available on-demand for various services, web applications serve as a mediator between clients and service providers.
Users like to pay small fees for online applications' speedier and more convenient services.
Delivery services, commercial and domestic cleaning services, taxi services, repair services, and other similar services are examples of web app project ideas.
Here are some key features of on-demand services web application:
Employee orientation and training web app is the most important item for both the organization and the employee, as it helps the new employee adapt to the company's culture.
HR finds it more difficult to perform tasks such as finding papers and giving vital materials to new workers due to the manual orientation procedure.
HR can use the Employee orientation and Training web application to keep documents online that can be authorized automatically and accessed whenever needed.
The website application can also be used to provide new employees with access to training materials.
Furthermore, the employee can obtain information on the team with which he will be working, as well as the team's contact information.
Employee orientation and training online applications can also assist in reducing confusion and in informing employees of the manager's absence.
On the job recruitment web application, the job seeker can create an account and upload required documents such as a resume, cover letter, and proof of identity.
Recruiters can browse these job seekers' profiles and contact them directly if their qualifications match the job requirements.
There are websites that serve a similar role, but they are not user-friendly and do not function properly.
Creating a web application for job recruiting that is designed for desktops and mobile devices may be user-friendly and convenient for both recruiters and job searchers.
In the last few years, technology has advanced. A chatbot is one such technological advancement that has greatly aided firms in serving their customers.
Companies may serve their clients 24 hours a day, seven days a week with the Chatbot online application.
The benefit of a chatbot is that it provides outstanding customer service, which leads to the customer becoming a loyal and frequent customer.
As per Statista, the global Chatbot industry will generate 454.8 million dollars in sales in 2027, up from 40.9 million dollars in 2018.
CRM is the most significant and widely used business web app concept that allows businesses or brands to retain customer relationships.
The demand for CRM web applications has been steadily increasing among start-ups and small enterprises over the last few years.
According to Statista, the customer relationship management (CRM) market generated $56.5 billion in revenue in 2019.
Patients can use the Healthcare Web Application to schedule a doctor's appointment.
The Patients only need to provide their basic information to connect with a nearby doctor and schedule an appointment from among the available slots.
Patients who scheduled medical appointments completed 3 times as many searches as those who did not.
Despite the pandemic, the need for internet healthcare technologies continues to grow.
We may conclude that plenty of fresh Web App Idea concepts relating to the healthcare industry has emerged.
A web-based question-and-answer forum may be a fantastic tool for forming communities where people can share their industry knowledge while also allowing contributors and other users to pose queries and receive appropriate responses.
Websites that serve as directories and marketplaces have always been popular and continue to be so today. The same is applicable for marketplaces, as their model is similar: bring information from several sources together in one area.
Users benefit from such websites since they can find all of the information they need in one spot.
At the same time, the startup owner can make money by selling ads, using the freemium model, or employing other revenue-generating strategies.
The Tour & Travel web application can provide users with information to help them choose from a variety of destinations to visit. Users can select from a variety of travel packages to fit their budgets.
Travelers can use the online application to share their travel experiences, which can help other potential travelers make decisions.
But that's not all; once tourists arrive at their location, they'll need information about surrounding tourist destinations, which can also be found in this tour and travel web application.
Due to the pandemic crisis, eLearning platforms have exploded in popularity in the previous few months. Education providers are in urgent need of new ways to convey information and education to students; eLearning tools can serve as a bridge, allowing students and educators to achieve their objectives.
An eLearning platform can be a one-stop destination for educational institutions to organize classes, record lectures, administer quizzes, assessments, and exams, among other things.
Udemy, Skillshare, and Simplilearn are some of the most popular online learning platforms.
It can be difficult to locate experienced event management services. This web application for event management may link potential consumers with various event management businesses.
The customer can obtain detailed information about the event organizer as well as read client reviews about the company, which can be helpful when choosing an event management company.
Digital payments and e-wallets are becoming increasingly popular. The majority of individuals prefer to pay digitally rather than with cash. E-wallets include Google Pay, Amazon Pay, Paytm, and Phonepe.
An e-wallet is a bank account-linked app that may be used to make payments at supported locations.
E-wallet is a popular online app concept that will continue to grow in popularity in the years ahead.
According to Statista, in 2020, the total transaction value in the Digital Payments segment is expected to be $4,934,741 million dollars.
The Must-have Generic Features
Entrepreneurs who want to start a business at a low cost will benefit from the dropshipping business model. People that wish to drop ship must form partnerships with suppliers and sell their items through a drop shipping website.
When a customer orders a product through a dropshipping store, the drop shipper contacts the supplier with the order information, and the supplier ships the item.
Every sale made by his dropshipping store gets the drop shipping commission.
In 2018, the global drop shipping market was worth USD 102.2 billion, and it is predicted to grow at a CAGR of 28.8% from 2019 to 2025.
With the emergence of this trend, it's been suggested that dropping shipping is one of the top web app ideas for a large profit margin.
What Are The Web Apps in High Demand?
Every year, new technologies arrive on the market, bringing with them new web apps.
However, regardless of the trend, there are always evergreen ideas that are in high demand.
That isn't to say that existing apps aren't in need of improvement. It's the concept that will never go out of style.
This type of application facilitates communication between users and many types of businesses.
It might be a taxi booking app, a food delivery app, or a grocery delivery service. There are still a lot of businesses that could profit from a web application.
Getting a job doesn't have to be difficult any longer. On the Internet, you can find anything, so why not the ideal job?
This type of software has grown in popularity, ranging from professional social media sites like Linkedin to full-fledged recruitment platforms.
It's never been easier to recruit Magento specialists, Laravel developers, or mobile app developers for your business ideas, whether you're searching for freelancing or full-time employees.
These websites allow you to rent properties directly from your computer. You can locate anything with a few clicks, whether you're looking for extra storage space, the ideal holiday spot, or a new home to live in.
Everyone wants to be kept up to date on what's going on in the world. This simple web app puts the information you want at your fingertips.
Most apps will allow you to select some topics about which you wish to learn more and will provide you with additional content in that sector.
How Much Does It Cost To Build a Web Application?
The cost of developing a web application, like that of a mobile app, is determined by a variety of factors, including its features and complexity.
The prices often range between $24,000 to $500,000. We can categorize them into three groups:
Landing sites, one-pagers, and online stores with a limited amount of features are examples. There isn't much content and there's not much interaction. The development period might be as little as one month, with a price range of $24,000 to $60,000.
These categories, however, do not apply to all web applications. Each app is distinct and has its own set of requirements. As a general rule, especially if you want to outsource your product, the price will be determined by the number of web developers in your dedicated team, as well as the number of days required to complete the project.
These apps contain a unique content management system, numerous unique features, complicated databases, and a large amount of content. The development process should take about a half year, and the cost should be around $137,000 or more.
Small-to-medium-sized business websites and e-commerce platforms require more interactive elements and a larger amount of content. It takes up to four months to complete and costs between $36,000 and $85,000.
In 2022, the most crucial thing is to find a popular and successful web app idea. As more firms choose to enter the digital realm, competition has intensified.
It's difficult to achieve competitive goals using conventional app concepts. As a brand, you must think beyond the box when developing a web app or a mobile app. To compete with other brands, you must provide something unique to users.
Make use of social media to conduct research and know about current web app trends and other app ideas.
If you want to come up with a unique web app concept, you'll need to conduct extensive market research. Check out what customers want and what your competitors have to provide. You can design an app that fills in the gap between your consumers' requirements and your competitor's offering by identifying the gap and satisfying your customers.
The simple web app takes 1 month.
The medium web app takes 4 months.
Large scale web app takes 6 months.
No, the web app does not work on a mobile app. It works only on Windows and Mac computers.
Simple web app development will cost around $3000 – $15000.
Medium web app development will cost around $15000 – $25000
And a large-scale Web app development costs you more than $250,000.