CMS stands for the content management system and in this article, we will look for "Best CMS for web designers."
Remember that your website files are stored on your hosting server. If you really wanted to, you could edit these files every time you wanted to change on its website. Obviously, that's kind of a pain to do. A CMS allows you to edit your digital content from the domain itself.
You can log on to the domain, and then customize the design, configuration, and content as well as create new posts and pages using templates. In other words: It makes creating and updating a Website Design much easier and saves you a lot of time. No CMS perfect. There are hundreds out there, some better than others. In general, however, all superiors have different strengths and weaknesses.
At the core of a CMS for Web Designers is a database that stores articles, blogs, user data, and other information. A CMS also includes features for setting up the website, publishing stories, dynamically generating pages, and do almost everything you expect from a website. Typically, these are large, complex animals that require a considerable investment of time to install and maintain. What are the major content management systems? We're going to explore the best – and why they're at most designers' fingertips …
What Is CMS (Content Management System)?
A CMS is a software application that handles the basic infrastructure of creating websites. With a CMS, users can focus on the front-end areas of website building, such as customizing the website design and managing content.
There are multiple types of content management systems available. Three of the most popular ones are:
Open-source CMS – a community of developers maintains the software instead of a single company owning it. Third-party developers have access to the source code and can develop and improve the software's functionalities.
Cloud CMS – a pre-built system accessible without having to download hardware or software. Users can manage web content safely over the cloud and have it be easily accessible from multiple devices.
Proprietary CMS – comes with a license fee as it is the legal property of a company, organization, or individual that created it. The cost can be a one-time initial payment, a monthly fee, or an annual charge.
Here are some stats about CMS for website designers and the scope and scale of WordPress in today's online market.:
What Is CMS (Content Management System)?
1. Easy For Non-Technical Mind
Not all users have the same level of comfort with technology, but the basic functions of CMS content writing and publishing, and slightly more advanced than the addition of the media are generally easy for everyone to understand.
In fact, anyone who can use word processing software can use a CMS for basic functions – so not even have to spend much time in training.
In business, many people may have been involved in their website, which pages of products that are produced blog entries for your content marketing efforts are added.
A CMS for Web Designers makes it easy to manage roles and publishing permissions for all these users to allow only those who can publish content and content only goes straight when you're ready.
3. Streamlines Scheduling
In this connection, any decent CMS for Web Designers will give you a look at the view of the status of all content, whether live, being revised, or a draft. Not only applies to blog entries but the product pages and other websites. It allows you to assign tasks and verify that they have been done.
And it is easy to integrate the planned content with your marketing plan so that everyone knows what is happening when.
Without a CMS, which can mean having to search through hundreds of pages, making changes in each.
With a CMS for Web Designers, the content that is intended remains the same. Thus, you can make maintenance changes. You can update the CMS software and add functionality without breaking the site. In fact, with the right CMS, you can stay up to date automatically.
This may seem obvious, but for some companies, content management, not just publishing content but being able to remove it when it is out of date.
With a CMS, this is as simple as stop publishing content – all menus and links are automatically updated so that customers continue to have a good experience on the site.
And if you want to include customized content such as calendars and lists countdown, the CMS can be configured to allow this. And a good CMS for Web Designers includes SEO too, so its content is very well positioned in search engines.
The Best CMS For Web Designers 2023
There are a number of Content Management System platforms today. CMS platforms such as Joomla, Drupal, and WordPress! constitute of the open-source model. This software can be downloaded at no cost and can be used. Moreover, an open-source license gives developers the freedom to modify and redistribute the code.
Some are downloadable packages that must be configured for use on a server while others are hosted online services. The disadvantage is not necessarily the cost, while certainly have to consider that factor. The main problem is that these programs lack the communities of users or developers who respond to the "Big Three" in terms of size or scope.
Instead, suppliers point to advantages such as ease of use, enhanced features, and integrated design tools.
Here's a look at some of the best CMS for web designers in 2023, beginning with the "Big Three."
WordPress is the king of CMSs. It is a popular CMS platform. It is a very beneficial one as well.
Just to save you from some confusion: WordPress.com is the third-party site where you can create free blogs, but WordPress.org is where you can download the WordPress software to install on a website.
WordPress gained fame for being a fantastic blogging platform. If you are looking for above all creating a website based on the blog is a great option.
It has a very intuitive backend administration that makes the change from most of the basic options of the site, and the creation of new posts and pages simple. WordPress is by far the best CMS for web designers and the most used CMS.
It started as a blogging platform and remains a popular choice for websites blog-heavy.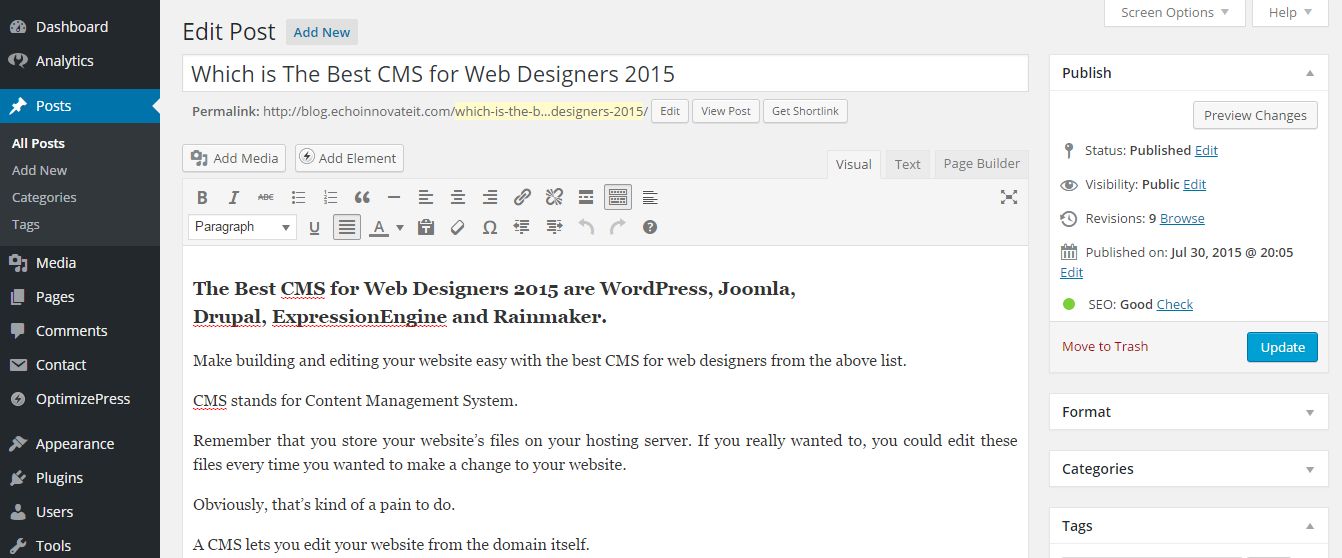 Though being the best CMS for web designers, one area that is both a strength and a weakness for WordPress is plugins.
WordPress has more than 39,000 plugins in your library – it's huge.
This is good because it means that a WordPress plugin developers can use it to make WordPress plugins to do almost anything you want. It's important to not get carried away with plugins. If you have too many, they will significantly slow down your website.
When plugins are kept up to date, they are pretty safe. However, since most plugins are free, creators often fail to keep them. Over time, they can become security risks and can lead to your site being attacked.
WordPress is generally more suitable for sites with relatively simple requirements, or where users responsible for posting or content owners of this site are not technically proficient. Generally, plugins are nice to have when you really need them but try to minimize the amount used.
While the open-source version is free to download, you will need to select and pay for a WordPress hosting provider. Depending on the type of hosting, billing period, and features you select, this typically costs anywhere from $2.50 to $10 per month for one small business website. Enterprise website hosting costs are likely to be higher due to increased website traffic and security features.
The coupled CMS version of WordPress is also free if you opt to use a WordPress subdomain. To connect your domain, you'll need a paid plan:
WordPress is just behind Joomla. It's not as intuitive, but it is still relatively simple. Again, it is quite easy to create and edit posts and pages, and you have some control over the configuration of the web page.
Also like WordPress, Joomla has a large library (not the same scale) plugins. But again, they share the same limitations.
They are not tested by anyone and often become obsolete, leading to security risks. Joomla is more customizable than WordPress, and in a sense, it has been easier to use than Drupal.
To define the appearance of web pages, Joomla uses "templates", a package similar to WordPress and Drupal themes files. As with the other systems, you can download existing templates or create your own.
Joomla is free to download and install on a web host of your choice. You will need to pay for the cost of hosting, as well as a domain name and any premium plugins.
Of these first 3 options, Drupal is the most advanced. It will be the hardest to learn, but it also allows you to customize it more. It's a lot like lego, where you put together the pieces you want (not easy for beginners).
While designers seem to prefer WordPress, Drupal is a favorite among developers. It is the most customizable of the three largest and best suited for large enterprise sites with thousands of pages.
It also has a reputation for being the safest major system. The default download contains the core Drupal CMS, which lets you create a simple website.
Instead of plugins, Drupal has modules. These modules cover every conceivable aspect of website development, but programmers are free to build their own modules.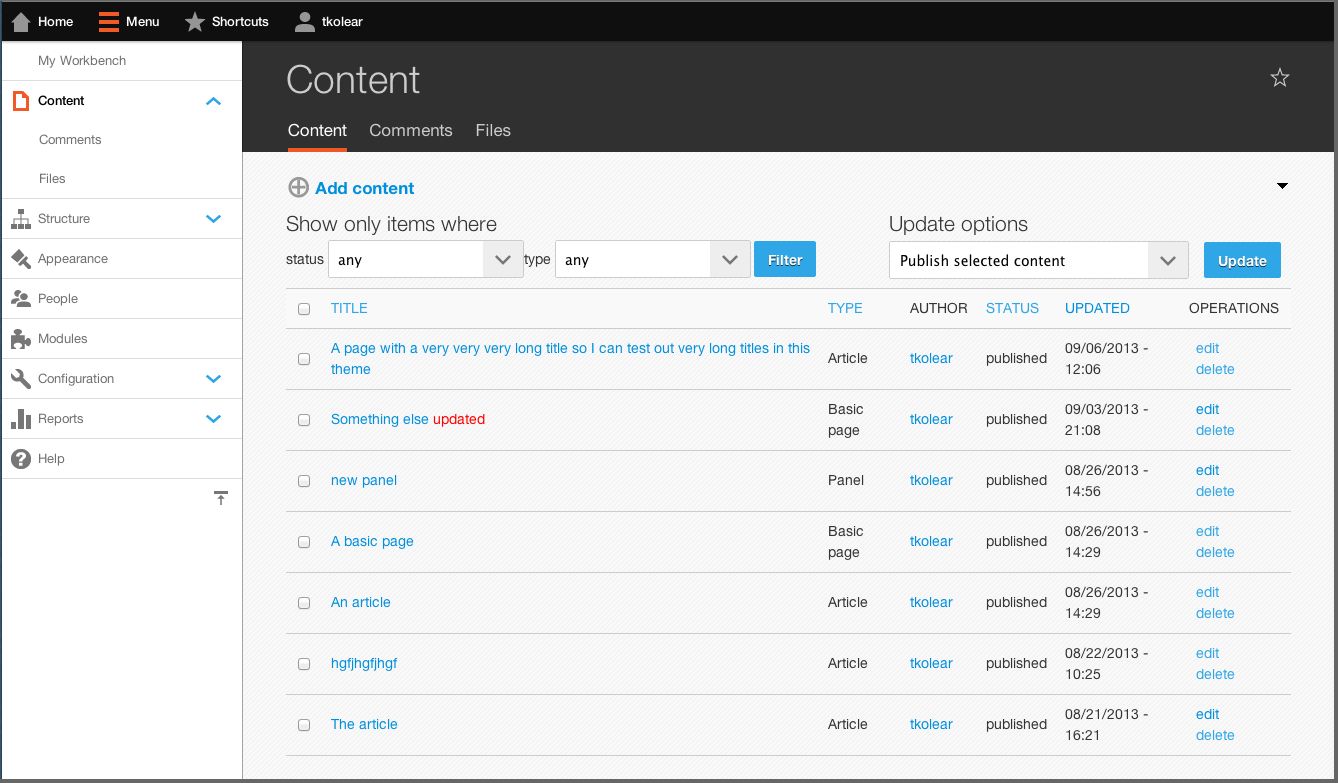 You can also find packages of Drupal distributions for specific applications such as editing, academic, and non-profit sites applications.
We do not recommend Drupal for a beginner, but if you know you need some kind of advanced customization, which could be an option.
Drupal is free to download—you just need to pay for hosting, a domain name, and any premium plugins that you'd like to use.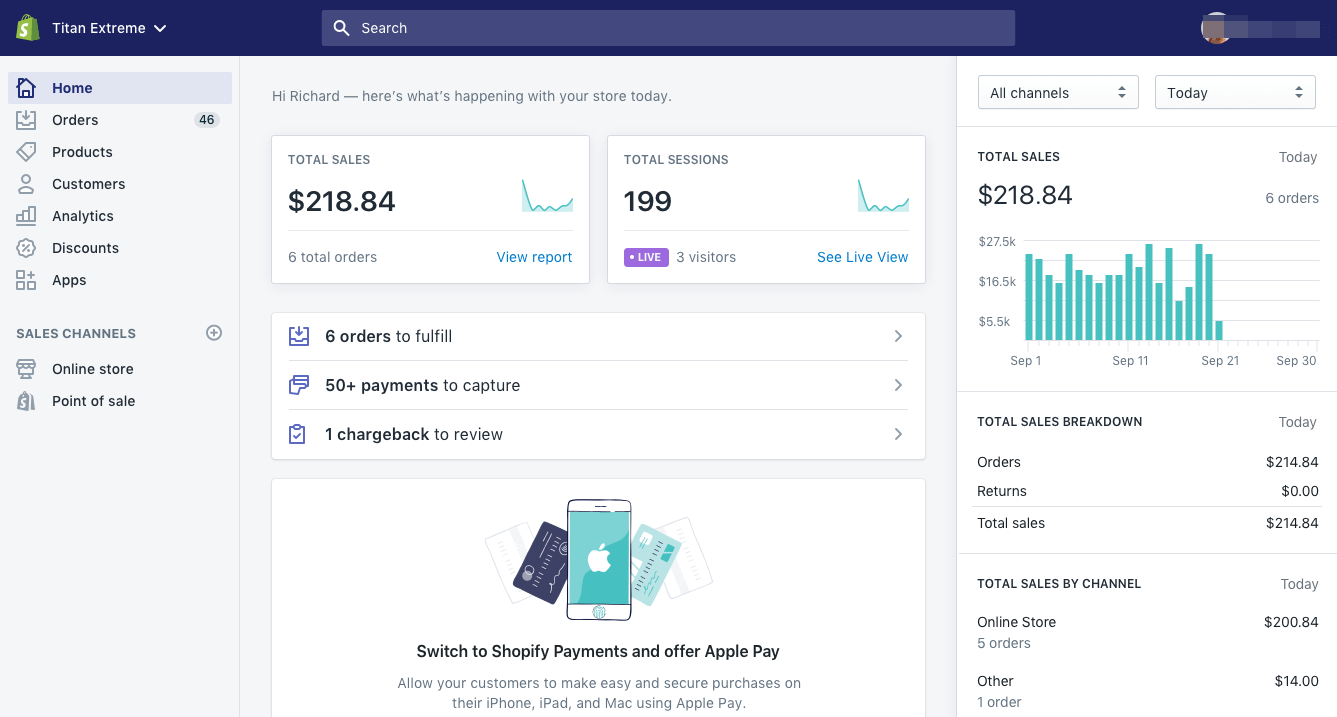 Shopify is a CMS for e-commerce stores. There are several Shopify plans for solo entrepreneurs, small businesses, and drop shippers—as well as a Shopify Plus tier for enterprise-level users. Over 1.7 million businesses around the world use Shopify.
Standard Shopify users do not need to be very technical to use the platform. It comes standard with various free drag-and-drop themes and one-click integrations to help with shipping, inventory, and more.
Custom Shopify design is possible, too. It requires the help of a Shopify developer who knows the platform's Liquid template language.
Shopify users can publish blogs to go along with their storefronts. However, the system is e-commerce first.
There are five different Shopify plans to choose from:
The "pro" version of Shopify's retail POS is available for an additional $89 per month, hardware not included.
WooCommerce isn't a standalone CMS. It's a plugin that places an e-commerce content management system inside your open-source WordPress dashboard.
The business intelligence service BuiltWith reports that over four million websites use WooCommerce, many with high traffic levels.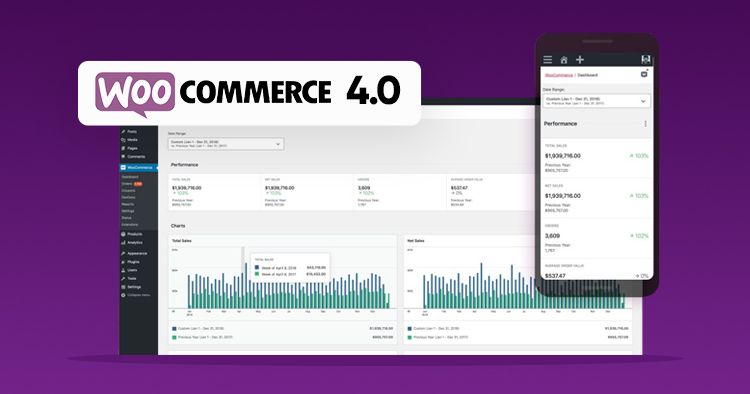 It's free to download WooCommerce and add product pages to your website. The cost to add additional features varies by the plugin.
Magento is an e-commerce CMS for businesses of all sizes. The very flexible platform is well suited for use by companies who anticipate rapid growth in the near future. Over 213,000 websites use Adobe Commerce.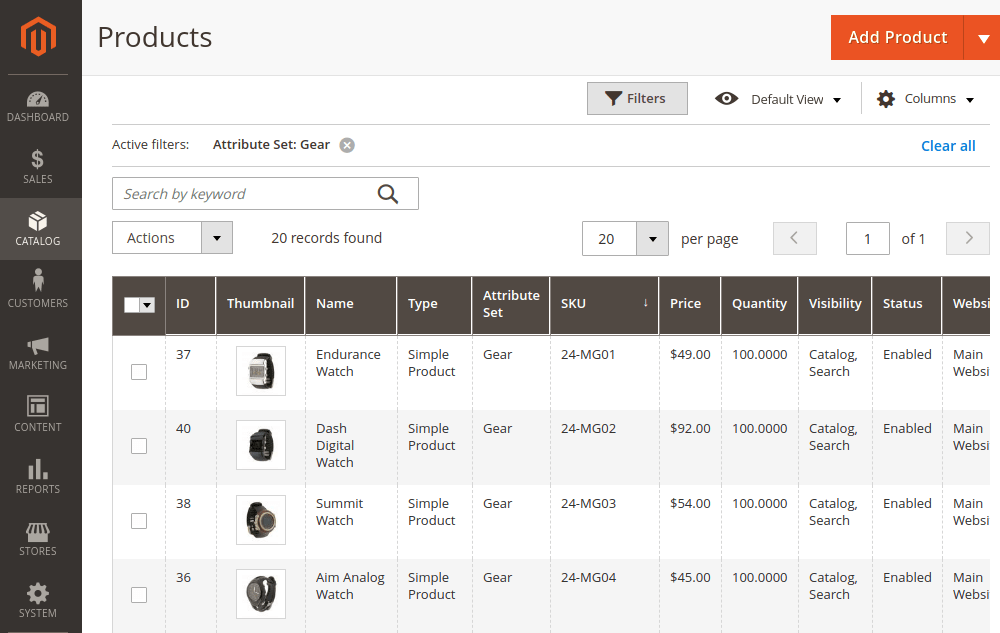 Magento is a proprietary cloud-based solution. The company also offers Magento Open Source, a free CMS software with fewer features.
BigCommerce is a dedicated CMS for e-commerce use, powering over 54,000 live websites. While the standard version of BigCommerce attracts high-revenue businesses, there is another "BigCommerce Essentials" platform for companies with less than $400,000 in online sales per year.
Interestingly, BigCommerce works with several other content management systems on this list.
Enterprise customers can use BigCommerce to power stores on sites built with WordPress, Drupal, Magnolia, or Adobe Experience Manager.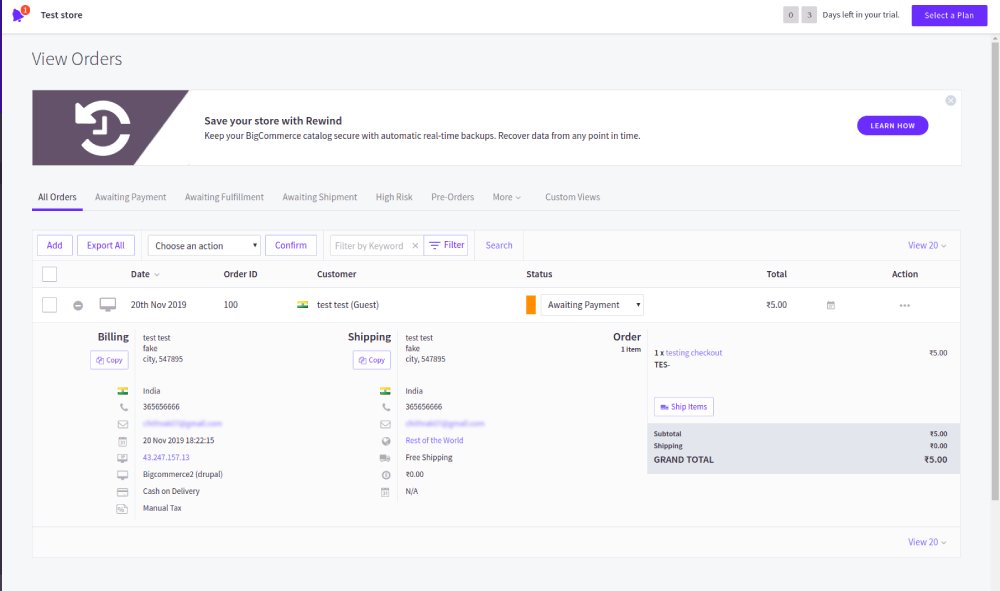 BigCommerce enterprise plans are priced per customer and are only available by contacting the company for a quote. Essentials customers may choose from three plans:
Wix is a direct competitor to all-in-one content management systems like Squarespace. It may be used to launch business websites, blogs, or e-commerce stores and has 200 million users as of 2021.
Wix is a great CMS for small businesses that want to DIY their websites and large enterprises seeking more customized solutions.
Wix includes a page builder, where individual users can select from over 800 drag-and-drop templates.
Professional web designers can use Editor X, Wix's more robust editor similar to no-code design tools like Webflow.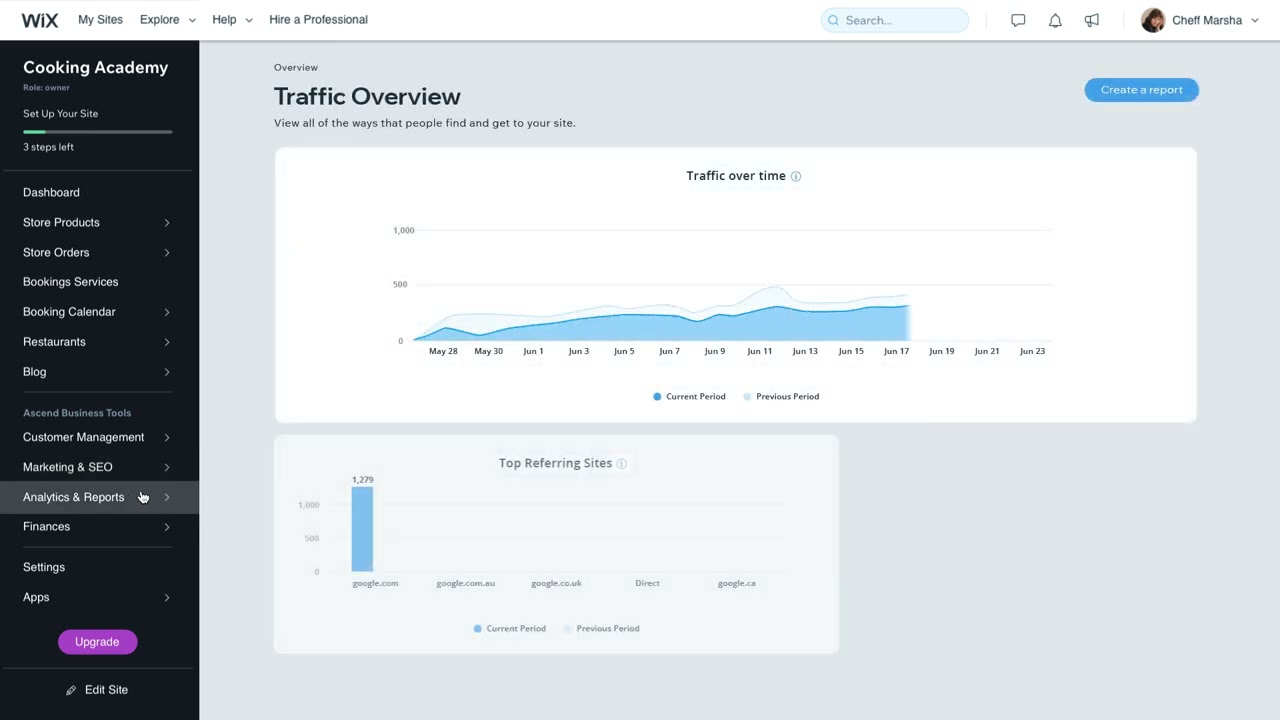 Wix offers multiple pricing plans to suit different business needs. Website-only plans are suitable for personal and small business use without e-commerce sales. Options include:
Companies in need of e-commerce functionality must upgrade to one of Wix's three higher-tier business plans:
"Content" is a broad term. It deals with encompassing business documents, technical manuals, marketing materials, and a wide range of other written and audio-visual data. How deposits of organizations, manages, and edits this data plays an important role in productivity.
Everyone benefits when team members have useful tools. Tools that help the team to share and collaborate more effectively, reduce duplication of efforts and get the information they need quickly.
At Echoinnovate IT we can help you develop great content. We can also help you to maintain existing content. Modern writing apps offer advanced features such as AI-powered suggestions, collaboration tools, and distraction-free modes to enhance productivity. We're an app development company. We have a team of developers that can help you to develop an app and website. Contact us today!