Fintech Startup Ideas for 2023 to Become next Unicorn Startup
Fintech Startup Ideas for 2023 to Become next Unicorn Startup
The revolution in technology and digitization in the banking and finance industry has changed everything completely. Fintech app has not only added convenience to the ecosystem but also made it more secure, quick, and profitable. It has offered a new set of opportunities along with bringing a significant effect on other businesses. Here we have some of the best fintech startup ideas.
If you are planning to launch your own startup in the financial app development business sector then you are at the right place. Here are 10 Fintech app ideas that can help in booming your business in 2022. We have come up with this article. This can help your FinTech startup or business thrive in the $300 billion FinTech industry. Let's quickly dive into the depth of an article.
In the Finance sector, the FinTech market is growing most rapidly with a CAGR of about 8.6%.
Financial transactions volume done through FinTech was estimated to grow from $5.47 trillion in 2020 to $6.6 trillion.
Therefore, if you are thinking about when the right time to launch a FinTech application is, the answer is now.
Approximately 90% of smartphone users make payments through their mobiles.
Ant group being one of the biggest companies in the world currently boasts of over $300 billion net worth.
About 23% of US consumers use the services of a FinTech company, and this is expected to grow exponentially in the coming years.
94% of financial service companies are optimistic that FinTech will drive growth in the sector.
FinTech is an amalgamation of 'finance' and 'technology'. The goal of FinTech is to build, improve, and automate the use of financial services to initiate better financial management.
Fintech processes with specialized software and algorithms that are using the internet and cloud services to connect with electronic devices to enable financial services. To provide an easy consumers payment platform for its business, many fintech applications in function.
Fintech has penetrated various sectors and industries such as investment and trading, education portals, retail banking, Insurtech, eCommerce, etc. Fintech is the smart key to companies, businesses and consumers' access better management of their financial operations.
Best 10 Fintech Startup Ideas Booming in 2022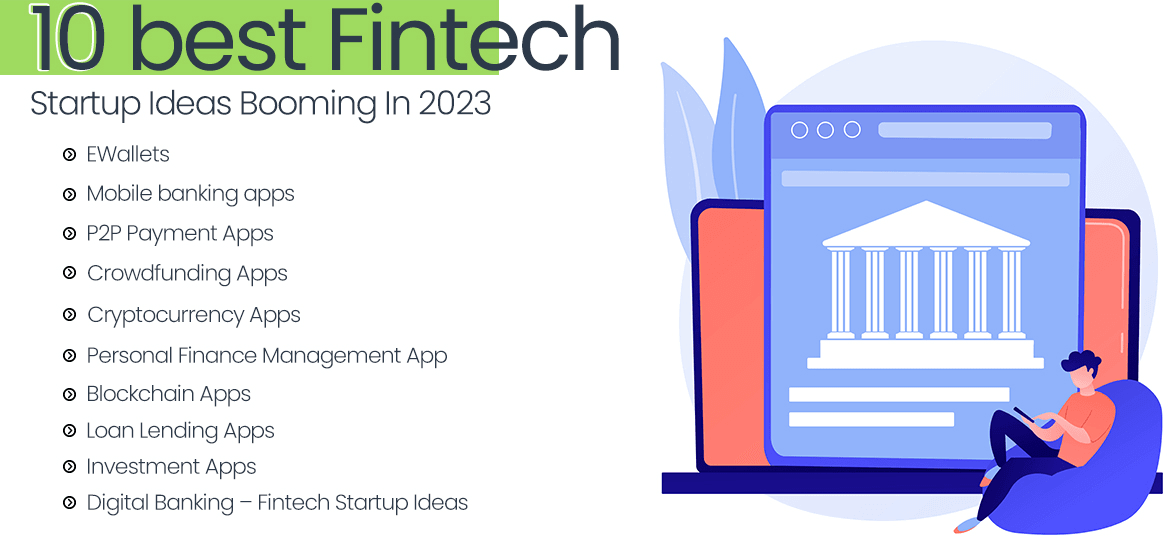 Here are a few innovative FinTech startup ideas to convert into profitable businesses.
eWallets is one of the best among fintech startup ideas today as it has made the payment of bills, payments at various e-commerce or physical merchant stores, and several other online mediums very easy. E-wallets are globally sinuses and are growing like wildfire. In 2013, its value was around $16.65 billion, but it is predicted that the digital wallet market will rise to an incredible number of $7581.91 billion. Alipay significantly dominates the markets in the east whereas the market shares in the west are majorly occupied by Apple Pay.
PayPal has its birth year in 1999, which is an online money transfer platform. PayPal was on the list of the world's first few eWallets. Hence, the development of eWallet applications can be an amazing finance app idea in today's world. People benefit from using these applications as they get offers, cash backs, and gift coupons when they make a payment using these digital wallets. Apps like Apple Pay, Alipay, and PayPal are examples of e-wallets. When more people know about this, there is no denying that its graph will be touching the skies, and one should invest in it.
Examples of Popular E-Wallets Apps are: Cash App, Dwolla, Venmo, Zelle, and Google Wallet
One-stop banking solutions apps
One-stop banking solutions apps are developed for the management of all banking and investment needs like helping with quick transactions, checking the balance, investing in different trading assets, etc.
The open banking movement and supporting legislation empowered consumers with the right to share their transactional data with any third party. This gave a sizable boost to the API economy. FIs and FinTechs gained the opportunity to securely exchange data with one another to provide consumers with a consolidated picture of their financials. By 2022, the new opportunities created by open banking standards in the UK are expected to generate over £7.2 billion in revenue.
The rapidly maturing API ecosystem, paired with the global surge in open banking regulations, has effectively launched the digital-first banking epoch. Thus making this a reliable idea among fintech startup ideas. Plus, it has prompted incumbent banks to double down on digitization efforts. As of 2021, over 2.5 million UK consumers were engaging with open banking products. Among these, one million adopted such products between January 2020 and August 2020. API calls rose from a modest 66.8 million in 2018 to nearly 5.8 billion in late 2020.
The development of P2P payment applications is also a brilliant idea due to the rise in the peer-to-peer payment market. P2P apps are the new bride of the FinTech Industry. Almost every FinTech startup is eyeing one, and rightly so because numerous statistics suggest that. Statistics show that most Americans transfer money to their loved ones. The P2P market is expected to have a CAGR of 30% between 2020 and 2027. This shows that the market is readily available for P2P apps, and the demand is also expected to increase rapidly.
The P2P payment applications have made the transfer of money between the bank holders very easy even if they are registered with different banks and payment systems. The need for any third-party intermediates or the payment of commission fee to make any transaction has been reduced to a great level with the help of P2P payment apps. Several latest technologies like NFC and face and voice biometrics are being used by the fintech mobility solutions in order to streamline POS processing, enhance risk management, and provide the finest customer experience.
Examples of popular P2P apps: Venmo, Google Pay, PayPal, Apple Pay, and Zelle
Crowdfunding is popping up as an amazing fintech startup idea. One of the best alternate funding models for entrepreneurs is to get help from these digital financial app solutions for their fintech startup ideas. Help is provided by them in raising funds for their new or existing enterprises via collective efforts from different individual contributors and venture capitalists. Presently, there are very few crowdfunding platforms available such as Kickstarter and Indiegogo. The concept of crowdfunding is very popular in regions like the US and UK. As per the statistics, $17.7 billion is generated annually through crowdfunding. Crowdfunding is expected to see a global growth of $80 billion from 2021 to 2022 alone.
At present, these digital solutions are getting a grip on the market and it is estimated that they will have a market of $28.8 billion by the year 2025. Crowdfunding platforms are expected to be worth $300 billion in 2030. The first thing you should define as a startup before creating your crowdfunding platform is the type of app you'd like to create. You have options like Donation-based, Reward-based, Lending-based, and Equity-based. Irrespective of the type of platform you choose, a top-notch marketing plan will definitely bring you into the limelight.
Examples of some top crowdfunding platforms include: Kickstarter, Indiegogo, Patreon, and Crowdfunder
Coinbase, which is a crypto exchange platform is also an amazing FinTech startup idea. As a startup, creating your cryptocurrency exchange platform can be a profitable move as the market is expected to grow at a CAGR of 7.1%. Crypto exchange platforms facilitate the trading of cryptocurrencies like Bitcoin, Ethereum, Litecoin, etc., for fiat currencies. In some cases, they also help to exchange cryptos for other assets.
If you plan to own crypto trading apps, you'll be an intermediary between buyers and sellers. As per the statistics, Bitcoin gained 254,445% between 2012 and March 2021, the total cryptocurrency market cap is $2.16 trillion, and there are over 15,000 Bitcoin ATMs globally. Also, almost 70 million people use blockchain wallets worldwide and a social media post on crypto appears every 2 seconds.
The users are provided with an opportunity to step into a decentralized market by trading cryptocurrencies for assets like fiat money or other digital currencies. In simpler words, users can exchange cryptocurrency for another, get crypto tokens in return for fiat money, and even buy/sell crypto coins. These all perks come along with maximum transparency, fewer fees, better security, and quick processing. Although crypto exchanges are super profitable to use, they are very expensive to build.
Examples of top cryptocurrency exchange platforms are: Binance, Coinbase, Fundsbarter, bitFlyer, and Bitfinex
Personal Finance Management App
A Personal finance management application is also an excellent FinTech startup idea. These applications are getting a better grip in the market day by day as the consumers are getting more conscious about their earnings and savings, and this is what makes the idea of the development of personal finance apps beneficial for both investors and startups. The users can categorize their expenses and income, and also can track them in real-time using this application and have a better understanding of how to manage their finances efficiently. These personal finance app ideas, built on the rulebook of how to develop effective personal finance apps make it very easy for users to connect all bank and credit card accounts so that the data gets updated automatically along with payment reminders.
The best part of these personal finance management apps is that it displays the data in a visually appealing format. New personal finance managing apps are the way to go for an investment. These apps help people ease up their finance process and give them suggestions and ideas for planning a budget. You can link your bank account with these apps and have your stats ready in eye-catching representations. There are robotic chatbots in these apps that can help you with suggestions for your investments and retirements.
Examples of Popular Finance Management App are: Mint, Personal Capital, Clarity Money, Prism, and Spendee
Blockchain apps – Fintech App Idea
Blockchain applications are boosting in FinTech, so starting a business using this technology is also a very profitable idea. By 2022, worldwide spending on blockchain solutions will reach $11.7 billion. The global blockchain technology market will accumulate $20 billion in revenue around 2024. Blockchain can reduce 30% of banks' infrastructure costs and financial companies can save up to $12 billion a year from using blockchain. Total spending on integrating blockchain into healthcare will rise to $5.61 billion by 2025. At the present, various FinTech startups and establishments like Circle, We.trade, LAToken, PayStand, and Veem depend on this technology and offer a huge number of options to their targeted user base. This includes:
Making transactions using cryptocurrencies,
Payments for transportation take place when they get the information that the cargo is at the port.
Acting as a decentralized autonomous organization (DAO), in which the members work according to the programmatically defined rules that inform them who can be their member, and how the exchange of tokens or funds is done.
Examples of Blockchain apps are: Algorand, Gemini, Circle, Chain, and Propy
Developing an application for P2P lending is also an amazing fintech startup idea. A loan lending application acts as a platform where the lenders and the borrowers can connect to each other and get to know each other's needs without using the product discovery services of any financial institution. These applications let the borrower set the maximum loan rates that they can manage and the lenders bargain with each other to offer funds at the lowest rate. And this way, get more customers or borrowers. Loan lending apps are one of the most exciting fintech startups to invest in. This is a place where the loan seekers and loan lenders have a commonplace.
These apps will look into the customer's data, check their credit status, and behavioral history, and only then will they qualify them to ask for a loan. This process is very quick. So it helps the lenders get more customers, and the customers can also look out for various investors. As the whole process takes place on your smartphones, the money transactions also follow the same. The transaction takes place either through digital banking or P2P payments.
Examples of Loan Lending apps include Earnin, Dave, Brigit, Chime, and MoneyLion.
You can enjoy the limelight in the marketplace by putting efforts into the app development process for investment. People greatly appreciate such platforms that provide the knowledge of shares, stocks, forex, and funds. People like to invest in them efficiently. They are focusing more on apps that can gather data about investment through different sources. Also, empower them to calculate the asset valuation and go right with their decision. The search for investment apps on Google has grown by %115 years over year.
As per Statista, more than 10% of people across all age groups used an online investment tool within the past 12 months and the Global eTrading market size is expected to grow from $8.7 billion in 2021 to $12.16 billion in 2028; this represents a CAGR growth of 5.1%. A revolutionary feature that most top investment apps have is one that allows users to monitor their bank accounts.
You must first get a clear budget idea if you are thinking about investing in investment apps. Because a lesser budget can be a problem in your project. You might have to remove the must-have features from your FinTech app development, delay your app launch plan, etc.
Examples of some Investment apps that are currently making waves: Robinhood, Webull, Betterment, Acorns, Wealthfront.
Digital banking – Fintech Startup Ideas
The Digital banking is one of the most important FinTech app ideas where you can invest. It is the "King-kong" of FinTech. A bulk of FinTech investments and usage goes to the account of mobile banking as it has the highest applicability among all FinTech categories. There is a dramatic shift in recent years and it has come to notice that the way people interact with their banks and relish banking services is not the same. Nowadays, users don't find it convenient to visit their local banks or ATMs for money transfers or any other purposes. They would rather prefer enjoying the perks offered by digital banking such as making transactions, investing, opening accounts, blocking cards, deposits, etc. with just a few clicks on their smart devices.
Such unique facilities of digital banking have made it more popular and the concepts of investing in digital banking app ideas have grown a huge momentum in the market. In 2011, the sector was only catering to 9% of the online audience but soon after 6 years, it became a part of 69% of the online audience. The best part is that it is just the beginning and it will continue to reach the broader audience.
Examples of Digital Banking Startups include Mercury technologies, Novo, Rho, Lili, Grasshopper Bank.
How much does it take to develop a Fintech app?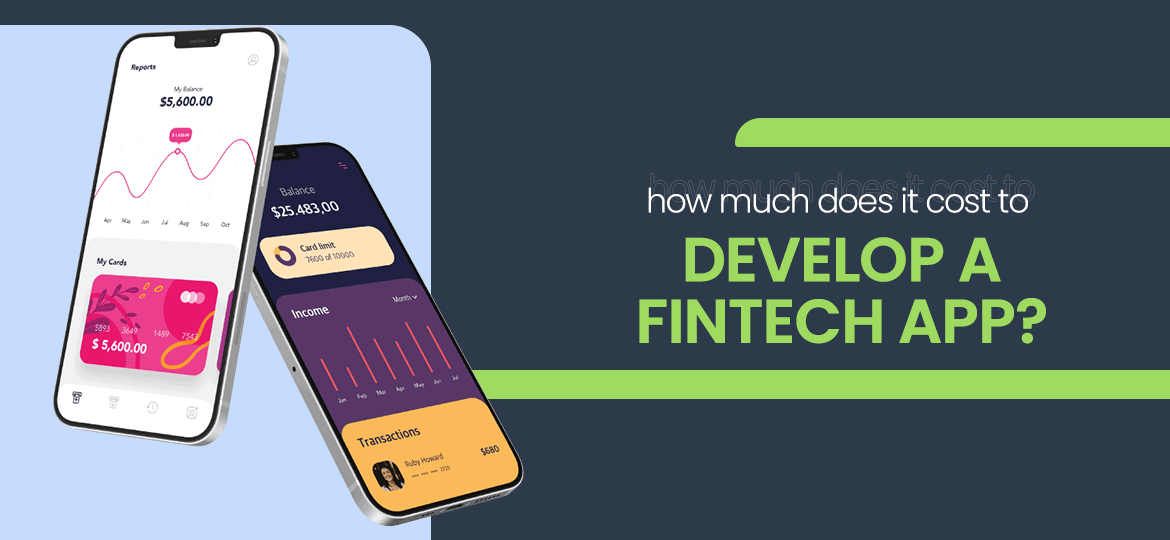 Well, every business operates with a different goal. So, there is no finance application that meets the requirements of all businesses. Therefore, there is no standard cost pricing for developing a FinTech application for your business. It is quite challenging to tell you the exact cost it would take in developing a FinTech app.
But, to execute your fintech startup ideas you need to have a rough estimate of the budget and time. Therefore, developing a basic application that can provide a safe, transparent, efficient, and convenient way to transfer online payments, it would cost you somewhere between $40,000-$50,000. And, it might take approximately 3-4 months for the deployment of an application.
A financial application with basic functionality and a simple user interface for a single platform will cost between $30,000 and $50,000.
However, developing an advanced solution with more functionalities and modern technologies will cost from $50,000 to $65,000.
These are rough estimates that can vary greatly based on several aspects like features integrated, platform functionality, API integration, the complexity of an application, hourly charges of developers, development team, location of the company, and more.
FAQ's of Fintech App Ideas
Python, C++, Java, C#, C, and Ruby are some of the best programming languages to consider for finance app development.
Blockchain, Robotic Process Automation (RPA), Augmented Reality (AR), Prescriptive Security, Artificial Intelligence (AI), and Quantum Computing are some of the technologies revolutionizing the fintech space.
A few of the fintech app monetization strategies that Entrepreneurs are focusing upon are in-app advertising and referrals, business collaborations, subscriptions, and introducing API as a product.
The global FinTech market is booming at present and will continue to grow in the coming years. It might reach a worth of $309.98 billion by the end of the year 2022. The adoption of technology in the finance sector offers several perks. The best one is that they are providing access to financial services by billions of users.
Now you know the best FinTech startup ideas to work on. We are sure that you have some ideas in your mind too. However, just having a great startup idea is not sufficient for a successful startup. It is important to have the right FinTech app development company as your partner with the right business model.