What Are Ecommerce Applications?
Ecommerce is the online purchasing and selling of goods and services via an ecommerce website. An ecommerce app development is a software programme that is especially developed to aid in or add functionality for designing ecommerce websites. Typically, ecommerce app development refers to the vast selection of accessible shopping cart programmes, as well as other software that integrates eCommerce payment gateway choices as plug-ins or as part of an overall ecommerce applications. Shopping carts may only be added to websites created with software that was not intended specifically for ecommerce and has no ecommerce-specific functionality in its initial configuration.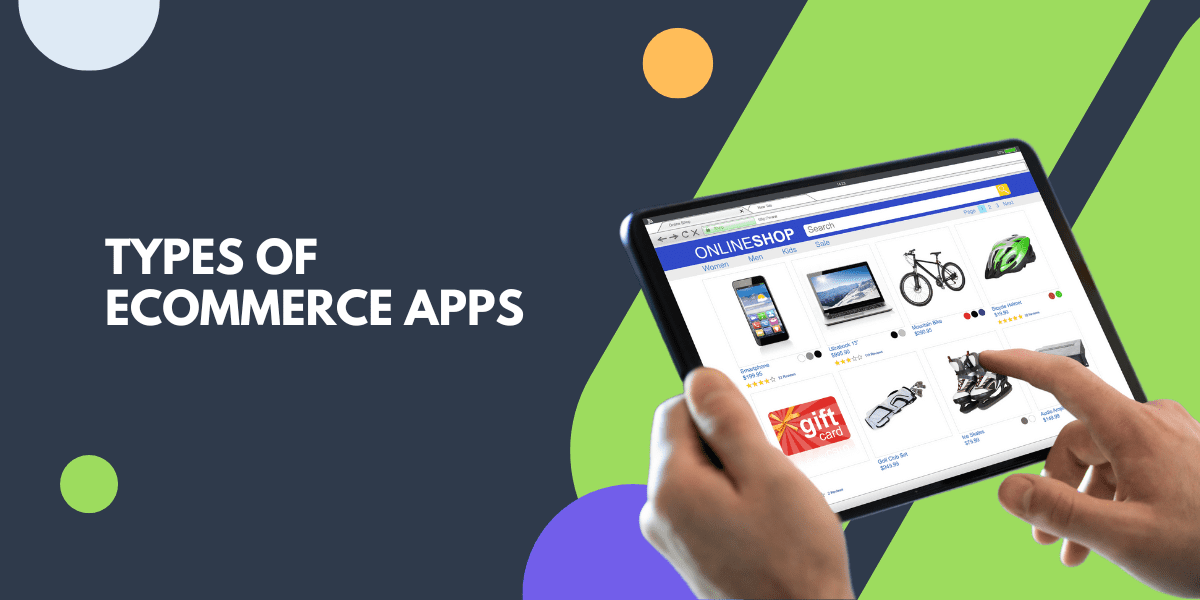 Business-to-Business Ecommerce apps
It refers to the electronic exchange of goods, services, or data between companies, as opposed to between businesses and customers. Alibaba, Amazon Business, and Quill are examples of marketplaces where businesses sell to retailers, who then sell to consumers. Thus, the products offered here may serve as raw materials or finished goods for other sectors in the future.
Business-to-Consumer Ecommerce apps
Business-to-consumer (B2C) refers to the retail portion of online commerce. It is when companies sell their goods, services, or information directly to customers. Amazon is the most well-known of these websites. It is the leader in the B2C sector.
Consumer-to-Business Ecommerce apps
Consumer-to-business (C2B) is a kind of Ecommerce in which people offer their goods and services online for businesses to bid on and buy. This is the reverse of the conventional B2C approach of business. iStock is a well-known example of a B2B portal that provides royalty-free pictures, images, video, and design components.
Consumer-to-Consumer Ecommerce apps
Consumer-to-consumer (C2C) Ecommerce involves the online exchange of goods, services, and information between consumers. These transactions are often carried out via a third party that offers an internet platform. eBay and Craigslist are two notable illustrations of such top Ecommerce websites.
Most Common Ecommerce Applications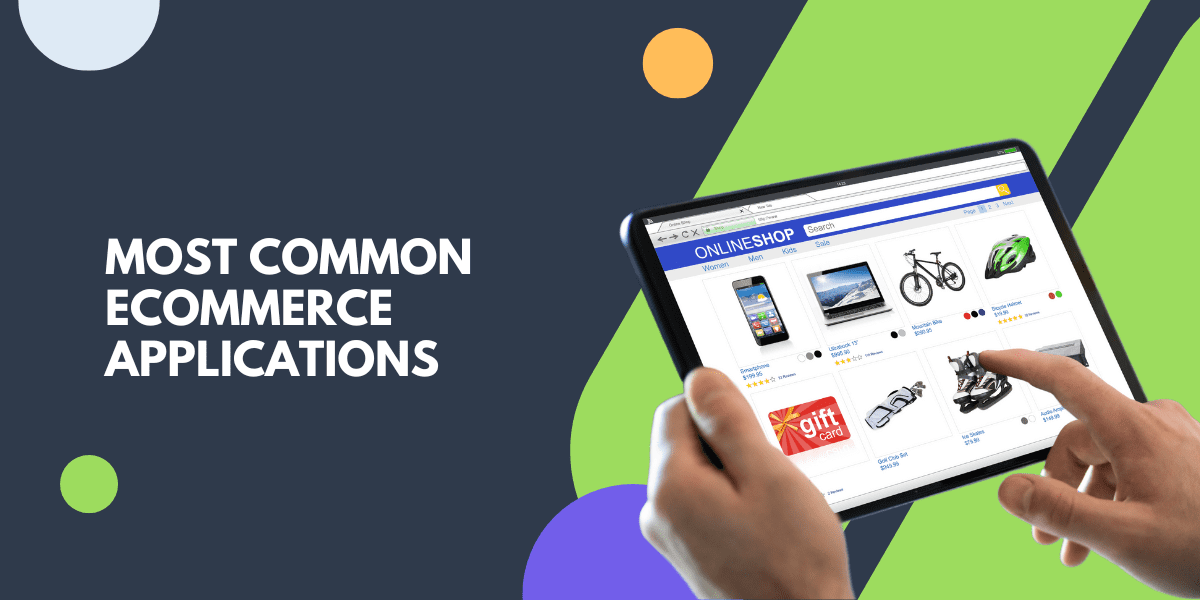 Wholesale and retail markets
The use of Ecommerce in this industry may take many different forms. E-retailing, also known as business-to-consumer or B2C retailing, refers to the practice of selling products and services through online storefronts that are developed with the assistance of electronic catalogs and virtual shopping carts. For example, furniture app like Wallapop that sells used furniture. M-commerce, also known as mobile commerce, is a subset of retail Ecommerce. In this kind of transaction, a customer makes purchases of products and services using their mobile device while navigating a mobile-optimized version of a top Ecommerce website.
The connection between online business and traditional commerce is stronger than it has ever been. Ecommerce app development plays a crucial role in the day-to-day operations of financial institutions including banks and stock exchanges. Checking your balance, paying bills, transferring money, and other services are all available via online banking. People are able to engage in electronic trading via the use of online stock trading, which provides information on stocks in the form of performance reports, analyses, charts, and other similar materials on top Ecommerce websites.
Manufacturing supply chain activities also leverage ecommerce; typically, a few firms join a group and build an electronic exchange to simplify the buying and sale of products, exchange of market information, and back office information such as inventory management, and so on.
Applications for mobile devices and the web
Mobile commerce, often known as m-commerce apps, is a subset of retail Ecommerce that is becoming more popular. Ecommerce website development services have evolved into a standard practice for companies to demonstrate their operational skills.
The travel and tourist business is booming right now, and as a direct consequence, the use of top Ecommerce applications like online booking is becoming more popular. Online booking makes it easier for consumers to make reservations for travel necessities such as airline and railway tickets, hotel rooms, vacation packages, and transportation services, among other things.
E-banking, sometimes known as online banking, is a kind of a top Ecommerce website that has significantly streamlined people's formerly laborious and time-consuming banking procedures. Customers of banks are able to simply complete transactions online, eliminating the need to stand in huge lines at the banks themselves.
Using Ecommerce technology, auctions may be held online, which brings together a large number of individuals from all over the world and enables the buying and selling of goods at prices that are negotiated by the participants. It opens up the opportunity for participation in auctions to a greater number of individuals.
How Can Ecommerce Applications Benefit Your Business?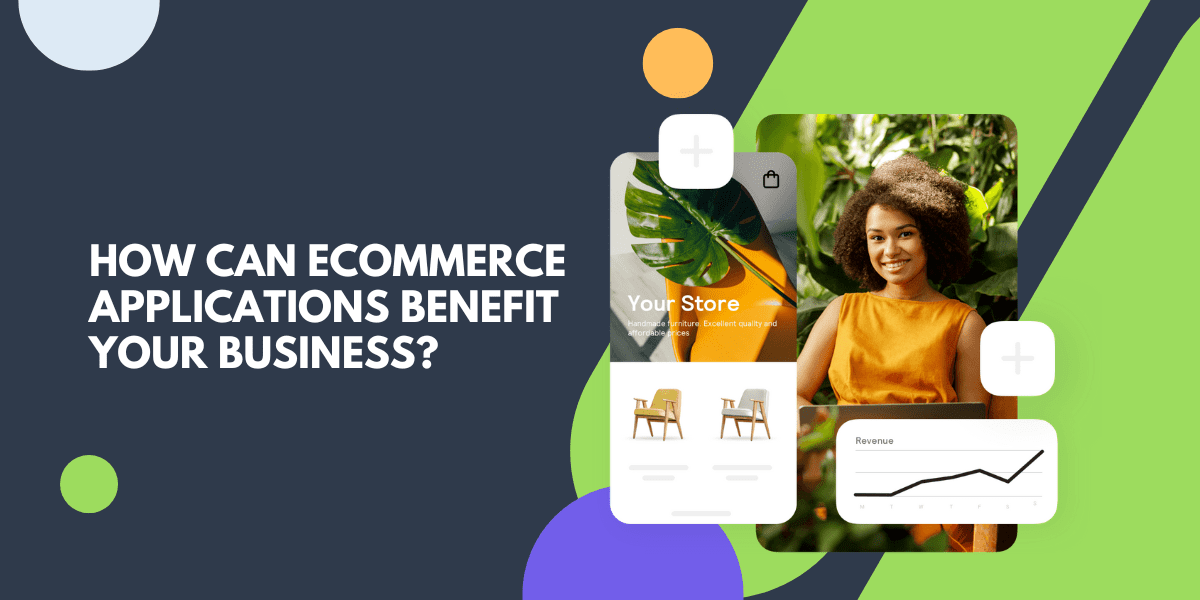 Customers who are tech-savvy nowadays need a consistent and tailored experience across many devices. An eCommerce mobile app development is able to provide this function throughout the customer's interaction with your business.
Mobile applications help collect customer data
A business mobile app facilitates the collection and analysis of user data, allowing you to better comprehend customer preferences and purchasing patterns and adapt your company appropriately. In addition, you may remind users of new arrivals, discounts, special offers, etc. depending on their specific preferences. This increases conversions by 7 to 12 percent with the same traffic.
Maximizing Your Business's Social Media Exposure
Your eCommerce mobile app development allows you to connect all of your company's communication channels, allowing customers to reach you without difficulty. Social sharing is more beneficial to your company than a retail clerk.
This is one of the most significant advantages of a mobile app for an eCommerce firm. A business specializing in designing ecommerce websites may include technologically advanced elements to provide app users with a pleasant and customized purchasing experience. Elegant UI/UX designs and customer-centric features may make an app brand-building and reputation-enhancing capabilities.
An eCommerce application development for Android or iOS is more than a strong representation of your online company on the customer's mobile device. A user-friendly eCommerce application is also an economical marketing tool. Through push notifications, you can keep your consumers informed of the purchase progress, payment reception, and any discounts or promotional offers.
Amazon is among the largest online retailers with a worldwide reach. Amazon's SSR enables vendors to self-register in the marketplace, regardless of their location or catalog size. It allows merchants to begin selling within a day without the participation of a third party.
Walmart's online shoppers have access to a variety of items in categories. This include electronics, baby products, fashion, pharmacy, and auto-parts, making the site appealing to consumers with diverse profiles.
PayTm is the second biggest e-commerce platform in India and a member of the unicorn startups club. With close to 120 million consumers on the site, PayTm Mall seeks to improve the purchasing experience in innovative ways.
Etsy is a U.S.-born online marketplace that specializes in the selling of handmade, antique, and distinctive factory-made goods. Etsy's e-commerce platform allows individuals and businesses to sell a vast array of things, including art, apparel and accessories, cuisine, bath and cosmetic products, toys, and a multitude of other unique items.
Myntra is one of the most popular online retailers for fashion and leisure products. It offers a vast array of items, including apparel, footwear, and accessories. It focuses on providing clients with the most stylish brands. Myntra was bought by Flipkart in 2014.
Consequently, eCommerce website developers have accelerated dramatically to meet customer wants and expectations. The idea of obtaining an in-store experience while remaining at home has been attractive. It has prompted customers to establish criteria for ecommerce website developers. Connecting with technology service providers like Echo Innovate IT that provides ecommerce website development services will suit the objective of establishing an ecommerce application best. We are the top mobile app development company. We will help you transform the ecommerce company concept into the ideal ecommerce mobile application.
What is a eCommerce app development?
An ecommerce app is a mobile application that enables online buying.
How long does it take for an ecommerce app development?
Custom development of ecommerce applications might take between three and twelve months. The same may be accomplished in one week to three months using a ready-made programme.
How can a mobile app for ecommerce benefit businesses?
The advantages of developing an ecommerce app include enhanced visibility, brand recognition, marketing, and an efficient user experience.