Recent development in online payments demonstrates the importance of payment gateways for your organization. Payment gateways are services that handle card transactions for your company. They are an advantage to your organization since they enable secure and efficient transactions and decrease losses due to late payments. A payment gateway facilitates online payments for consumers and companies, hence facilitating the payments ecosystem. If you're an online merchant, you don't need to be an expert in payment gateways in the USA, but it's beneficial to have a basic grasp of how an online payment moves from your client to your bank account.
What Is A Payment Gateway?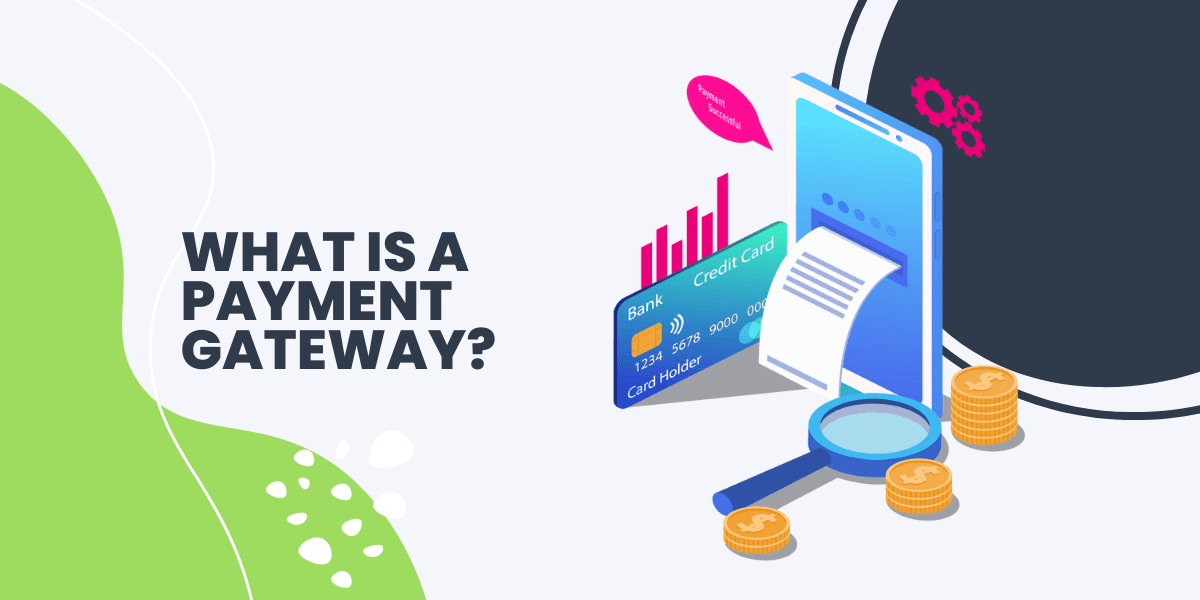 The system that "captures" and "transfers" payment data from a client to an acquirer, and then "transfers" the payment acceptance or refuse status back to the customer, is referred to as a "payment gateway." A payment gateway is a third-party service that verifies the customer's credit card information, verifies that sufficient funds are available, and ultimately makes it possible for merchants to get paid. It functions as an interface between the website of a merchant and the acquirer for that business. It protects the customer's sensitive credit card information by encrypting it and guaranteeing that it is safely sent from the merchant to the acquiring bank on the customer's behalf.
To put it another way, the payment gateway acts as a go-between for the client and the merchant, ensuring that the transaction is carried out in a timely and secure manner within the e-commerce stores. The process of merchants integrating the appropriate software may be made easier by using online payment gateways in USA. The gateway acts as an intermediary between the acquirer and the merchant during the processing of payments and is responsible for managing the sensitive card information of customers.
How Does A Payment Gateway Work?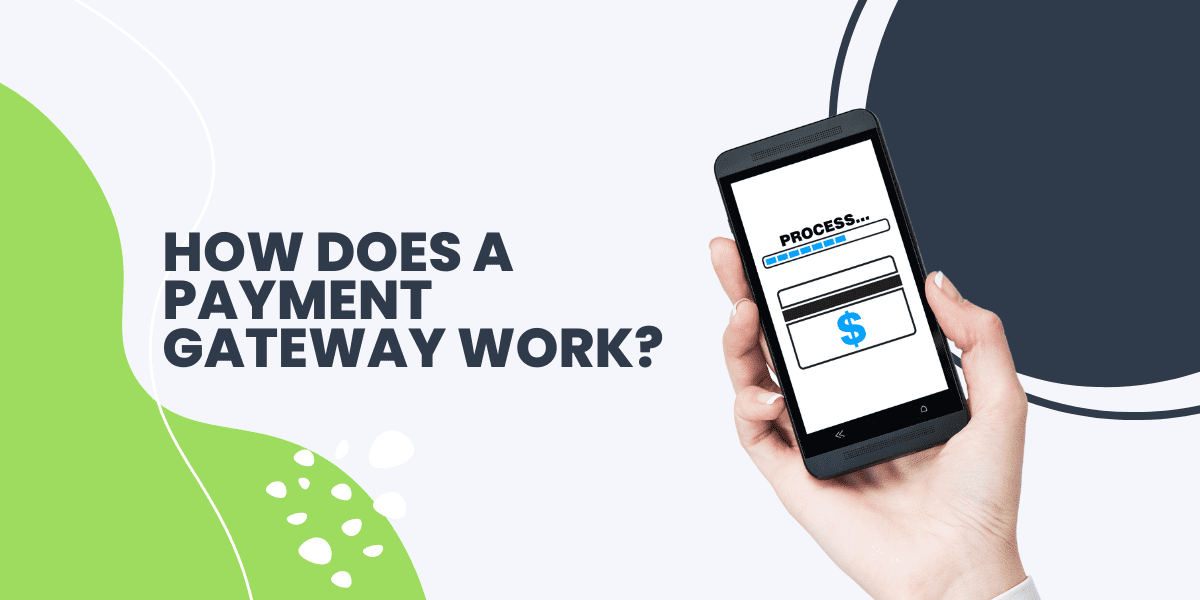 The consumer selects the desired product or service and goes to the payment page. Most payment gateways provide several customization options for the payment page. emerchantpay's payment gateway provides the following choices for your business-specific payment page:
A hosted payment page is a pre-built payment page to which consumers are forwarded when they are ready to complete their purchase on their e-commerce stores. The payment gateway receives the transaction data in a secure manner before transmitting it to the acquirer. If you do not collect or keep cardholder data on your server, a hosted payment page decreases the PCI compliance burden for e-commerce stores.
Integration of two servers
A server to server integration is sometimes referred to as a direct integration since it facilitates communication between two servers: the server of the merchant and the server of the payment gateway. By asking card information on the payment page, a transaction may be started immediately. Merchants have greater say over the design and layout of the payment page since customers don't have to leave their site to complete card payments, which speeds up the checkout process and improves the user experience. If you gather and/or keep payment information before transferring it to the payment gateway for processing, a server-to-server interface is appropriate.
Client-side encryption, also known as encryption-at-source, involves encrypting sensitive data on the client-side device prior to transferring it to the server of the merchant. This facilitates the simplification of PCI compliance requirements for the merchant. In a word, it lets you take payments from customers directly on your site while protecting their credit card information using the payment gateway's own encryption library.
On the payment screen, the consumer enters their credit or debit card information. These contain the cardholder's name, the card's expiry date, and the CVV number (Card Verification Value). Based on your integration, this data is sent to your payment gateway in a safe manner.
Before sending card data to the acquiring bank, the payment gateway tokenizes or encrypts the card information and conducts fraud checks. The acquiring bank transmits the information to the card schemes in a safe manner (Visa, Mastercard). The card schemes then submit the payment data to the issuing bank after a second level of fraud screening. After undertaking fraud screening, the issuing bank authorizes the transaction. The accepted or denied payment notification is returned to the acquirer from the card schemes.
The acquiring bank returns an approve or deny message to the payment gateway, which then forwards it to the merchant. If the transaction is accepted, the acquirer gets the payment amount from the issuing bank and keeps it in your merchant account.
The process of depositing the funds into the merchant's account is known as settlement. Depending on the terms of the merchant's agreement with their payment gateway, the settlement will take place at a certain time. Depending on the message, the merchant may either show a payment confirmation page or request an alternative payment method from the consumer.
Top Payment Gateways In The USA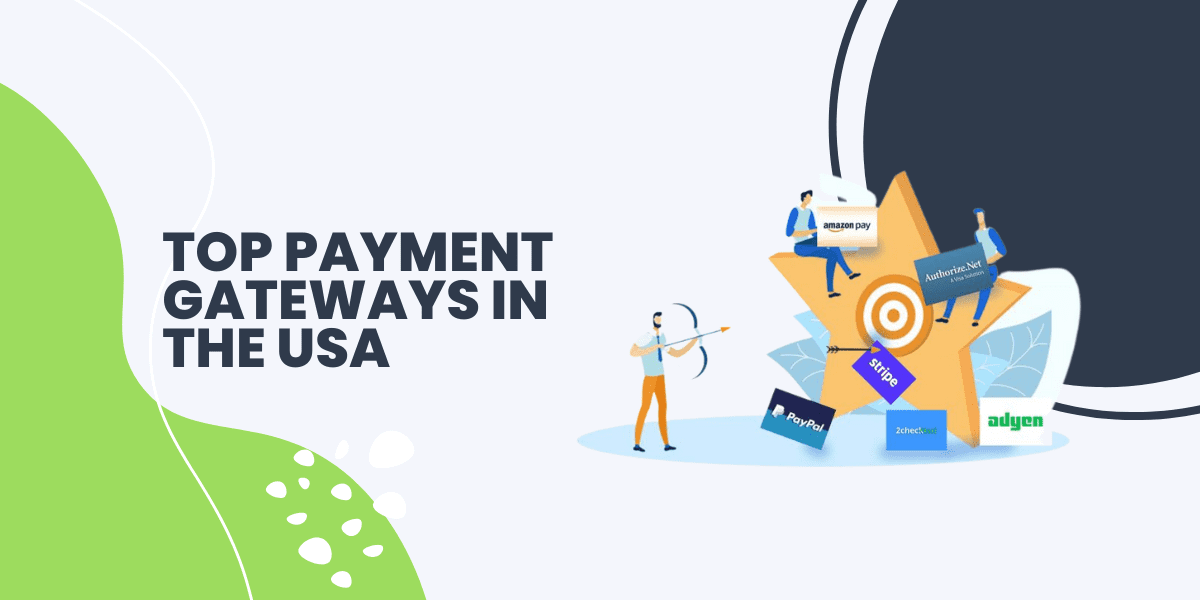 When companies hire a mobile app development firm to design an app for their e-commerce site, they want to incorporate one of the best payment gateways. Let's take a look at some of the most prominent online payment gateways in USA.
PayPal is a payment gateway that offers services worldwide. It is one of the best payment gateways in the United States and provides consumers with a 180-day return option Founded in 2002, PayPal is presently the most popular online payment gateways in United States. It allows international payments in several currencies. PayPal is favored by businesses for a variety of reasons, including brand awareness, security, and simple setup. Even though it is the most expensive Gateway service, PayPal is the most popular among small enterprises and startups. The development of an e-commerce mobile app concept is incomplete without a payment gateway. PayPal is free for purchasers, who may use their debit or credit card to make purchases. There are no necessary startup costs, monthly fees, or gateway fees. Safety is assured.
Authorize is well-known for its developer-friendly API and its ability to create a personalized, pleasant user experience. It also permits you to conduct transactions as you see fit. Their extensive service offering encompasses all possible payment methods for your e-commerce business. When building a payment service wallet app, businesses usually seek guidance from the industry's dominant players. Authorize.Net is one of the most sought-after online payment gateways in USA, despite its $49 startup price and $29 monthly gateway fee. Additionally, it enables you to conduct transactions as you like. Their extensive selection of services includes every conceivable payment option for your e-commerce firm.
Amazon launched its payment services in 2007 to facilitate transactions on its platform. Since then, it has become one of the most widely used online payment gateways in USA. It enables customers to not only pay merchants on Amazon, but also pay securely on other websites and applications.
Users may use their current Amazon account to make payments without leaving the shopping window. Amazon Pay as a checkout option will enhance the likelihood of purchases and decrease shopping cart abandonment. Due to the fact that Amazon is an e-commerce website, the payment gateway is built to accommodate any payment issues a user may have. Fraud detection and consumer verification are additional Amazon Pay capabilities that can assist your company.
Checkout is an additional one of the best payment gateways that is accessible in over 87 countries. It accepts all major credit cards, including Visa, Mastercard, Diners Club, and American Express. VeriFone has bought the popular payment gateway 2Checkout or 2CO in the United States. The worldwide leader in commerce and payment solutions, VeriFone. Both 2CO and VeriFone have a same mission to simplify and modernize commerce solutions and facilitate effortless payment. Both parties profit from the acquisition's financial stability, scalability, contacts, resources, and market potential.
PaySimple is a cloud-based payment gateway that enables company owners to accept payments, manage clients, and automate invoicing procedures. Since 2006, it has enabled over 17,000 company owners to take payments and sell online. The PaySimple payment gateway is now used by company owners in the United States that accept payments in USD.
Integrate your e-commerce platform with the PaySimple payment gateway to get the most cost-effective digital billing services. When the globe is eagerly seeking for new mobile app development trends, PaySimple provides its consumers with a simple and rapid method of transferring money. The gateway is equipped with technology that permits all types of financial transactions, including credit card transactions. Recurring payment collection is another service offered by PaySimple.
WePay is more recognised for its Crowdfunding services than for its e-commerce offerings. WePay's API and services are optimized for this form of payment and are geared at crowdfunding websites.
WePay is specifically designed for small companies to make fast and easy payments. WePay, a subsidiary of Chase, has introduced innovative and dependable integrated payment banking solutions. Established in 2008, this payment gateway simplifies and streamlines payment operations. JPMorgan Chase purchased it in 2017 for integrating its fintech technologies with the bank's strength.
By collecting flexible, integrated payments through APIs such as referral and white label, the clients may concentrate on their primary strategy. WePay has helped numerous prominent businesses, including BigCommerce, FreshBooks, Constant Contact, and Keap, among others. It provides fraud and protection services through a method for risk prevention. Social data sets and machine learning algorithms helps to identify fraud.
BlueSnap provides an all-inclusive payment system that enhances B2B/B2C commerce. It is well suited for small companies and even big corporations that need an integrated online payment processing solution. BlueSnap aims to give a more efficient method of accepting money, designing client experiences, and expanding your company. The BlueSnap payment gateway supports online and mobile sales, marketplaces, invoice payments, automatic account receivable, and subscriptions, among other features. It also offers 100 sorts of payment choices, including digital wallet integration. BlueSnap has superior fraud protection and prevention systems in place to safeguard purchases.
Payline, commonly known as Payline Data Services, is a merchant processor located in Chicago. Jeff Shea started it in 2009 and offers diverse payment options to online and offline companies in the United States. Electronic Transactions Association presented this online payment gateway in the United States with the Best Payment Facilitator Integration award.
Using this platform, the user may accept payments through any method, including credit cards. Payline may also provide a customized solution for your business. Payline provides an array of services under one roof. Every transaction is subject to stringent data security and safety requirements. Integrated and rapid payment solutions help boost your company's conversion rates and exposure.
Adyen is an omnichannel online payment in USA that offers different payment acceptance methods on a single platform to retailers. Its payment services consist of a payment gateway for online transactions, a point-of-sale for in-person purchases, and integration capabilities for in-app and mobile payments. Additionally, the organisation offers merchant accounts for companies to accept payments.
Adyen enables small companies to take all payment types, including credit cards, debit cards, digital wallets, and direct debits. Its payment solutions are compatible with over 30 currencies and countries including the United States, Canada, Brazil, Australia, Japan, New Zealand, the United Arab Emirates, and others.
As a major payment processor, Square is accessible throughout the United States, the United Kingdom, Ireland, Canada, Australia, and Japan and accepts the local currency in each nation. Square is ideal for businesses with a physical location. They consolidate payments, software, and hardware provisioning, which are all required for online and offline sales. Square focuses primarily on its virtual terminal, which allows you to accept payments from any device (laptop, phone, tablet), thereby targeting companies who do not need an internet shop but do need to accept payments on-site through portable devices. Square takes the user's payment information at the point of sale and routes transactions straight via Credit Card payment gateways.
This payment gateway is one of the leading credit card processing businesses, accepting the vast majority of major credit cards. It enables onsite validation, hence facilitating a smooth user experience. You may now get real-time authorization replies from major card brands and/or other local payment providers all via a single solution thanks to First Data Gateway, which enables you to accept secured payments through your website and process them. Access to additional services, such as tokenization, hosted payment form choices, and a virtual terminal for manually accepting transactions, are all provided by the payment gateway that is packed with several features. FirstData does not publish their rates publicly; instead, you must establish a quota for your company based on which they will convey the pricing. They offer the most expensive payment gateway services.
In addition to their own Payment Gateway API solution, Merchant e-Solutions works with a number of different gateways, shopping carts, and integrators to enable merchant accounts and processing for online transactions. For online payment gateway in USA, businesses rely on Merchant e-Solutions to handle their payment processing needs. This gateway is highly recommended for American businesses since it facilitates PCI compliance, fraud control, real-time transaction data, web-based reporting, automatic recurring invoicing, and mobile payment options. You're in luck if you've decided to choose Merchant e-Solutions as your payment processor of choice. With Shopify's full backing, integrating your gateway account with your e-commerce platform is a breeze. You'll be taking credit card payments and running at full capacity in no time.
From a variety of POS terminals and other payment gateways to international acquisitions and fraud monitoring, Echoinnovate IT is proud to provide a comprehensive range of services. Our scalable payment platform aids in the comprehension of consumer behavior and the formation of well-informed business choices. For more time spent doing what you love, we can be your trusted payments partner and an extension of your small company thanks to our openness and emphasis on the needs of our customers.
What exactly is a Payment Gateway?
A payment gateway is an e-commerce application service that permits business payments by facilitating the transfer of consumer monies to a bank account.
Can you assist me in creating my own payment gateway?
Yes, we will create a custom payment gateway that is housed on your own servers. This provides you entire control over the consumer experience throughout a transaction and places the responsibility for security on you, as opposed to a third-party payment processor.
Are Payment Gateways Safe?
Despite the fact that all online technologies provide some degree of vulnerability and danger, the majority of payment gateways include data encryption, fraud detection, and other security measures to protect your and your customers' information.