A mobile device has evolved from a simple communication tool to a tool very effective work in recent years. As technology advances at high speed, people are becoming addicted to mobile phones, tablets, and other smart devices. Thus you need a best mobile app framework for your app.
With this in mind, the importance of mobile applications in Business has climbed the ladder rapidly in recent years. Mobile devices have changed the way businesses function today.
While high-speed data access and excellent user experience are the keys to the high growth of the business. Not to mention mobile apps make it easier for users to get any business information fingertips and stay connected with their favorite brands.
In other words that's the reason, many companies today are making their presence on mobile platforms.
Of course, The market for mobile applications has reached about $ 30 billion in revenue according to a study report. To put it another way regardless of the enormous quantity, the applications market is still in the early stages and has much to offer.
Every business owner, small or large, must own up to the fact that at the current rate of adoption of technology, no business should be sold offline alone.
Today, mobile marketing is more effective than ever and brings numerous benefits, even for small profits. Small business owners must adapt to technology trends and can earn by developing a mobile app for their business.
7 Real Reasons Businesses Should Invest in Mobile Apps for Successful Startup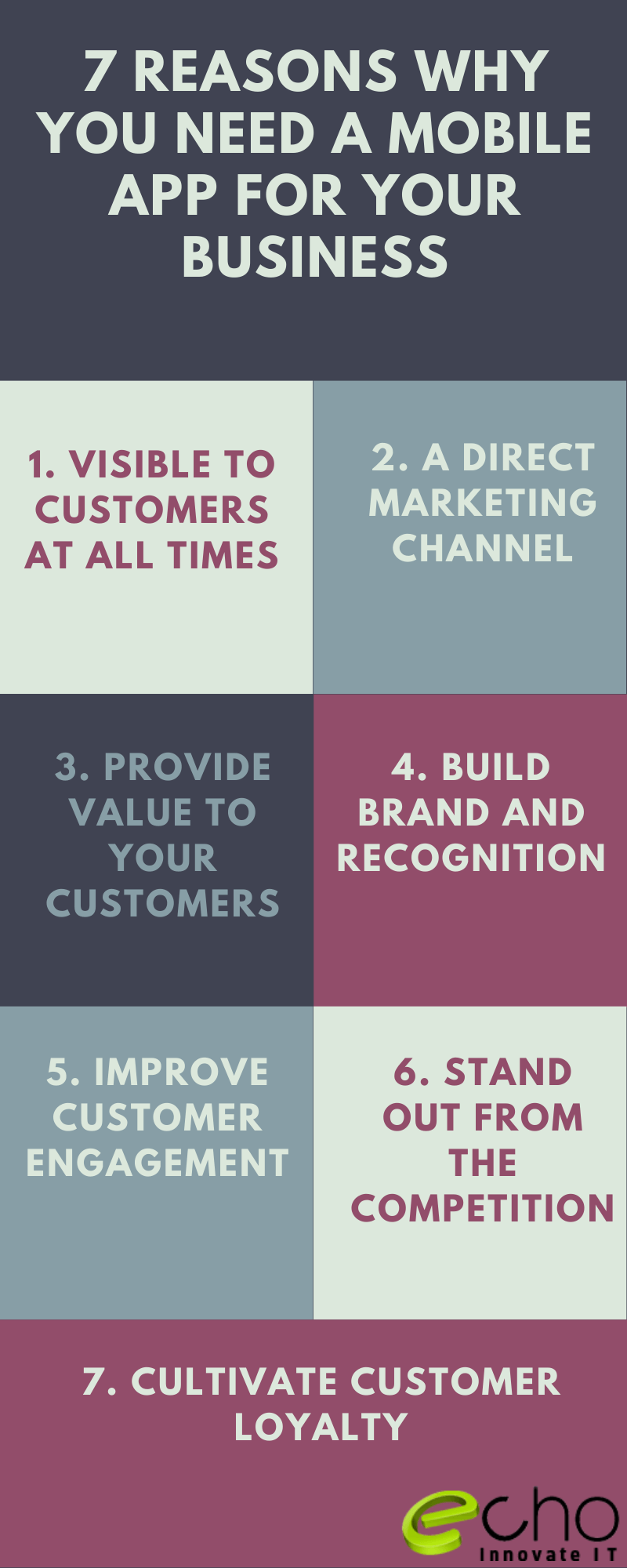 Be Visible to Customers at All Times
Statistics show that the average American spends more than two hours a day on their mobile device.
Although probably only a handful of applications make up most of the total use, this does not change the fact that each user has to unlock, move, and scan your device for applications that are looking for.
Being "on the road" can be an asset to your company, as our unconscious mind makes record each image and text (or designed application icon!) Coming through – even if it happens unnoticed.
Create a Direct Marketing Channel
Applications serve many functions: they can provide general information, prices, booking forms, search functions, user accounts, messengers, news feeds, and more.
One of the biggest benefits of having a mobile application is that all the information you want to offer your customers – including sales and specials – is right at your fingertips.
Through push notifications, you are getting even closer to a direct interaction, and can easily remind customers about their products and services whenever it makes sense.
Provide Value to Your Customers
Speaking of the information at hand, what about digitizing the loyalty program they have in place?
Instead of sticking to the card collecting old points, customers can collect their awards through their mobile applications.
The result? Downloads and more customers back. (Exit PunchMe, a service that lets you create loyalty programs based on smartphones).
Build Brand and Recognition
A mobile app for your business can contribute greatly to your brand awareness. Breaking this in two aspects, the combination of which will make your application a real winner:
Brand: A mobile application is a sample blank billboard. You can do whatever you want with it; It may be stylish, hip, functional, shocking, or informative. But what you really want to do is create an application that has characteristics of your customers, while at the same time is well qualified and very well designed.
Recognition: The more often you can get customers involved in its application, the sooner be inclined to buy your product and/or service. Advertising is called the "effective rate" as a general rule, hearing and/or seeing your brand about 20 times what is going to get really noticed.
Improve Customer Engagement
No matter if you are selling flowers or spa services, customers need a way to communicate with you.
Having a messaging feature (or help desk) within your application can really make a difference in the way you communicate with your customers.
Think about it: range, for example, built its entire business model around this principle. Instead of calling a restaurant for a table, you can book it in less than five clicks on your platform.
Now think about it: How many customers prefer to communicate with you via text over the phone?
Stand Out From the Competition
These days mobile applications at the level of small businesses are still rare, and this is where you can take a big leap ahead of its competitors.
Be the first in your neighborhood to offer a mobile application to your customers. Its visionary approach will amaze them.
Cultivate Customer Loyalty
Last but not least, the most important reason why you should consider building your own mobile application is customer loyalty.
With all the noise there – flags highway billboards, flashing signs, newspaper ads, flyers, coupons, web pages, banners websites, Facebook ads, and email marketing – which gradually lose the impact on customers because of the vast amount of publicity that surrounds us all.
It's back to make a real and sincere connection with your customers, and so a faithful lover of your product and/or service. It's not that a mobile app will save your business, but it can be a way to be closer to your customers and be just a "finger" away at all times.
8 Best Platforms To Develop Your Business App
IONIC: One Codebase for Any Platform
Ionic is a reliable framework for the mobile application development platform, which is consolidating its tracks today. It is one of the tools for developing a hybrid app for different devices with OS smartphones.
On the other hand, it is a list framework for the company to create a dynamic, secure, and complex application for multiple industries.
The ionic framework can work on technologies like HTML5, CSS3, JavaScript, and SASS. This open and free mobile development framework for hybrid mobile application code is beneficial for creating attractive and effective interfaces for the app user.
Above all, a single code base is used to build an application for different app stores.
You can create a cross-platform mobile app with this framework. In addition, you can include multiple components of JavaScript, CSS, and other plug-in libraries for your witty and agile application.
Why Should Build an App With IONIC?
React Native: A Javascript Library Framework
React Native is a Javascript framework that makes applications natively Android and iOS. It is based on a reactive Facebook JavaScript library for developing user interfaces, but instead of heading to the browser, it focuses on mobile platforms.
In simpler language; If you are a developer, you can work in native React to write clean, fast, also with the comfort zone of a familiar framework and a single code base Javascript mobile applications. Therefore, you can use the native script.
React is a JavaScript library for creating user interfaces, especially on the web. But only native React React, especially for mobile.
Why Should Build An App with React Native?
Mobincube: Develop App Without Programming
Mobincube is the best hybrid development tool to create a native application for Android, iOS, and Windows Phone applications without programming.
It is easy to use, offering a high level of customization to create an application that best suits the need.
Applications created with Mobincube display 3rd party ads that will make money.
Why Should Build an App With Mobincube?
Flutter – Build Beautiful Mobile & Web Apps
As a successor to Java and Kotlin, Flutter is pegged as the new framework for Google's next-gen operating system, Fuchsia. Flutter was released in 2018 wherein developers got to work on its stable version, and the experience seems to have caught on thereafter.
On the contrary any business would look for certain attributes in a framework such as stability, speed of development, simplicity, performance, and the availability of resources.
The absence of any of these attributes can create risks and cause financial loss for the business. You should choose Flutter for your business for mobile app development. As Flutter has huge community support.
Why Should Build an App with Flutter?
Apache Cordova – Develop an App with HTML, CSS, JS
Adobe Systems purchased Nitobi in 2011, rebranded it as PhoneGap, and later released an open-source version of the software called Apache Cordova.
Apache Cordova enables software programmers to build hybrid web applications for mobile devices using CSS3, HTML5, and JavaScript, instead of relying on platform-specific APIs like those in Android, iOS, or Windows Phone.
Why Should Build an App With Apache Cordova?
JQuery Mobile – Web & App Development Framework
jQuery Mobile is an HTML5-based user interface system designed to make responsive websites and apps that are accessible on all smartphone, tablet, and desktop devices.
In other words, it is built on the rock-solid jQuery and jQuery UI foundation and offers Ajax navigation with page transitions, touch events, and various widgets.
Be that as it may, this mobile framework is compatible with other mobile application frameworks and platforms such as Phonegap, Worklight, and more.
Theming framework that allows the creation of custom themes. UI widgets are touch-optimized and platform-agonistic. It is easy to learn and develop applications if you have knowledge of HTML5, CSS3 features.
Why Should Develop an app With Jquery?
Framework 7- Framework For Building iOS, Android & Desktop Apps
That is to say Framework7 was introduced in the year 2014. The latest version 1.4.2 was released in February 2016 licensed under MIT. Framework7 is a free and Open-source HTML framework for developing hybrid mobile apps or web apps for iOS and Android devices.
To enumerate it is one of a set of open-source libraries and solutions from iDangero.us authored by Vladimir Kharlampidi. Framework7 can be used with other frameworks like Angular, React, etc.
Why Should Build An App With Framework 7?
Today, a lot of companies whether small or huge are following the mobile trend.  An effective mobile strategy involves more than just a mobile website.
In fact, you will notice that many small businesses that interact within their daily lives have their own dedicated mobile applications these days – whether the corner coffee shop or beauty spa center. These companies are ahead of the game when it comes to taking your marketing to the next level.
At Echoinnovate IT we can help you to develop an app for your business. Keeping in mind all the latest trends, our team of developers can help you to have an app that is best for you. Contact Us Today! to get the best for your interests.
FAQs of Mobile App Development Frameworks
How much does it cost to develop a business app?
It is quite challenging to tell you the exact cost to develop a business app but a price tag for a simple app with a basic User Interface and a set of must-have features ranges from $40,000 to $60,000, Medium complexity app development project costs between $10,000 to $70000 and, finally, if want to know more. You can also use our app cost calculator to know the exact price.
What are the types of business apps?
Here are some of the best types of business apps:
Office Productivity Apps
Travel Apps
Tools and Utility Apps for Businesses
Enterprise-specific Apps
Communication Apps
Mobile Payment Apps
Game Apps
Mind-Mapping Apps
And Many On-Demand Apps
Many More Apps and Their Best App Ideas