Top Ways to Hire Node.JS Developers – Complete Guide
Top Ways to Hire Node.JS Developers – Complete Guide
Ever since release, the developer community has accepted Node.js internationally due to the advantages it provides. Over the last five years, the technology's popularity has increased dramatically, and it continues to be a popular option among developers. However, to hire Nodejs developers with in-depth technical expertise and experience in numerous specializations may be laborious. Recruiters often confront obstacles while attempting to bring in fresh, impactful talent. Conducting in-depth interviews and evaluating technical abilities may be a daunting task, particularly for recruiters who lack technical expertise. This blog has been developed with every crucial consideration for recruiting Node.js expertise in 2022 taken into account.
What is Node.js?
Node.js is the most widely used open-source back-end JavaScript runtime environment in the world. It supports several platforms, operates on a V8 engine, and can execute JavaScript scripts outside of a web browser. The platform was designed utilizing Javascript runtime to facilitate the development of scalable and efficient network applications. Node.js has an event-driven and non-blocking input-output mechanism, which contributes to its lightweight and efficient nature. Node.js development service has become a popular option for developing real-time, data-driven, distributed-device-capable services.
The technology has simplified several parts of contemporary development procedures. Working with the platform gives additional benefits, like scalability, code reuse, efficient performance, rapid code execution, and many more.
Roles and Responsibilities of Node.js developers
To guarantee you hire dedicated developers, he must have an in-depth understanding of Node.js development services. The skills of an established Node.js development team will result in consistent, rapid, and secure data sharing. Here are the complete duties and required abilities of a Node.js Developer:
Write clear, efficient, and reusable code.

Database searches should take precedence, and dedicated high responsiveness should be practiced for frontend requests.

Ensure that the front-end is as responsive as possible to requests, as well as the performance of the central database.

It is necessary to produce in-depth reports and analytics in order to support the whole software development lifecycle.

In addition to ensuring that the primary database is operating at its peak efficiency, your responsibilities will include the development and management of all server-side logic and network components.

Carry out both automatic and manual diagnostic testing, identify and fix problems, and provide comprehensive technical assistance.

Create a user interface (UI) for end users as well as backend services for various company activities.

Develop customer-focused interfaces as well as backend services in order to successfully manage several business operations.

Work together with front-end developers to ensure that the various components merge without any hiccups.

Make recommendations for, and then put into action, improvements to the software development process and technology.
Benefits to hire Node.js developer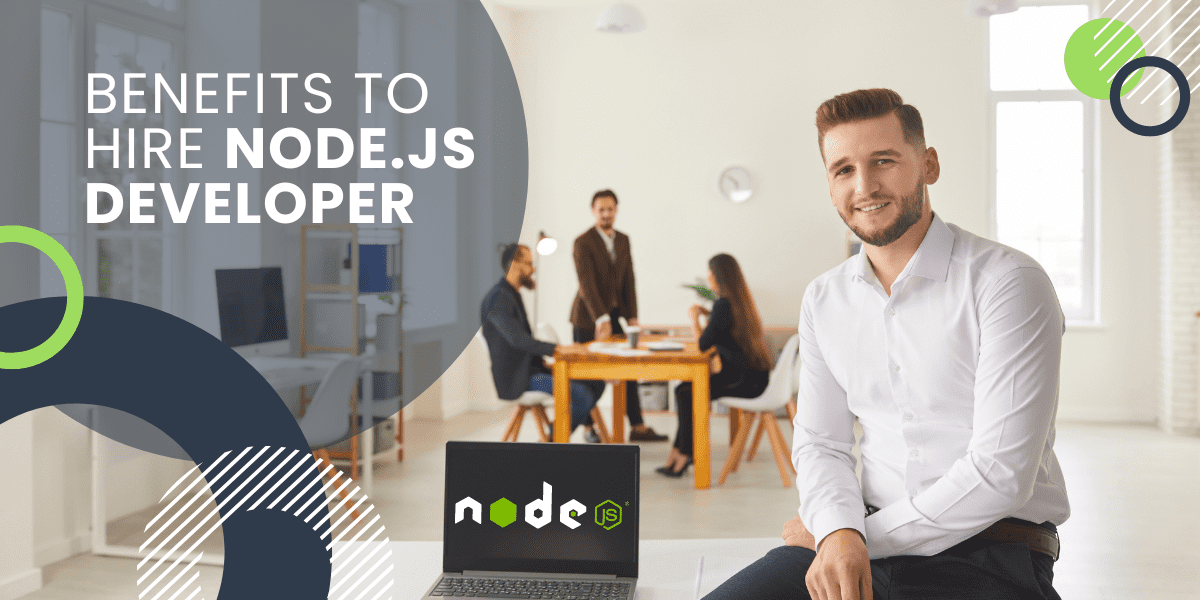 To hire node.js developer enables you to guarantee that your company's web application is robust and functional. Hire dedicated developers know how to make the most of Node.js, which is lightweight, scalable, cross-platform, and employs an event-driven I/O architecture. As a result, Node.js facilitates the development of scalable server-side or network web applications. The following are some of the advantages to hire Node.js developers to develop your company's software.
A Single Codebase for Web Development on Both the Server Side and Client Side
Yet, in contrast to many other frameworks, to hire Nodejs developer only requires the use of a single codebase for both server-side and client-side web development. This is in contrast to the need of many other frameworks to use several programming languages.
Web application deployment that is seamless
Installing web apps that are built on Node.js is a straightforward process. Because of Node.js, web developers are able to finish and test different aspects of a web project in a shorter amount of time. As a consequence of this, many PWA development businesses benefit from this framework since it speeds up the phase of web app deployment that is considered to be final.
Create real-time apps that run more quickly.
Using Node.js, you may create applications that have a high level of functionality. Additionally, web applications developed using Node.js provide you the ability to do several actions all at once.
Hosting With Minimal Effort
The Node.js framework is constantly being updated with the addition of a great number of new features and functions. Those that supply PaaS (platform as a service) products stand to gain from decreased waiting times. Because of this, the majority of web app development companies choose to use Node.js for streamlined web development.
Cost-effectiveness
Despite having just a little amount of computing power, Node.js allows the majority of enterprises to host web applications. On the other hand, Node.js is far quicker than the majority of other frameworks.
SEO-friendly
When designing a web application, search engine optimization (SEO) is an absolute need to boost rankings. Incredible backend rendering made possible by Node.js boosts the site's exposure.
Skill Set needed in Node.js Developer
Before you hire Nodejs developer, the following checklist will verify that you have a clear understanding of the essential Node,js developer abilities, and expertise.
Great programming skills
Hire Nodejs developers that must have programming skills. They must be capable of rapidly developing solutions for the most basic problems. In addition to producing precise results, the code must be legible, accurate, and cost-effective.
Database knowledge
Your Node.js code will not be adequate to run your web application without a developer who is proficient in storing dynamic data using a persistence layer, such as a database. Although there are far too many database alternatives to list here, Object-Relational Mapping (ORM) tools are often the most straightforward solution.
Expertise in Cloud platform
To guarantee the efficient functioning of codes, storage, and other components of online applications, hire NodeJS developer that must have a comprehensive awareness of the complexity of cloud platforms, necessary updates, alternative solutions, etc.
Sensitivity to safety and security module
Internet security has always been vital, but recent breaches and difficulties have made it imperative. Node.js development team The product you choose should be cognizant of the grave security concerns presented by the internet. With its aid, security flaws in your applications may be uncovered and assessed.
Knowledge of front-end technology
Front-end-savvy Node.js developers will be able to cooperate with back-end technologies more effectively. In pursuit of back-end and front-end interoperability, developers squander significant time. The competent Node.js development services are conversant with a variety of front-end technologies, such as HTML, JavaScript, VBScript, CSS, and popular front-end frameworks like Angular, React, and Vue, in order to save time.
Expertise dealing with RESTful APIs
REST is an architectural style that defines a collection of Web Service development requirements. Node.js applications utilize these RESTful APIs to offer flexibility to the project. You may function freely with a single Web Service while being entirely independent of all other services. There is no shared state between the services until requested. RESTful APIs are vital to the operational effectiveness of Nodejs projects.Therefore, before you hire Nodejs development services, ensure that they have experience with RESTful APIs. If necessary, they should also be allowed to design custom APIs.
Integration of third-party service providers
Today, it is uncommon to see a product or service that does not include a "third wheel" like PayPal, Google, or Facebook. You can't resist combining several complicated contexts as a Node.js developer. To save time and money, it is necessary to simplify and minimize the number of code lines.
Communication expertise
Hire Nodejs developer that is able to communicate not just with the team but also with customers and management in order to set clear goals and objectives. This assists in resolving workplace concerns and preventing misunderstanding, so preventing embarrassment or worse.
Problem Solving Competence
A professional problem-solver can confront challenges head-on and solve them efficiently and promptly. Any prospective Node.js development team you hire must be a strong problem solver.
Things to look for in a Node.js Developer
It is essential when you hire NodeJS developer to have a comprehensive grasp of how the technology functions in various contexts. The determination to achieve success and climb the corporate ladder characterizes the most talented programmers. Recruiting ambitious Node.js developers not only ensures high-quality hires but also produces a pool of self-motivated problem-solvers. This may be of significant use to a company and enhance its operating efficiency.
Since its inception as an open-source platform in 2009, Node JS has undergone several advancements at the hands of multiple developers. Its collection contains various Node JS frameworks, integrated development environments (IDEs), and utilities. Therefore, it is essential for Node JS programmers to have at least three years of prior expertise working with this framework as well as impressive project experience. In addition, the Node JS developer should have consistently provided bug fixes and patches to the Node JS community. The active participation and contributions of the developers to Node JS projects demonstrate their mastery of Node JS internals, establishing them as good team players with a keen interest in custom software and web application development.
Hiring models for Node.js development
In-house NodeJS service suppliers
When you are successfully handled by a company, you will have access to a full-time team of specialists from the same nation. Aside from that, they have the resources and infrastructure necessary to support the operations they initiate. You must spend both time and money in this approach in order to have a solid foundation for developing superior software.
Outsource Services for NodeJS Development
Despite its many strong features, NodeJS is a challenging technology that requires knowledge and skill. Of course, hiring a node.js development team is always a possibility, but outsourcing NodeJS development services may take your project to the next level. Outsourcing may drastically cut the entire cost of development. It is a more cost-effective option than managing an in-house staff since you pay based on preset development rates.
Freelancing
Freelancers are another option for augmenting your Node.js development team. If your company decides to hire a freelance Node.js developer, you will only be paid for the job performed in addition to the platform's fee. Even though freelancers are the least-priced kind of employment, this method of recruiting is riskier. Unfortunately, you may experience challenges such as project delays and cancellations while working with a freelancer. Therefore, this is a fantastic choice for little Node.js tasks.
Why Hire NodeJS Developers from Echo Innovate IT?
If you want to employ a top Node.js developer via staffing solutions or a flexible outsourced model, Echo Innovate IT is the top mobile app development business to hire dedicated developers.
With Echo Innovate IT, you can quickly locate the top developers. Although our engineers are not independent freelancers, our platform allows you to make the ultimate hiring choice. To be more specific, you may conduct as many interviews as necessary to validate the skill sets of our Node.js engineers and hire dedicated developers.
There are no hidden fees for our customers: If you hire Nodejs developer with Echo Innovate IT, the sourcing and interviewing procedures are risk-free.
Wrapping up…
Node.js is an outstanding piece of software technology. As a somewhat well-established platform, it offers both future and present solutions to a variety of challenges. Node.js is thus a good option for implementing the bulk of our unique and unconventional backend code ideas. You can check our some of our application development work here.
If you want your firm to go to the next level and stand out from the competition, you must hire Nodejs development team. Echoinnovate IT provides node.js specialists who will help you to join the future generation of software development and get the full advantages of today's top mobile app development company if you are seeking to employ one.
With Echoinnovate IT, you can also hire talented Ionic developers, Node Js Developers, Angular Js Developers, and other skilled people from our development team.
Node Js, an open-source JavaScript runtime environment and library, is used to create and execute io-intensive web applications. Node JS has achieved enormous popularity due to its capacity to run JavaScript code effectively outside of a web browser.
NodeJS is open source and free on top of everything else, which appeals to developers, especially JavaScript programmers who want to take their coding to the next level. Today's faster, real-time, event-driven servers are of interest to those seeking Node.js programmers. Therefore, they are in high demand.
You must hire Node.js developer with advanced Javascript abilities. Echo Innovate IT's Node.js development team is experienced with related frameworks such as Hapi and Total JS, which will assist in increasing Node's essential functionalities.