Starting a flower delivery business involves a lot of analysis a planning. A florist business person has to look into both technical sides and offline logistics. Online flower delivery industry is gaining pace and going with this business might bring good profits to a business. This article will highlight all that you need to know about a flower delivery business.
Flowers! A constant companion from our earliest years to our golden years! It makes us happy, allows us to communicate our feelings, and makes us laugh. If this is the case, it's hard to think that flower delivery business has long been a booming industry worldwide. And today, with the help of on-demand applications and websites, it's reached a whole new efficiency level.
Even though there are several resources accessible online, many individuals are still confused about how to start a florist business. You may start and manage your successful hyperlocal flower delivery business by adhering to certain tried-and-true best practices.
Flower Delivery Business Market Size Statistics
What are the benefits of creating a Flower Delivery Mobile App?
The advent of flower delivery apps has greatly simplified and expedited the practice of sending and receiving floral gifts. This piece will examine the advantages of having  a online flower ordering and delivery business.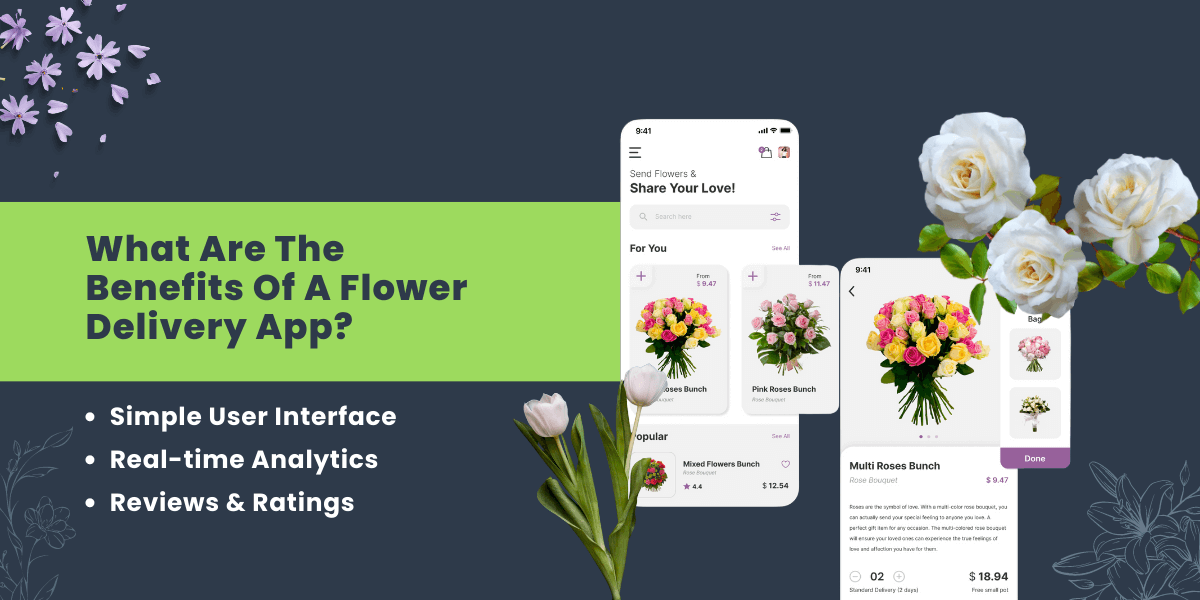 A flower delivery services apps' primary benefit is its adaptable user interface. In other words, you may modify the app to fit your company's goals and image better. Customers will be more likely to use your flower delivery app online if it has an intuitive design that lets them quickly find what they're looking for and make a purchase.
A large variety of payment methods are available, meeting the needs of a broad spectrum of clients. Customers may pay for flower delivery using various methods, including major credit cards, debit cards, mobile payment systems, and cash on delivery.
The flower ordering and delivery app includes a robust analytics suite that generates reliable reports. This is crucial for maintaining revenue, client preferences, and company health. Using this information, you can enhance business operations and make smarter choices.
The online floral delivery app serves as a medium for consumers to interact with your company. Customers can provide constructive criticism in the form of reviews and ratings. Community is built, and client loyalty is increased.
How to Start a Floral Business in 6 Simple Steps?
Curious about the Florist Business Start-Up Process? To better compete with your online rivals, consider the following: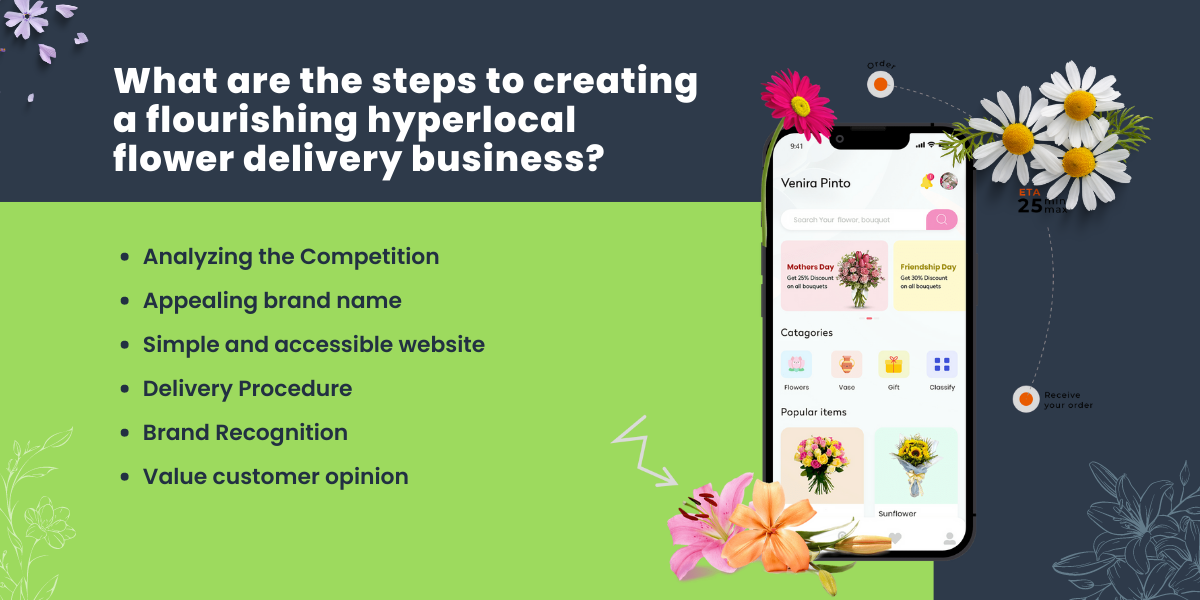 1. Analyzing the Competition
Your company may dominate the market with a well-planned and persistent distribution method for your online flower business. Success hinges on how happy your customers are. If you want people to return, you must give them what they want.
Customers are more likely to purchase with access to convenient payment options, fast delivery, high-quality blooms, and delivery tracking. There's no need for you to find this out on your own.
Your company's moniker should stand out from the crowd and be easily recalled. When marketing your product or service online, the name you choose to associate with it is crucial. Graphic designers and logo specialists may work with you to create a custom logo for your business.
3. Simple and accessible website
Your online flower business will blossom if you create a website that is both beautiful and easy to use. For clients to conveniently place flower orders, your website has to be available on mobile and laptop devices. Suppose you want to start taking orders and delivering flowers online. In that case, you need to provide your customers with as many convenient options as possible, including the ability to pay online, real-time flower delivery management software, and more. It's simple to release a website that has the fundamentals.
Your company may dominate the market with a well-planned and persistent distribution method for your online flower business. Success hinges on how happy your customers are. If you want people to return, you must give them what they want.
Customers are more likely to purchase with access to convenient payment options, fast delivery, high-quality blooms, and delivery tracking. There's no need for you to find this out on your own.
After launching a website, expanding your brand's online presence and connecting with potential consumers is the next logical step. Advertising online floral shop business is your best bet to reach your target demographics. This may be accomplished in several ways, including via email marketing, social media advertising, and more.
6. Value customer opinion
Consumer feedback is "the best way to simply hear the voice of your customer." It's tough to see the problems with something you created. As a result, input from users is crucial for making product improvements. As a online flower shop business entrepreneur, you must listen to your clients to serve them better.
What's Making The Online Flower Delivery Business Attractive?
Arizton undertook a comprehensive and data-driven assessment of the US floral gifting sector after the global pandemic and identified numerous emerging patterns. Let's look at the many helpful tools the online flower delivery company may provide.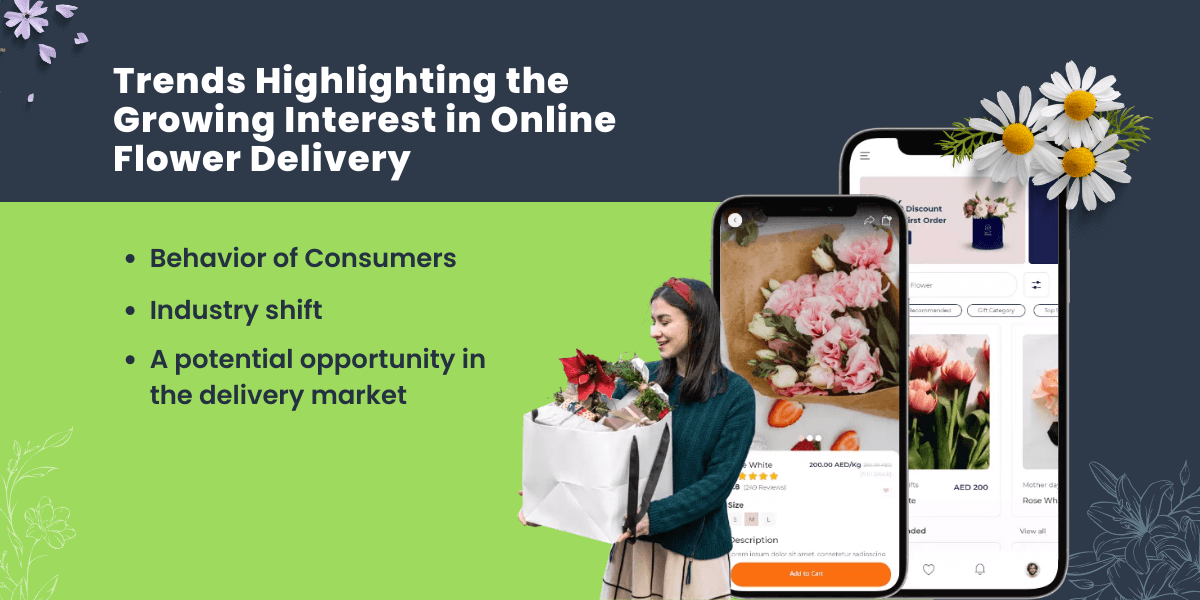 Flowers are a go-to purchase for the millennial age since they are seen as a natural present option. They're passing on the chocolates, gift cards, and other stock items.
People associate flowers with health because of their therapeutic value. Flowers are often chosen as the most important part of a gift. Valentine's Day and Mother's Day are the two biggest days of the year for online flower sales. The millennial generation paved the way for the proliferation of flower delivery applications by creating a demand for floral purchases made via mobile devices.
The distribution and supply chain structure is being rewired, and new firms are targeting millennials. The modern online flower delivery market is based on the D2C model, where the primary goals are swift delivery and satisfied customers.
Businesses that support the farm-to-table ethos want to eliminate their prior roles in the flower industry's supply chain. Source, design, waste, customer experience, and delivery of the flowers have all received extensive attention.
A Potential Opportunity In The Delivery Market
Now that the business landscape has shifted, flower delivery in pre-packaged boxes presents a promising new potential. Many consumers prefer their flower deliveries made in flat, letterbox-sized boxes.
Since customers' patience has decreased, it takes concentration and care to deliver flowers quickly and without problems. Everyone these days expects same-day or next-day flower delivery with only a few taps on their smartphone.
These are the most important details to know if you want to get in on the new flower arrangement and flower delivery market prospects, so let's dive into the fundamentals of selling flowers online.
Benefits of Efficient Route Planning for Flower Delivery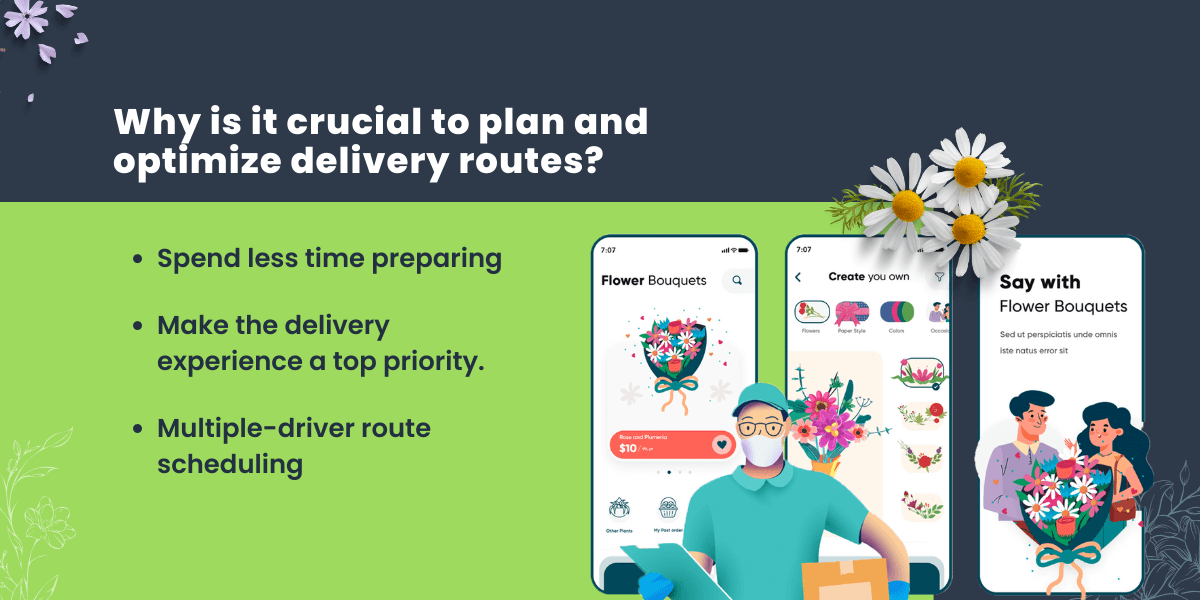 Imagine if you could expand your online flower delivery shop while providing your customers with an easier and faster shopping experience. The order is processed for same-day flower delivery.
Your logistics staff thoroughly inspects the stock, carefully bundles the flowers, and gives detailed delivery instructions to the driver. However, you delivered an inadequate customer service experience because the driver got stuck in traffic, or the weather could have been better.
No good for the company, we get it. Let's pretend for a moment that the number of orders for fresh flower deliveries increases from one to one hundred. That scenario happening to your company is the last thing you want. This is when careful route optimization and planning come into play.
Consider the additional perks you receive:
Spend less time preparing Flower Delivery Orders
Get rid of the time and effort your dispatchers and drivers waste manually organizing routes. Dedicated route planning and optimization software allows you to quickly and easily create and optimize a route with many stops.
Make the Flower delivery experience a top priority
Streamline flower delivery while preserving floral quality to meet customers needs who want immediate attention and special requests. Improve the flower-buying experience by prioritizing the most pressing needs and obtaining optimal route optimizations.
Multiple-driver route scheduling for Delivering Flowers
Send drivers the multiple route plans in a matter of clicks so they can take the best possible routes when delivering flowers. If you want to succeed in business and stand out from the competition, you need a system for handling large orders efficiently.
Now that you know why a route planner is essential for your online flower delivery company, you must sort through the hundreds currently on the market.
Launching a hyperlocal flower delivery business that benefits clients and florists may be a fruitful economic endeavor. It is crucial to undertake market research, determine your target demographic, and create a user-friendly website or mobile app before launching an online flower delivery business.
Other important factors include:
Better user retention may be achieved by adding features like real-time monitoring, customer feedback, and individualized suggestions.
As with any business endeavor, success depends on careful preparation, effective promotion, and competent staff. A hyperlocal flower delivery marketplace may expand and thrive when connections with consumers and florist partners are cultivated, excellent customer service is provided, and services are constantly refined.
Another important factor that affects the success of a custom flower delivery app is the development team. You need a reliable on-demand app development company that can understand your unique business challenges and objectives and design the app accordingly.
Echoinnovate IT is the top mobile app development company in Toronto, Germany, and India holding over a decade of experience in the industry. You can reach out to us at Info@echoinnovateit.com for a free consultation or a quote.
What Factors Contribute To The Success Of A Flower Delivery Service?
A flower delivery service's level of success is very context-specific. There is no magic phrase that can propel your firm to the top. Your flower delivery company is vulnerable to several outside influences, but only a select handful matter. Keeping up with shifting market preferences and business standards is essential. Keeping up with the times means always striving to provide your target market with the finest possible customer service.
How Do You Launch Your Online Flower Shop Without Having Worked As A Florist?
You need not have worked as a florist before to launch a hyperlocal flower delivery marketplace. However, it can help to have some familiarity with the field and the requirements of your intended audience. A dependable delivery system and solid relationships with local florists are also crucial.
How Can I Advertise My On-Demand Flower Delivery Service In My Area?
You may promote your hyperlocal marketplace for flower delivery in several ways. Some examples include using social media ads, SEO (search engine optimization), email marketing, and local business collaborations. Find out who you want to buy from you and promote to them specifically.
How Can I Ensure The Flowers And The Delivery Procedure Are Of The Highest Possible Quality?
The quality of the flowers may be guaranteed by collaboration with prominent local florists and the establishment of explicit quality criteria. Providing real-time tracking and feedback from customers can also aid in refining the delivery process.