A healthcare provider seeking for a healthcare app development strategy for patient or provider interaction would likely see one or more mobile health applications as a viable starting point. Mobile healthcare apps enable healthcare practitioners to communicate with patients and employees more rapidly and dynamically, reaching them on the device of their choice and at their leisure. Develop a Healthcare App for a smartphone, tablet, or even a wristwatch & enable users to get information when and when they need it, therefore minimizing the amount of time spent seeking for that information and increasing engagement and satisfaction rates.
According to the most recent data from Research2Guidance, there are already more than 260,000 healthcare applications on the market. Finding one that connects with its intended audience, whether it is patients or healthcare professionals, maybe a formidable task. And in this environment, a little fault might be the difference between acceptance and obscurity.
What Is A Healthcare App?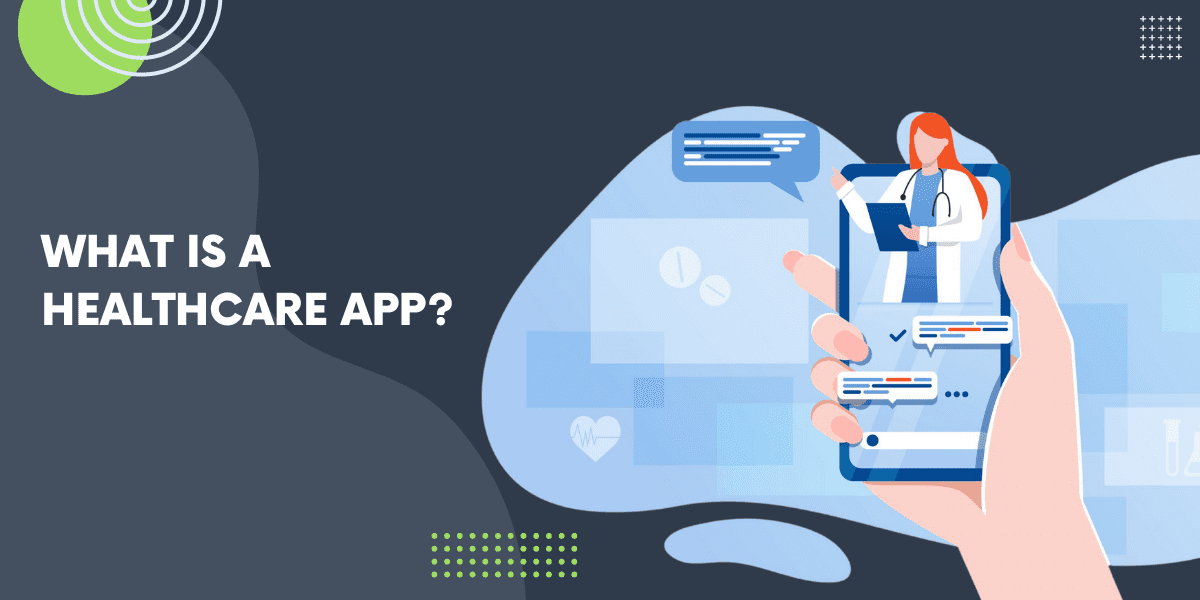 The mHealth niche is quite vast and comprises a range of applications, ranging from professional to simple. The objective of mobile healthcare apps varies as well. mHealth applications ease our lives by tracking our health data, providing remote support, providing access to physicians around the clock, and sharing health improvement recommendations, among other things. The overall function relies on the app category you choose.
The process through which a smartphone app is produced primarily for healthcare and well-being is known as healthcare app development. Moreover, these apps may also be designed for healthcare professionals in addition to patients. Applications for practice management, telemedicine, medical coding, and billing improve the operational management of healthcare professionals.
It is not sufficient for mobile apps to be helpful; they must also be simple to use. This is because the intended users come from a variety of backgrounds, and not everyone may have the technical skills to use the application's features. A nice interface is one of the key criteria that has a substantial influence on an app's popularity.
Apps for Medical Professionals
Telemedicine: A telehealth application enables patients to electronically see their physicians using just a smartphone and the internet. Additionally, telehealth has encouraged more individuals to treat their mental health seriously since the convenience and privacy of one's own home is likely to assist individuals in opening up to specialists. Hence, telehealth's position in healthcare application development is established.
Healthcare Reference and Database
Using these applications, physicians may save all information on different diseases, medical conditions, medicines, and prescriptions in one location. These reference to develop healthcare app may help professionals remain current with medical knowledge.
Requests for Medical Appointments and Clinical Help
Physically maintaining appointment diaries by hand is cumbersome and, in most cases, outmoded. These healthcare apps may be used to plan appointments, notify patients and physicians about upcoming checks, modify timetables, and keep track of other vital information.
Android and iOS healthcare applications enable medical personnel to monitor their patients' status and treatment progress. The applications may retain patients' medical test results, which physicians can access at any time.
Professional Relationships
These applications serve as a social network for healthcare professionals, enabling them to exchange knowledge, pose and respond to queries, and interact as a group.
Chronic illness sufferers, including those with cancer, diabetes, and heart disease, may use healthcare apps to track their health at all hours and take preventative measures.
Apps for weight reduction, fitness, exercise, and wellness help individuals live better lives.
Physically maintaining appointment diaries by hand is cumbersome and, in most cases, outmoded. These healthcare apps may be used to plan appointments, notify patients and physicians about upcoming checks, modify timetables, and keep track of other vital information.
The majority of diet and weight reduction apps offer tools like calorie counters, food diary logs, and exercise logs.
Utilizing pertinent, up-to-date information, healthcare applications may educate consumers on a variety of health concerns.
Medical apps are advantageous for disease prevention since they aid individuals in recognizing their symptoms and seeking therapy when required.
People use applications for meditation, self-care, stress alleviation, and restful sleep to maintain their mental health. The development of mobile health applications has exploded in recent years, and the future appears more bright than ever.
How To Develop A Healthcare App? 10-Steps Guide?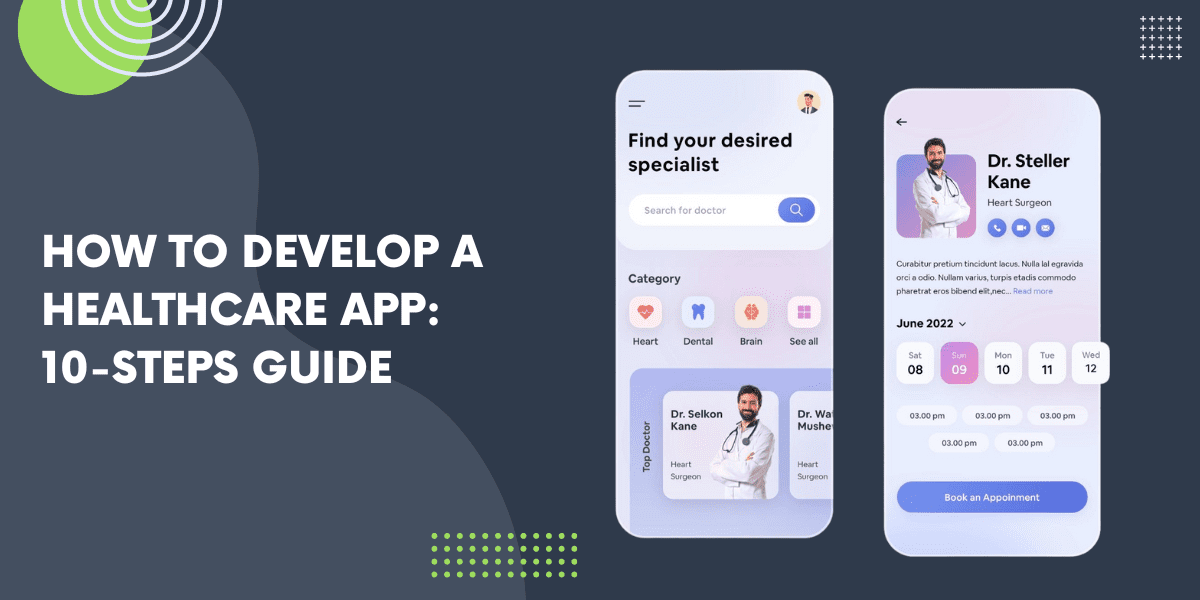 It is difficult to design and develop a healthcare app without first having a crystal clear grasp of the objectives, features, and functions of the application, as well as having a concrete strategy. You have to determine what sort of application you want to make, who will be your target audience, what issues the application will answer, and how it will do those things.
Understanding the demands of the end-users is a crucial element of the healthcare app development process in the healthcare industry. Understand the issues they have with the current solution and how your application may improve it. Define with the greatest precision the user persona and their inclination to adopt your solution or pick one that already exists on the market to meet their medical requirements. At this time, it might also be beneficial to choose a healthcare sector for your app's debut.
Determine the platforms and technologies
The platforms on which your application will be distributed — Android, iOS, or web — are a significant feature of the healthcare application development process. Important to note is that senior patients prefer accessing a website, whilst their younger counterparts choose apps and voice-activated gadgets. Your market study will be useful when determining which platforms your application will be available on. To achieve success, you must provide seamless compatibility across healthcare applications.
Select the launch location for the application
When launching a new app, entrepreneurs, business leaders, and tech professionals typically design it for their citizens. If you or your board members intend to launch your application globally, you must address country-specific concerns and user personas, as well as the special legislation governing the development and deployment of medical applications.
Select the Appropriate Technology Stack
You must carefully choose the technologies that will power your app. In light of this, it is crucial to make an early and informed decision on the technology stack. For the reason that it may have an effect on the functions you choose to implement in your healthcare app. Building an app for Android or iOS uses different programming language than desktop computers. The device habits of your intended audience should guide your choice here. If you're building a healthcare app, you should keep your target audience in mind at all times.
Designing a user-friendly interface and intuitive user experience is essential for healthcare app development. When it comes to user interfaces, the general consensus is that older people prefer straightforward menus and larger fonts, while younger users go toward brighter, more modern designs that provide more customization options. You'll need to know who you're designing for, whether it's doctors and nurses, patients, or the general public since it will affect how you layout everything. It's not enough to just make sure the app looks well across all screen sizes; this is an equally crucial consideration.
Find an app development company to hire
In order to make sure your app has all the latest and greatest features while keeping expenses low, you should choose a reputable mobile healthcare app development team or individual developers. They would provide a complete picture of how to plan and create a robust healthcare app.
Your healthcare app development team will include designers specializing on user interface and usability, professional programmers who create apps, experts in the markets and project management. In addition to providing sound advice, the professionals here will always take your goals into account. The organization also provides its clients with the opportunity to gain knowledge and experience in cutting-edge technological areas.
Choose a monetization strategy
The purpose of all apps is to make money. Typically, while discussing how to make money from an app, the healthcare industry focuses on two types: Freemium approach with subscription-based access to premium services.
Prioritize developing and validating an MVP
Making a minimum viable product (MVP) instead of a full-fledged application is a good way to test and verify your solution before releasing it to the public.
If you want to create a successful minimum viable product (MVP), you should have your healthcare app development company determine the unique selling proposition (USP) and required functionality of your solution. Developing a minimum viable product (MVP) for healthcare apps also encourages feedback from users on how the service may be improved.
When developing new healthcare options, testing is an essential first step. Next is to test content, interface, and overall user experience. The time and money spent on development, the number of problems, and your standing as a service provider may all be reduced with thorough testing.
Release and monitor results
After your app has been thoroughly vetted, you may finally open it to the public. It is important to monitor your app's performance using the analytics tools built into it throughout development, respond to user feedback, and provide regular updates once it has been released.
Why Are Top Healthcare Institutes Developing Applications?
Patients' need for a remote health monitoring system became immediately apparent with the advent of the COVID-19 epidemic. While healthcare institutions had been growing interested in mobile app development before the pandemic, the true potential of such applications was only discovered afterwards. From simple consultations to pill reminders and wellness tracking, the potential of mobile health technology is vast. Healthcare apps development, which provides a wide variety of solutions, has emerged swiftly as an essential part of the healthcare industry.
Due to recent advancements in healthcare app development, medical applications for patients are now able to provide better treatment. These days, it's possible to get medical advice even if you're miles away thanks to telehealth options. In addition, cutting-edge data analytic capabilities have allowed patient-facing mobile healthcare applications to aid physicians in making diagnoses. Mobile healthcare app development has opened up a world of possibilities in the healthcare industry. It is benefiting hospitals, physicians, and patients in ways that were previously unimaginable.
Healthcare cost anxiety has always been the primary reason people avoid medical attention. Patients may now easily research and compare the prices of various healthcare providers. It can be with the help of healthcare web application development. The third major perk is that it is simple to get access to patient engagement systems. This helps in order to give patients timely essential treatment.
With the help of healthcare web development, patients may get medical attention quickly. That too regardless of their location or the time of day. Last but not least, diagnostic mistakes have been reduced because of advances in healthcare software. With the use of thorough documentation, patient data analysis and management, and individualized treatment plans, doctors may better manage their patients. Patients get the tools they need to manage their own health.
When it comes to developing innovative healthcare software and solutions, no one does it better than Echoinnovate IT. Develop a healthcare app with our customized healthcare app solutions to improve aspects of the healthcare sector. This includes clinical management, patient treatment and diagnostic efficiency.
How does the Healthcare app operate?
The medical app allows clinicians and patients to access medications, medical reports, and other sensitive information at any time. These applications facilitate patients' and healthcare practitioners' communication and other requirements.
Which technology is ideal for developing healthcare applications?
Python, JAVA, Flutter, Swift, Kotlin, R Programming, etc. are the top mobile app development technologies for healthcare apps. However, it is advisable to seek the opinion of your development team while selecting a technological stack.
How is a healthcare application successful?
Your healthcare app will be more engaging for users if it has comprehensive and relevant insights. Patients often download healthcare and medical applications to keep track of their health. Hence, the success of an app is contingent on offering accurate info and solutions to the consumers.