Cloud kitchens or ghost kitchens are the new trend in the food industry and have recently gained huge popularity. The Cloud kitchen business model does not welcome diners as the setup is simple, with just the kitchen and no seating facility available. Customers can order the food online and opt between take-out or home deliveries. Restaurants planning to expand online business should invest in cloud kitchen app development. The steps mentioned in the blog will help restaurant business owners to set their foot in the cloud kitchen industry.
Today's restaurant management is more challenging than ever. Due to the pandemic and the increased level of competitiveness, modern life presents many difficulties. Due to the rise of online ordering and delivery, many traditional dining establishments have been forced to either merge with their digital counterparts or shut permanently. For this reason, the Cloud kitchen Delivery app might aid in the growth of your restaurant.
There are many factors to consider when opening restaurant solutions, from the site to the personnel to the food to the infrastructure. One of the greatest challenges for any restaurant is to win the hearts and minds of its patrons. But what if you spend a lot on the atmosphere but the cuisine isn't up to par? You may not be able to give your full attention to the food choices you've made for your customers if you're constantly switching between tasks. The popularity of cloud kitchens may be attributed to their prevalence on these platforms.
Cloud kitchens, also known as ghost or virtual kitchens, are custom-built facilities that cater only to take-out or delivery orders and enable restaurants to focus on food quality with little overhead. This article explains what a cloud kitchen is and gives tips for cloud kitchen app development.
Who is eligible to Build a Cloud Kitchen app?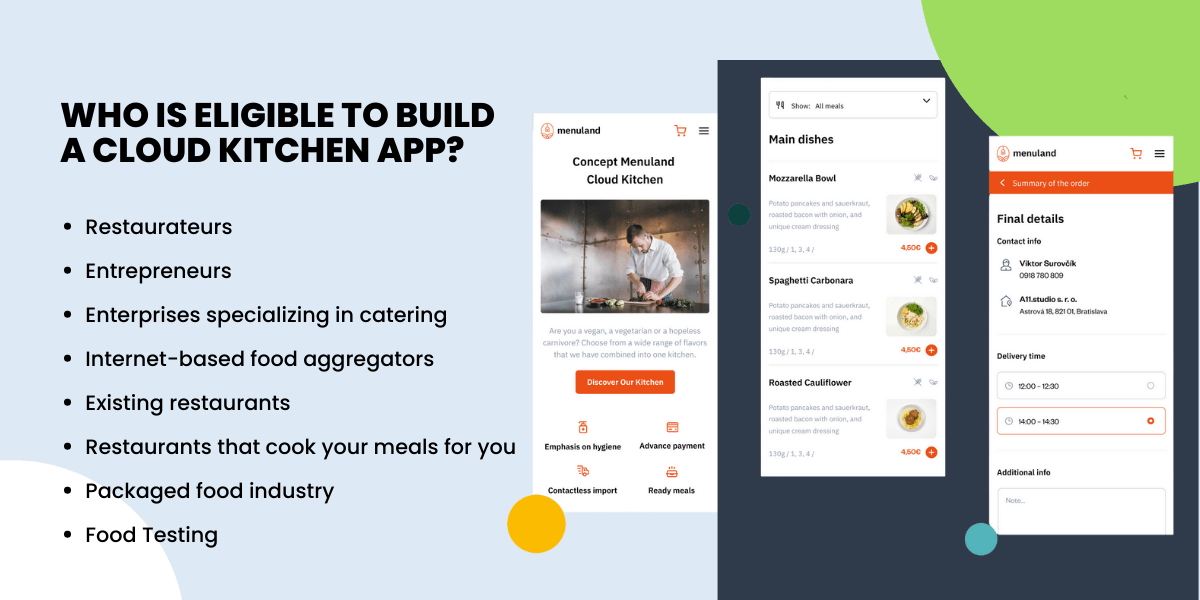 To increase their delivery services or introduce a new food brand, restaurants might employ cloud kitchens. This may lessen the financial burden of attracting a wide client base by reducing the need for a traditional restaurant's physical location.
Cloud kitchens allow budding food entrepreneurs to try out their products in the market and expand their operations as they see fit.
Enterprises specializing in catering
Cloud kitchens are a useful tool for catering companies to employ while preparing meals for large gatherings. In addition to allowing them to serve more customers, this will also help them save money on kitchen rent.
Internet-based food aggregators
Cloud kitchens allow online aggregators of food, such as food delivery companies, to provide a broader selection of meals to its clients. This will allow them to expand their product selection and provide their consumers with an easier purchasing process.
By using cloud kitchens, existing restaurants may extend their delivery services and attract new consumers without opening a new restaurant.
Restaurants that cook your meals for you
These businesses may benefit from the cloud or virtual kitchens since they need space only occasionally.
Upgrading the packaged food industry with plenty of warehousing space and a cloud kitchen.
If a company wants to check out their goods for the sake of their brand, but is wary of making a significant financial commitment, then cloud kitchen is the way to go.
Why To Start A Cloud Kitchen App Business?
Cloud kitchen is affordable to start as it does not require a huge initial investment cost. There is no need to invest in an expensive building, fancy decor, and furniture. A kitchen space, staff, and utensils are enough to kickstart the business. In addition, the maintenance cost of cloud kitchens is also low.
A cloud kitchen allows restaurant owners to expand their brand online and reach millions of people using the internet.
Cloud kitchens have gained huge popularity because of their quick meal delivery options. Cloud kitchens facilitate this growing demand for quick online food deliveries.
The menu in a cloud kitchen is much easier and quicker to be customized. Since the menu is digital, cloud kitchen owners can change it anytime and as often as possible.
Multiple brands can operate under a single cloud kitchen model. They can deliver varied cuisines while saving huge costs on infrastructure.
Opportunity to Experiment
Since cloud kitchens require less initial investment, startups or enterprises on low budgets can experiment in the food industry with minimal investment.
What are the available Cloud Kitchen Business Models?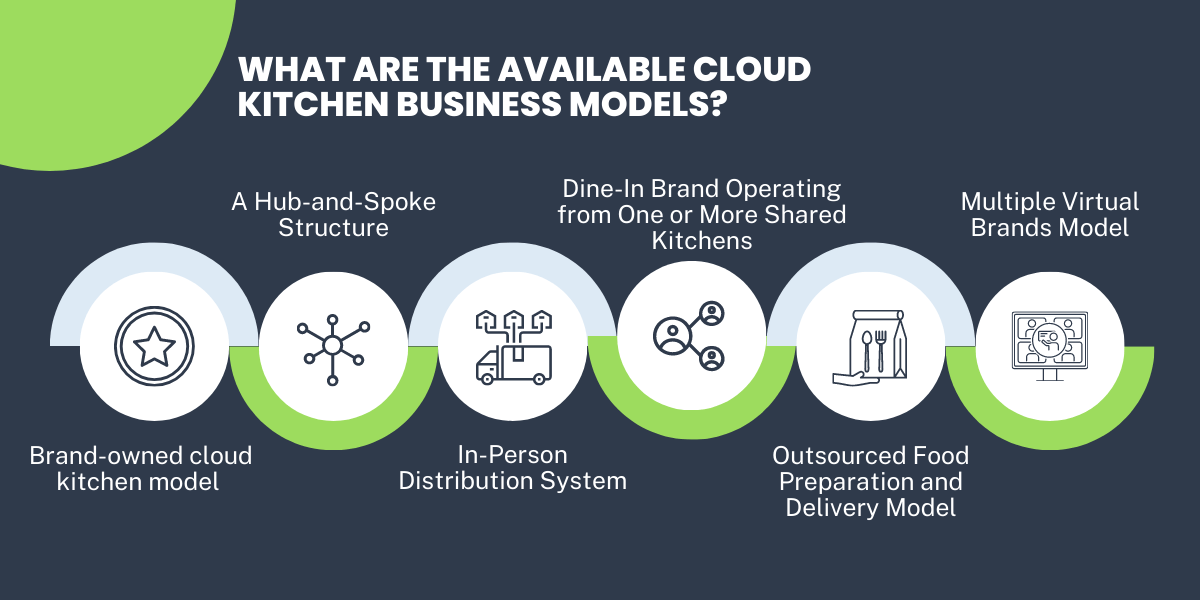 Let's talk about the various business models for cloud kitchens:
1. Brand-owned cloud kitchen model
This kind of establishment can only have one storefront, one name brand, and one kitchen. A small, streamlined team manages publicity and self-delivery for a well-known brand since there is no takeout nor dining in, and the kitchen is not far from the densely inhabited neighbourhoods.
2. A Hub-and-Spoke Structure
The hub and spoke models include a wide range of paradigm shifts, from single-brand to multi-brand to community kitchen and beyond. A centralized production system is made available by each of these variants. The plant is located in an economically depressed area, and it supplies the surrounding areas with ready-to-eat meals.
Also, the necessity to recruit additional workers raises the expense of operating a pop-up shop. Expenditures will be higher for at least the next few months. This structure is ideal for service providers that want to grow in a limited number of cities.
3. In-Person Distribution System
Standalone and mobile, cloud kitchens and food trucks are a growing trend in the restaurant industry. Popular items on the menu are adapted slightly for takeout and delivery.
It's in a pricey neighborhood, and the whole point of the delivery is to increase sales. Such eateries specialise on a specific cuisine and are equipped to handle large orders and make deliveries on their own. Such eateries specialise on a specific cuisine and are equipped to handle large orders and make deliveries on their own.
4. Dine-In Brand Operating from One or More Shared Kitchens
The most intricate cloud kitchen business model uses information about customer demographics, dining preferences, and supplier chains in specific geographic areas. The end objective is to satisfy people's cravings for food from all over the world who live in the immediate vicinity.
Famous eatery will lease cloud cooking space. It has been decided that the personnel would split their time evenly between the restaurant and the space to ensure that all orders and deliveries are attended to. The logistics and supply chain of a business that operates out of many kitchens may be difficult to scale. Instead of opening many locations, focus on one and use temporary stores to increase exposure.
5. Outsourced Food Preparation and Delivery Model
This approach is also referred to as "kitchen as a service" since it consists mostly of an empty space outfitted with kitchen appliances, ductwork, and gas lines. Restaurant firms own and manage these "cloud kitchen" business models, whereby employees share a kitchen and refrigerator.
Now that you have access to this comprehensive directory of cloud kitchen business models, selecting the right one for your eatery should be a breeze. The next phase involves taking action towards putting one of them into place to improve operations.
6. Multiple Virtual Brands Model
In situations when a single cloud kitchen has to serve many brands or cuisines, this strategy is strongly suggested. There is just delivery available; no eating-in is possible. It's a big kitchen where many of the products are made at once. Since these products share a component or are otherwise similar, they may be serviced by a single group. It's useful for purchasing raw materials in bulk to save money.
Concerns to Address Before Establishing Cloud Kitchen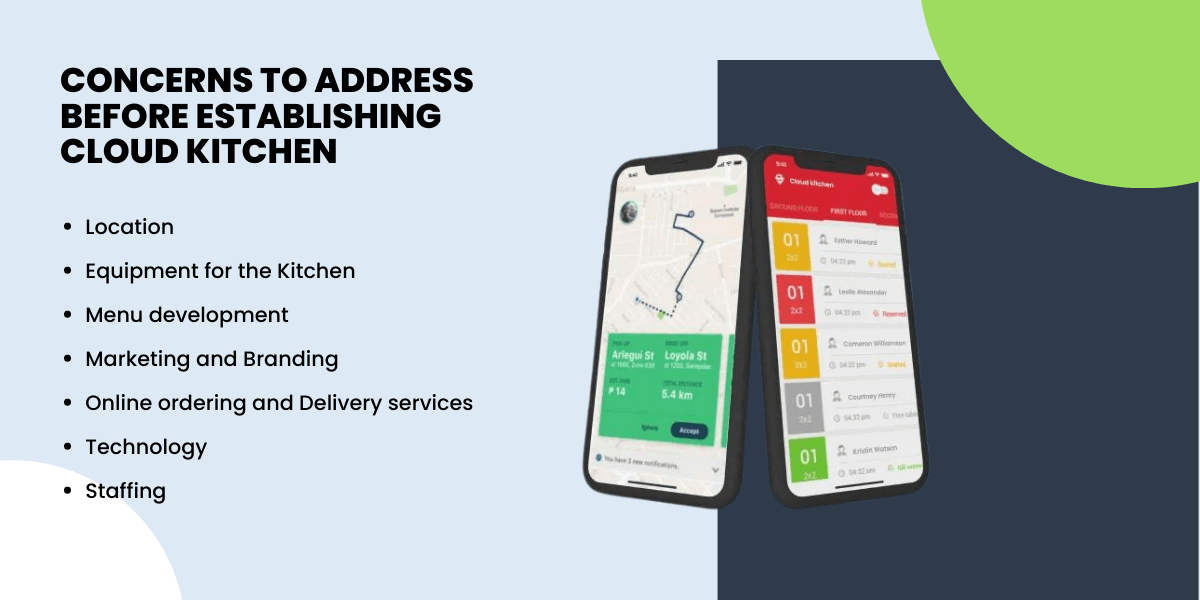 Let's talk about the various business models for cloud kitchens:
2. Equipment for the Kitchen
4. Marketing And Branding
5. Online ordering and Delivery services
Cloud kitchens involve a lot of preparation and thought into things like location, cooking equipment, menu creation, marketing and branding, delivery services, technology, and personnel. You can guarantee the success of your cloud kitchen and continue to provide your clients with delicious meals by carefully considering each of these criteria.
The modern food sector has enough opportunity for those who want to launch a cloud kitchen app company. Increasing numbers of people are turning to online meal ordering and delivery services in search of quick, easy, and low-hassle solutions to their hunger. A cloud kitchen app may improve the customer experience by providing more dining alternatives, streamlining the ordering process, and shortening the time to deliver those options.
Furthermore, companies may keep their expenditures low and their profits high due to the minimal overhead costs involved with operating a cloud kitchen. In order to remain competitive, however, it is crucial to perform extensive market research, comprehend client preferences and habits, and monitor industry developments. It will also be important for the company's survival to provide tasty cuisine and keep customers happy.
If you are looking for a top food delivery app development company for your project, you can contact Echoinnovate IT. We provide custom cloud kitchen app development services at affordable rates. Reach out to us at Info@echoinnovateit.com to get a free consultation or a quote.
To what extent do cloud Kitchens contribute to the success of a business?
Using a cloud kitchen app for your company means less money spent on rent and utilities, less money spent on utilities overall, and more freedom to adapt to changing demands. With cloud kitchen applications, companies may expand their consumer base and streamline their order and delivery systems.
How do cloud kitchen business apps generate revenue?
The developers of these "cloud kitchen" applications monetize their services by taking a cut of every order that customers place. Extra features, including advertising, may cost money in certain applications.
How can you get started in the cloud kitchen industry, and what are the most important things to think about?
Location, menu items, cooking equipment and supplies, delivery logistics, promotion and marketing, and customer service are all crucial elements to think about when launching a cloud kitchen company. In addition to this, keeping abreast of developments in your field and developing a thorough business strategy are critical.
What are some thriving businesses in the cloud-kitchen app industry?
Zomato, Swiggy, and Uber Eats are examples of thriving companies focusing on cloud-based kitchen apps. The companies included here are among the most successful in recent history and have firmly established themselves as market leaders.