There are several applications that may assist you if you are waking up exhausted or are worried about the quality of your sleep, similar to how MySugr helps with diabetes management. Apps that monitor your sleep examine your noises, movements, and behaviors to provide a clear picture of the length and quality of your sleep.
These applications may also help you assess how long you spend in Rapid Eye Movement (REM) sleep and how often you are awakened throughout the night. Developing the finest sleep tracker app like Sleep Cycle or MySugr utilizes data such as sound, heart rate, bedtime, and wake time to provide a realistic depiction of your night's sleep or blood glucose levels. Some applications enable you to export your data so that you may share it with your doctor for aid with your sleep problems or diabetes management. We analyzed numerous sleep tracker app developments and diabetes management apps to determine the most effective ones for identifying difficulties and enhancing sleep quality or blood sugar control.
What Is A Sleep Cycle App?
Sleep is the foundation upon which diet, exercise, and mindfulness are built. However, these foundations of health are not nearly as effective without enough sleep. Some individuals, like the lovable sloth, sleep between 15 and 18 hours per day. However, the elephant barely sleeps two hours every night. But what does a typical human sleep cycle look like? The majority of us need between seven and nine hours every night to heal and rejuvenate.
Sleep Cycle improves your health via improved sleep. It records your sleep cycles mostly by listening to your noises. Develop an app like Sleep Cycle that analyses these noises using ever-evolving machine learning algorithms, shows the findings, and helps you understand your sleep via graphs and unique data analysis. The behaviors that impact rest and recuperation, and what you can do to enhance it.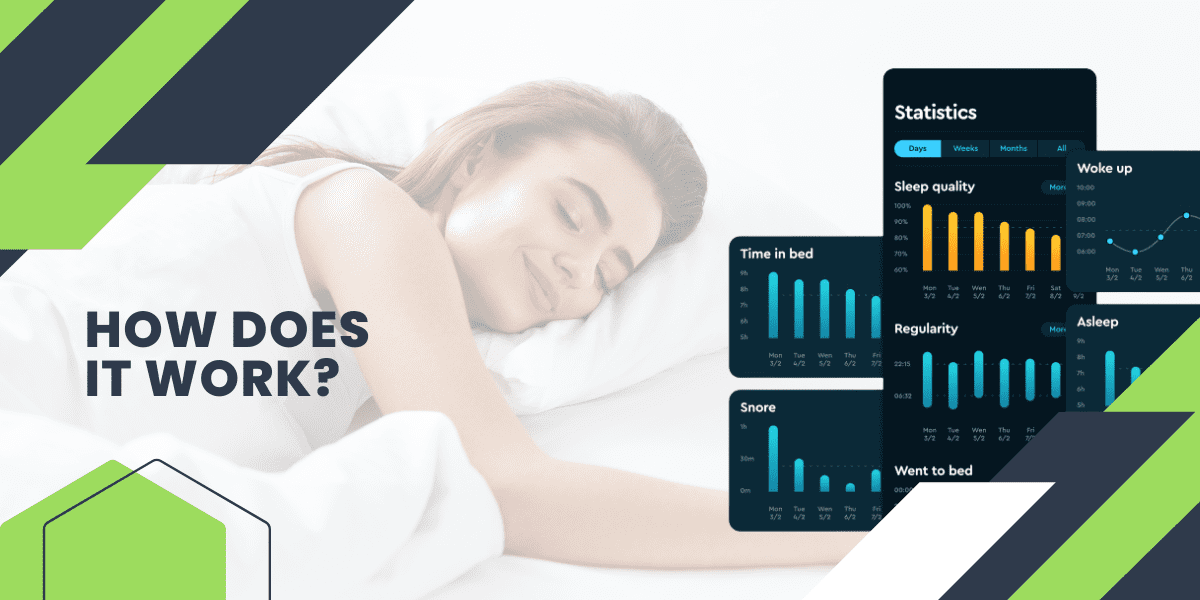 Sleep tracker app development like Sleep Cycle monitors your sleep cycles to determine your sleep habits. It pays attention to and analyzes your noises via the microphone using machine learning. Then, the Sleep Cycle gives you an indication of the quality of your sleep and the factors that affect it. You do not need a tracker to inform you whether or not you slept well. But Sleep Cycle app development is really valuable for determining the reason and what you may do to get or maintain better sleep.
Sleep Cycle is primarily an independent sleep monitoring application. Switch it on before bed and place it on your nightstand; it will handle the rest. Everything it records and saves is confidential and yours alone. We do not disclose your sleep data to other parties. If you have an Apple Watch, you can monitor your sleep habits without using your phone. Develop an app like Sleep Cycle and use Sleep Cycle on the watch instead, and access the findings on your phone whenever it is useful.
The app's user interface is sleek. There are four tabs including controls and information: Alarm, Statistics, Trends, and Settings. There are directions on how to position the phone and utilize the application. You may choose an alarm sound (including a favourite song) and configure snooze options under preferences. You choose a 30-minute window within which you desire to awaken.
Then, each night after use, it generates a summary on the Statistics page that contains your bedtime, waking time, total sleep time, and average sleep time. The Trends tab allows you to evaluate your sleep quality over time (days, weeks, and months). Even provides a comparison to others in your nation (as well as the countries with the lowest and highest sleep qualities).
What Is The Point Of Sleep Cycle App Development When You Can Offer Therapy Sessions?
There are hundreds of brand new applications that are being developed and made available, and there are millions more that have not yet been found to cure a variety of health issues. Mobile technology is harnessed to its full potential by corporate executives who envision a world in which everyone has access to medical care solutions. These are the kind of business brains that collaborate with the firm that develops mobile apps and take on a significant amount of responsibility as a result.
The accelerometer on your smartphone is what the Sleep Cycle uses to track each movement you make. It is suggested that you position your smartphone such that it is close to you while you are sleeping so that it can detect any movements. This stillness will be recorded while you are in deeper stages of sleep, particularly when you are in REM sleep. It will take advantage of the fact that you are becoming more restless as dawn approaches and entering lighter phases of sleep in order to nudge you awake and remind you that it is time to begin the day.
Business Model For Sleep Cycle App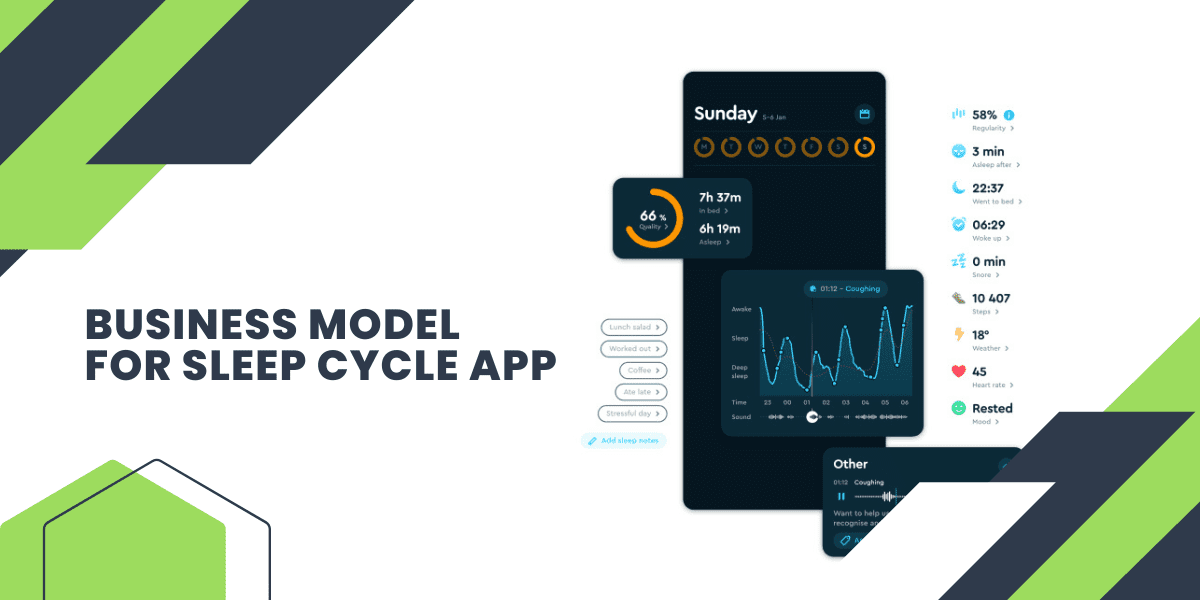 The many approaches for making money from sleep tracker app development. To develop an app like Sleep Cycle, you may choose from a few different approaches. Let's take a look at some of the most common methods you may earn back the money you spent on the sleep tracker app.
When attempting to develop an app like Sleep Cycle, this is one of the app monetization strategies that is most often used. Users of your app would, in theory, be granted access to all of its features. They will have to make a recurring weekly or monthly payment equivalent to the cost of a subscription to the service.
Purchases made inside the app
The in-app purchase option is yet another method of generating revenue, which your partnered, well-known app development firm can attest to as being effective. You may offer your users the choice to pay in order to access particular components of the app. You can charge also to go to the next step within the app if you choose to do this.
Advertising is also one of the most common methods to make money. It integrates quite well within the realm of app development for meditation. When users click on the advertisements shown by linked companies inside the app, you are rewarded with financial compensation.
Cost To Develop Sleep Tracker App
A range for the cost to develop sleep tracker app cannot be provided. Not until we have a thorough grasp of what your specific needs are. This is a prerequisite that applies when attempting to determine the expenses of developing any app. Here are some important aspects responsible for the total cost to develop an app like Sleep Cycle:
These are some of the factors that might contribute to an increase in the cost to develop sleep tracker app. Despite this, other factors, such as the location of developers and their hourly rates, may affect the total cost of development. If you employ developers from European nations for the sleep tracker app development, it will cost more. However, the developers from Eastern countries, will cost less and your budget will remain intact.
As a result, we are able to estimate that the cost to develop sleep tracker app. It would vary anywhere from $15,000 to $40,000. However, the cost of developing an app that is compatible with all of the major platforms and devices would be much more.
You need to do an in-depth analysis of the particular factors. After this, you should get in touch with a reputable app development business. They should specialize in the creation of sleep tracker software or a talented group of app developers.
Echoinnovate IT is one of the best app development businesses in the world. They can assist you in bringing your innovative concept to develop an app like Sleep Cycle to fruition. Get in contact with the most qualified industry specialists in order to have the most successful app launch.
Why should you bother to develop an app like Sleep Cycle?
Unfortunately, there is no sure way to tell whether you need to choose the path of outsourcing o
By making an investment in a sleep tracker app, you may take advantage of a variety of perks offered by the business model for Sleep Cycle, including the following:
Strong market consistency as a whole
More money coming in
Plentiful app monetization possibilities
r in-house development. Of course, everything depends on project requirements and your objectives.
How much does it cost to develop an app like Sleep Cycle?
It will need a large investment to develop an app like Sleep Cycle that assists users in falling asleep faster, having a more calm sleep, and monitoring the quality of their sleep. It's possible that you'll require a budget of anything from $10,000 to $20,000 or perhaps more.
How do you ensure the security of our project ideas?
Which are the must-have important features to develop an app like Sleep Cycle?