Everyone understands that glucose provides an important source of energy for the human body. Our complex in-body metabolic plant converts glucose from the food that we eat into the fuel we need to move and survive. Glucose is transported to our bodies' target tissue via blood, a body-wide transport system. It's why glucose is sometimes referred to as blood sugar. Diabetes patients' lives have been markedly loosened and enhanced by Diabetes Tracker App like mySugr, which provide them with unique attributes such as controlling nutrition, monitoring blood glucose levels, reminding them about impending medical examinations, scheduling and notifying them about insulin injection times, and so on. Thus, this is when app like mySugr comes to rescue.
Echoinnovate IT is concerned about the well-being of all individuals, not just our employees. Develop Diabetes Tracker app like mySugr as it can assist track the course of diabetes and make diabetes sufferers' lives easier through the usage of specific diabetes control apps.
Diabetes management mobile applications allows users to enter vital information and then evaluate these facts to adapt their treatment programs and lifestyle.
The program also monitors blood sugar levels, logs carbohydrate intake, calculates insulin dosages, and predicts HbA1c. Users may enter data about their meals, nutrition, prescriptions, and so on, and then view time-dependent charts and statistics in a refined dashboard interface.
The method also enables users to establish encouraging objectives and measure their progress. Users may extract complete information on their vitals from within the diabetes tracker mobile app and send them straight to their doctors.
MySugr App's Revenue Model
Any app like MySugr has its revenue strategy is based on straight subscriptions and freemium ad-supported software versions, but they also license goods to healthcare insurance.
Once someone gets the membership, users may enter information about their meals, nutrition, and medicines, and then examine time-dependent infographics and statistics in a streamlined dashboard interface. Once the subscription gets activated, the users can also set motivating goals and track their headway.
If you want to develop diabetes tracker app like mySugr to assist people to manage diabetes, you must first consider which functionalities your app must have in order to be interesting to consumers.
You must ensure that the app's user experience and user interaction are efficient, making it an easy app to use. A set of specialized features is required for diabetes tracker app development.
Must-Have Features For Diabetes Tracker App Development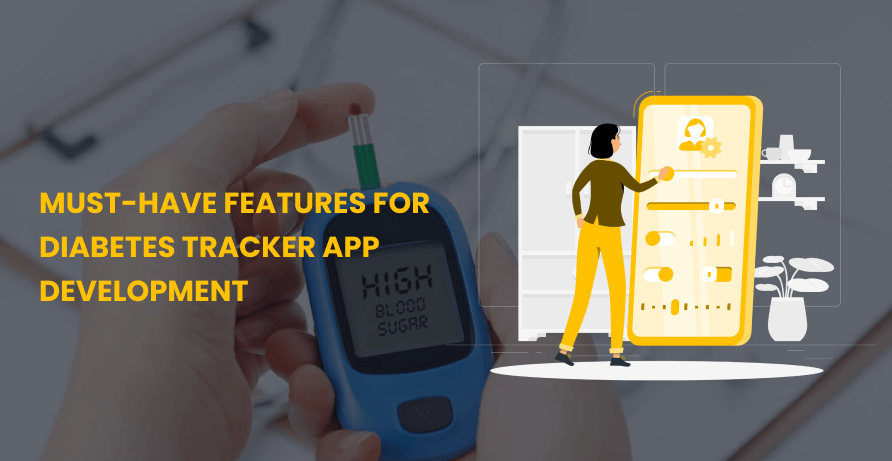 1. Customized Tracking Screen:
After registering, users may rearrange, add, or remove app fields to display the data that are most important to them.
2. Seamless connection with Blood Glucose Meter:
Allow users to link the app with their blood glucose meter and enable automatic data transmission into the app through Bluetooth.
After registering, users may rearrange, add, or remove app fields to display the data that are most important to them.
Provide consumers with a fast summary of their blood glucose levels while they are on the go.
It uses a user's data on daily blood sugar readings to give an estimate of their HbA1c at the top of the front page.
This one allows your customers to produce PDF, Excel, or CSV reports directly from the app to present to their doctor at their next appointment.
Make it entertaining and encouraging to encourage users to stay on track in order to conquer the diabetic beast.
8. Compliance with Data Security:
To seem like a trustworthy platform, ensure that your app complies with your intended location encrypting data and security laws, and that your app satisfies the highest security requirements.
Top Diabetes Tracker Apps
There are a few diabetes management applications like mySugr that will help keep a track for your diabetes to control your blood sugar levels. Here are few of the Top Diabetes Apps for you to explore:
MySugr is a diabetes management app developed by fellow type 1 and type 2 diabetics that promises to make diabetes care easier. It stands out from the other applications on this list due to its clean and easy UI and ability to sync with your glucose meter.
The diabetes tracker mobile app allows you to register your blood glucose levels, manage carbohydrate consumption, track insulin, and produce reports to send to your healthcare practitioner directly from your phone.
The app takes type 1 and type 2 diabetes care to the next level by providing activities and challenges to help you focus on particular treatments and therapy objectives that are unique to you, although some are free.
One Drop is a direct-to-consumer diabetes management software that enables users with type 1, type 2, or pre-diabetes to record information such as glucose, nutrition, activity, and insulin. Users may discreetly share that information with a user community, and the system also provides users with insights that help depending on their data.
The Android release is the first step toward One Drop's comprehensive offering, which will be available later this year, which will comprise a linked blood glucose sensor called One Drop Chrome and a diabetic supplies subscription service called One Drop Premium, which will also include coaching.
Dario Glucose Monitoring System
Dario provides you with everything you require to regulate your diabetes effectively, including a revolutionary all-in-one meter, a world-class diabetes monitoring mobile app, diagnostic supplies, and our scientifically established diabetic success strategies. It is customised to you, whether you want to use the
Dario blood glucose surveillance system for the easiness of our all-in-one device, or you would like to improve your diabetes management with our unrestricted, automated testing strip and lancet fulfillment, full health mentoring, educational content, and regular documentation.
The user-friendly design of Glucose Buddy makes documenting dietary carbohydrate, medications, exercise, and blood glucose measurements a breeze. In addition, its personal suggestions help you understand how your lifestyle influences your diabetes management.
Preferences for prediabetes, type 1 and type 2 diabetes. Based on the intended blood glucose range, it provides information. Management advice is available in the content library. Data from the Apple Health app may be synced.
Remote monitoring is assisting in improving how you exchange information with your care team and receive assistance between visits. Glooko can assist you in synchronization and sharing your diabetic data, hence boosting results and your health.
The app will remind you to control your blood glucose and inject insulin or other prescriptions via automatic, discreet notifications sent to your mobile phone. Glooko also has built-in pattern assertions to help you detect your specific glucose patterns and make changes in your diabetic self-management.
Sugarmate is designed to provide assistance for users who use Continuous Glucose Monitoring devices (CGM). It integrates seamlessly with your Dexcom CGM instantly and lets you monitor medication, diet, and exercise. You may simply configure the app's reporting and alert functions.
Alert options include SMS or phone calls when blood sugars go dangerously low whether you're sleeping or out. It connects with the FatSecretTM food library, which includes barcode scanning and food images, Apple Health, exercise detection, and speech recognition and dictation.
It is an advanced bolus insulin dosage calculator designed for diabetics on a basal-bolus regimen. RapidCalc substantially simplifies blood glucose control by including smart insulin tracking, automated carbohydrate ratio, and blood glucose target setting.
It prevents dosage stacking by tracking your bolus doses and taking Insulin On Board into account when calculating a recommended dose.
RapidCalc allows you to choose up to six different blood glucose levels, correction factors, and carbohydrate ratios for different times of day, and it automatically chooses the right numbers when calculating a proposed dose.
It also makes it simple to keep track of your background insulin dosages. This is up to three predefined doses and customizable alerts.
Best Apps For Managing Diabetes
Health2Sync delivers a customized digital care solution based on all of your data and everyday activities.
The Health2Sync App visualizes various numbers. This includes blood glucose, blood pressure, weight data, and daily activities. This data will assist you in making changes and taking complete charge of your health.
The Health2Sync Platform allow you to connect with healthcare providers, family, and friends to work together to combat diabetes. It provides you with notifications and advice based on your records to help you make timely modifications.
This is an Internet-based online platform that does not necessitate a mobile app. But a BlueLoop app for Android, iPhone, and iPod Touch is available. You can begin collecting blood sugars, carbohydrates, exercise, and other diabetic data. This can be done if you establish an account — either a family or a school version.
It communicates between parents, physicians, and school nurses via text messages or emails. Documents such as school 504 plans, doctor's prescriptions, medication dosages, and immunization records can also be uploaded.
MyFitnessPal is more than just a calorie counting app. It helps in tracking your sugar, carb, and water intake, as well as your physical exercise and meal time. The app has a notes area where you may keep track of your blood sugar readings and insulin shots. Foods may be scanned using a smartphone camera.
It allows you to obtain a recipe and fitness library and Displays the macronutrient breakdown. Over 50 applications are supported.
Fooducate has over 300,000 items in its database. It gives information on nutrition quality so you may make healthier food choices as part of your treatment of diabetes. Just scan the code on your food items to have access to useful information about your daily eating habits.
It provides an in-app community with recipes and member support. Also, it suggests healthy options for items scanned. When you upgrade to the Premium edition, it provides diabetes-specific advice.
How Much Does It Cost To Create Diabetes Tracker App?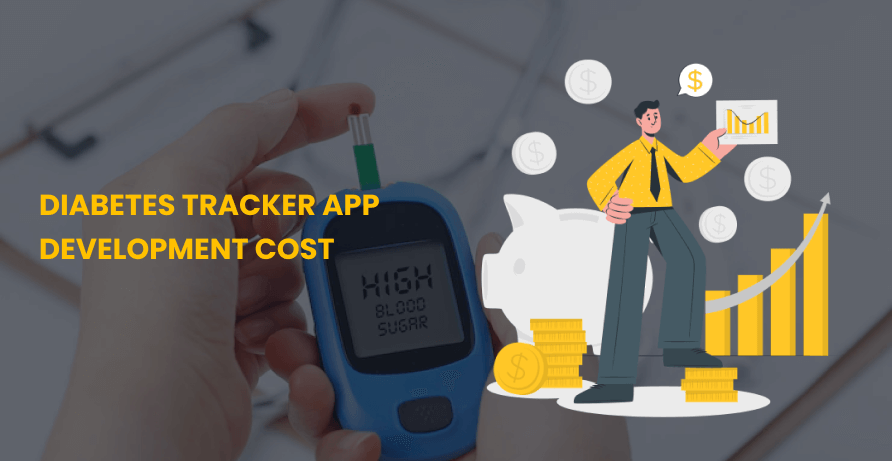 First, you must decide which platform your app will operate on. Whether you choose to create an Android or iOS or an app that can work on both platforms. Different apps for the Android and iOS platforms will be more expensive than one that operates on both. When it concerns to build an app for managing diabetes expenses, several variables must not be disregarded.
Hiring app developers with a high level of expertise in diabetes tracker app development, as well as app functionality, implementation, technologies, app design, and other factors, all influence the final pricing.
When calculating the diabetes tracker app development costs, keep in mind the possibility of interoperability of medical equipment. It will need certain specialized knowledge and abilities, which will be paid on an individual basis.
How much does it cost to develop an app like mySugr?
If we were to guess, it would be between $45,000 and $80,000 based on our experience of the diabetes tracker app development company.
When you Make an App like mySugr, what factors contribute to its success?
According to healthcare professionals, clear and useful information on your diabetes tracker app development keeps customers engaged. Patients typically download healthcare and medical applications to track and monitor their health. As a result, offering the correct information and solution to consumers is what makes an app effective.
Can technology improvements aid to develop diabetes tracker apps?
To check their glucose levels, most persons with diabetes use a mix of finger sticks and laboratory testing. Without a frequent fingerstick test, many people find it difficult to determine or anticipate their glucose levels. We'll pave the path for you to choose to manage diabetes by diabetes tracker app development.