10+ Best Face Swap Apps for iPhone and Android Devices in 2022
10+ Best Face Swap Apps for iPhone and Android Devices in 2022
Nowadays, face swap apps are so much in trend and people are finding them interesting on a social media platform. It's high time for you to build a face swap app to stay connected with the trend. Using face swap apps, you can swap your face with another person or celebrity in the picture.
But sometimes it results in hilarious pictures. Therefore, to avoid that you need the best face swap apps available for your Android or iOS device.
So, here are some widely known, most incredible, and most loved face swap apps for Android and iOS.
What is a Face Swap App?
Face swap apps are camera apps that allow people to swap their face with another person's face for fun on the internet. Most face swap apps use AI technology to create funny pictures and videos.
People find it fun swapping their faces in the virtual world. It also enables you to replace your face with a celebrity face and enjoy it with your friends. Here are some amazing face swap apps mentioned below:
10 Face Swap Apps to Make Your Photos Delighted
Snapchat
Cupace
B612
Face Swap Booth
Reface
Face Swap App
Copy Replace Face
Reflect
Photo Face Swap
MixBooth
You need not get confused between Face Swap apps and deep fake apps as Swap apps are completely harmless and are created for just fun whereas deep fake apps are used for creating videos that are deeply problematic and by misinterpreting someone.
Hence, with this disclaimer, let us now have a look at the top 10 Face Swap applications
Snapchat is one of the most famous Face Swapping apps. You can easily swap your face if you're your friend by using the filters available in this application.
Snapchat is not only a Face Swap application, but it also comes up with several other mind-flowing features and amazing filters. This is what makes Snapchat one of the best Face Swap applications.
Finding a Face Swap filter would require a little digging in Snapchat as compared to other applications that only offer face swap features.
If you are unable to find the face swap filter in the camera interface, then move to the explore section, search "Face Swap", the filter would be available there, you can also save it to your favorites.
The filter is part of the several offered on the platform, but I can assure you that it's the best one out there.
You can not only click amazing pictures using the face swap filter but also share them with your friends instantly.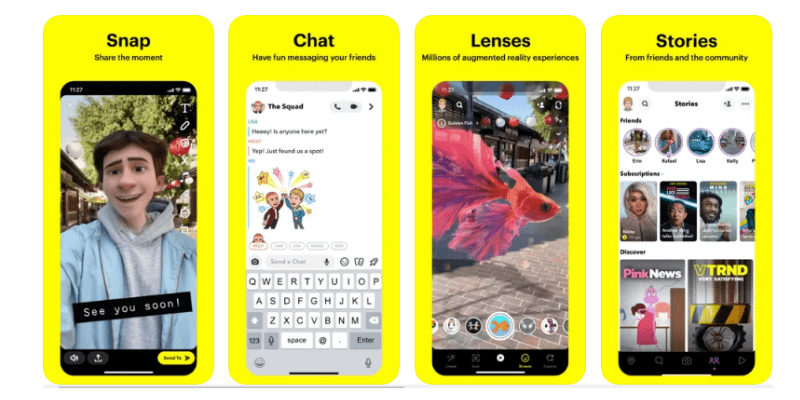 Cupace is an excellent and very simple photo editor application. It includes a feature called Paste Face, using which you can paste anyone's face over the face of any image that you want.
The paste Face feature successfully works on Cupace applications as it can efficiently extract faces from images.
The Face Swap is made simpler with this application as it allows to magnify the image during the face cutout process so that it is completed with maximum perfection.
Once you have successfully cropped the image, now you can paste it on any image of your choice.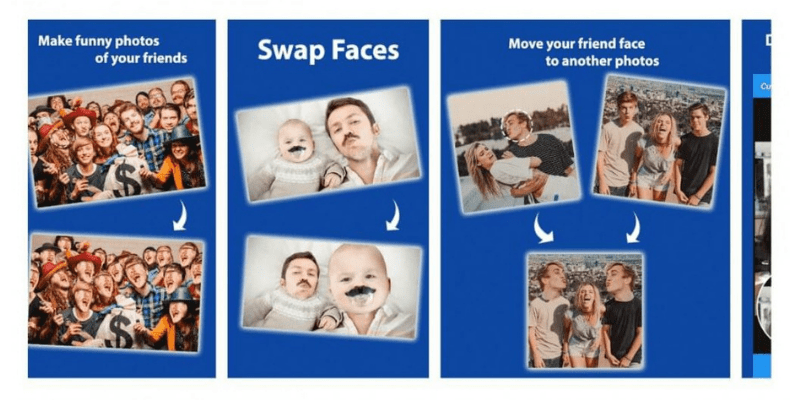 B612 was initially only an app offering photo editing, but now it has enhanced its features and now it also allows users to swap faces in photos as well as videos.
This feature of B612 works very similar to the way it was done on Snapchat. You are just required to select the Face Swap effect, and then easily swap your face with your friends or with any famous celebrity.
It gives quite decent results, not very perfect but the Face Swap effect of B612 will really make you laugh when you use it. Additionally, it can be an amazing photo and video editor for Instagram reels.
You can install Face Swap Booth in case you want the storage of faces that you can swap according to your wish. This application enables you to add faces.
You can also add the faces manually or the app auto-detects the face. You can enjoy and have fun by simply swapping faces with different people. Additionally, you can swap your face with the pre-loaded celebrity faces.
This application also offers certain unique features like advanced editing tools, funny face masks, etc.
In Face Swap Booth, both free and premium versions are available but the free version is fairly limited, therefore, you have to go for the Premium version of the app which is $2.99 to save unlimited photos, faces, remove ads, watermark, etc.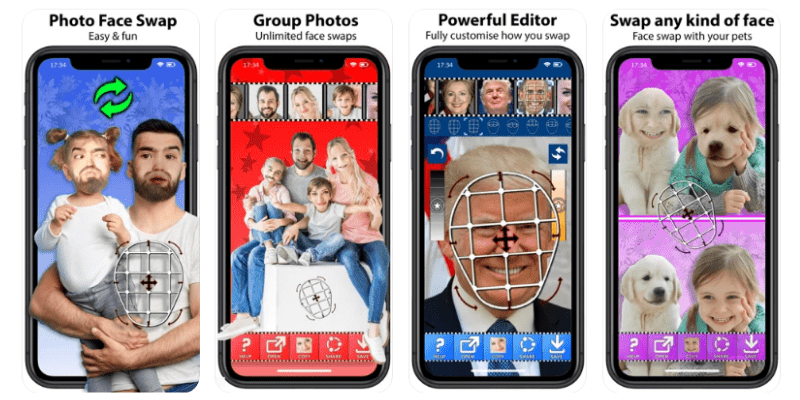 Well, Reface is technically a fake application, but you can swap your face with celebrities on videos and GIFs using this application. Reface was earlier known as Doublicat.
It has become one of the viral apps using which you can create quirky face swaps. You can also share them with your friends.
There is a massive collection of GIFs and images in the Reface application that can be used for creating new GIFs.
However, new templates are being added to this application each day by the developers to ensure that you find the new content while using this application.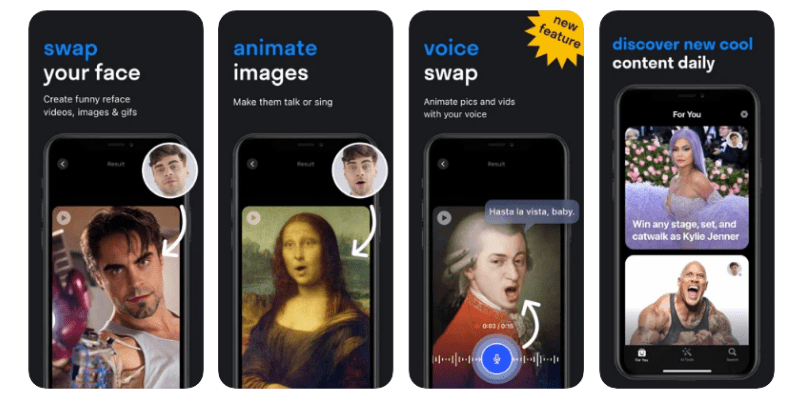 An offering from "Brain Craft Ltd" is a perfect choice for swapping faces with ease.
The best thing about this application is that it automatically detects the faces and makes the entire face swap procedure very easy for you. You can also flip, edit, and rotate faces in this app.
The manual control feature of this app makes face-swapping very easy in group photos as compared to other face-swapping applications.
It also comes with an option to fine-tune skin color tone that adds some glamorous touch to your images.
It is fully integrated with Facebook, hence you can swap faces in your or your friends' pictures and blast them on social sites.
A Complete Guide to Develop a Fitness App Business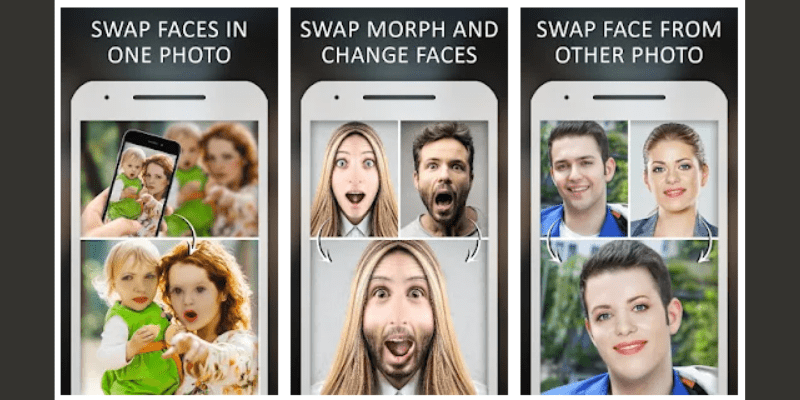 Copy Replace Face is a creative Face Swapping application like reface. This app lets you customize the entire appearance.
It comes with an option to copy the entire face or only copy features of the face like eyes, nose, lips, which is very hassle-free and lets you create a unique face.
Additionally, it also allows you to layer multiple faces on top of each other, using this you will get a completely different appearance at the end.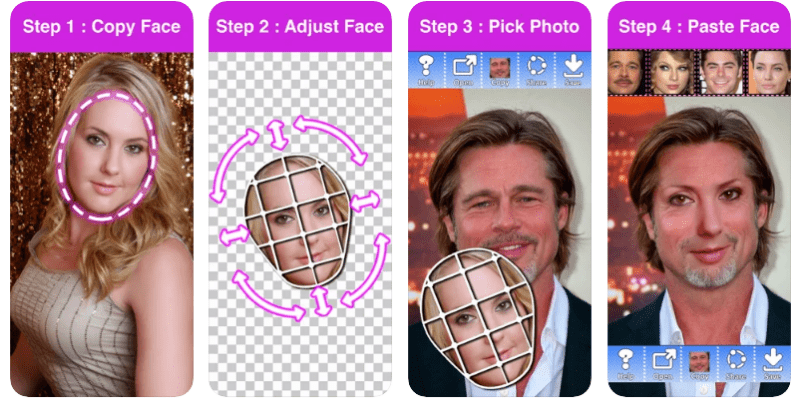 Reflect is a Face Swap app with a very high rating. Most Artificial Intelligence can Swap Faces using this app with very high precision.
The available automatic feature that adjusts the color and smoothness of skin helps in producing an amazing image with higher accuracy.
It also has an option that lets you adjust the level of the swap that you want to apply to your image.
Hence, you can either choose to go with full-on modification or tone down the swap level for a more realistic appearance of the image.
Another amazing feature that comes with the Reflect application is that it has a built-in meme creator using which you can create fun-loving memes and can also share it on your social sites.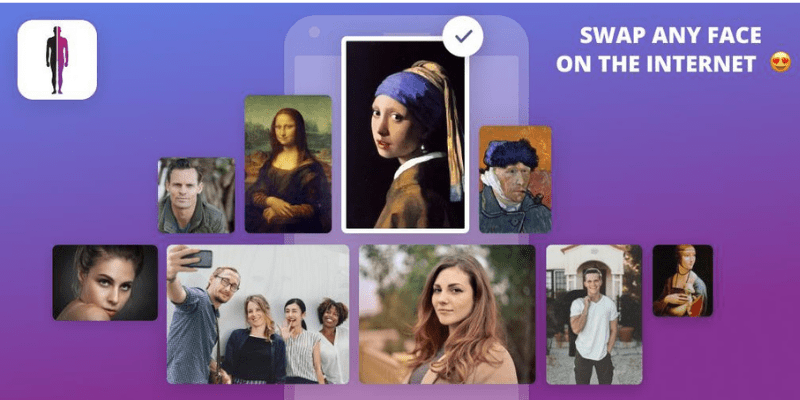 Photo Face Swap is another application for swapping faces in pictures.
This app is very easy to use. The quality of the final result will depend on how well lit the original picture was and if it was rightly aligned.
The results from this app were a little mixed, sometimes good and sometimes bad, but we still would recommend this application to you as its working is very hassle-free.
And, it also includes a face bomb effect, using which you can add one face on all the faces in a single picture.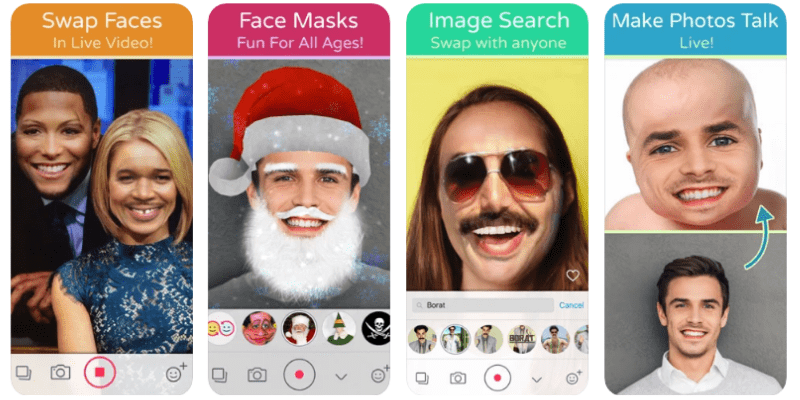 This application does not swap faces, instead, it mixes up two faces which are really fun to see.
You can add your photo along with a photo of people with whom you want to mix your face with.
It automatically detects the face and mixes it up. You can mix your face with strangers or celebrities and see how you would appear in someone else's skin.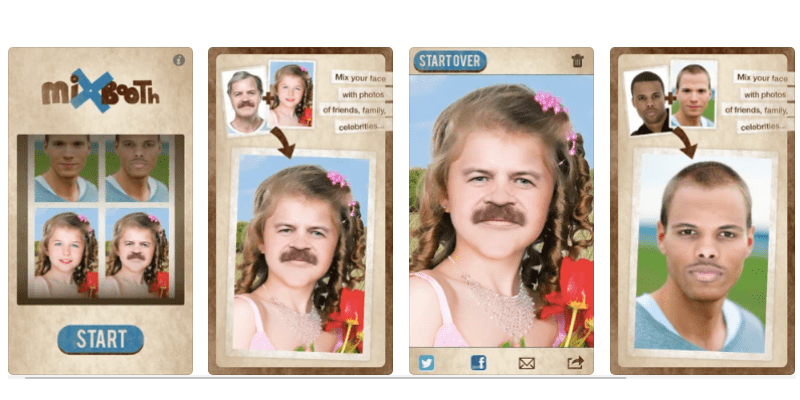 How much does it cost to develop an app for a Face swap app like Reface?
There are several factors that determine the cost of developing an app for a Face Swap app like Reface such as time taken for the development, design of an application, complexity of an application, etc. It takes almost 3-4 months to develop a face swap app like Reface.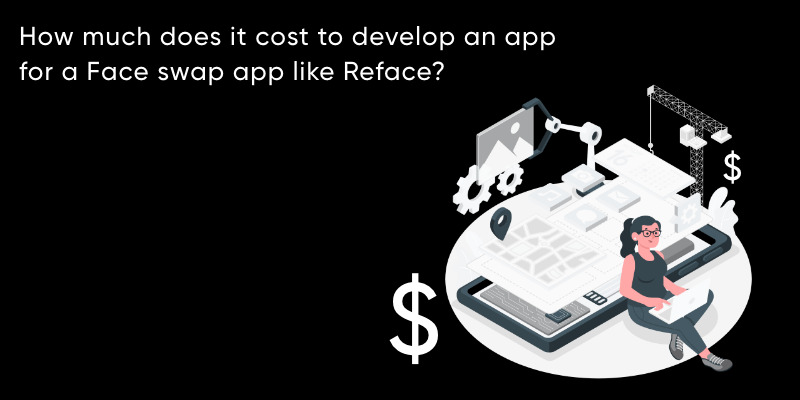 This is the time needed to go through each step of the development process of an application like writing a general project layout, researching, designing, and deploying.
The overall cost of developing a face swap app like Reface may lie somewhere between $70,000-$100,000. Hiring a company for the development of a face swap app like Reface would be the right choice as the company will take less time in the development process and take the whole responsibility of your project.
FAQ's of Face Swap Apps
How do I change the face in a picture?
You can use any of the face swap apps mentioned above to swap faces for fun.
What app can put your face on celebrities?
You can use apps like Face Swap Live and Face Swap Booth to swap faces with celebrities as they come with preloaded celebrity faces in the app. You can also switch to any celebrity with an image search.
You can check out MixBooth to blend or merge two faces. It is available on both Android and iOS.
In Conclusion
Face swap has become one of the trendy features of photo editing and video-making apps. Most of the existing apps are integrating such trendy features i.e. face swap to gain more users.
Due to technological advancements, all the face swaps mentioned above in our list are the best face swap apps that are available for both platforms Android and iOS.
Another most important reason behind the popularity of face swap apps is that they let you imagine how you will look in the future.
Also, you can use face swap apps for swapping your face with the celebrity that you like for fun and enjoy sharing it with your friends.are