Best 15 Amazon Alternatives to Shop Online, Best Deals, Worldwide Shipping
Best 15 Amazon Alternatives to Shop Online, Best Deals, Worldwide Shipping
Amazon has been one of the best and most popular e-commerce platforms on the internet. Amazon has revolutionized the way of shopping for each and every one. The e-commerce platforms like Amazon offer the most convenient and smooth shopping experience. Amazon offers everything from ordering groceries to watching movies online. If you are looking for an Amazon alternatives buying kinds of stuff, look no further than this guide, also have questions like what is the best alternative to Amazon? or which takes you through a lot of alternative online stores for shopping.
There are several great Amazon alternatives available online for shopping. Here is everything you need to know about other popular alternatives or apps like Amazon that you can try out. Let's quickly dive into the list of the best Amazon alternatives to shopping online:
| Online Shopping Apps Like Amazon | Reviews |
| --- | --- |
| Thrive Market | |
| AliExpress | |
| Instacart | |
| Walmart | |
| eBay | |
| Etsy | |
| Target | |
| Overstock | |
| Newegg | |
| Chewy | |
| Zappos | |
| Barnes & Noble | |
| Rakuten | |
| QVC | |
| Best Buy | |
Thrive Market was launched in the year 2014 and is dedicated to the community. This online marketplace offers organic and natural groceries and other sustainable products at reasonable rates.
This membership-based online marketplace grants you access to more than 6,000 sustainable and organic products at a fraction of the retail cost. The membership plan starts at $5 per month.
We love using Thrive Market to stock up on grocery and pantry items, household goods, and everyday essentials.
AliExpress – Online Shopping for Popular Electronics, Fashion
AliExpress is run by Alibaba group (they're actually Chinese, not Middle Eastern). Factory's direct pricing is available for products available on AliExpress. Customers are provided with several guarantees and protections so that they are safe from all the scams and trust the platform. Your money is not given to the vendor until and unless you receive the ordered item(s) and approve it. There is a refund in cases when the product doesn't reach the customer or it is not exactly what you thought you were told. In the year 2020, AliExpress had 150+ million buyers. AliExpress plans to increase its cross-border clientele to 30 million by 2030. AliExpress gained 528 million visitors by January 2021.
Instacart | Grocery Delivery or Pickup from Local Stores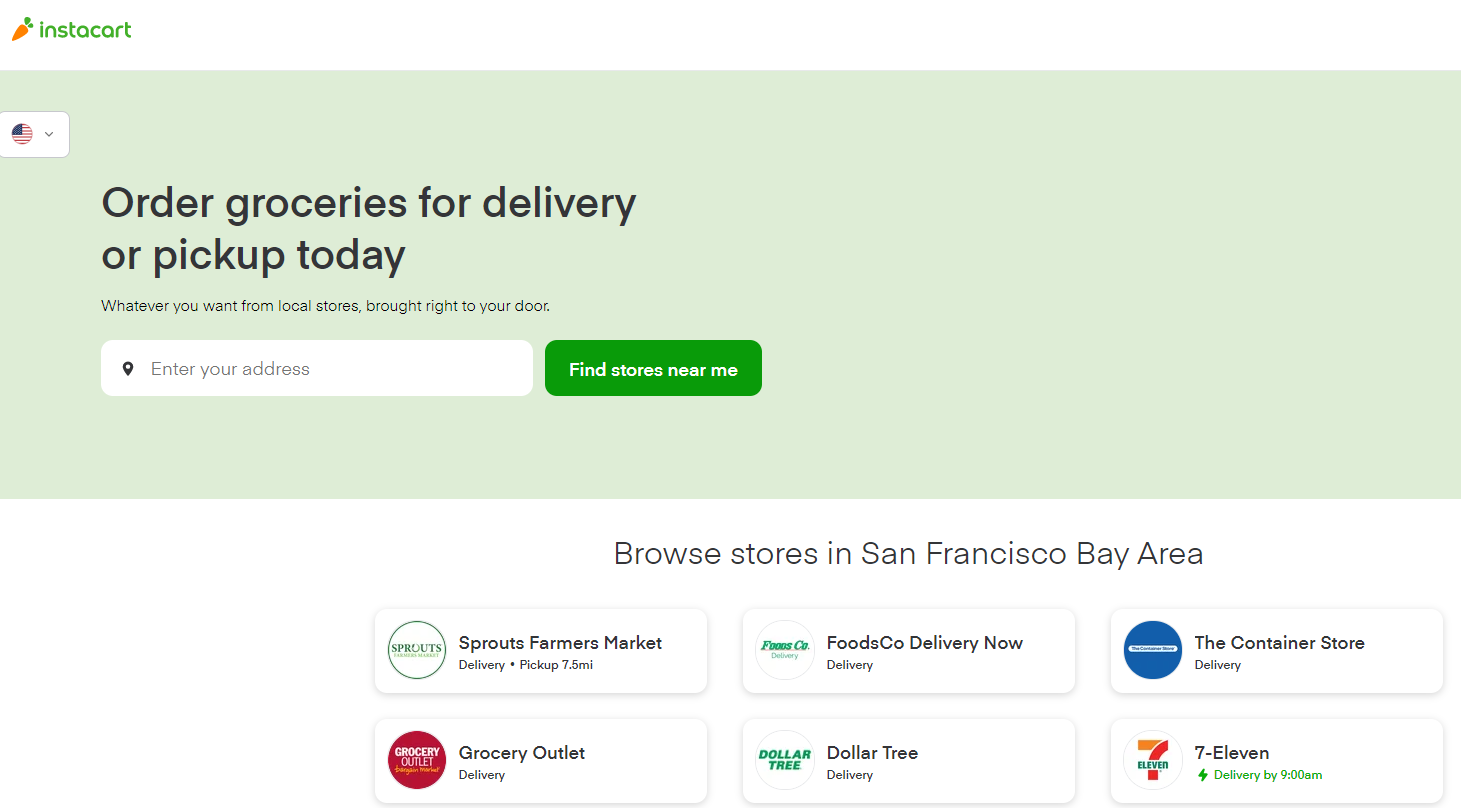 This is an amazing alternative to Amazon Fresh. Instacart has made it really easy to deliver groceries to your door. It offers a wider range of offerings than Amazon Fresh along with super-fast deliveries. Instacart offers same-day delivery from almost 600 national and local retailers, like Sprouts Farmers Market, ALDI, Costco, Publix, Wegmans, Jewel-Osco, Shaw's, The Fresh Market, Fresh Thyme Market, and more. Instacart now also delivers flowers, home accessories, and beauty products from Sephora in just an hour. You can sign up for free on Instacart. You can also go for Express membership with Instacart to get free deliveries. Instacart is valued at $13.7 billion and continues to increase. Instacart reaches 30,000 retail stores and more than 500 million products are listed on Instacart.
Walmart – Online Shopping & Grocery
It is one of the biggest companies in the whole world but is especially famous for its chain of supermarkets. Walmart is very famous for its low prices. You can purchase products on the website of Walmart and get them delivered at your door or pick it up from your nearby outlet. There are more than 11,000 Walmart stores worldwide and has approximately 2.2 million employees. More than 60 million items are listed for sale in the market. In 2020, Walmart generated revenue of $123 billion in the first quarter. Around $22.4 billion of the annual income in sales came from e-commerce.
eBay – Global Shipping Portal
eBay is one of the most famous alternatives of Amazon. Amazon and eBay entered the market almost at the same time. It is a little different from Amazon as it does not sell its own products; it acts as a link between business or third-party sellers and consumers that are looking for it. For some specific products, you can directly buy them at a given price mentioned on its site or you can also go with an amazing feature offered by eBay which is bidding for that particular product when it is put for auction. The winner of the auction can buy that product at the second-highest bid. You can also get some overwhelming bargains with eBay's "Best Offers. eBay has over 1 billion active listings, along with 180 million active buyers. In the past year, eBay generated revenue of over $10 billion. Transactions are done daily through eBay of 2 billion.
Etsy – Marketplace Like Amazon
Etsy is a very good and unique alternative to Amazon. Items available on this platform are mostly handmade accessories, jewelry, clothing, furniture pieces, etc. They also have "vintage" items available that are almost 20 years old and it is quite difficult to find them on any other platform. You can find various creative items on sale that will make your home look elegant. They make unique and beautiful gifts, too! Etsy processed $10.28 billion in gross merchandise sales in 2020. Etsy generated $1.72 billion in revenue in 2020. Mobile transactions account for 61% of Etsy's gross merchandise sales. Etsy has around 81.9 million active buyers and 1,209 employees.
Target is a very famous supermarket chain in the United States. You can order products from its website online. You can choose whether you want your product delivered at your place or you can also pick them from a nearby brick-and-mortar Target store. Though not as committed to discount selling as Walmart, Target's products tend to be on the cutting edge of trends. Around 75% of US residents live within a 10-mile radius of a Target Store. In 2020, 18% of the target's total sales were generated by e-commerce orders. Target greets 2 million visitors each day. Target has around 409,000 employees at over 1,900 stores and 44 distribution centers.
Overstock is an online shopping site that began as a seller of remaining goods from failed e-commerce sites. You can get amazing deals on this platform while shopping. There are new items available on the Overstock platform too. It offers amazing customer service. Overstock has a very unique program known as Worldstock in which hand-made items from different artisans are sold all around the world and 60% of the revenue is given back to the artisans themselves. Total revenue generated was US$2.549 billion in 2020. The operating income by Overstock was US$153 million.
Newegg – Electronic Selling App like Amazon
Newegg is also an alternative to Amazon and it is specifically known for electronic goods like laptops, computers, televisions, digital cameras, etc. It offers fast delivery and amazing customer service due to which it has become a huge competition for Amazon. You can find a very good deal at a reasonable price on this platform along with free shipping within 3 days or even faster than that. In 2016, revenue generated was US$2.7 billion. Newegg had more than 1,500 employees.
Chewy – E-Commerce Company
Chewy keeps up everything in stock for pet owners to keep their four-legged family members healthy and happy. Yet another among the amazon alternatives for pets. The online pet pharmacy and supply company offers over 2,000 pet brands that cater to dogs, cats, horses, fish, birds, reptiles, and other animals. You can save money by taking a subscription with the retailer's Autoship Service. Free shipping within one to three days is also offered by the retailer on shopping of $49 or more. Net sales of $2.16 billion increased by 26.8%. A gross margin of 27.5% expanded 200 basis points. Revenue generated in the year 2021 was US$7.1 billion.
Zappos is a good alternative to Amazon with a specialization in the sales of shoes, accessories, and clothing. It provides you rewards along with every purchase you make. You also get an option of expedited shipping if you want your item to get delivered a little faster. Free shipping and free return are also allowed in many cases. It is also known for its excellent customer service as it does everything that could possibly be done to make sure that they provide the best from their side.
Barnes & Noble is quite similar to Amazon and is one of the best amazon alternatives, it was initially known as a bookseller but with time it included several other items for sale. Being that, it has almost 6 million books in stock which are ready to be shipped within 24 hours. Also, it is one of the Best Amazon Alternatives to Buy Books Online. It has over 4.5 million eBooks that you can easily download. Several other things like magazines, games, textbooks, hobby equipment, etc. are available on the site of Barnes and Noble. Online sale of books has reduced overhead costs, and hence, you save a lot of money.
QVC is a short form Short for "Quality, Value, Convenience. It is a worldwide network for shopping on television and one among the amazon alternatives. However, it has also made the transition to the Internet era, and now allows the products that it features to be bought through its website. Products are a bit expensive but they come from high-end brand names and are a little difficult to find anywhere else. In 2020, QVC generated US$11.47 billion across the globe. This marks an increase from the US$10.98 billion reported in 2019.
Best Buy – Online Store to Buy Products
Best Buy is an amazing online platform that provides you with the best deals on electronic items like laptops, televisions, computers, video games, and appliances. Prices at Best Buy are very low along with free shipping of the item. These things help Best Buy in offering a great user experience. It also has a feature where you can reserve the item you liked when it is in stock and then you can go and pick it up from a nearby Best Buy store. Return of items is much easier on this platform as compared to Amazon as you are just required to fill a form online and never worry about restocking fees. Best buy generated global revenue of over US$43.6 billion in 2020. Best Buy operated 1,779 stores globally.
How much would it cost to build an app like Amazon?
It is quite challenging to estimate the exact cost of developing an app like Amazon. The app development cost varies depending on different factors. Still one can determine a closer estimation based on careful evaluation. So, let's have a look at some major factors responsible for overall app development cost.
The cost of hiring hourly app developers ranges from $15-$50 in Dubai, the Middle East, India, etc. Also, the hourly price of an app developer in the USA and UK ranges from $100-$200.
The cost of developing the design of an app depends on factors like features, complexity, and the size of an application. The price ranges from $10,000-$30,000; the price range might vary depending on the hourly charges of the UX/UI designer.
This is the core structure of an application. The cost of backend and frontend development lies somewhere between $5000-$10,000. The charges may vary depending on the choice of your company and mobile app developers.
Hopefully, with the blog post, you have got the best Amazon alternatives for shopping online and the estimated cost of developing an app like Amazon. So, if you are looking to develop your own shopping app, this is the right time. The cost for developing an eCommerce application is somewhere around $10,000-$15,000 for a single platform.
But the cost may vary depending on your requirements and the complexity of an application. Therefore, if you have a great app development idea, then it is worth hiring a mobile application development company to transform your idea into reality. Get in touch with us now!
FAQs of Amazon Alternatives
One of the best features of Amazon is that it offers free 2-day shipping on most orders over $35. These websites similar to Amazon also offer free shipping on your orders, typically depending on how much money you spend.
Overstock – free over $40
NewEgg- free 3 days or less on all orders
Barnes & Noble- free over $25 for 4-5 days
Walmart- free over $35
Target- free over $35
Best Buy- free over $35
AliExpress- cutting out the middle-man means low, low prices
Walmart- everyday low prices and bargains
eBay- bidding means you can get items cheaper
Zappos- keeps prices competitive with Amazon
Target- seasonal sales and low prices
Newegg – generally orders arrive within 2 days, and shipping is free
Walmart – offers so many shipping options including Grab-&-Go local pickup points and pick up at your local Walmart store
Best Buy – their delivery is quantified based on the type of item, and clearly states when it will arrive at you before you buy, factoring in holidays and current demand
Zappos – takes 4-5 days but is reliable and guarantees shipment on time