Mobile applications may supercharge fashion eCommerce app. However, this might be jeopardized by the absence of real development expenses for fashion eCommerce apps. To expand into e-commerce, retailers must use the potential of mobile apps in an efficient and cost-effective manner. Today, people are more interested in what mobile apps can provide. In order to boost sponsorship, eCommerce companies may give their clients mobile applications that enable shopping on the move with access to a broad variety of possibilities.
How Exactly Do These Apps Do Their Roles?
Depending on the specifics of the app, Fashion eCommerce app development may attract a wide variety of users. A business-to-business (B2B) fashion mobile app facilitates transactions between wholesalers (customers) and manufacturers (sellers), whilst a business-to-consumer (B2C) app enables businesses to sell their garments and accessories directly to end consumers.
Businesses and brands may either outsource the fashion mobile app development of their own apps or list all of their items in the categories of an app like thredUp. Customers may quickly browse for items in any of the categories and purchase them using the platform's payment system. Contacting multi-vendor platforms, which include a variety of brands under a single body, is an additional method for selling your items, similar to how it works on an app like thredUp. On the website, they will put your brand name under the category, allowing you to market your items on a larger scale and reach a wider audience.
How Can Fashion Mobile App Development Be Beneficial?
User-centric search engine development
Make account creation simple and straightforward. Consider allowing registration through social media platforms such as Facebook and Google or by phone number. At this time, it is crucial to both educate clients about their new account and initiate brand loyalty with this new product.
Higher visibility Fashion companies develop brand recognition by letting clients see the latest collection and buy their items. Customers may see catalogs on their fashion eCommerce app.
Alerts are additional components of fashion eCommerce app development. Pop-ups on a mobile phone's home screen announcing a sale or a particular item will naturally keep the consumers' attention and boost the odds of them opening the app and exploring the brand's collection.
Fashion houses today consider the world their audience and territory. Apps and global shipping firms help achieve this goal. If a product interests you but isn't accessible in your nation, you don't have to fly overseas or ask a cousin or friend to bring it back.
The more a product is seen, the more likely it is to sell. Major brands and small merchants employ item churning. This is the only way they can maintain a stable cash flow and earn profits. By targeting the correct individuals, brands may earn a lot of money.
Monetization Strategies For A Fashion App Development
With a fashion ecommerce app, a business owner may generate income from several sources, therefore dramatically boosting their earnings. Let's examine the app's numerous monetization tactics.
In exchange for doorstep delivery, consumers pay a predetermined delivery fee to the platform owner.
They are an excellent option to explore when developing apps for boutique stores. By displaying banner ads from third parties on their websites, business owners may receive revenue depending on clicks, impressions, etc.
With the marketplace model, businesses may generate a steady income in the form of commissions. As commissions, both consumers and sellers pay a specified amount.
The app owner might release a premium edition of the app for which users pay a monthly or annual membership fee to have access to attractive features in fashion app.
Benefits Of Fashion ECommerce Apps For The Brands
All the popular shopping applications have various brands and types. It's challenging for brands and enterprises to compete in this environment. It's best to have your own app so committed consumers only download it.
An app downloader or user can highlight the potential as brand applications may acquire user information when they register and search for garments and accessories. Now companies can identify clients' likes and interests and propose relevant goods.
E-commerce Application offers a brand owner the right to develop demographics, so they can swiftly target their clients depending on age, state, and gender.
Marketing and distribution
Now that a corporation knows everything about its clients, it may propose new goods that meet their search criteria. No client will be assaulted with uninteresting ads after this.
People's views and decisions make them unique in this social sphere. Fashion apps are constantly open to client input since it helps them serve and delight shoppers. Buyers always have assistance.
Since your app just presents your brand's merchandise, clients are less distracted. This will boost brand sales and gain loyal consumers.
Best Fashion Apps By Brands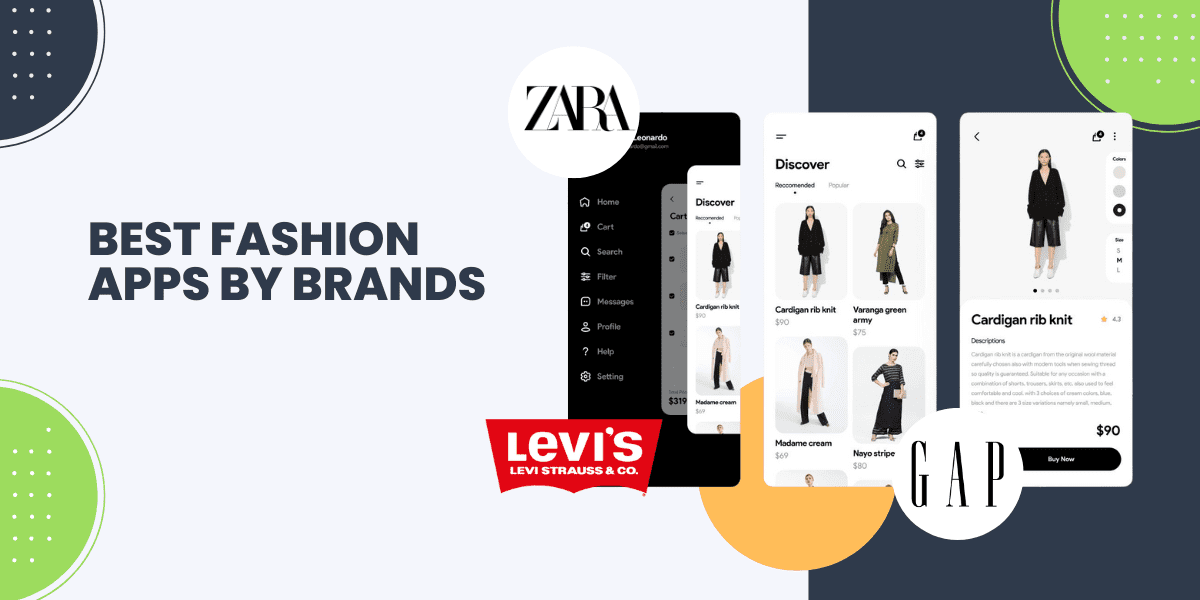 This app makes shopping at Zara stores and online much easier. Top search bar simplifies browsing. You may also scan a product in the shop or search your size to see if it's nearby.
Over 50-year-old firm catches up with its clients on a mobile app, allowing them to browse luxurious eCommerce designs on the move. Gap's mobile app promotions and coupons make online purchasing quicker and faster and boost consumer loyalty.
Levi Strauss & Co.: The oldest blue jeans company offers a mobile app for exclusive designs and collections. It offers unique items and new partnerships. Levi's boosts brand experience with tailored stories, offers, and ideas.
What Is Responsible Behind Success Of Such Apps?
If a consumer isn't sure what to purchase with a product, he may ask for advice. All fashion applications should hire fashion advisors to answer customer questions.
Not all app buyers buy for themselves. He may give it. Brands should provide customized, individualized packaging.
Care and Use Instructions
Each product's specifics vary by material, stitching, etc. Each item on the app should have enough information to help consumers understand it. This helps customers understand what they're getting and any particular care requirements.
Easy-to-use and understandable apps are great for eCommerce. Complex designs are less popular. UI & UX should be utilized to develop a simple app that anybody can manage.
Insurance and free shipping
You should guarantee your customers' clients product insurance. Free delivery on purchases above a certain amount is also crucial. Free delivery will pursue people to buy more.
Cost To Develop An Fashion Mobile App
If a consumer isn't sure what to purchase with a product, he may ask for advice. All fashion applications should hire fashion advisors to answer customer questions.
First, the wireframe must be executed. It is the visual architecture that determines the layout of an application, including its physical composition, page order, etc.
Users are more likely to use applications with attractive designs. Hence, this element of eCommerce app development must get enough support in order to boost use.
Number of people involved
The cost of app development must be based on the number of coders involved.
On average, the overall fashion app development cost is between $10k and $12k. The cost of app development is mostly determined by the adaptability of its design, the degree of development complexity, and the kind of application.
Fashion eCommerce apps have increased quickly, as has the time spent in them. After seeing market expansion, more developers want to create similar applications. If you own a brand and want to convert sales via applications, hire dedicated app developers from Echoinnovate IT to assist you to make your project successful.
What is a fashion application?
A fashion app is an application that provides users with fashion-related information and access to fashion-related services or sells fashion-related goods, such as clothing.
Is it possible to make money with fashion apps?
The most profitable fashion applications are very lucrative. Not only can they assist companies but generate revenue by providing the newest fashion trends, but they also increase customer retention.
Why is Echoinnovate IT the best mobile app development company for fashion?
Partner with Echoinnovative IT for the ideal e-commerce app development project to expedite the expansion of your e-commerce firm. As a fashion e mobile application development company, we have an experienced and devoted team of developers and business strategists, a design and technology team, a development team, and a test team, all of whom are working around your project to creatively handle any unforeseen issues.