Cost of developing a Car Buy Sell Mobile App like DubiCars
Cost of developing a Car Buy Sell Mobile App like DubiCars
Once upon a time, the automobile industry was one of the most open sectors to developing technology. We could not have predicted how quickly the mobile application age has entirely transformed the automobile business. Additionally, the tens of millions of app like DubiCars that have been downloaded, imply an entirely different environment.
According to a recent poll, over 1,500 individuals use mobile applications to acquire a car every day. 72 percent of users said they use their smartphone throughout the auto-buying process. While 52 percent said they also use their smartphone to seek for new vehicle components or accessories. Consequently, around 29 percent of clients use their cellphones even while choosing and inspecting a new or used automobile.
In the past, people had to visit a physical store to purchase a used automobile. Today, it is just as simple to pick up a mobile phone, choose a vehicle, get all the car's data, and purchase a used car. Car dealers and second-hand vehicle dealers are increasingly resorting to mobile apps for eco-friendly, quick, and customer-centric services in varied and diverse vehicle producing operations.
Buy And Sell Used Cars Mobile App Development is one of these novel app ideas. Used-car dealers have begun to capitalize on the trend to develop car buy sell apps like DubiCars. This software allows users to sell their old automobiles for a substantial discount by locating possible purchasers inside the app. Thus, to make an app like DubiCars provides something for everyone.
DubiCars was first established in 2014 and then relaunched in 2018. Since then, it has become the United Arab Emirates' largest export demand generator and the online auto market with the fastest expanding market for buyers and sellers throughout all of the emirates. DubiCars is in a privileged situation to be honest, sharing data and important insights with the industry since it is the only individually owned platform in the UAE and its main emphasis is on cars. This is made possible by the fact that DubiCars does not offer its own items that rival with dealers or that have to meet opposing interests.
DubiCars is without a doubt the industry leader, with unrivaled reach inside the export market, thanks to the fact that it has more than 470 showrooms that are active on the web and mobile applications. DubiCars is in a top spot to reshape the market because it receives more than three million monthly searches, which enables access to real-time data from actual buyers and sellers. Buy and sell used cars mobile app development, in conjunction with cutting-edge innovation and strong distribution partnerships, places DubiCars in a role to be a market game changer.
Business Model for DubiCars
At the same time as the world is rapidly moving toward digital solutions, companies are rapidly transitioning away from old platforms and into digital one. If one wants to develop a car buy sell app like DubiCars, however, automotive investors are facing a significant challenge when it comes to determining how to maximize the income potential of their company investments.
If you are establishing a model for an aggregator and giving a gateway to leverage your user base, then it will be a wonderful chance for you to charge a listing fee to the sellers. If this is the case, then it will be a terrific chance for you. You may improve the amount of money you make from your app by limiting the number of listings to a certain level that you choose to establish.
Since it enables them to levy a commission fee to vendors on every transaction that's done on the app, this form of monetization strategy works best for automotive investors who are looking to develop car buy sell app like DubiCars. You have the option of either setting a specific sum to be deducted from the purchase or setting a percentage on a range of various number scales.
It is a wonderful idea to provide a place in your app to third-party vehicle firms for the purpose of running adverts, and in exchange, you can require payment to run an ad on your app. This will be a very beneficial alternative. If you decide to go with this form of income stream, you should make sure to position adverts that are relevant to it in order to boost client engagement.
These are a few potential methods of financial gain that you might consider pursuing with the creation of your app but before you go ahead and employ an app developer, you may be thinking how much it would set you back to develop car buy sell apps like DubiCars.
Advanced features for Buy And Sell Used Cars Mobile App Development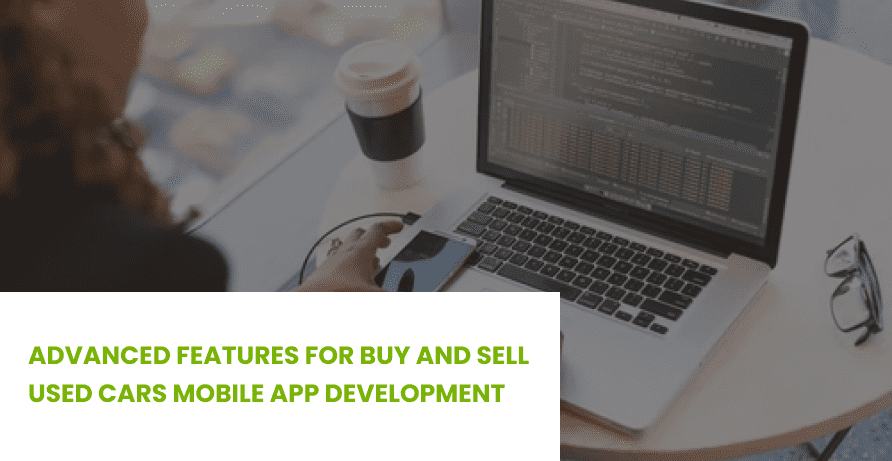 Buy and Sell used cars mobile app development may allow users to instantly register for an account or create one with the help of the single-tap login function. They may also get access easily and without difficulty by using credentials from social networking platforms such as Facebook and Twitter, as well as their phone number and email address, and many more.
Customers interested in acquiring a vehicle may use this application to determine an approximate monthly payment for the EMI prior to making their purchase. Make an app like DubiCars in which users are able to get all of the information on the monthly EMI by entering in data such as the specifics of the automobile, the loan period, and the amount of the down payment.
Since buyers and sellers may communicate inside the app to complete the transaction, an in-app chatbot is an essential component to develop car buy sell app like DubiCars. The chatbots are also useful for directing users in the event that they get lost while navigating the app and need assistance.
While making an app like DubiCars, this feature ensures that the user can locate all of the dealers that are in their immediate vicinity. We have been working toward the goal of establishing a powerful solution that will make automobile ownership simple and convenient for your customers. This has been our primary focus. Due to the sheer acute tracking feature, the whole purchasing and selling procedure may be completed in a very short amount of time, which contributes to an improvement in the application's overall efficiency.
To Attract More Users Run loyalty programs within the application. Additionally, if there are merchants who have been involved with them for a long time, rewards, cashback, and loyalty programs may be able to improve the experience for the consumers.
We will ensure that the solutions that are provided to you have been created by professionals. It will also enable you to compare the many different options that are accessible to you. Your user would not have to move between the windows since the comparison process is so easy, and as a result, the procedure would be easier and quicker.
The consumers are provided with insights into the typical cost of the automobile. It is dependent on the state of the vehicle thanks to this function. It takes into account certain factors. They are, the total number of kilometers driven, the number of years the, and the type of the vehicle. Users are able to make more informed purchases as a result of this functionality.
We provide your sellers with the ability to place advertisements on the platform. This makes it simpler for potential buyers to find their property. This contributes to the increase in the organization's income. Additionally, with increased exposure, the seller would sell their automobiles more quickly. This would result in a higher commission for the seller.
Integrating CRM into your application is guaranteed to be of assistance to you in extending the connection with customers. You will be able to handle customer data, newsletters, multichannel marketing and analytics. It will be both more secure and easier with adaptive CRM.
With this feature, users can get a 3D view of the inside as well as the outside of the vehicle. By moving the mouse to get a complete 360-degree look of any direction with fine details.
Cost of Developing a Car Buy Sell Mobile App
Figuring out the cost of developing a car buy sell mobile app is not a simple task. In general, to make an app like DubiCars a number of aspects are considered. This includes design, additional features, app size and structure, and the number of platforms to be used. Developers with a great deal of experience and skill are located at the mobile app development company.
To make an app like DubiCars, it is recommended that you work with an experienced mobile development team or business. It will be more expensive for you if you decide to go with an experienced programming team. The more overall amount of features and panels, the higher the costs of its creation. It will cost you less to develop a car buy sell app like DubiCars with fundamental functionality.
The degree of smoothness and sophistication of the UI/UX interface is important. It will will determine the degree of difficulty associated with your mobile app development. The complexity of the project will, in turn, cause a rise in the expenses associated with its development.
In a nutshell, the total number of platforms on which your program may operate is a significant factor. It determines the expenses associated with its development. Producing an application for both Apple's iOS and Google's Android platform will certainly double the price of developing an application. When you want to make an app like DubiCars, you may choose a cross-platform app as an alternative.
Thus, the cost of developing a car buy sell app differs from one project to the next in this regard. You might look into hiring renowned mobile app developers. They will help you with the process of adding the appropriate features & functionality into the app. The cost of developing a car buy sell app might range anywhere from $15,000 to more than $50,000 on average.
Team Structure required to Develop Car Buy Sell App Like DubiCars
If you have a team of competent and certified developers that are experienced in the creation of dating apps, buy and sell used car mobile app development will be a breeze for you. If you want your ideas to become a reality, you will need to collaborate with a group of skilled individuals. This consists of skilled programmers, designers, quality assurance specialists, and trained managers. To cater to a larger audience, it is recommended making it accessible to both iOS and Android platforms is recommended.
At Echoinnovate IT, we take care to include our customers in the development process. We adhere to the agile technique. We make it a point to check in with the customers after reaching each milestone to get their input. Necessary changes are implemented after the finished model is released to the public. It is essential to ensure that both the customer and the development process are on the same page. This gives the best possible outcomes.
It is not an exaggeration to suggest that it is difficult to make an app like DubiCars. Although it is interesting, dependable, user-friendly, and educational, you still need to keep in mind the numerous factors. These factors make your app function on the same pitch in order to make it a success. If you are considering to develop car buy sell app like DubiCars, it would be beneficial for you to hire a mobile app development company. Choose a company that can generate generate better leads for sellers. This, while they are sitting in the convenience of their own homes. The professionals will ensure that your application functions without a hitch. This is possible by integrating the latest and greatest technology and methods into the development process. This will result in an unrivaled quality solution.
If you have any strategy in mind or are seeking better ideas, you can chat with our specialists at Echoinnovate IT. They will design a solution that gives your company an advantage over its competitors.
For those in the market for a pre-owned vehicle in the United Arab Emirates, Dubicars is a top choice. First created in 2014 and revamped in 2018, the app has quickly become the most popular marketplace for buying and selling pre-owned automobiles in the United Arab Emirates.
In case the idea of creating a mobile app to buy and sell used cars has piqued your interest, you should take the next logical step and start making it a reality. Contact a professional team of experts to assist you put your plans into reality.
Dubicars derive most of its money from the commission given by dealers who sell cars via the app. Dubicars also makes money via smartphone ads, brand promotion, and location-based highlighted listings for dealers.