Weather apps provide you with all the information that you need right from the daily forecast to a monthly forecast. This can really help you in planning your week ahead and getting a headstart if the weather is going to be bad.
The only thing that might confuse you is the choice of app for the best weather forecast since there are a plethora of options available online it will be really difficult for you to choose from them.
There is also some degree of risk involved in downloading third-party applications on your phone because they need to access your location details in order to provide you with the right weather forecast.
But not all applications are dangerous since some of them have privacy policies that protect your location data from being accessed for any other purposes.
Best Weather Apps For Android Or IPhone
AccuWeather – Weather Forecast Alerts & Radar Maps
This is a great application for those who want additional information such as some allergens in the air. AccuWeather provides
If you are looking for an app that gives you information and also is compatible with both Android and the IOS then this app can be a perfect choice. If you are concerned about your privacy you can turn off the location-based services in your settings.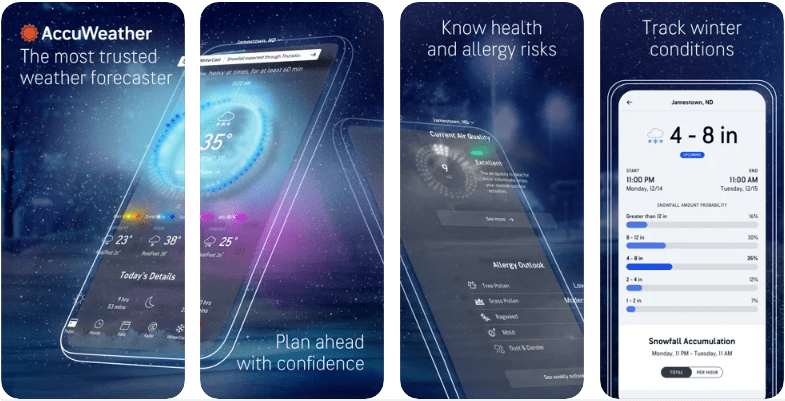 This application can provide you with all the weather information right from hourly to weekly changes in the forecast.
It is available for both Android and IOS and is owned by IBM, this app also has a "Feels like" feature to let you know what to expect when you are out there.
You can prepare yourself accordingly as it also provides you with real-time rain alerts and tracks seasonal allergies too.
Since there is a growing need for knowing the number of COVID-19 infected patients this app provides you with information regarding the number of cases nearby.
The cost of upgrading this application is as low as $10 or you can pay $1 per month. There is a possibility your location information can be sold to get you better advertisements but you can change the app permissions in your setting.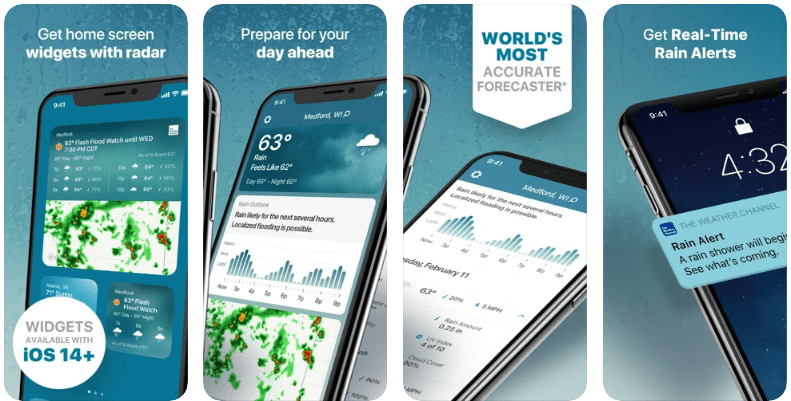 This application provides crucial severe weather changes and also brings you to the accurate weather forecast along with the interactive radar.
You will also be able to see
If you are interested in more information such as the humidity, dew point.
UV index and the air quality index you can simply tap the "more" options. You can access all the weather-related information in this application since this application is also owned by IBM you can upgrade the app at an affordable price of &4 per month.
If you are concerned about your location privacy you need not worry because you have control over which app accesses your crucial information. You can also request the app to delete any data stored about you with the options provided in it.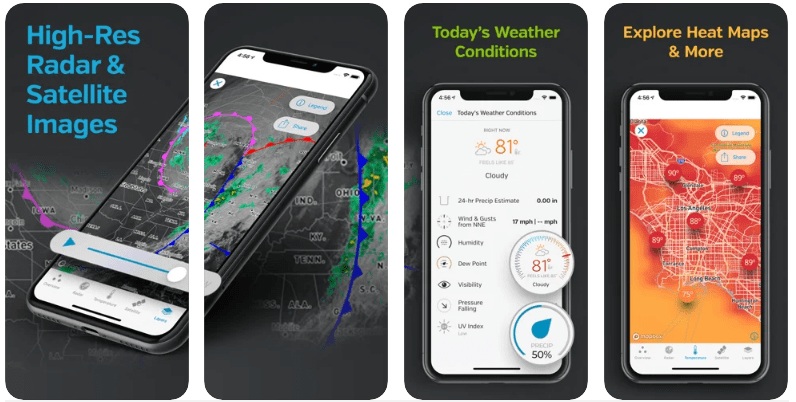 Radarscope – Best Weather App For IPhone
This application is specifically built for weather junkies and it is one of the highest-paid weather applications of all.
Since it charges $10 and many of the weather enthusiasts install this application for the various features it has to offer.
You can get a plethora of information regarding the weather changes in this app since it also gives you access to NEXRAD Level 3 and super-resolution radar data.
In addition to this, the app also provides,
If you upgrade your app to a Pro tier 1 you will have access to real-time, extended radar loops and inspector tools.
There are various other levels of subscriptions that you can come across in the application. Each subscription has its own specialty. You will also be able to get your hands on the tools that could help you in predicting tornado. You will also be able to get local storm reports from the national weather service.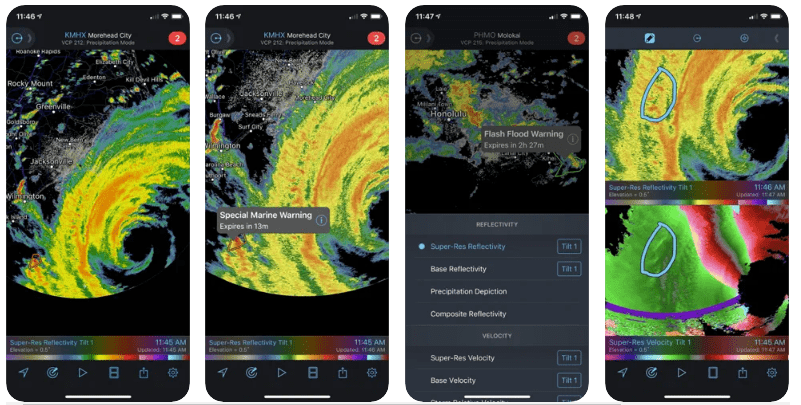 Carrot Weather – To Know Most Accurate Weather App
This application depicts the weather forecast in a fun way. It can be really interesting for people bored with normal weather applications.
Carrot weather welcomes you with a great message. The artwork of the page will attract the user to download this more than the other.
When it comes to features it has a lot to offer to its users in its simple application. It includes daily and weekly weather forecasts and other information.
If this is all you need you can download this app and start enjoying it. Since it also has a game for its user that is based on geography. The users can play it when they are bored and watch advertisements if they need any clues.
This application is much simpler than the other applications seen so far. You can give this a try if you just need accurate weather information. To secure your location data you can simply disable location-based services and enjoy using the app.
These are some of the Top weather apps of 2023 which you can surely try. Here, you can get more than just the weather data. Since most of the applications are cheap you can try using them. You'll know local forecasts & the weather before you step out of your homes.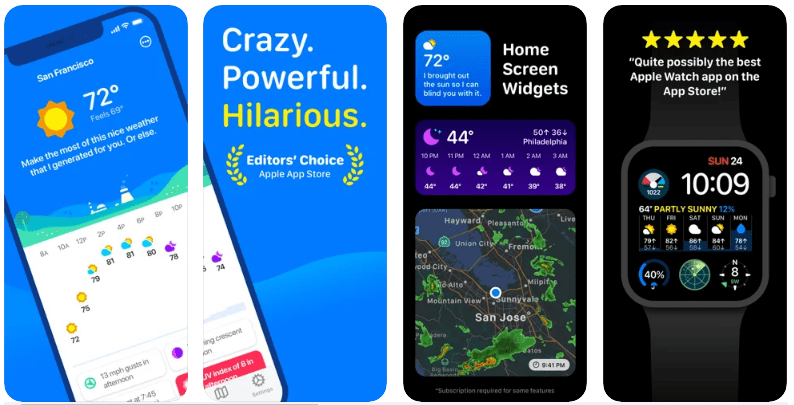 Air Visual Quality Forecast
It is more essential to know the quality of the air you breathe than to know if it's going to rain in this era of increasing pollution.
IQAir AirVisual Air Quality Forecast App is loved by people across the world because of its eye-catching way of presenting essential data regarding air quality no matter wherever you are.
AirVisual is one of the most accurate weather apps.
The app provides detailed information on pollutants and the air quality index for over 10,000 locations in more than 100 countries. You have a choice of maps for viewing air quality either a color-coded 2D map or a Google Earth-like 3D version.
AirVisual also works in 7-day forecasts so that you can plan ahead on your outdoor activities to ensure you're going out in healthy air.
And if you've got one of IQAir's air quality monitors in your home, you can sync them with the app to get a mobile reading on your indoor air quality as well.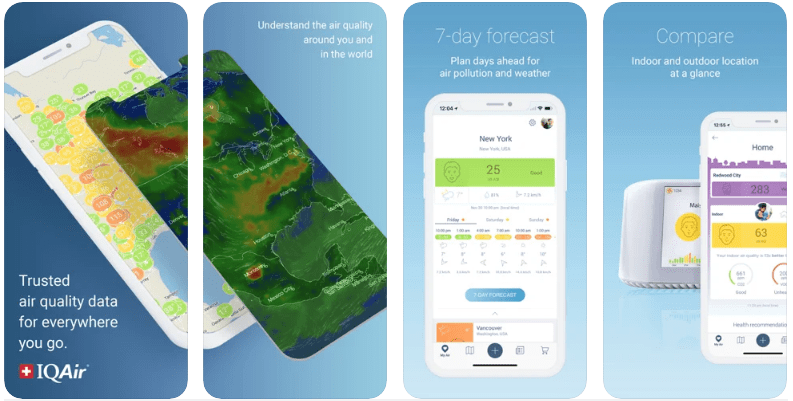 The app formerly known as NOAA Radar Pro has a new name — it's now NOAA Weather Radar Live: Clime on the iPhone and just Clime for Android users. But the objective remains the same.
This weather tracker is highlighted by real-time radar showing you changing weather conditions in your area.
You'll get the standard 24-hour and 7-day forecasts with severe weather alerts included. But the reason to turn to Clime is for the satellite weather imagery that gives you the full picture of precipitation, temperature, and other weather details.
A premium subscription unlocks the best features on Clime, including severe weather alerts for all saved locations, trackers for hurricanes, lightning, and wildfires, and a temperature map. Subscribers get rid of ads, too.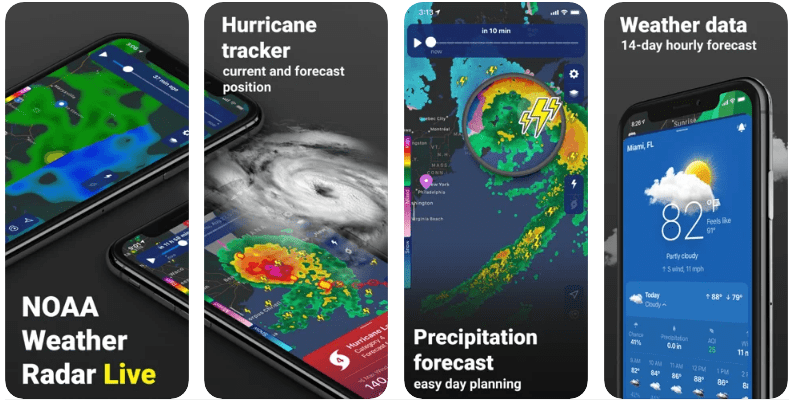 Weather On The Way – Most Accurate Weather App
It would be really crucial to know the weather before you start out on a road trip similar to having the right directions.
Weather on the Way, a free iOS download, understands this point, and so it combines navigation features with severe weather alerts that let you know whether to expect rain, snow, or other potentially hazardous conditions during your drive.
Weather on the way is the best weather app for iPhone users.
While free, Weather on the Way becomes even more valuable with a Pro subscription (99 cents a month or $9.99 annually).
Pro users get more sophisticated features like alternate routes suggestions, road visibility, and expanded data about conditions such as precipitation and wind speed.
Weather on the Way can be a really helpful companion in ensuring that you arrive safely at your destination.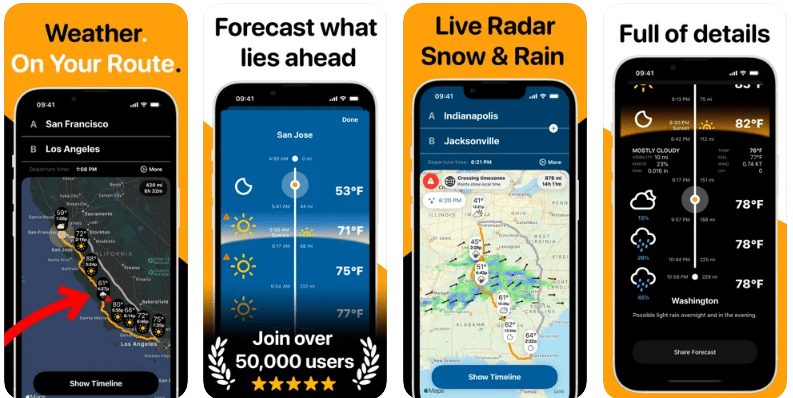 Emergency Alerts is a type of application you hope you never have to use, but when disaster strikes, you'll be glad if you have Emergency: Alerts from the American Red Cross on your iPhone or Android device.
As it keeps track of everything from hurricanes and floods to extreme heat and winter storms.
Emergency: Alerts is a good app to keep installed on your smartphones at all times, and not just during hurricane season.
Not only will Emergency monitor where you live, but you can also enter cities and people that are important to you.
The app features customizable alerts and provides a map with shelter information in the event of an emergency.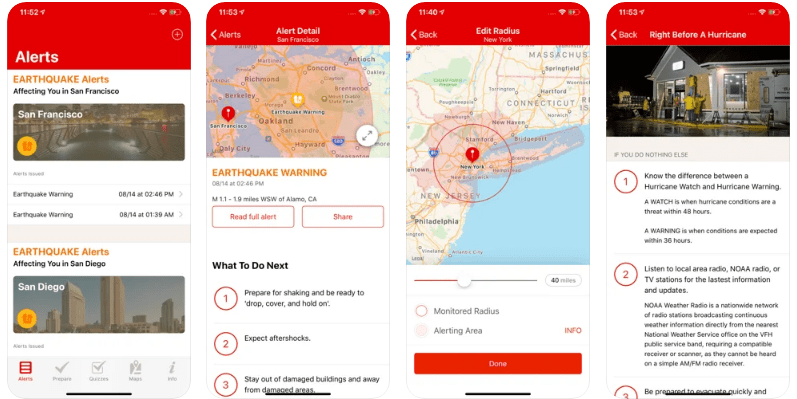 My Moon Phase is a must-have application if your interest in the best weather apps extends to the lunar calendar.
The app can help you pinpoint moonrise time as well as phases of the moon with an extensive calendar for tracking the cycles of the moon.
You can even get notifications for when the moon is about to enter a particular phase.
Photographers will appreciate the clear interface of My Moon Phase, as it includes information about the golden hour and the blue hour — when the moon will be in a particular position of the sky best suited for taking specific photos.
On the weather front, you can also see how cloudy it will be so that you'll know if you have a clear view of the moon.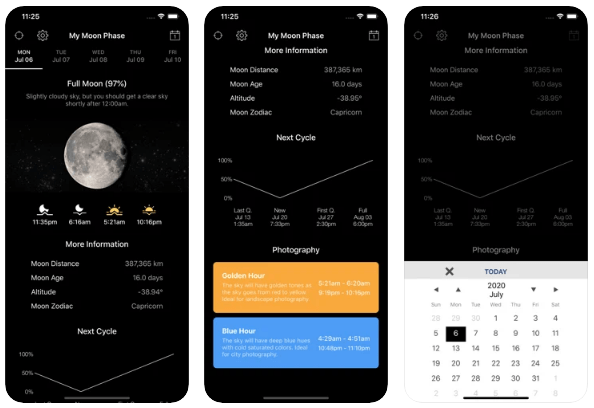 The beautiful Yahoo Weather app boasts a gorgeous interface that is both informative and striking. Yahoo Weather is another great accurate weather app.
The app displays images of your location with a matching time of day and weather conditions, with the option to view detailed five-day forecasts, as well as interactive radar, heat, and satellite maps.
Updates have brought the Android app in line with the iOS design & development trends for a unified experience across both platforms.
Other apps provide more details and features, but Yahoo Weather's clean, concise presentation makes it an extremely user-friendly, everyday app, marred only by a fairly large advertisement as you swipe up to get to the detailed forecast.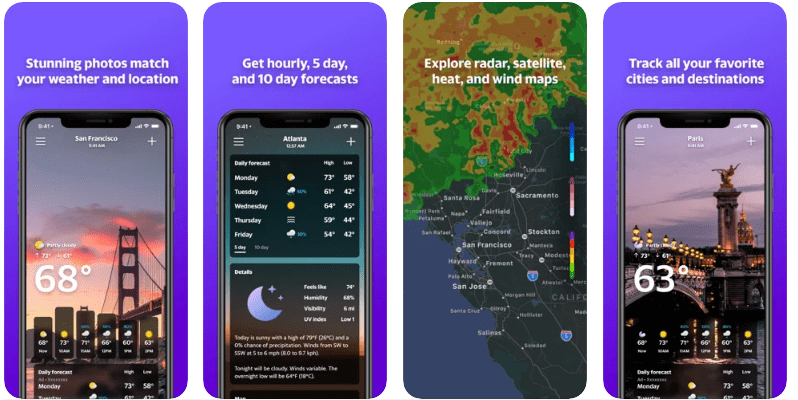 If there's a developing weather situation you need to track, WeatherBug can help you out. (On Android, the app is called Weather by WeatherBug.)
The free download not only offers Doppler radar for North America but can provide hurricane forecasts, Spark lightning alerts, air quality info, and pollen count data on top of the usual array of weather information.
Since it pulls data from weather services, satellites, tracking stations, Weather stations. WeatherBug can provide hyperlocal real-time conditions with current, hourly, and 10-day forecasts.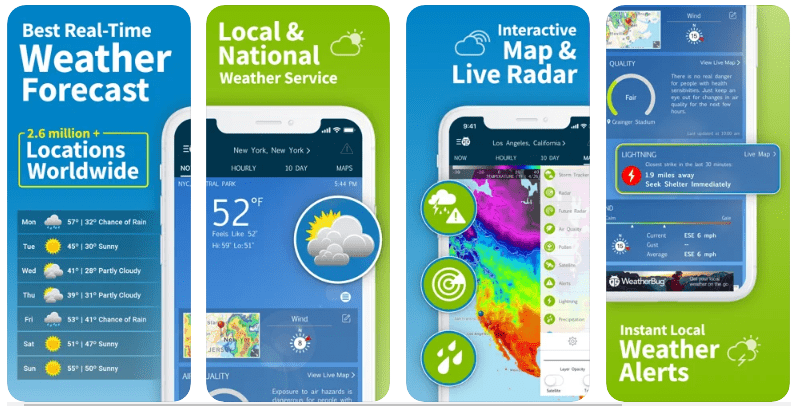 iPhone users who like to see a visual representation of upcoming shifts in the weather can give Weather Up a try. The free download offers hourly and 10-day forecasts, with your choice of icons for an at-a-glance look at the forecast. 
But Weather Up really proves its value with radar maps that can show shifting conditions in your area. There is a rather prominent ad at the top of the otherwise uncluttered Weather Up interface, and to make it go away, you can subscribe to the Pro version. Subscriptions cost $1.99 per month or $9.99 annually.
In addition to an ad-free experience, you can also pull your weather data from more sources, including Dark Sky and Aeris. Pro subscribers get additional options like warning layers and animation, really making the paid tier worth it.
Ask weather obsessive to name their favorite weather app, and the most likely answer will be Dark Sky.
This app is loved by people all over the world for its detailed forecasts, advanced radar maps, and high level of accuracy.
Dark Sky has its own hyperlocal forecasting system backed by radar data from the NOAA. In fact, Dark Skies' own forecasts are used by some of the other weather apps on this list.
Dark Sky shut down its Android and Wear OS apps on August 1, 2020 (after it was bought by Apple), but the iOS app continues to be a favorite of iPhone, iPad, and Apple Watch users.
Dark Sky is one of the Top weather apps for iPhone users.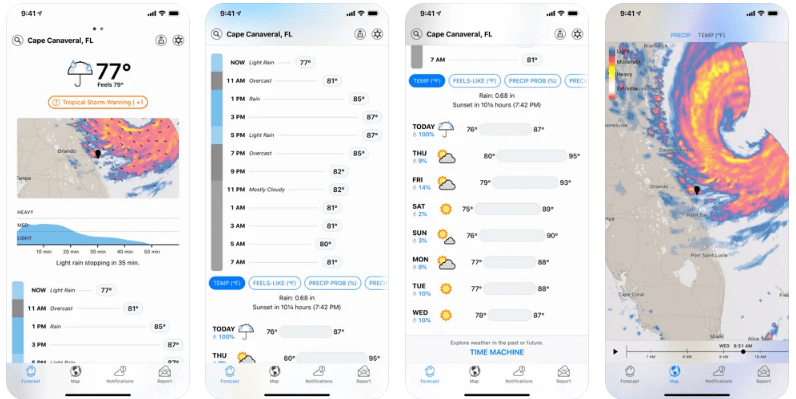 If geeking out over maps, graphs, and predictions is your thing, check out Flowx.
Formerly known as Weatherbomb, the app provides users with a rich array of charts, forecasts, and weather maps presented in a scrolling animated forecast timeline.
Users can have the app center on their location automatically, or set custom locations.
Flowx can display a variety of data overlays, such as precipitation, clouds, and wind direction arrows, with data sourced from the NWS/NOAA and Environment Canada.
The app is ad-supported, with an optional subscription that removes ads and rewards the developer.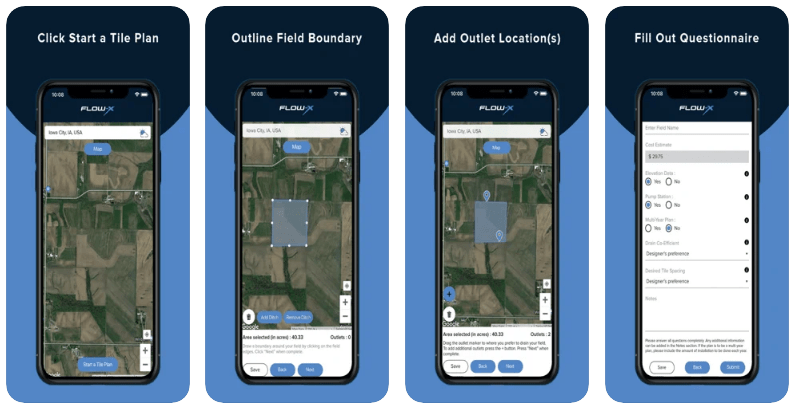 To develop a weather application and succeed, it's important to think logically and develop a strategy of distinguishing yourself from competitors.
After all, such meteorological services are basic Android & iPhone weather apps, and you should do your best to attract the user.
Therefore, if you want to develop your own weather application, we're more than happy to help you.
Echoinnovate IT offers only experienced and skilled specialists who'll implement your idea with pleasure and inspiration. Contact Us! Today.
How to create an outstanding mobile weather application?
It's not enough just to develop a weather application. You should make it as effective and helpful to the user as possible. Here are some must-have features in your weather app:
accurate detailed forecasts
weekend forecasts
interactive maps
smart notifications
visualizations and animations
Integration with social networks
Is it a worthy idea to build a weather app?
The answer is obvious and it's "Yes, of course!" Because you can gain profit from your application with the right approach and monetize your application to make good money.
How much does it cost to develop a weather application?
There are tons of cost influencing factors such as features, the complexity of an application, developers' cost, location of the company, and more. The average cost for developing a weather application lies somewhere between $40,000-$120,000.