Information Technology is all about providing businesses with the tools and skills they need to improve people's lives and livelihoods. Technology has advanced to the point that what was once thought to be impossible is now possible. Information technology now has an impact on every industry, sector, and market segment. The healthcare industry, for example, appears to have progressed for the better. For those who are unfamiliar, health tech is a term used in the market today to describe the use of technology in healthcare. Thus, healthcare startups have advantages today.
Now let's have a closer look at some stats about the healthcare industry:
Healthcare is dealing with everything from illness knowledge and accurate diagnostics to treatments, electronic records, and combating counterfeit medicines through the incorporation and implementation of technology.
Technology has had a significant impact in healthcare, with companies and giants employing cutting-edge medical technology to overcome obstacles and deliver better services and goods. By 2024, the US health tech market is expected to be worth $390.7 billion.
This is to the point where, by 2026, healthcare corporations will have spent $40.2 billion on artificial intelligence and related technologies.
Apart from these, chatbots, the Internet of Things, telehealth, and other technologies are making a huge difference in the lives of healthcare personnel and patients. We thought we needed to throw more light on the changes in the health tech business software and health tech enterprises because there is so much going on in this sector.
That's why we've compiled a list of some of the most well-known healthcare startups that are using new healthcare apps to revolutionize health industry in unimaginable ways.
Top Healthcare Startups List With Technology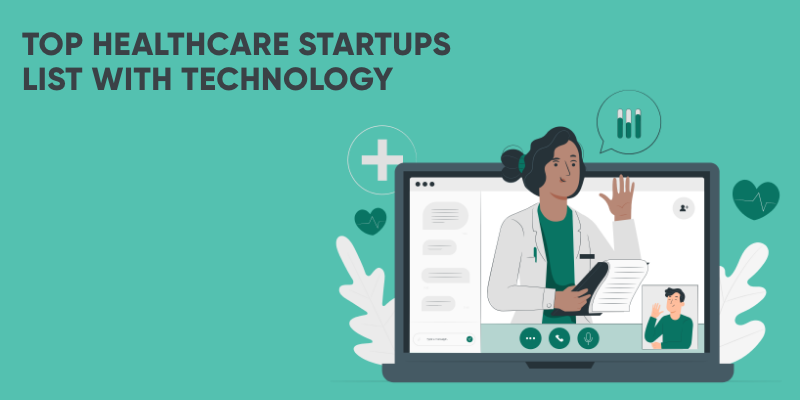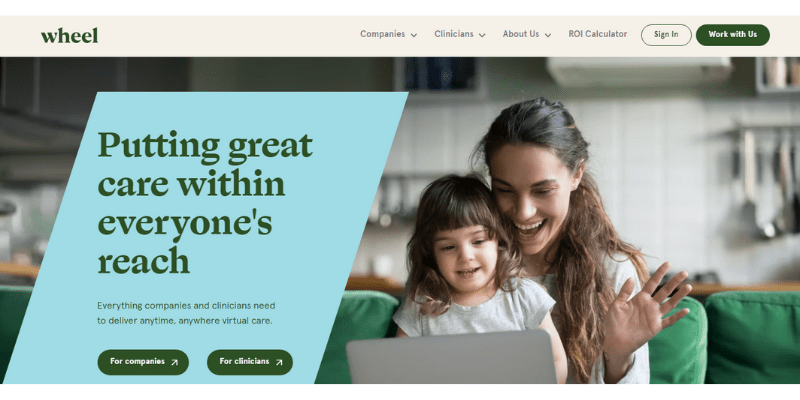 Michele Davey and Griffin Mulcahey established Wheel, formerly known as Enzyme Health, in 2018. The company's initial focus was on assisting telemedicine enterprises in hiring physicians, but it has now evolved to include digital technology services that allow clients to interact with networks of providers and assist businesses in connecting with customers. In January 2020, the company changed its name to Wheel to underline its "commitment to moving the healthcare industry ahead.
Wheel, an Austin-based health technology company that provides a variety of virtual care capabilities, has raised $150 million in funding to continue its expansion. With a virtual care platform that unifies diverse healthcare stakeholders, Wheel is simplifying doctor-patient interactions.
Clinicians can engage with the Wheel team to get telemedicine qualifications. They can find roles fit for their talents. Meanwhile, businesses may use the Wheel platform to discover people to fill in-demand positions. The Wheel makes it easier for patients to get care when they need it most by uniting leading healthcare specialists into a single network.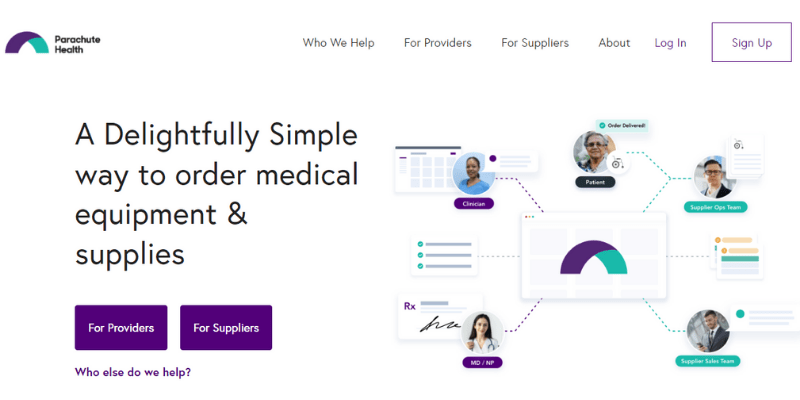 Patients frequently do not receive their medical equipment on time due to inefficiencies, but Parachute Health is changing that. Medical equipment ordering software is provided by Parachute Health.
Their objective is to improve patient care by coordinating medical equipment and supplies in a transparent and seamless manner. Suppliers can interact with physicians, doctor offices, health facilities, and other healthcare organizations using the company's streamlined platform.
This platform handles patient queries, supplier communications, and medication requests. Unnecessary phone calls are eliminated as a result, and patients receive speedier care. Parachute Health, a company attempting to streamline the process of prescription medical equipment, just raised $9.5 million in funding.
Durable medical equipment like oxygen tanks or wheelchairs are ordered with fax machine. Parachute is attempting to change this by developing a platform that allows hospitals, medical suppliers, and insurance to connect with one another.
Lumeon, founded by Robbie Hughes in 2005, assists health organizations in gaining control of their care delivery processes by orchestrating and automating care journeys so that they may run with predictability and efficiency.
Lumeon addresses the system, not just the symptom, underpinning healthcare change by looking across the end-to-end treatment route, from scheduling and revenue management to clinical reporting and aftercare.
Lumeon's main product is its Care Pathway Management platform, which is integrated with EHRs. To guide and automate patient care, the technology incorporates clinical and administrative data sources.
The company claims that its platform can deliver more efficient treatment, better outcomes, and reduced costs by coordinating care teams, clinical optimization, and administrative busywork.
Lumeon enables enterprises to provide speedier service to patients by removing the need for manual labor and time-consuming processes in healthcare. Institutions can link health professionals and add dimension to their electronic health records by using a well-known care journey orchestration platform. Various patient-doctor interactions are automated, and self-service is encouraged whenever possible, allowing for more efficient care and treatments.
Medallion's goal is to lessen the amount of administrative labor that healthcare providers have to undertake so that they can spend more time with their patients.
The San Francisco-based business is starting with medical licensing and credentialing. It was launched in 2020 and just acquired $20 million in additional funding. The platform allows health care firms to license their providers in new states, verify and monitor credentials, and gain in-network coverage with insurance payers in an automated manner.
The medallion is developing more efficient solutions since juggling behind-the-scenes tasks slow down healthcare firms. Groups can use the Medallion platform to onboard and authenticate providers, track compliance standards, and connect to important programs like Medicare. Smart notifications keep teams informed about essential details, allowing professionals to focus on patient care rather than worrying.
Not everyone has access to the mental health care they require, but Path's comprehensive platform is changing that.
The business has established an online network of therapists, psychiatrists, and other mental health specialists. Patients may now locate a mental health practitioner who is not only covered by their insurance but also best meets their individual needs. Behavioral health, according to Path, should be treated with the same attention, rigor, and intensity as other chronic disorders.
The path is laying the groundwork for the future of mental health, and they'll look back in 20 years and wonder how they ever treated the physical before the mental.
Over 65 million Americans, or one out of every five people, suffer from a curable mental health problem. Today, finding a provider is challenging, and finding coordinated care for people with complicated diseases is practically impossible.
With thousands of therapists, psychiatrists, and other mental health specialists giving therapy through a virtual first approach, Path is at the confluence of tech and mental health. Whether it's experienced with a certain condition, gender, race, location, or life experience, this platform matches patients with just the correct person for their requirements.
Big Health, based in London and San Francisco, claims itself as a supplier of "evidence-based, non-drug" treatments to treat a variety of mental illnesses, including through the digital delivery of Cognitive Behavioral Therapy (CBT).
Big Health argues that its technology, which focuses on cognitive behavioral therapy rather than drugs or human therapists, can help people improve their mental health.
Several people suffer from anxiety and sleep deprivation, therefore Big Health set out to find non-drug solutions to these problems. Big Health's Sleepio™ and Daylight™ solutions are digital treatments that assist patients to achieve greater sleep quality and lower stress levels. Individuals can control their health and track their progress from anywhere using a smartphone app.
Calm – Healthcare Startup
Calm has created an app that addresses the issue of not getting enough sleep. It does this by offering a variety of options for individuals to choose from.
Meditation, nature pictures, relaxing music, and other techniques are available for users to try. Calm is helping people get better sleep with intelligently designed technology by offering an accessible tool based on wellness. Calm is a meditation, sleep, and mental wellness application that can be found on both the App Store and Google Play.
With over 36 million downloads to date, it is the most popular app for meditation and sleep. Apple named it the 2017 iPhone App of the Year; Google Play named "Editor's Choice" in 2018. And "the world's happiest app" by a significant study of 200,000 iPhone users. The only app that left consumers feeling the happiest after spending time on it. It has over 200,000 five-star app reviews on Google Play and App Store.
Their purpose is to make the world a happier and healthier place by creating a variety of digital and physical products that improve mental fitness and address some of the world's most important mental health challenges (anxiety, depression, insomnia, and stress).
Medely – Healthcare Startup
Medley is an on-demand platform that helps healthcare professionals locate per diem work, such as Registered Nurses and Techs.
The company was founded with the goal of creating a world where work inspires people to live better lives. Medical professionals, such as nurses and technicians, can use Medely to locate on-demand work to supplement their existing jobs.
The platform includes tools that allow healthcare professionals to create their own schedules and find short-term or per diem shifts at local hospitals and healthcare facilities, as well as automatic earning deposits and travel assignments, allowing them to travel while helping others live their best lives. Medely is the world's largest labor marketplace for healthcare occupations, both short and long-term. Medely is a job search engine that enables healthcare professionals to find high-paying employment. All this with the freedom and flexibility to work when and when they want.
Healthcare facilities profit from having immediate access to highly qualified medical experts. Medely also gives healthcare organizations the tools they need to manage their contingent workforce, time tracking, billing, and credentials.
Circulo Health – Healthcare Startup
With $50 million in new funding, a new firm has joined the extremely competitive insurtech sector. Circulo, a Medicaid-managed care firm co-founded by Olive CEO Sean Lane, intends to establish a platform to improve care delivery and member experience.
It is a futuristic Medicaid insurance firm that provides tech-enabled care to the sickest and poorest citizens. Circulo is based in Columbus, Ohio, the United States' rising insurtech capital.
Also, Circulo Health is using artificial intelligence to improve the Medicaid system, making it easier for both doctors and patients. Circulo Health has offered healthcare practitioners the tools to automate some procedures and acquire data more quickly thanks to its unique cooperation with Olive.ai. Underserved areas now have access to high-quality care. And physicians now have more data at their disposal to give individualized treatments.
Wellframe – Healthcare Startup
Wellframe is a Boston-based business, and digital health management pioneer. It has raised $20 million in Series C funding led by Blue Cross Blue Shield Venture Partners (BCBSVP), with strategic investments from various Wellframe clients.
Through a user-friendly smartphone app, Wellframe connects healthcare experts with patients to provide access to crucial medical data and reminders.
The Wellframe platform provides appointment and medication reminders, customizable instructions, and real-time digital check-ins to ensure patients stay on track with their treatment, as well as resources, data sharing, and other tools.
Patients' data is shared in real-time with their care team via the Wellframe app's care team dashboard. This employs powerful algorithms to produce early intervention signals. Wellframe builds long-term, trustworthy relationships between patients and care teams through secure two-way messaging.
Want To Build Your Digital Healthcare Startup?
One of the industries that should benefit the most from technological advancements is healthcare. And if you wish to contribute to this field, we suggest that you start working on your project right now.
If you already have an idea, contact a custom healthcare software development firm like ours. They'll help you convert your idea into a reality. Our best healthcare mobile app developers work to achieve your goals. You can employ dedicated developers from Echoinnovate IT who will understand your app requirements. And provide a full medical app development cycle, including native or cross-platform technologies. So, take advantage of our healthcare app development services and contribute to making the world a better place for future generations. Get in touch with our experts today!
Which are the best healthcare apps?
If you're thinking about starting your own health startup app, take a look at some of the top healthcare-related applications for inspiration. Mobile MIM Diabetes Manager by WellDoc CareWare Connect Practo Doctor On-demand
How are mobile applications used in healthcare?
To streamline all healthcare operations, mobile applications become a telemedicine platform. Apps also improve communication between patients and healthcare professionals such as doctors and nurses. Many apps also keep track of diseases, treatments, and other health issues.
w many healthcare apps are there?
The demand for healthcare-related apps has exploded to new heights. On major app stores, there are over 318,000 mHealth or healthcare-related apps. Apps for medical training and medication reminders are among them. In fact, in 2015, there were just half as many apps as there are now. And the total number has nearly doubled in just four years.