If your startup or business website isn't getting enough attention, or if your competitors are surpassing you in every way, you have a few issues to address: technical SEO flaws, a dull design, or poor copywriting. You can deal with one or all of these issues at the same time. As a result, the wide range of issues necessitates a full website redesign. Because you're dealing with numerous issues at once, you're likely to run out of money quickly. This is when this article comes to the rescue. In this post, we'll make you understand the complete website redesign cost in 2023, the reasons for redesigning, the factors that influence the website redesign cost, and more.
What Is Website Redesigning?
A website redesign is a major revamp of your current website, including significant changes to the code, content, structure, and visuals in order to better serve your visitors. A successful website redesign increases revenue decreases bounce rates, and enhances user experience (UX).
What Is Website Refreshing?
Any update that does not modify the entire design of your site is referred to as a refresh. For example, Google's logo may change for a day, but the search engine itself remains unchanged. You can give your website a new lease on life by upgrading your branding colors and images, but your content management system should remain the same (like WordPress, Squarespace, or Drupal). Your navigation menu, all of your existing pages, and any blog posts remain in the same hierarchy as before.
A website update can be as easy as switching to more modern typography or as involved as completely changing your company's color theme. You can make all of the adjustments at once or one by one to see how each one affects your SEO.
Website Redesign Vs Website Refreshing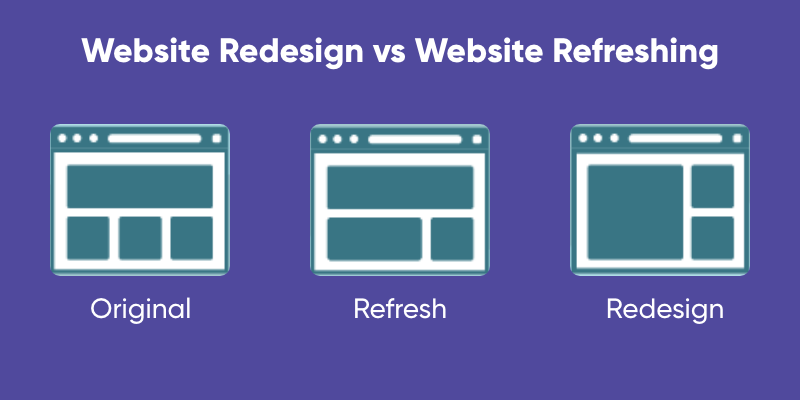 First and foremost, a word on semantics to ensure you're in the perfect spot. The number of modifications you make during the process, as well as how far-reaching they are, determine whether what you're doing counts as a redesign or refresh:
So, what is website redesigning? A redesign generally involves considerable changes to a website's coding and aesthetic presentation.
For example, a new visual identity and branding are introduced, pages are restructured UX-wise to fit new modules and functionality, the information architecture is updated, and a new CMS (content management system) is implemented—and all of this happens at the same time.
When the website's basic structure and functionalities are mostly unaltered and only minor changes are made, it is called a refresh.
For example, a new color palette and typography are introduced to the site's look and feel, or modest UX modifications are applied to particular page templates.
Although a redesign and a refresh differ in terms of resource requirements, they share one thing in common: they will have a big influence on your customers and their experience with your website.
Reasons For Website Redesigning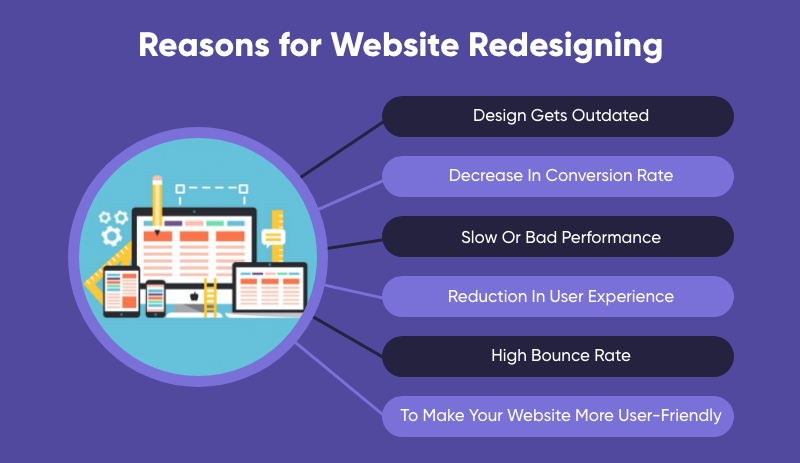 "How to redesign a website" and "what are the reasons for website redesigning" are questions that arise here. So, here are some factors to keep in consideration before you go for website redesigning.
Due to the fact that design trends change every few years, a website that is two or three years old might quickly appear outdated when compared to a competitor who has a website that is up to date with the latest design trends. Flat design, combining simple two-dimensional patterns with a clean, modern look that caters to both mobile and desktop users, is now the latest design trend.
It uses a simple, minimalistic design approach that has been embraced by a number of companies, including Microsoft, Apple, and Starbucks. Complex designs with enormous graphics make it more difficult for users to surf your website, especially as mobile usage continues to overtake desktop usage. It's easy with a flat design.
Decrease in Conversion Rate/ No Conversion at All
The fact that your existing online storefront is a liability necessitates immediate action.
If you don't receive:
And so on…
It's time to take a closer look at the situation. Everything needs to be changed, and everything else needs to be rebuilt. This is a difficult measure that necessitates a long time frame and a good amount of knowledge. The cost of redesigning a website will increase significantly. Because you don't want to change the content or the design. Everything is being done from the scratch.
At the end of the day, you can increase:
We recommend that you first review your objectives, then assess your performance, and last consider the redesigning aspect.
Even when using layouts and employing the best design concepts, results are not always achieved. The problem could be with the backend support system.
All of these aspects work behind the scenes to keep the site up and operating. However, adopting outdated technology and failing to update them on a regular basis can be a source of discontent. Your website will be boosted by switching servers and working on the backend infrastructure. Changing the CMS also improves the amount of integration. Using a content management system (CMS) will provide your website with more flexibility than a simple HTML CSS website. All of these programs are paid, but they are all within budget. In this industry, there is a lot of competition. As a result, you can obtain various prices that are tailored to your needs and then select the best option.
Reduction in User Experience
User experience (UX) is a comparatively new design discipline that is becoming highly significant in a website's success. It is concerned with the emotional experience visitor experiences while navigating your website and how it corresponds to their goals.
A site that is difficult to navigate has slow load times, or is overly complex can leave a negative impression on your visitors and cost you key leads. In fact, 88% of online users are less likely to return to a site after having a bad experience.
If your website is guilty of any of these poor UX practices, you should consider a website redesign that focuses on making the user experience more enjoyable. You should do the following to improve the user experience of your website:
This problem can be caused by a variety of factors.
To Make Your Website More User-Friendly
People nowadays prefer to use their smartphones to visit websites rather than their PCs. As a result, it is critical to make your website mobile-friendly in order to provide your visitors with a better user experience on the mobile version of your website. Your website will look more consistent with mobile-friendly layouts, and it will depict your business as more professional and reputable, making it easier for visitors to choose your products or services. Finally, according to a recent Google update, mobile-friendly websites now rank higher. As a result, you must ensure that your website is mobile-friendly.
How Much Should You Spend On A Website Redesign Service?
Many businesses are concerned, "What is an acceptable cost for redesigning your website?" with website redesign costs ranging from $3000 to $60,000. That answer is based on a number of factors, some of which are specific to your business and others to your company.
In contrast, the size of your website has the greatest influence on the website redesign cost. That's why referring to the number of pages on your site — or the number of pages you desire on your site — is a great way to figure out how much you should spend on website redesign services.
Web redesign costs: small-size website
(Website that has 1-50 pages)
A small website can have anywhere from one to fifty pages, and redesigning it can cost anywhere from $3000 to $24,000. Here's a breakdown of the costs of a small typical website redesign process for comparison:
Web redesign costs: large-size website
(Website that has 150-250+ pages)
A large website can have 150 to more than 250 pages and cost somewhere between $36,000 and $65,000.
| Factors | SMALL SIZE | MEDIUM SIZE | LARGE SIZE |
| --- | --- | --- | --- |
| Cosmetic | For a simple website redesign, such as updating the layout and rewiring, the usual price varies from $3000 to $5000. Backend site updates, such as the installation of a new CMS, are typically not included in this cost. | A visual-only redesign of your website will cost you between $9000 and $15,000. Depending on your web design company, this quote may include minor backend upgrades. | A typical website redesign process that puts an emphasis on your website's visuals costs between $15,000 and $25,000. Changing the style of your website frequently takes additional thinking and effort from an experienced design team due to the scope of your site. |
| Backend | If your website needs cosmetic and backend changes, you might have to pay between $7000 and $15,000. Changes to functionality and usability, as well as a completely fresh look for your website, are included in these costs. | A redesign that includes both visual and technical changes could cost between $16,000 and $28,000. For instance, your design company may ensure that your website is mobile-friendly or migrate it to a new CMS. | A redesign that includes both cosmetic and backend changes could cost between $24,000 and $47,000. Technical enhancements, such as visual changes to a large website, necessitate extensive planning by an expert design and development team. |
| Marketing | If you're like other companies in your industry, you might consider investing in digital marketing to help promote your new, better website. Despite the numerous services available, the majority of small businesses with websites spend between $3000 and $5000 per month. | Your company can also benefit from digital marketing services, which range from $4000 to $6000 per month for medium-sized websites. Using services like search engine optimization (SEO) or pay-per-click (PPC) advertising, you can improve your website's online visibility. | Monthly prices for digital marketing services go from $6000 to $8000 if your company decides to invest. However, depending on how aggressive your strategy is, this cost may vary. |
Regardless of the fact that website redesign expenses vary, they can provide a great deal of flexibility. For example, your company could write website copy in-house but choose to invest in digital marketing expertise from a third-party agency. This strategy reduces redesign costs while increasing the return on investment of your website (ROI).
What Determines The Website Redesign Cost? What Goes Into A Website Redesign?
This segment is for you if you want an in-depth analysis of all the factors that affect website redesign costs. While there are numerous factors that can affect your website redesign costs, there are a few that have the most influence.
The following factors will influence website redesign pricing in 2023:
The cost of a website redesign is influenced by the look of your website. If you prefer a simple website rather than a feature-rich website, you can expect reduced costs because your site will take less time to design and create. That is not to say that your company should not invest in a well-designed website. Businesses must maintain websites that capture their brand while also speaking to their target audience.
The website redesign cost is most heavily influenced by the size of your website. Even if one needed redecorating and the other a remodel, companies with larger websites will almost always spend more than companies with smaller websites.
What method do you employ to calculate the size of your website? Use the page ranges listed below:
Functionality is another factor to be considered when pricing a website redesign. It includes all interactive features on your website, such as the navigation bar, shopping cart, and payment processor. In a nutshell, it's an important aspect of your website, which is why experts recommend redesigning it every two to three years.
The cost of enhancing a website's functionality varies. If you run an e-commerce business, functionality is critical to your day-to-day operations, so you may need to spend more money on upgrades and migrations.
Integrations are an important aspect of website redesign pricing for both offline and online businesses. Integrating your website with a third-party system, such as an e-commerce solution or a content management system, allows you to streamline and simplify data and activities on your website.
A content management system (CMS), such as WordPress, greatly simplifies the process of publishing content to your website. Businesses that employ content marketing need a CMS since they are continuously adding new pages, articles, and blog posts to their sites.
All websites require a copy, which is why web design firms are increasingly offering copywriting services. Again, go with a full-service digital marketing agency if you're planning to spend on professional copywriting services.
For example, Echoinnovate IT has skilled expertise of in-house copywriters who can create high-quality content for your website. A web design firm, on the other hand, may delegate those jobs to writers who lack the necessary skills to create unique and captivating content for your website.
While copywriting fees can vary greatly, Echo Innovate IT keeps them consistent – another benefit of working with a full-service company.
If you're going to spend money on copywriting, make sure it's SEO copywriting. Digital marketers and writers use SEO copywriting to optimize your web pages for search, making them easier to find for search engines and consumers in your target market.
Your website may or may not be responsive, depending on its age. Users may access a site with a responsive design on any device, from PCs to tablets to smartphones. With mobile devices accounting for more than half of all Internet traffic, it's vital to provide a consistent experience across all platforms.
For all-around device support, a responsive design is typically the finest — and most cost-effective — option. With a responsive design, your site changes to the size of the user's screen, giving them a seamless experience across devices. Responsive design is relatively inexpensive, costing roughly $3000.
A distinct website for mobile users, such as those on tablets or smartphones, is an alternative to responsive design. This option necessitates a significant amount of development and design work since your company will need to create a whole new website for your company. A separate mobile site costs between $5000 and $25,000, compared to a responsive design.
Even if your company chooses a responsive design, it's worth seeking advice from your web design company. While it's uncommon, certain businesses can benefit from having a distinct mobile website. However, in most circumstances, a responsive design is the best choice.
A website redesign can result in many immediate improvements to your site, but if you want to get the most out of your investment, digital marketing is necessary. If you use a competitive strategy, your website will appear on page one of relevant search results rather than page two, three, or four.
In contrast, 75% of users only look at the first page of search results.
An ongoing digital marketing plan can also help you improve the usability of your website. A/B testing, for example, can be conducted by your dedicated account manager to find new ways to make your site even more user-friendly and appealing to viewers.
Factors Affecting Website Redesign Cost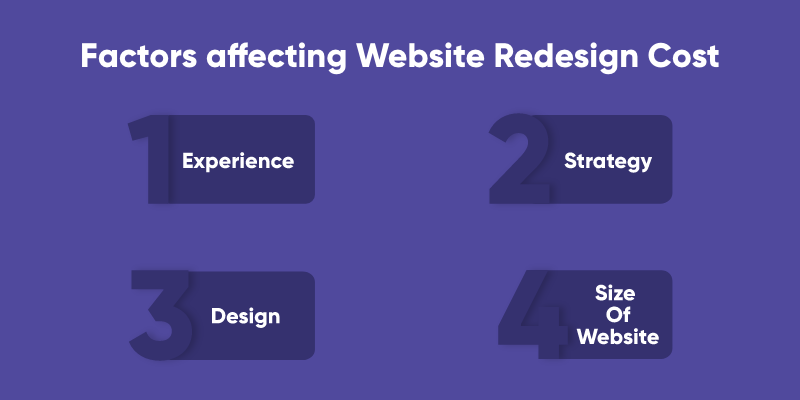 Here are some factors that can shape your website redesign costs include:
Working with an experienced web design firm has a lot of advantages. It gives your business access to a professional team of designers and developers, resulting in a unique, high-performance website. Echo Innovate IT is a good example of an experienced web design agency, with over 12 years of expertise and over 1000 websites launched.
However, the website redesign cost is increased by a company's experience. For many businesses, the additional expense is justified. Because your website is the online face of your business, having a top-notch website is essential. You risk losing customers and revenue to competition if your website isn't user-friendly and trustworthy.
So what is the cost of experience? When it comes to pricing, companies differ, especially when it comes to redesigning a website. Depending on the company's experience, location, and workload, the price difference could be hundreds to thousands of dollars.
Your strategy will set the tone for the entire website, its objectives, and, eventually, its potential to get the conversions or sales you desire. The number of deliverables is what determines the cost of a website strategy. So, what are the deliverables of a website strategy?
This is a user-centric look at your target customer's problems, concerns, and fears, as well as how your specific service addresses them. Empathy mapping is another name for it. The physical map can take many forms, but the goal is always the same: to think about the user's needs, wants, and feelings first, and then arrange your benefits and features to support that information.
This can be a very useful tool to have while planning out the objective of each page of your website because it will remind you to keep the customer in mind. The pages will be tailored to meet their demands and provide what they want rather than what you assume they want.
If you work for an insurance company that provides various types of personal coverage, for instance, a customer looking for homeowner's insurance will almost surely have very different pain points and requirements than a customer looking for auto insurance. This deliverable will assist you in identifying the needs and desires of people seeking homeowner's insurance and auto insurance, as well as ensuring that the content on these pages is tailored to each individual.
Because design is subjective, it can be a difficult part to redesign a website. Just because you enjoy the lime green accent in your logo, it doesn't imply your users will like it on your site, and it certainly doesn't mean it will convert them. On the other hand, you don't want your website to appear as if it hasn't been updated since 2001. This may give an impression to your viewers that you are not following best practices, not just on your website but also in your business. Here are some things to keep in mind when it comes to design:
Slants, swoops, overlaps, and animations come to mind. These aspects may appear to be quite sharp, but they might take a lot of time and work to design, which can drive up expenses. Is this going to generate more leads for me? Is a question you should always ask yourself.
The answer may be yes in some cases. If you're a company like Stripe, with 14 global locations, millions of users, and 2,500+ staff, you might need some design customization, but do you have Stripe's budget? You can always come back later and add custom design components. Remember that your website is an alive, breathing creature that requires continual attention, so don't get too caught up in the details if you're on a tight budget.
Every stage of the process is affected by the size of your website: strategy, design, development, and content. The more pages you have, the more time and effort you'll have to put into the preceding stages.
So, how can you spend your money wisely?
Choose Echoinnovate IT For Your Website Redesigning
Every company has its unique identity, which we believe should be reflected on its website. However, not everyone can keep a hold on the target audience with the same old website designs, especially if your users access your site from a variety of devices of all shapes and sizes. Website redesign services from Echoinnovate IT is created with your target industry, market, and, most significantly, target audience in consideration. 
That is why it is essential to refresh your website design in order to provide new flavors to your audience. Echoinnovate IT is a professional website development and website redesign company that can help you re-design your existing website to add new elements, call-to-action buttons, and a more appealing visual appearance.
We provide reasonable packages to suit your requirements and fit into your budget, whether you are a small business, enterprise, or startup. For over a decade, Echoinnovate IT has worked in the custom website design and online marketing industries. We put our expertise to work to design beautiful, user-friendly websites that will help your business thrive. So, Get in touch with us now!
How much money does it cost to redesign a website?
A simple website redesign cost can be anywhere between $15,000 and $30,000, depending on the site's size, whereas websites with a large page count, specialized features, and more unique needs can cost anywhere between $40,000 and $75,000 or more.
Why should you redesign your website?
Rebranding your site, increasing traffic, generating more leads, and adding features to improve the user experience are the most popular reasons. The scope of your website redesign will be determined by your business objectives.
When should you redesign a website?
When your website is visually outdated, it's time to redesign a website. A visually outdated website shows that you are out of touch with current trends.