The Ultimate Guide to Start Your Own Snow Plowing Business in 2022
The Ultimate Guide to Start Your Own Snow Plowing Business in 2022
In winter, one of the most challenging tasks is to remove snow from your lawn and curb. But, with a snow removal company, things become a lot easier. For the snowfall season, your porches, lawn, and streets need a trustable snow plowing business to rely on. If you are interested in making a ton of money from this snowfall then give this blog a read to know how to start and run a snow plowing business in 2022 successfully. There are several snow plowing apps available that provide professional snow removal and you can now chill on your couch and your work will be done. This is the perfect time to start your snow plowing business by entering into this vertical with all the modern snow removal equipment and the internet's power as well. The
on-demand snow removal apps
are capable of expanding their reach. With this blog, we can guide you to launch a snow removal services business and run it successfully.
Why You Should Consider Launching a Snow Plowing Business This Winter?
Snow Plowing business is the best seasonal startup idea that will help you to earn top dollars this holiday season. The present value of the snow plowing industry is $20 billion which is quite shocking.
The snow plowing industry is valued at $20 billion at present. The amount is quite large as many countries face a snowing problem. The US, UK, and other cold countries around them are responsible for this valuation of $20 billion.
Without any further ado let's start and understand the factors that will be required for starting a snow plowing business in 2022.
How To Start a Most Profitable Business in 2022 – Snow Plowing Service?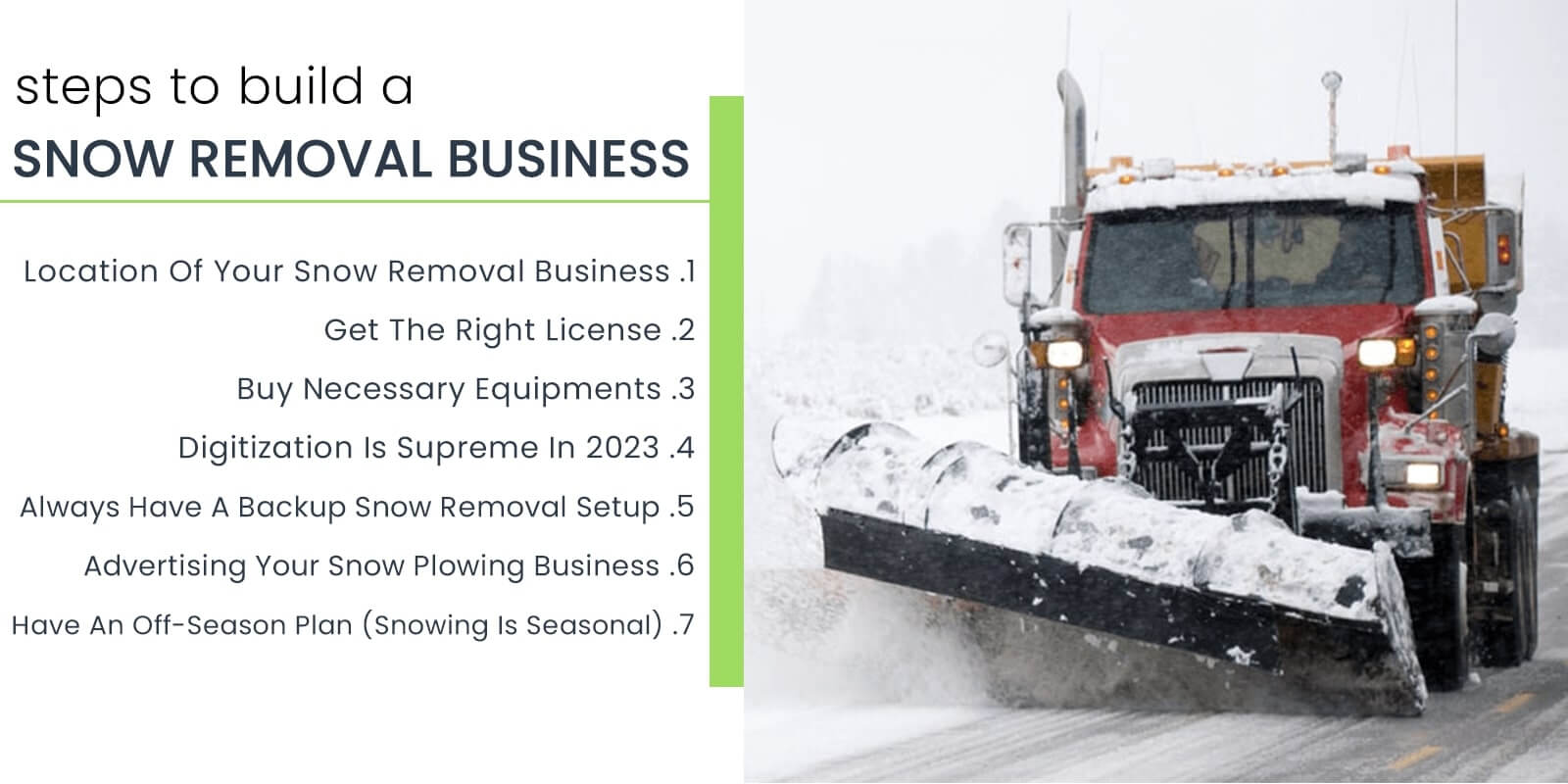 Location Of Your Snow Removal Business
What is the location of your snow plowing business, how big is re-planning the business operations, if your city or state requires snow removing services? The above-mentioned questions might seem very basic questions to you but there were several cases where a business failed because it chose the wrong location. Locations like Ottawa, Wisconsin, Minnesota, Michigan, New York, Ohio, etc., are best suited for this business and if you apply a perfect strategy, then this snow plowing business could be a great earning source for the winter season.
Get The Right License
Certain licenses and permits along with the following regulations of some of the state transport and business bodies are required for launching a snow plowing business. For example, if you are planning to start your snow plowing business in the U.S. then there are government bodies that will help you with these legalities. So to legalize your status as a snow plowing business owner you must fill their quick forms and find out the exact regulations and license requirements.
Get The Right Inventory
Right snow removal equipment is the major requirement for the Snow Plow Business. It is quite necessary to buy tow trucks or tractors that are well equipped with plowing tools. There are other materials as well like a snowblower, rock salt, salt sprayer, etc. that will be needed.
Digitization is Supreme in 2021
An app with a complete digital solution for the removal of snow is one of the needs in the present time. It is the digital era and people just put their speakers on for any sort of doubt or task. Thus, it is advised to digitize your snow plowing service brand for people to easily search and access it Here, the
digital solutions would entail many products like
:
Snow Plow Website
Plowing iOS & Android App for the customer
Plow Driver App (iOS & Android)
Snow Removal Company Web Panel
An all-access Admin Web Panel
Also with the Super Admin Panel, you can manage all the business aspects such as Payments, Commission, Rates, Snow Plow Driver, User, etc. in a single dashboard.
Always Have a Backup Snow Removal Setup
There are cases when you get an order for the removal of the snow and your truck or some other equipment fails. Backup is a must for these vehicles or snow plow equipment. Sometimes the customers that you will get will be annoyed and angry due to the snow situation they are facing so at that moment being late or not providing them good work would only aggravate their anger. If you fail to provide a proper service to your customer, then you are never going to get a call from them or their close ones. Thus, make sure that you have backup plans for all the required resources and provide your customer with the best snow plow service.
Advertising Your Snow Plowing Business
Advertising is one of the greatest help to expand your snow plow business. You can advertise in the localities where you wish to serve. The way of advertising has now become a broader concept from just being newspaper advertisements and hoarding in the 90s to coming on platforms like Facebook, Twitter, Instagram. People prefer to search for snow plow service providers on Google so it will be great if you boost the presence of your business on Google. People generally add the term "near me" while searching snow plowing services online. The searches may be like snow removal services near me, snow plowing companies near me, etc. Thus, you need to make sure that your service ranks for such searches on Google. Assistance from a proficient marketing team would be of great help in such a situation.
Have An Off-Season Plan (Snowing is Seasonal)
It is an obvious fact that snow plowing is a seasonal business and is only carried out in winters. So for the sake of earning your round-the-year revenue, you can't just depend on such a business model. Generally, it is the perfect thought to get a job for the rest of the year that will include your pickup truck. You can also give out your pickup truck for rent during the off-season is a great idea. Freelancing jobs like helping people for moving their small furniture to distances by which you can make a lot of money and many more are some of the off-season plans that you must have when your snow plow business is on top.
How Does a Snow Plowing App Work?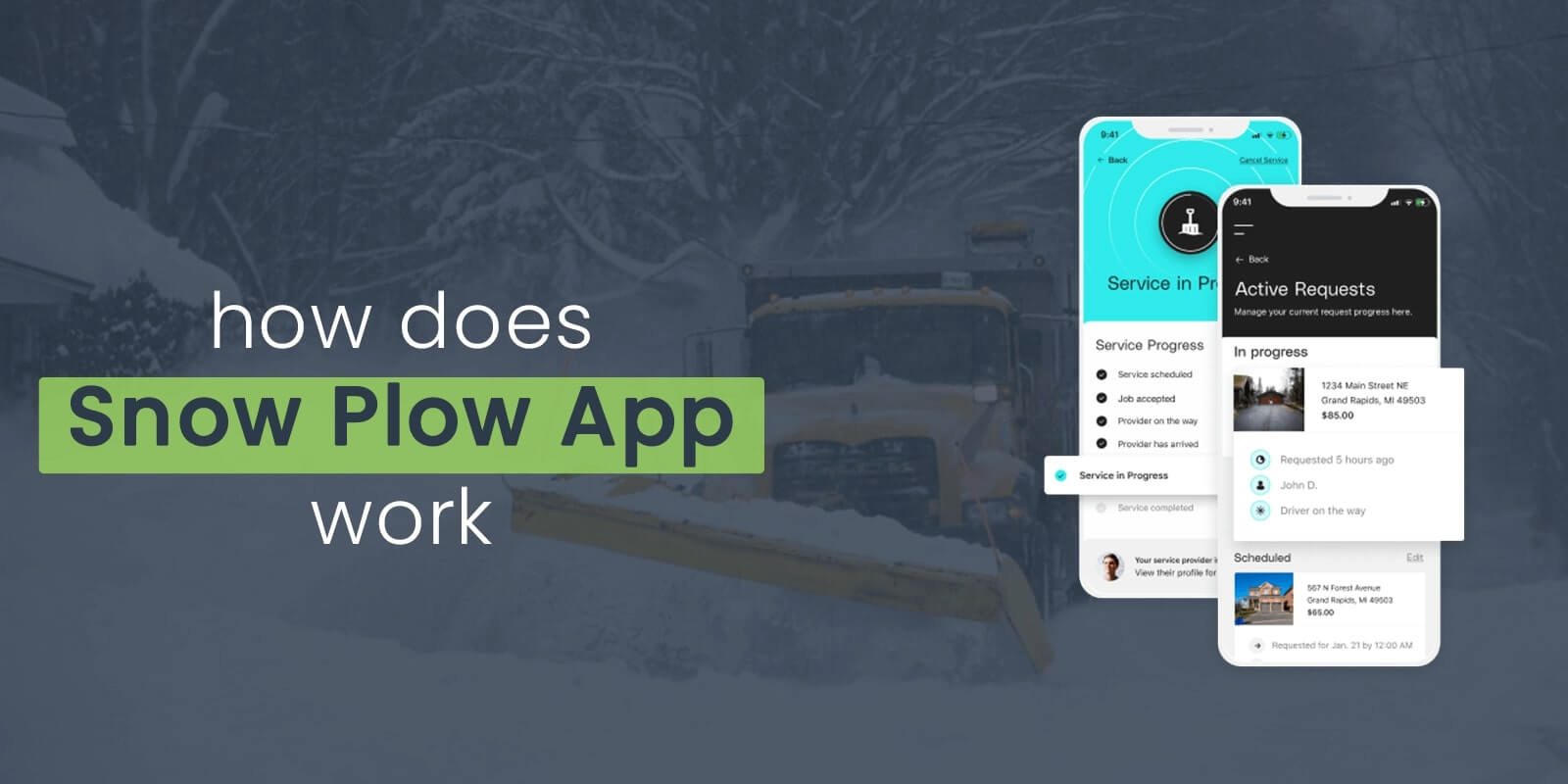 A
snow plowing app works
in two ways and the business model that you choose plays a vital role in deciding this. (A) Single Service Provider (B) Service Provider Marketplace
Single Service Provider
In this business model, you are the sole provider of snow removal services and the app.
With the app, a client can request a snow removal service.
The job is placed in the job queue of the day.
Snow removal professionals that are nearest to the customer location receive a notification regarding it.
The Snow Plow driver views the job using their personal driver app sorted by distance from the drivers' current location.
The job is accepted by the Snow Plow professionals after looking at its details by tapping on it
Snow Plowing professionals' details along with ETA are provided to the customer for the job.
The driveway is cleared by the professional and he takes a picture of it using the app.
The final step is to get the payment done and don't forget to ask the customer for their reviews.
Service Provider Marketplace
In this business model, you are the owner of the app platform where all the Snow Plow service providers will register to provide their service using your mobile app.
The app is used by the customer to request a snow removal service
The job is placed in the job queue of the day.
Snow removal service provider is received with a notification that is registered on your app.
The Snow Plow professional views the job using their personal driver app sorted by distance from the drivers' current location.
The Snow Plow driver sees the job's details and bids a quoted price.
The customer is provided with Snow Plow professionals' details so that they can choose accordingly.
The professional that has been chosen by the customer has to reach the location and clear the driveway properly. Once the work is finished then the professional has to take the picture of it using the app.
In the end, the customer is asked to make the payment for a service they have been provided. Don't forget to ask the customer for a review of your service.
Top Features of a Snow Plowing Software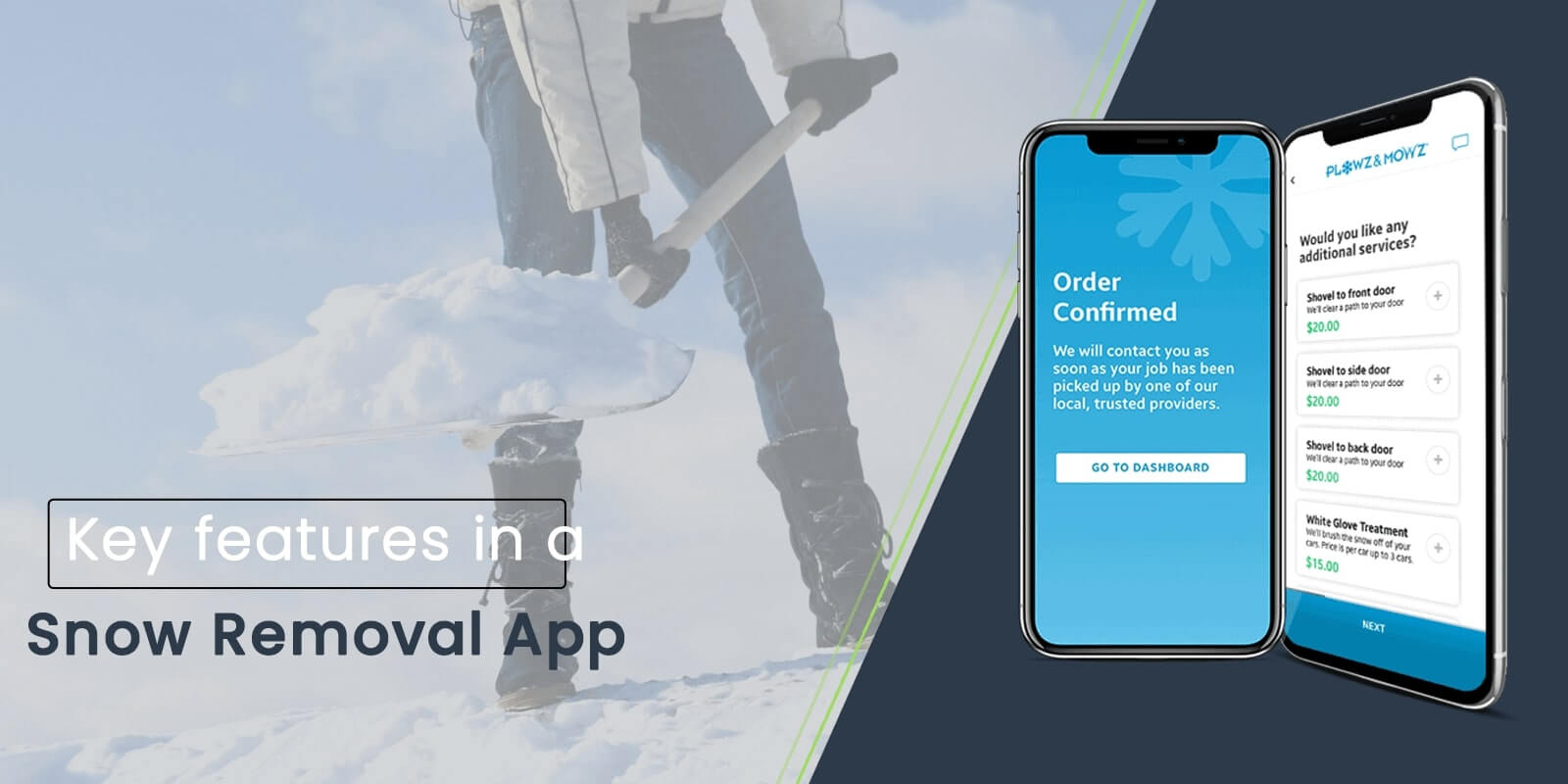 Admin Panel Features of App
Digital Reports
Manage Ratings & Reviews
Manage Payments
View Users/Plower History
User Management
Services Manager
Snow Plower Managers
Support
Snow Plower App Features
Register
Start Appointment
Manage Availability in Calendar
Status Updation
Live Status Tracking
Accept/Reject Appointment
Customer Review
View Payment Details
Customer App Features
Sign Up/Login
Request a Service
Updating Profile
Multiple Payment Option
View Requests History
Pay for Service
Select Snow Plowers
Schedule Request
Check Offers Availability
Confirm Service Booking Appointment
Get Payment Details
Cancel Booking
Live Status of Serviceman
Give Feedback
What Are the Benefits of Digitizing Your Own Snow Plowing Business?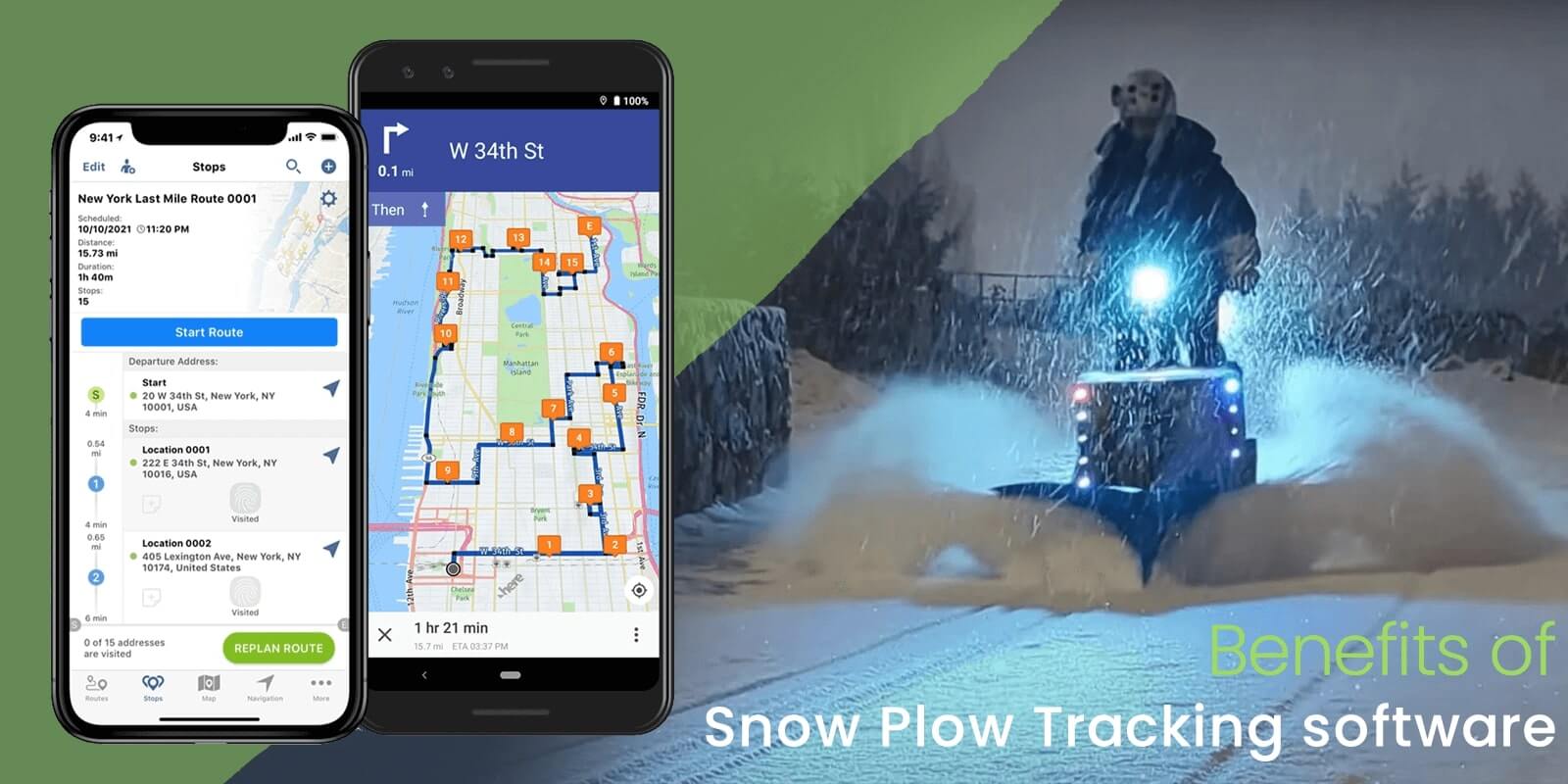 Snow might be a problem for residents but for you, it is like white money falling from the sky for you as an entrepreneur. Therefore,
starting a snow plowing business
of your own is the best option for you. Here are some benefits of snow plowing business:
Provide a hassle-free and smooth user experience to your clients.
Analysis and report will be provided to you by the app for your snow plow business.
You can also earn winter products and other services from the advertisements that will be shown on your app.
Easy organization of tasks and efficient routes for working.
You can also earn commissions by outsourcing requirements to other Snow Plow drivers.
Manage to invoice and get paid faster by digital payment means.
Important business details are kept organized and accessible at all times.
Thus, digitization in your snow plowing business will boost your revenue and improve your operations. For this purpose, you are required to
develop a snow plowing app
using which your customers can book for your service quickly.
Best 5 Snow Plow Services Apps for the Winter
Eden Lawn Care & Snow Removal
Rating- 4.3 Downloads- 5000+ There are various services offered by the Eden app such as snow plowing, garden bed cleanup, lawn mowing, shrub trimming, etc.
Toronto
, Ottawa, Waterloo, Cleveland, Hamilton, Columbus, Kitchener, Philadelphia, Chicago, Minneapolis, Milwaukee, St. Paul, and Boston support the activity of the Eden app.
MowSnowPros
Rating- 4.1 Downloads- 5000+ MowSnowPros app is active in Calgary, Red Deer, Winnipeg, Edmonton, and Saskatoon. The app offers services like snow removal, general lawn cutting, etc. you can get the best professionals for removing your snow.
Plowz & Mowz
Rating- 3.1 Downloads- 100,000+ Plowz & Mowz offers lawn mowing and snow removal and other gardening services and also provides 24*7 customer support for their services.
Snohub
Rating- 2.9 Downloads- 10,000+ SnoHub follows a marketplace business model and it connects customers with great snow removal contractors in places like Calgary, Alberta, and Canada. The customer is required to request snow removal services and pay from within the app when the job is done.
TouchPlow
Rating- 2.3 Downloads- 5000+ TouchPlow provides snow removal services within a few hours in case of a snowstorm and immediately removes snow from driveways and walkways when required.
You May Also Read These Blogs
How to Make a Successful Mobile App?
Best App Ideas for your Business
How to Hire a Mobile App Developer?
FAQs on Snow Plowing Business
Conclusion
Management of snow plowing business has become much easier with the aid of Snow Plow software. Snow plowing is a perfect business choice for you if you have thought of starting with a profitable seasonal business.
You need to keep in mind that before you start with this business you will need to partner with a Snow Plow app development company that well understands the business technologically and in every other aspect as well. Echo Innovate IT offers an excellent snow plow app development service in the present.