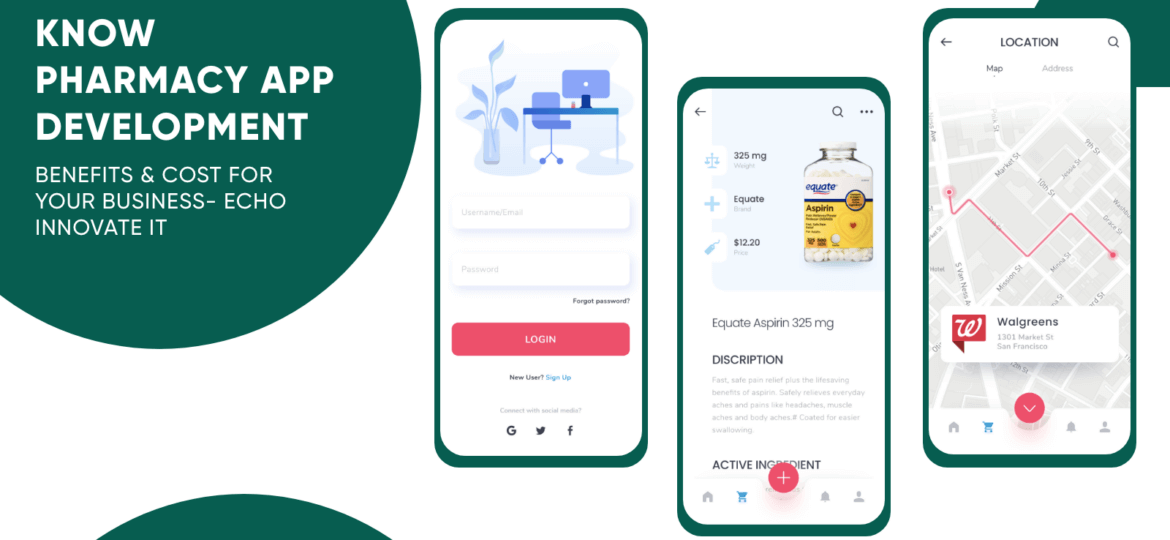 Every one of us hates standing in long queues and waiting for our turn to buy medicines in the pharmacy stores. Sometimes customers get disappointed if the stocks of medicine are less, it is boring and time-consuming as well. This is when an Online Pharmacy App Development Solutions comes into the picture.
Not to mention developing such apps can help get the medicines anywhere anytime without visiting the drugstore physically. Online medicine software is providing much convenience to the users that are the reason such apps are becoming extremely popular among users and increasing the prevalence of the internet of things across the world.
Of course, advancement in technology is leading to the growing use of smart devices.
However, there have been a lot of changes in the field of online medical services due to the pandemic. This has made online pharmacy application development even more popular.
In 2019, the global e-pharmacy market was valued at USD62.59 billion and it was estimated that the market can grow at a CAGR of 12.5% in the upcoming years as per the Market Research Future.
However, due to pandemic restrictions, this sector is experiencing healthy growth. Some factors that are contributing to the exponential growth of this sector like increasing awareness, benefits of online pharmacies, etc. In 2019, the prescription drugs segment accounted for around 60%. Also, North America has the largest share of the e-pharmacy market. Asia-Pacific is believed to dominate in the upcoming years by implementing technologies, increasing per capita income, and government initiatives to improve healthcare quality. In the global e-pharmacy market, a substantial share is held by Europe.
Now let's have a look at some details and dig deeper to understand the need for pharmacy app development.
What Is The Need For Pharmacy App Development?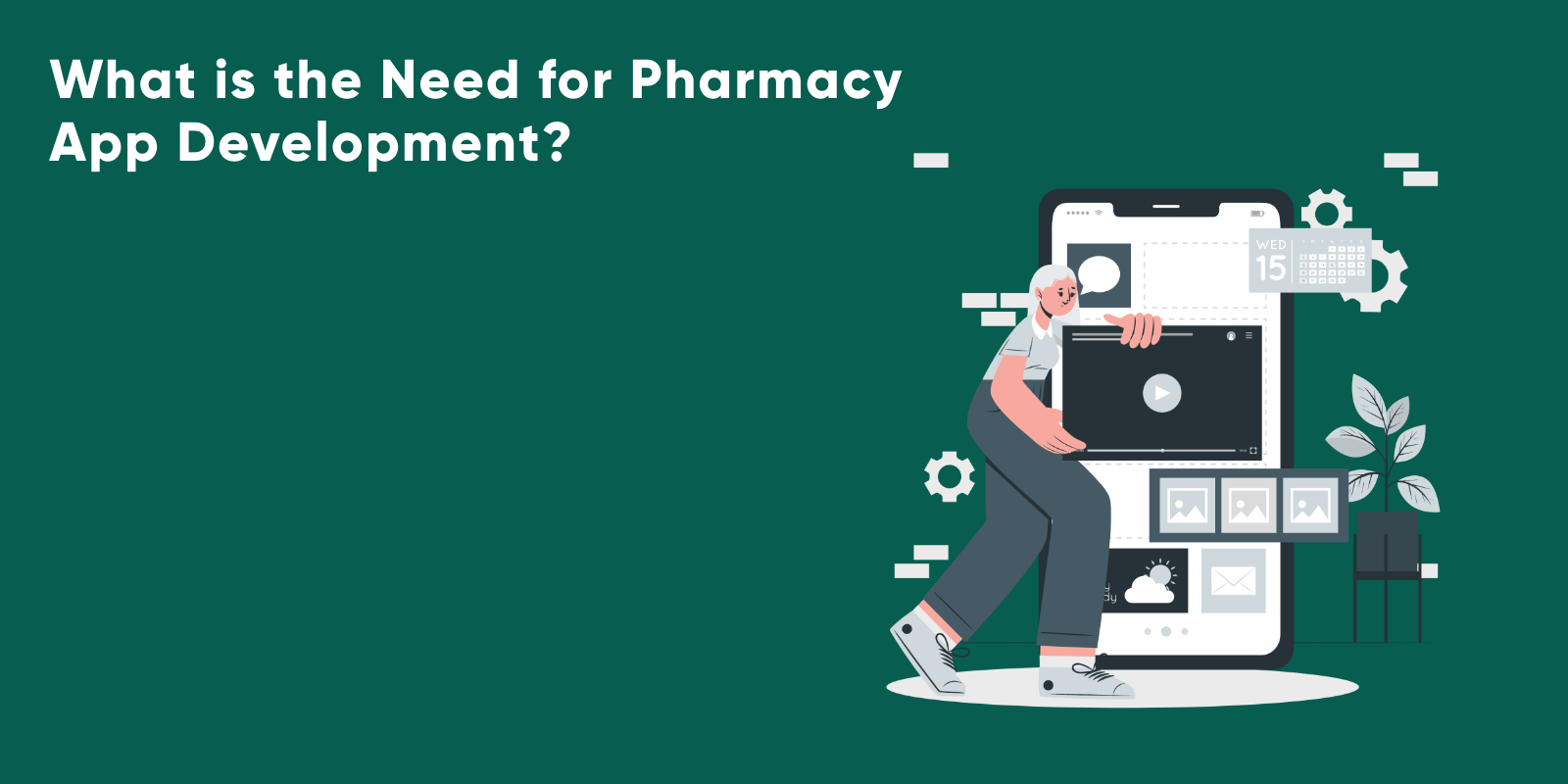 Equally important the development of pharmacy mobile applications has automated a lot of boring and time taking processes and has made our life more comfortable. Furthermore, we can order required pharmacy products online which will be delivered to our homes safely. This is what makes it necessary to work on pharmacy application development. SImilarly, Online pharmacy is beneficial for both consumers and business owners. It can be very beneficial to your drugstore.
Pharmacy mobile application is good at the following things:
The rise in the number of users
You can instantly respond to user's feedback
Improves profits from the business by bettering
Reduction in overhead costs
Build up loyalty with the target audience by using push notifications and Informing them about the latest offers
These are some reasons why you need to develop a pharmacy mobile application. If you are still not convinced then let us discuss various more benefits in detail. The Benefits of Having a Mobile App in Pharmacy. Let's discuss
Main Benefits Of Having A Mobile App In Pharmacy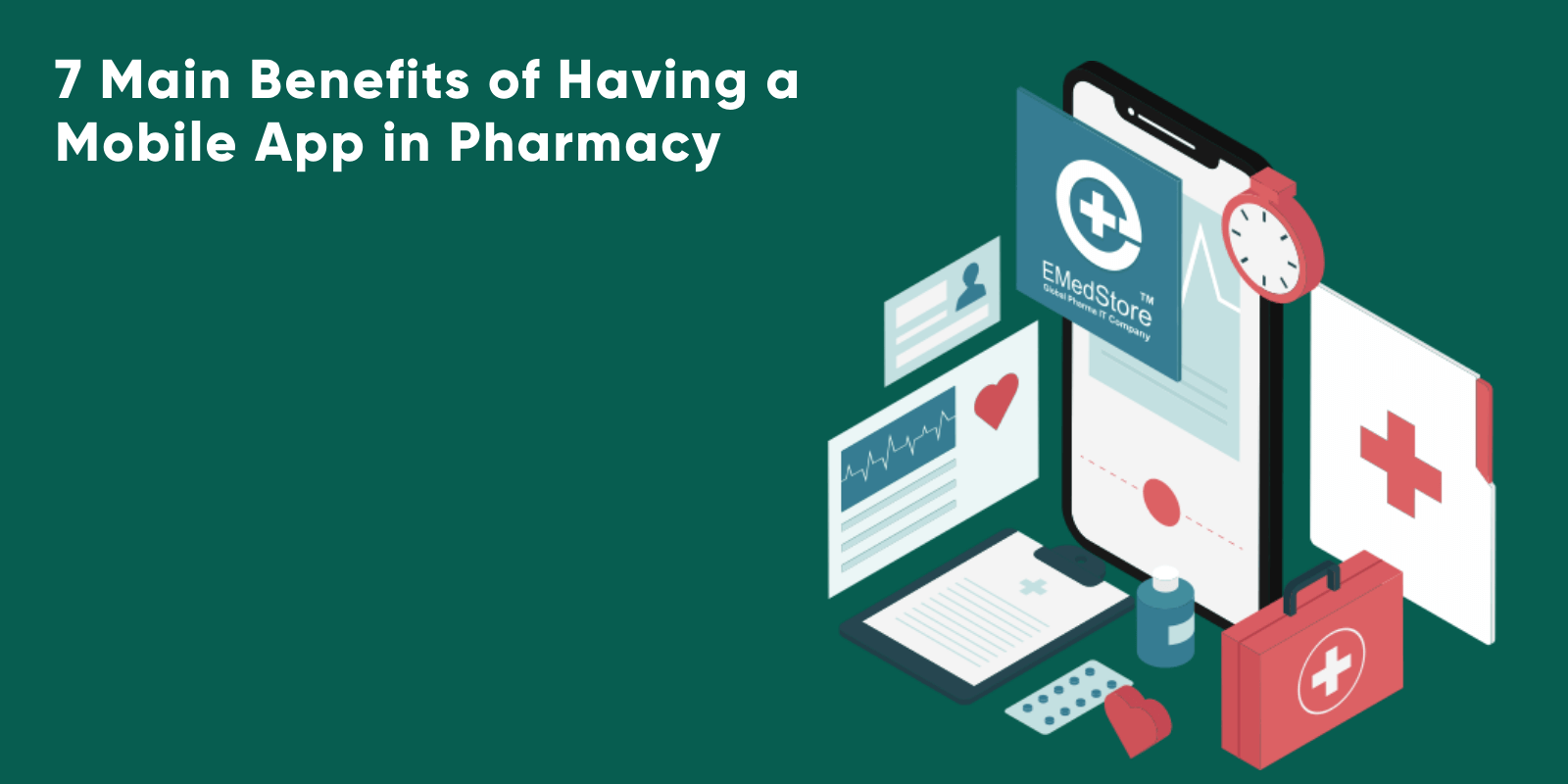 Digital Marketing Platform
Promotion of your pharmacy becomes much easier with the help of tools offered by mobile applications. You can make use of these mobile phones at your convenience. It helps you know whether the customer is liking or dislikes your drugstore. This will help you improve your product quality and boost up customer loyalty.
Gaining More Customers
It is very advantageous to have communication with your customers. Having good communication can help you understand your customers' requirements and brings you closer to them. Send push notifications through your mobile application which informs them about offers going on. Hence, better interaction would result in loyal customers.
Recognizable Corporate Brand
It is a great idea to develop a recognizable pharmacy brand that represents your company's image. You can boost your company's performance by having a mobile application with an excellent UI design.
Online Sales
There is a huge sale of drugs online which is a very important reason for the development of pharmacy mobile apps. With the introduction of the online pharmacy mobile application, both the company and the customers are content:
Customers can easily buy online through these mobile applications whatever they require. Fulfilling all the requirements of your consumers that are using your online platform increases sales and boosts income.
Non-stop Business Development
It is very essential to fulfill the expectations of the customer so that you can maintain the economy of your company. Pharmacy app development is an excellent way to understand your target audience. The Addition of features to your mobile application can be done for understanding user behavior. This intelligent approach would help you to grow your business.
Improved Patient Care
Pharmacy app development lets you improve the supervision needed to give to your patients. The addition of information like the benefits and side effects of any medication and the addition of an online chat option so that patients can consult with experts can help you enhance the care you offer your patients. There are many more benefits of pharmacy app development but hopefully, we have convinced you of the benefits that we discussed above. Now, it is the time when you should focus on what features your pharmacy mobile application must-have.
Top Pharmacy Companies That Have Adopted Technology To Grow Their Business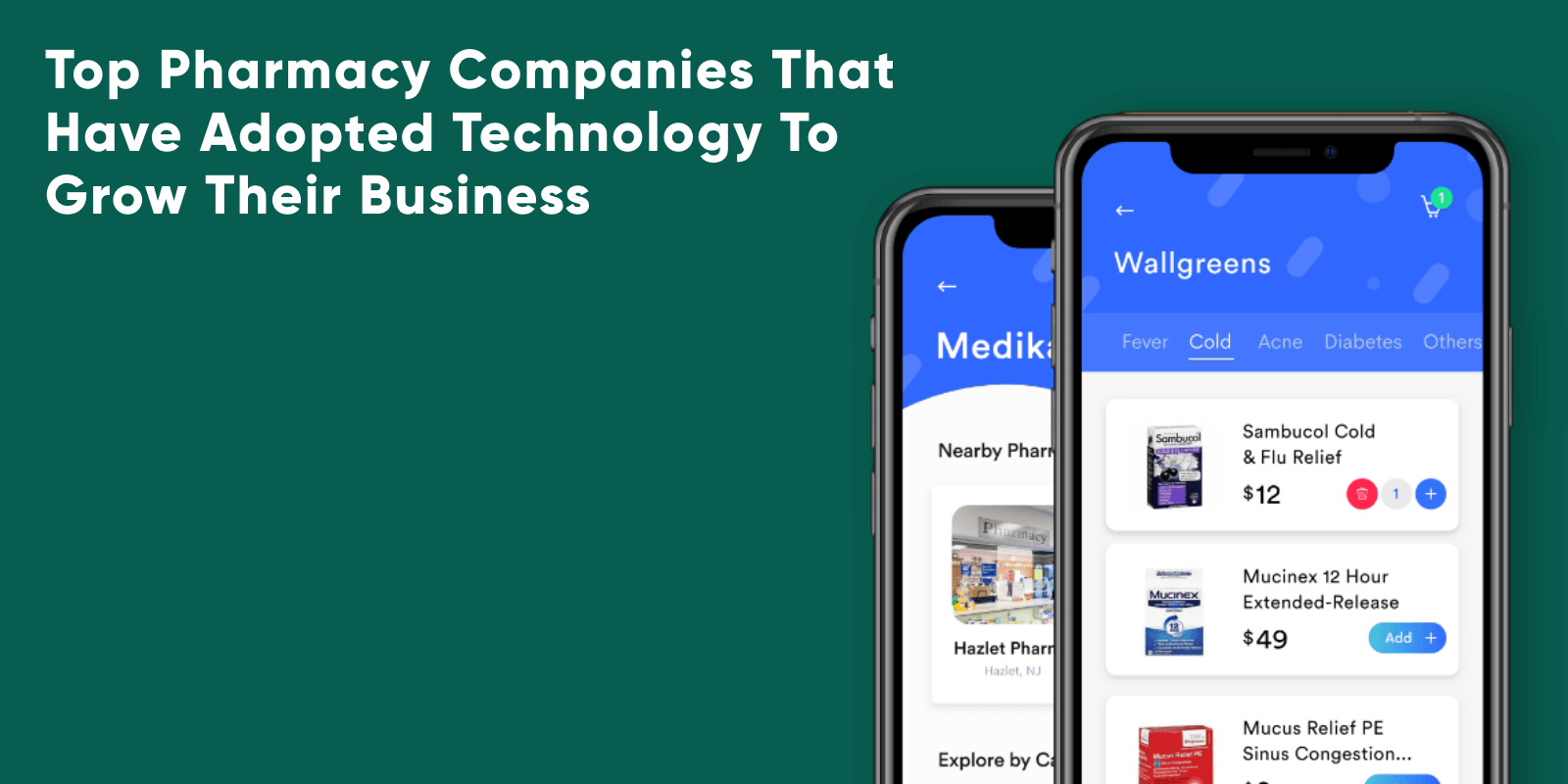 Here are some top pharmaceutical companies that have adopted technology to grow their business:
Johnson & Johnson – $56.1bn
With this in mind pharmaceutical division revenues have risen by 3.6%, determined by immunology ($13.9bn) and oncology ($10.69bn) portfolio
It is estimated that in 2020, there might be a minor disruption to the J&J pharmaceutical business. But the growth will remain above-market growth.
J&J has worked towards the development of a COVID-19 vaccine through the Ad26® vector technology and PER.C6® manufacturing platform.
Pfizer – $51.75bn
Pfizer recorded a 4% decline in revenues with the biopharma segment accounting for 76.2% of the revenues.
Led by the sales of Anti-infective products in China's international markets put 54% of the company's revenue which also included its antibiotic drug Sulperazon. The remaining 46 % of the sales were marked by the US, affected due to competition against the anti-seizure drug Lyrica.
Nevertheless, a joint venture was formed by the company to combine consumer healthcare businesses with GlaxoSmithKline(GSK). Pfizer owns a 32% equity interest in the joint venture while GSK owns the remainder. Pfizer's sales were impacted in the first quarter of 2020 due to the lockdown restrictions and a decline in inpatient visits.
Roche – $49.23bn
Sales of new medicines like Ocrevus, Hemlibra, Tecentriq, and Perjeta caused revenues of Roche's pharmaceutical division to increase by 11% year on year.
The company reported a 36% growth in China due to broader market penetration but still, the US maintained to stay as the biggest contributor to its sales followed by the contributions through Europe and Japan. There was a positive impact on Roche's sales due to the COVID-19 pandemic.
Novartis – $47.45bn
There was a total of 6% year-on-year growth of Novartis in the year of 2019 due to 79% contribution of innovative medicines in the revenues and the remaining 21% because of Sandoz accounting
Correspondingly, COVID-19 pandemic caused manageable disruption to its operations. Novartis collaborated with various research organizations for the development of treatment for coronavirus disease.
Merck & Co. – $46.84bn
Merck & Co. reported an 11% year-on-year increase in revenue driven by oncology, human health vaccines, and animal health division. International sales, led by China, contributed a moderately higher percentage to the company's revenues.
Sales in China grew by 47%, driven by Keytruda and Gardasil/Gardasil 9. Merck expects a revenue impact of $2.1bn in 2021 due to the unfavorable conditions caused by the COVID-19 pandemic.
Want To Know How Much Does Pharmacy App Development Cost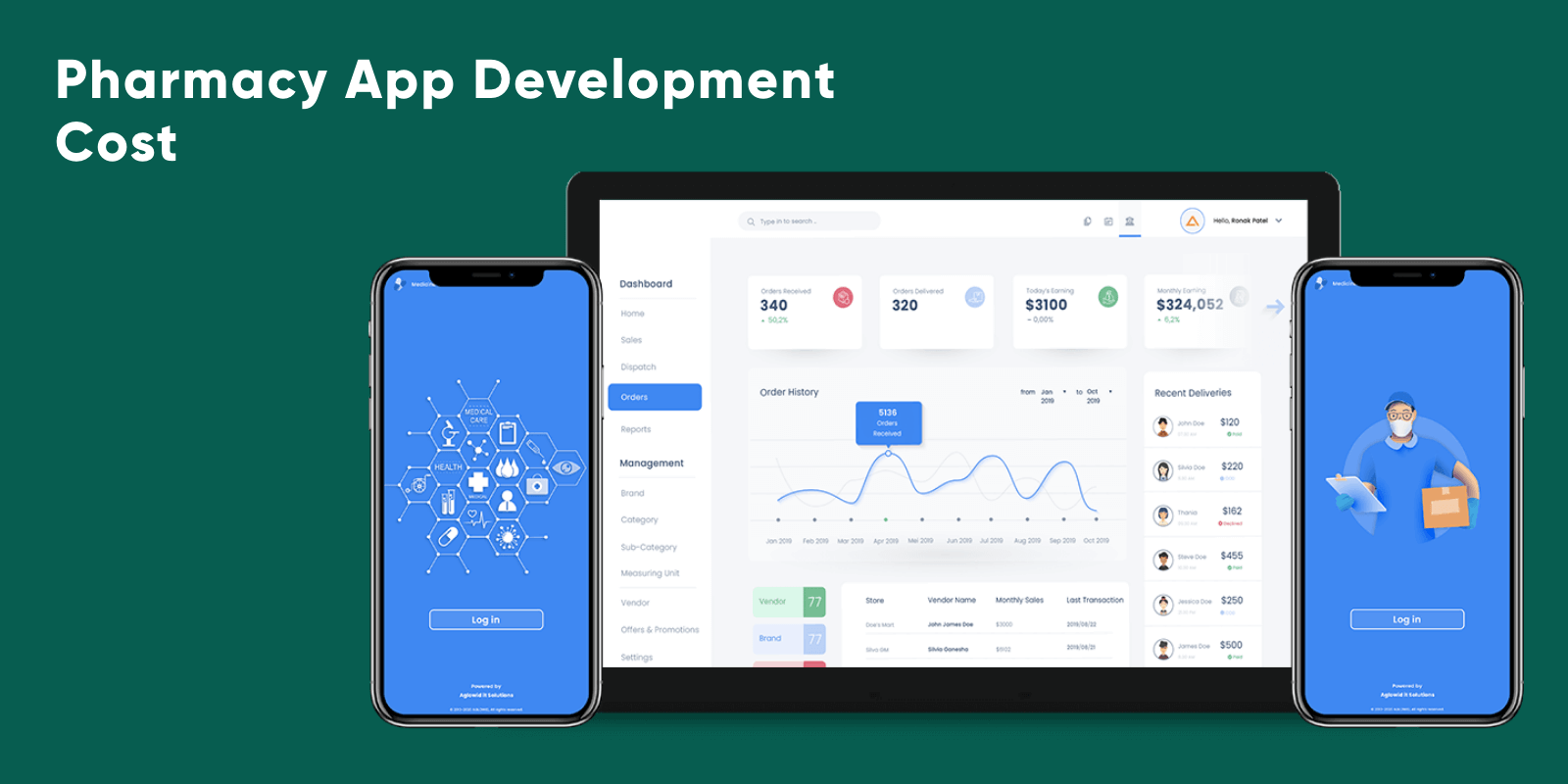 The next important and obvious question that comes to your mind is the cost required for pharmacy app development. The cost for the development of pharmacy mobile applications includes several factors. Let's discuss some factors responsible for affecting the overall cost:
The number of platforms that you plan to include in your pharmacy mobile application.
The number of features that are appropriate for your pharmacy app development.
The design of your mobile application can affect the overall cost.
Integration with 3rd party platform APIs is a customized feature and sometimes you may require adding Increases the cost required for the development of pharmacy mobile applications in your mobile application.
Using advanced technologies like AI and Machine Learning adds to the cost.
Required time for pharmacy app development.
The location of your pharmacy mobile application matters as the developers in the USA charge more as compared to Indian developers.
Size of the development team
The approximate budget for pharmacy app development is around $20,000 for a single platform but it can go up to $100,000 or sometimes even more.
Create Your Pharmacy App With Us!
Echoinnovate IT has built feature-rich healthcare applications over the years. There is a team of highly expert pharma app developers. We have expertise in developing online medicine software or online pharmacy applications. Our company can guide you completely on how to create an online pharmacy app for an effective medicine app development solution.
We are one of the leading companies that provide online pharmacy app development solutions and by partnering with us; you can leverage our cutting-edge technologies.
We are one of the leading companies that provide online pharmacy app development solutions and by partnering with us; you can leverage our cutting-edge technologies.
FAQ's Of Pharmacy App Development