Social media has become the most powerful and the biggest platform with more users and high revenue generation across the world. The reason behind its popularity is that each industry is connected with apps like a clubhouse. People nowadays love to spend their maximum hours chilling on this platform.
Highly competitive platforms like Facebook, Twitter, Instagram, etc. are trying to come up with new ideas to attract more users and stay in trend.
Here comes the best voice chat app Clubhouse as one of the great social media platforms.
As per Pitchbook, Clubhouse is valued at $1 billion. Clubhouse voice chat was launched in the year 2020.
At present, the Clubhouse app is only available for the iOS platform. The developers are working on the Android version.
At the beginning of January 2021, the app had seen 2.4 million downloads.
The Clubhouse is a unique and user-friendly application that is capable of competing with other apps available in the market.
In this article, we have come up with a complete guide on how to build an app like Clubhouse, what features you need to integrate into your application, the cost of app development, and more.
What Is a Clubhouse App?
The Clubhouse is a voice-only social media application. Users can join rooms and interact with each other through voice chat. Before you can begin using this application, you are required to sign up and give your name along with your profile picture. Once you are done with signing up, this application views a list of several rooms created by different members of this app.
These rooms are centered on the creator and have people with the same interests. After joining the room, you can be a part of an ongoing discussion. Users can mute or unmute themselves depending on their wish to participate.
The Clubhouse can be joined with an invitation link only which makes it an exclusive social media app.
Why Is Clubhouse App So Popular & Why You Should Develop a Social Audio App like Clubhouse?
Few people are shy in front of cameras and not everyone can be a part of video-based apps like TikTok. Since Clubhouse provides you with voice service so the users who are tired of a video-based app can enjoy this application. Voice chat enables you to be more spontaneous and regular.
The Clubhouse is in demand now due to the pandemic and the success rate of this app has increased. This application provides an easy way of communication with people across the world without the need for video. The Clubhouse doesn't capture any messages. You must be present to participate in a dialogue.
As we all know that social media sites are full of opportunities, so let's take a closer look at why you should develop an app like Clubhouse:
Valuable Consumer Insights
Applications like Clubhouse offer a wealth of information about users' demographics, interests, and aspirations. The dissatisfaction of users with a service is often evaluated and examined. As a result, businesses may use social media to gather valuable, actionable user input for customer service, reading analytics, boosting marketing, product or service innovation, and other vital areas.
Constantly Booming Web Traffic
Social media is majorly responsible for driving huge traffic to the website and improving the ranking. Users can visit the source page if they find anything interesting. Additionally, they can create ties by sharing the posts on their social media accounts. This makes investing in a social networking site a smart choice because this will drive high traffic.
The Purchasing Power Of Consumers
Approximately 43% of global shoppers use social media to do commodity testing. The social media platform makes it much easier for business owners to generate some income. The conversions that occur with social media applications are significant advantages of social media application growth, which stimulates the global economy.
Improved Consumer Experience
Users on social media are looking for service providers for various reasons like purchasing something, selling, etc. Around 54% of people currently use social media for customer service. As a result, businesses gain profits through improved brand awareness and loyal consumers with social media applications.
CRM Opportunities
As mobile apps can monitor and measure collective user behavior, they can provide valuable information to businesses. Therefore, multinational organizations can deliver better services to their users, thereby improving CRM capabilities.
Scalability
You can serve the ever-increasing demand of users with your scalable application. To do that, you need to use the latest technology for app development.
Wider Business Reach
Since social media networks have such a large user base, businesses will have advantages from a more comprehensive market scope and a larger potential buyer pool. It also contributes to the development of society.
5 Best Voice Chat App Clubhouse Features
The must-have features in your voice chat app Clubhouse are as follows:
Polls & Surveys
Polls and surveys can be a valuable method for enabling users to express their thoughts about the subject at hand anonymously.
Onboarding
After downloading an application, you need to have a username and a profile picture. Once you have logged in, you can join any room depending on your choice and start listening.
Chat Rooms
Clubhouse creates the ability for individuals to enter private and public Chat Rooms. In a chat room, the Clubhouse-speaker should be able to identify positions. People may be assigned to roles such as host, visitor, interviewer, delegate, or speaker. This will make it easier to manage the chat room, and people will be able to speak and discuss in a more unified manner.
Payment Gateways
If the app is paying or has a fee for participating in lectures, payment gateways could be integrated. Safe payment gateways for example Amazon Payment, WePay, PayPal, Braintree, and Stripe are now required.
Notifications
This feature enables you to be notified of interesting events such as the beginning of a new conversation or new members joining a room.
Steps To Build An App Like Clubhouse
Market Research & Finalize your requirements
You need to develop an application that is unique and purposeful. It shouldn't be any other social media apps that already exist in the market. Hence, you need to invest your time in conducting market research.
Spend some time analyzing your competitor's apps and their approach towards their users. Find out their strengths and weaknesses to find opportunities to develop a competitive app. You need to understand your needs and your users' requirements first before beginning with your development process.
With proper research, you can understand the marketing strategies of your competitors and implement them in your plan as well.
Find & Your Ideas Target Audience
Targeting the entire world as your audience may seem a great idea, but it's a very expensive aim that requires a lot of money, time, and effort. A better approach is to convert a smaller community or demographic of the audience and convert them into your app users. Most popular platforms like Amazon and Netflix did the same thing of targeting a particular group of audience.
Selecting your target audience is one of the primary things to do while developing an application. You need to focus on the requirements of your audience and satisfy them with your services.
You can choose your target audience based on age group, geographical location, interests, or app platform.
Finalize the App Concept
The basic and foremost aim of any application-based business is to develop a product that will either resolve a problem or enhance the lifestyle. So you have two options:
To create an app that will resolve the existing issues of people with the platform they are already using. To create a completely new application with unique features
Imagine an amazing app with a USP factor that separates your voice communication app from other existing apps in the market. It is quite tough to take the correct decision and finalize the app content, but when you are once done with taking a perfect decision, everything becomes easy and smooth and drags you towards success. It will be great to include the best minds at this stage so that you can come up with an amazing idea at the end.
Develop your app with the app development team
The next step of app development is to find the right development team. The fourth step is to find the development team you want to work with. Before you start with the actual development procedure of your audio chat application, you need to hire a team that will manage the application development workflow, determine the core functionality for the app, and design ideas for your application. It is your team that will help your app reach the milestones and start work on a minimum viable product.
Choose App Monetization Strategy
The next step is to choose the right monetization model for your mobile application. Now that you know your users' requirements, you can analyze what they can pay for.
Specify & Make List of Functionality
Once you have completed the step of forming the perfect team for the development of your audio chat application, you need to explain to your team the objective of your business. It is very necessary to explain to your team members your business goals for the short and long term for their better understanding and transparency.
If you do so, you can get amazing ideas and inputs from senior app designers or developers from your team based on work experience they have already had in the field of app development. Once you have finalized your application's design, features, and requirements then you can move to the next step which is the development process of your app.
Choose the platform between Android & iPhone
Another most important decision to make here is selecting the app platform for your Clubhouses like app development; Android, iOS, or both. The development approach could be native or hybrid based on your budget and app requirements.
Launch your app in the market
Once you are done with your application development process, you can launch your application. You have to optimize your app listing on Apple and Google app stores for better visibility.
Ongoing app support and improvement
Even after your application is launched, the work is not over yet. The application requires continuous support and updates periodically. The best option is to get the same team that developed your app to handle this service, as they know everything about your app's code.
Technology Stack to Build an app like Clubhouse
Communication corporations and developers have innovated ways to integrate their application programming interfaces (APIs) and have invented new ways of voice communication. Here is the list of voice API providers for Android, iOS, and web apps.
CONTUS MirrorFly API
It is a customizable communication APIs and SDKs that enable companies to develop and integrate easy communication systems on Android, iOS, and web applications. The CONTUS MirrorFly API has hundreds of scalable collaboration features that support more than billions of concurrent users.
Pilvo API
It is a cloud-based communication platform that provides enterprise voice API solutions to create powerful voice call workflows and scale business communications. Plivo API and SDK can be instantly integrated into voice chat applications. Plivo has around 1,600 local operator networks that provide reliable communications in over 195 countries.
Vonage API
Vonage APIs let developers create best-in-class communications solutions. They are structured on a global platform and offer a complete set of communication channels and expert support.
Twilio API
Twilio Programmable Voice API provides calling services worldwide. With the REST API, developers can integrate voice chat functionality that enables users to make, receive, track, and modify calls, along with the metadata of calls created.
EnableX API
The EnableX API is a voice messaging platform that invites developers to embed high-quality, interactive, real-time voice calls into apps developed for the web, iOS, and Android apps.
MessageBird API
MessageBird is a communications platform as a service (CPaaS) company. MessageBird refines and simplifies the overly complex customer communication space. The MessageBird Voice Messaging API enables users to convert texts to voice messages for any country.
Sinch API
Sinch is a company that builds all types of communication APIs. Sinch developer is a simple and effective way to add voice chat functionality. It allows developers to integrate voice messaging into any type of platform in just a few minutes with a few lines of code.
Siri API
The Siri API or SiriKit is a purported UI framework that allows developers to implement extensions to apps that integrate the chat system. Developers integrate voice assistant functionality into third-party apps they create and send voice messages when making calls or authenticated transactions.
Google Cloud Speech API
Google Cloud Speech APIs make it easy to integrate Google speech recognition technologies into developer-built apps and messaging systems. With the Google Cloud Speech APIs, developers can translate sound to text and apply powerful neural network models.
Viber API
Viber REST API is an open-source and free bot platform. Developers create bots in an ecosystem that lets users exchange text, voice, and video messages with other Viber users available in contacts. The Viber REST API can also be used on third-party websites and social media feeds using deep linking.
How Much Does it Cost to Develop an App Like Clubhouse? & Time to build an app?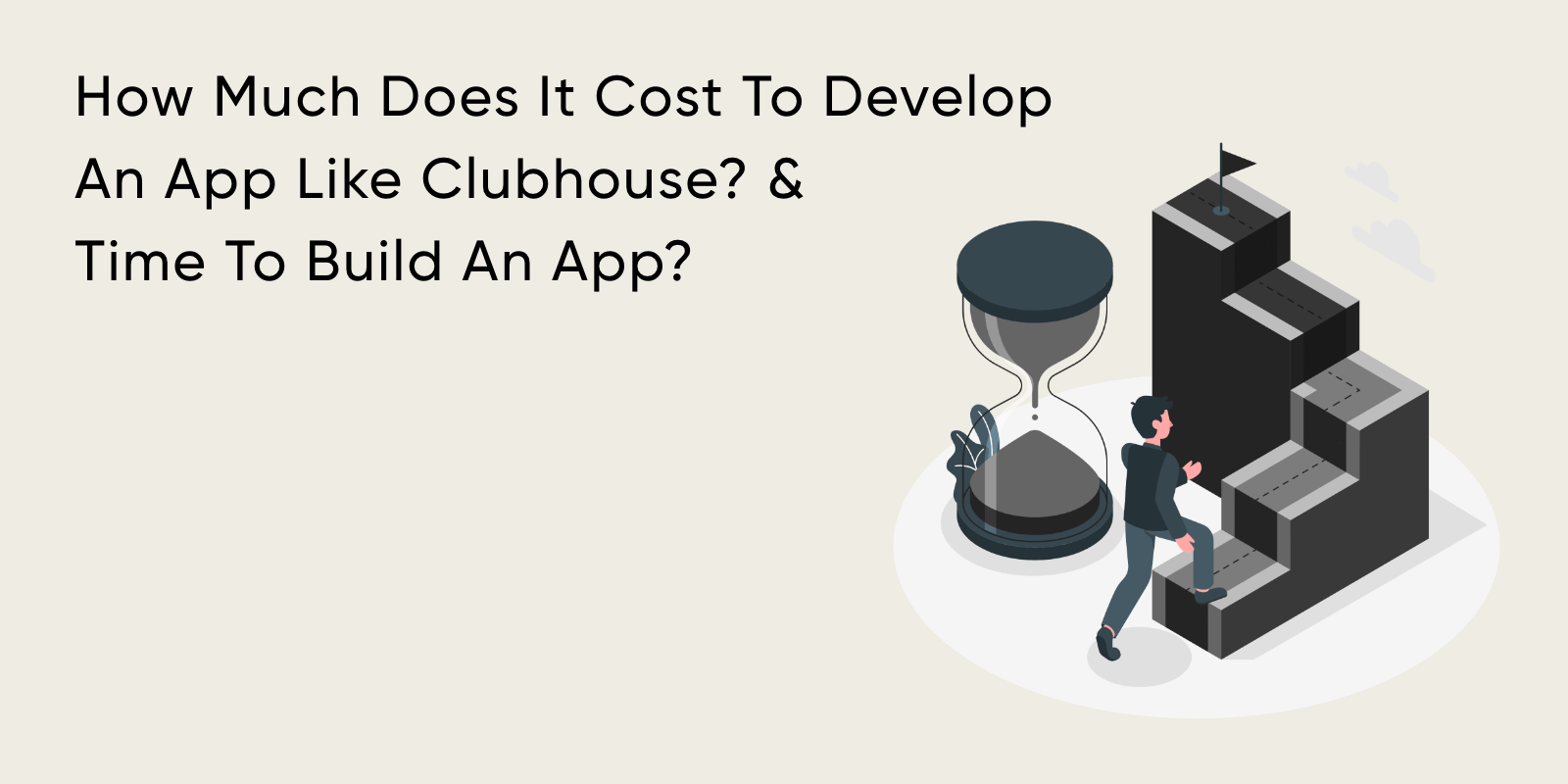 The cost of voice chat apps depends on several factors such as application features, the complexity of the design, the hourly rate of your development team, project size, technology stack, time frame, etc.
The major factor that affects the total cost is the hourly rate of developers. The hourly rate also depends on the location of the team.
Scope
Approx time, hours
1. Project Start
Initial backlog preparation
6
Project Schedule Preparation
6
Staging environment setup (AWS EC2 + CI, App Center)
25
2. Development Section (Back-end)
Initialize backend and connect database to the server
6
DB design: decomposing requirements into appropriate models
17
Users management
25
Registration endpoints & functionality
16
Login via invitation code
24
Log Out
4
Notifications logic
33
Rooms management
16
Realtime connection
17
3. Development Section (Front-end)
Base react native app setup
4
Implement in-app routing
13
Add redux infrastructure – setup store, define actions/reducers/sagas for required functionality
15
Preparing app assets: mockup slicing, preparing icons, fonts, images, colors, etc.
11
Sign In screen
6
Send an invitation to a friend page
13
All rooms page
16
Room page (Agora SDK)
51
Invite friend to room
6
Club rules
6
Notifications page
21
My profile page
16
Start room
13
User profile page
8
Sign up page
6
4. Stabilization and Delivery
Prepare deployment docs
6
Prepare description docs (FE + API docs)
9
Production deployment (AWS EC2 + CI, App store)
25
5. Project management
Backlog elaboration and maintenance
25
Planning meetings, review meetings
30
Project Management and communication
30
Quality Assurance, hours:
101
Total Development, hours:
403
Project Management, hours:
122
Total:
626
The development process can take approximately 600 hours but the time may vary. It might cost you somewhere between $10,000-$80,000 depending on the country. It would cost you around $40,000 in the US and $10,000-$20,000 in Ukraine.
How Can We Help You To Build A Voice Chat App Like Clubhouse?
Echo Innovate IT is a leading Android App Development Company that offers a wide range of services for diverse business requirements. Echo innovate IT provides result-oriented and quality IT solutions across the globe.
Our business strategists sit down with our clients, understand their needs, and do not stop until we have given our best. Besides, we create, analyze, optimize, and test the application until we are sure of its (app) yielding maximum results. We ensure that we design the apps in such a way that they are unique, authentic, and easy to use.
Our expert developers help you grow your business with apps that are capable of addressing your challenges effectively. Our expert team of developers can develop a voice chat application like Clubhouse that can stand out in the crowd and beat your competition. If you have any ideas in mind, get in touch with us now!
FAQ's of App Development Like Audio Chat Clubhouse App
What is the unique functionality of the Clubhouse app?
The unique functionality of Clubhouse consists of invite-only registration, non-recorded live sessions, audio-only Clubhouse voice chats, and the ability to join any interesting event without special links or invites.
How does ClubHouse make money?
Clubhouse, for now, is free. However, according to its creators, the app is in the process of implementing monetization for creators in the way of tickets, subscriptions, and the like. This will allow users to earn on Clubhouse and it will also possibly allow Clubhouse to earn:
1. By taking a small fee from each in-app transaction
2. By making accounts that can be monetized premium
The option the founders will go with is yet to be announced.
In-Conclusion
Clubhouse recently got so popular on the Internet. But, just creating a replica of Clubhouse won't get the same recognition. In order to succeed in the voice-only software market, you need to come up with a unique idea and develop an application that can stand out in the crowd keeping the audience's requirements into consideration.