Best eCommerce Mobile App Design Tips to Uplift Revenue
Best eCommerce Mobile App Design Tips to Uplift Revenue
Mobile eCommerce is transforming the online purchasing experience of consumers; mobile store applications are now more convenient than ever. With eCommerce app design tips, you will provide richer user experiences. This aspect of the eCommerce app development company is crucial since it offers lucrative solutions and gives customers the possibility to find your app helpful.
eCommerce mobile app development is not unusual, but developing a successful eCommerce mobile application is difficult. As it is common knowledge that the social commerce and eCommerce industries are thriving, every stakeholder wants to join the bandwagon. Meanwhile, the number of eCommerce mobile app development is growing. Therefore, it is difficult to survive in the crowded app market and face such competition.
We give ten eCommerce app design tips to help you enhance conversion rates and foster a customer-centric user experience.
Tips for eCommerce mobile app design to increase revenue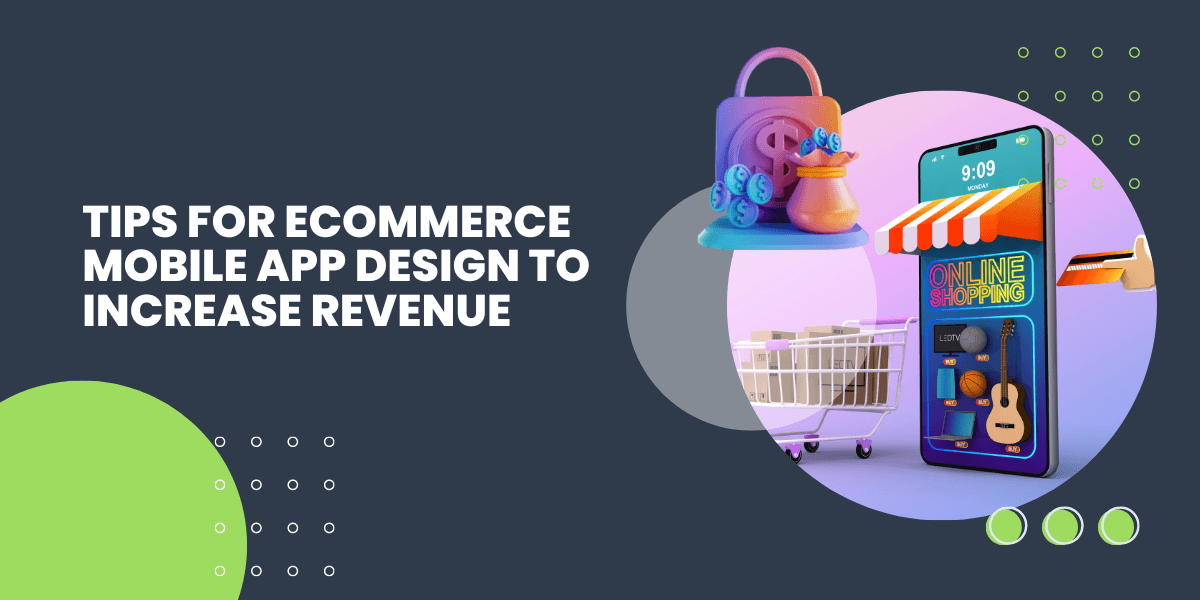 User-centric search engine development
The consumer search experience you provide might make or break your online sales. eCommerce design agency must implement the essential elements to create a customer-centric search like voice-activated search. According to eCommerce mobile app design requirements, speech recognition should also be integrated since it enhances the user experience for online businesses. Apart from voice recognition, image recognition is also crucial to the success of an eCommerce business. Always, people want to see items prior to purchase. Each website should include picture recognition so that consumers can trust the things they are purchasing.
Straightforward signup and purchase process
You may shorten the time it takes to check out by only requesting customers' personal information when it's really necessary. It is essential to maintain the user experience (UX) as basic as possible, and it should fit entirely on the screen of the mobile device without the need to scroll. The majority of customers find it annoying when the registration and purchasing procedure takes more than one page to complete. Therefore, you are effectively testing their patience, which is the common cause for customers to quit their carts and result in lost revenue. Make advantage of autofill fields and provide consumers the ability to quickly change their purchases to increase the likelihood that your checkout process will be perfect.
No websites with excessive product information and calls to action
Making descriptions of a product clear and concise, which is crucial since no consumer or user wants to navigate through lengthy descriptions. Determine which features attract clients and which ones give them difficulty so that they may be handled effectively. It is essential to have a clear and compelling call to action. To developers of eCommerce applications from a reputed mobile app development company in USA, concise explanations with bullet points, headers, and subheadings are always provided.
Maintain a minimalist look
Users are more likely to successfully locate purchases when the UI is streamlined. Consequently, keep the user interface (UI) simple. Keeping first-time users in mind is essential for creating a pleasant user experience. The app's user interface should be intuitive and in line with the minimalist ideal. The eCommerce app design tips for achieving a minimalist aesthetic involves a monochromatic color scheme. It utilizes only one font style and staying mindful of the need for separation.
Horizontal filtering
The majority of websites use interfaces with vertical sidebar filtering on the left. Nevertheless, horizontal filtering is now gaining favor. This is due to the fact that it gives the following benefits:
Filters could be seen while scrolling and the whole page width could be utilized on tablets and mobile devices.
The design has larger images with more and better information that might fit on a page.
The utilization of sliders, paragraphs, and tablets, in addition to checkboxes, is facilitated by the adaptability of horizontal filtering.
The navigation of your eCommerce mobile app design should be refined to get the best possible sales results. Among other things, this may entail designing a flow that is intuitive for users. In this manner, people are able to make more purchases without experiencing feelings of exhaustion or dissatisfaction. Utilizing standard components is one strategy that may be used to improve the navigation experience. Although it's understandable to want to be noticed, navigation patterns aren't the ideal arena for putting your creative skills to the test. In addition, it is essential to make the navigation options apparent so that users can easily know what choices are available to them.
Allows multiple payment method
When customers reach the payment gateway, they often leave their shopping carts because of worries about convenience and security. Online shoppers may rest easy knowing that they have a growing range of trusted payment methods at their disposal. Customers may prefer not to submit their credit card information when presented with third-party payment choices supported by reputable brands. It's also a good idea to look at "buy now, pay later" (BNPL) alternatives like Klarna and Paypal Credit. BNPL is a kind of POS credit that lets buyers spread out their payments for things they've already received.
Place all critical features in the zone that is easily accessible with the thumb
The appropriate positioning of items may either persuade users to carry out certain activities or make this trip more difficult for your audience. Therefore, you should check to see whether all of your important pieces are situated inside the zone that is easily accessible by thumb.
The Thumb-Friendly Zone is a portion of the screen that a user may readily access with his thumb while still maintaining a firm grip on his smartphone with the same hand.
The Principle of the Three Taps
It is essential to ensure that the structure of an eCommerce app development is easy to understand while building it. According to the Three-Tap Rule, it shouldn't take a user more than three taps to go to any of the things that he wants to purchase on your website. You may arrange your items in the following order to demonstrate compliance with this requirement:
Categories

Sub-categories

Products
The Three-Tap Rule may be readily adapted into a more general principle for you to use in eCommerce mobile app design, and that notion is as follows: the less steps a process requires, the better.
To zoom in and out, support the pinch and double-tap actions
Customers' purchasing decisions might be swayed in a positive or negative direction. This depends on whether or not they have the capacity to zoom in on product photos. A product that facilitates smooth and natural gesture flow is easier to examine properly and generates more interest about itself.
To sum it up…
Statista found that at the conclusion of the third quarter of 2018, out of millions of applications in the Google Play Store, there were around 2.1 million apps with the best mobile app UX design, and the number of Apple's apps was almost 2 million.
A UX design investment is profitable, just as long-term benefits include not just a higher return on investment but also reduced expenses. In addition, the investment results in improved client retention and greater Google search ranks. When you maintain an optimum user experience (UX), you can maintain a competitive advantage and foster consumer loyalty. Having a reputable mobile application development company in USA like Echoinnovate IT is crucial for eCommerce app development.
FAQs of eCommerce App Design
The cost of designing a custom design for e-commerce applications may vary significantly based on a variety of criteria, such as the number of features, the complexity of the app and design, the number of third-party connectors, team composition, and deadlines. Contact us for an accurate quotation.
Typically, the processes adhere to those of the beginning with the discovery phase in which your design team conducts market surveys, user research, and competition analysis.
UI and UX always go hand-in-hand; if you want a user-friendly, well-thought-out program, you cannot neglect either UI or UX.