How to Build a Doctor Appointment App for Your Clinic? In 2022
How to Build a Doctor Appointment App for Your Clinic? In 2022
Technological advancement is accelerating the transition of the healthcare industry as a result of global impact and evolving societal values. Today, it is evident which aspects of healthcare delivery have failed and proven vulnerable. One of the options that, in our opinion, can make a difference in the relationship between a doctor and a patient is making an appointment with a doctor online in a few clicks with the app. Thus, build doctor appointment app can help with that.
We believe that Medtech innovation is a significant step forward in healthcare reform, with the potential to improve the efficiency and quality of care.
Moreover, we have extensive experience designing mHealth applications and telemedicine software at Echo Innovate IT to assist healthcare organizations in realizing their full potential. We have come up with a handy guide on the design and implementation of an online medical appointment system, guided by our domain expertise.
Therefore, let's talk about why it's important and how to make your own doctor appointment app.
A Market Overview of Doctor Scheduling Software
The mobile health app industry is going to cross the US $ 50 billion in 2025, according to a Statista projection. These figures undoubtedly suggest a continual increase in the development of healthcare delivery solutions. Furthermore, a recent poll found that 43 percent of patients prefer to arrange appointments online, and 57 percent of consumers search for a new healthcare provider online.
When it comes to medical services, the ability to arrange a doctor's appointment online, similar to Zocdoc, is critical. Given the popularity of this feature in the post-COVID-19 era, it is reasonable to predict that all of these numbers will continue to expand exponentially in the future.
It works like this: if you have the option to schedule an appointment with a doctor online, you can rest assured that you will receive high-quality, timely medical care. Not to mention the various advantages available to both the patient and doctor. Let's take a closer look at them.
Top Benefits of Doctor Appointment App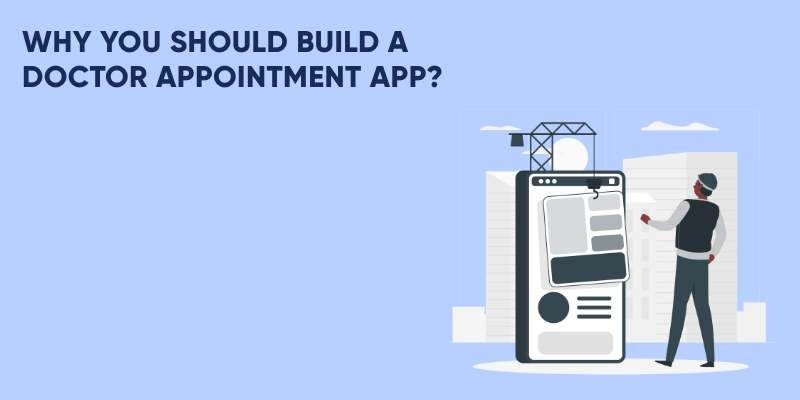 So, now you know what a doctor's appointment app is, what the primary possibilities are, and why you should start thinking about implementing it. But first, let's look at why the basic choice of booking a doctor online can have a small impact on your medical practice.
Using the Doctor on Demand platform has numerous advantages in each and every step of the process. Let's take a look at each one individually.
Value for patients
The first thing that comes to mind when considering the development of a medical appointment booking system is cost-effectiveness and safety. Patients can reduce the number of hospital visits by using a remote interaction application like this. This reduces susceptibility to a range of infections while also saving time and money on expensive travel. Patients have additional alternatives with more user-friendly doctor appointment software, such as calendar integration, online access to any doctor in any specialty, and simplicity of arranging appointments.
For example, when an app handles logistics, patients save time since they can arrange medical visits swiftly and conveniently online. The system syncs with everyone's calendar automatically giving reminders for forthcoming appointments, and can even send a notification if a time slot is canceled so that other patients may book it right away.
Value for doctors
When dealing with a high number of patients, a straightforward work schedule is like a magic pill from the perspective of a physician. The ability to access patients 24 hours a day, 7 days a week from any device dramatically decreases the administrative burden on doctors.
This allows doctors to better manage consultations. They can keep track of cancellations so that doctors can see one of their other patients if a patient cancels at the last minute. As a result, this type of medical app can assist doctors in better managing their workload and eliminating unnecessary time slots, potentially saving money.
Simultaneously, it aids in the expansion of the patient base and the streamlining of consultations. This Medtech solution can also grow medical practice online and consult even more patients remotely if the doctor booking app is coupled with the telemedicine platform. The function of a recently canceled visits notice reduces the amount of time unused by doctors, while patients who require urgent consultation can get it sooner.
As a result, the doctor-patient appointment system benefits doctors in more ways than one. Making operational and billing processes automatic can help to improve efficiency and profitability.
Value for hospitals
Many healthcare businesses and hospitals have already seen the immense potential that doctor booking app development like Zocdoc can provide. In addition to financial benefits and efficiency advantages, these applications can help hospitals and clinics enhance a variety of aspects of their operations.
When these types of apps are in place, for example, administrative staff's working hours are reduced, lowering the overhead for clinics, hospitals, and other businesses.
Moreover, when a booking is made by staff, scheduling software helps eliminate a lot of human effort, errors, and salary payout. When appointment scheduling is automated, the employee's time can be better spent on other responsibilities.
In other words, it facilitates shifts and task management, as well as receptionist work. Tracking revisits and enhancing clinic-patient communication are further advantages of using an app. As a result, when it comes to confirming, canceling, or postponing appointments, receptionists will have less work to do. Furthermore, 34.3 percent of appointments made using online platforms were made when the facility was closed when no one would have been available to take a call.
With online booking and video conferencing of medical consultations, healthcare is more accessible
A medical appointment scheduling app can also assist patients and doctors feel more at ease in situations that are rapidly becoming more common, such as the introduction of medical video conferencing software. Patients who are unable to move, for example, can consult with their doctor from home if they have the app and a smartphone or tablet.
Patients can also benefit from the incorporation of a personalized support platform. They frequently like being able to pay their bills online rather than having to call a doctor's office with their credit card information or mail a check. It translates to a higher ROI for the hospital, clinic, or whatever another medical entity is involved.
Best Doctor Appointment App Features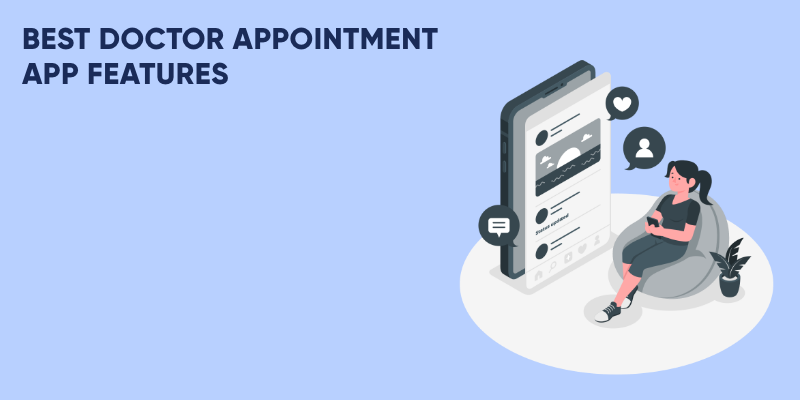 If you've gone through all of the benefits and have decided that now is the time to develop it, there are a few things to keep in mind.
Any medical app must include fundamental mHealth app features that tackle the problems of the primary consumers. Similarly, in order to match users' expectations, a medical appointment app needs to have some unique built-in functions. Let's have a look at what they are:
Scheduling
A scheduling feature must be considered when developing a doctor scheduling app. Patients can use this function to schedule a doctor's appointment. With a few taps on the screen, a spot in the doctor's calendar for an appointment at a clinic or hospital is reserved.
Patient Profile
In terms of patient profiles, they should include personal information so that doctors are prepared for the appointment. The ability to upload and scan documents would surely be useful. Doctors should examine the health and demographic information of their patients.
Doctor Profile
Before scheduling a meeting, the patient should be able to select the most appropriate healthcare practitioner from a list of options. A doctor module dedicated to building and editing profiles must be available. The doctor's specialty, location, photographs of them, patient reviews, and how much an appointment costs under various insurance policies should all be available.
Real-time analytics and updates on the status of a doctor's medical practice would be fantastic. If the doctor wishes, they can also use this space to display marketing and promotional goods.
Reviews
Patients can use the rating system to offer feedback and assist others in reviewing recommendations. This app function also demonstrates trustworthiness and validity, which might assist other patients in selecting an appropriate clinic or medical practice.
Calendar
Online and offline booking capabilities that are simple and always work the first time should be the foundation of any doctor appointment management app. You should have features like appointment status and a fully functional calendar.
Reminders & Notifications
To ensure that no appointment is missed, your physician scheduling software should include fully functional appointment email, phone, or app reminders and push notifications.
Live Chat with support
From the perspective of the patients, an in-app conversation is a must-have feature. Physicians must be available via HD video platforms with chat and assistance available 24 hours a day, seven days a week.
Payment Integrations
For a systematic interaction in the connection between the health care practitioner and the patient, several payment alternatives are required. It's best to use a credit card, debit card, or e-wallet to keep track of appointments and make payments automatically. A secure payment gateway, such as Stripe, Paypal, Klarna, or others, gives your users greater options and allows them to pay for scheduled consultations directly through the app in a more secure manner.
Telemedicine
Consider using telemedicine capabilities for the treatment of patients in rural areas. In medical appointment booking app development, the ability to perform online consultations via built-in chat or video-calling is critical. You'll be able to reach out to more patients who are unable to come to the clinic for various reasons. Furthermore, video conferencing systems can be built using WebRTC or VidRTC technologies, both of which are GDPR and HIPAA compliant and ideal for supporting online meetings with EHR integration.
EHR
EHR (Electronic Health Record) systems must also be included in the building of your doctor appointment scheduling system. This feature gives doctors online access to their patient's medical records. It also helps clinics and doctors to write safer prescriptions, increasing their productivity.
E-prescriptions
A doctor should be able to prescribe a needed prescription and receive receipts straight in the doctor appointment scheduling software. The patient can then choose whether or not to have their meds filled at their local pharmacy.
Medical tips
Patients will be more likely to trust your app if you enable this option. As a result, they will be able to track the progress of their treatment and view the test results that their doctors have uploaded.
How to Build Doctor Appointment App for Your Clinic: 6 Crucial Steps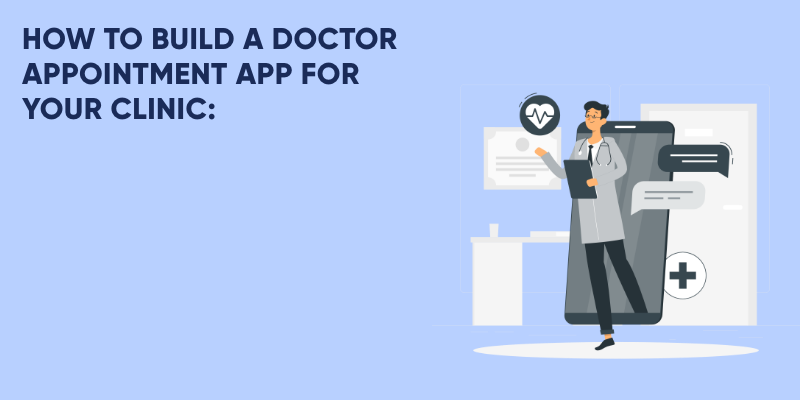 When it comes to the stage of building a doctor scheduling app, there is no magic bullet that will get you the results you want right away. Regarding the challenges you may encounter, we propose that you follow these six steps to make the procedure go more smoothly.
Ensure your doctor database is ready
Consider your product before beginning the process of developing an on-demand doctor appointment app. You'll realize that your app is a marketplace and that the doctors and services are your main product. As a result, it's vital to make sure you have the right product and a trustworthy database of doctors. At this point, you must decide whether or if you will collaborate with certain clinics and how you will gain access to their databases via the API.
Conduct user research
You should collect critical user data before prototyping an app interface. This will assist you in gaining a better understanding of your target audience's primary qualities, both geographically and psychologically. You'll be able to predict how your users will interact with your app by studying the data you've received.
The next step is to create visuals for all of your app's screens. You can test all of the features of your clickable prototype once it is complete. It will be easy to traverse the design and development of online doctor appointment systems in the UI / UX based on feedback from your healthcare personnel and potential users. To do so, you can use any of the prototype tools available, such as Invision, Adobe XD, Figma, or Sketch.
Plan app functionality
To make your application's interface intuitive and user-friendly, consider its functionality so that all considerations are taken into account at the same time and implemented in a high-quality and dependable application.
Planning clear navigation is a critical part of any product design. Your app will be concerned with matters of life and death. As a result, clinicians and clients must be able to access information quickly and easily. Everything should be available fast and readily. It's worth noting that good navigation enhances the user experience.
Choose visuals, colors, and fonts appropriately
Another step that requires special attention is the selection of visual elements during the development of your application's user interface. When designing a doctor appointment booking system, you should stick to a clean layout and a minimalist style. The color palette should be connected with warmth and calmness, according to your design team. Typography should also be user-friendly, helping users to differentiate text and obtain the information they require quickly and effortlessly.
Doctor Appointment App Tech Stack
When developing a doctor appointment app, the tech stack will vary widely based on the project's complexity, a number of features, team composition, and other factors. Though the technologies utilized may vary, the following is the core tech stack:
Front-end development: Angular, ReactJS
Back-end development: Node.js, PHP, Phyton; database – Postgres, MySQL, MongoDB
Mobile development: Android – Java, iOS – Swift
Multiple payment modes: Braintree, PayPal, Stripe
Map integration and user location tracking: Google Maps API, MapKit, CoreLocation
Push notifications: Push.io, Twilio
In-app video calling and messaging: Twilio, WebRTC, VidRTC.
Cloud environment: Google, Amazon Web Services (AWS), Microsoft Azure.
We'd like to call attention to technologies like WebRTC and VidRTC, which play a significant part in video conferencing and messaging capabilities, which are critical for all healthcare applications. You will be able to develop features twice as quickly if you use them.
These technologies are ready to deploy procedures in a variety of sectors and can administer virtual rooms with media servers that can handle over 1000 individuals.
Challenges to Develop a Custom Doctor Appointment Application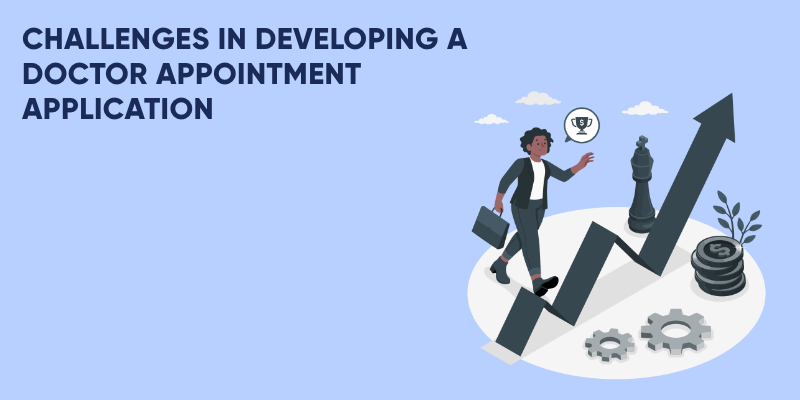 Data security
To protect personal data, doctor appointment solutions, like any other medical app, must adhere to data security regulations such as HL7, HIPAA, GDPR, and European health laws and statutes. To avoid potential pitfalls, select tools that adhere to these strict guidelines.
HL7
HL7 is a collection of international guidelines for sharing and exchanging data amongst healthcare providers. Patient health data may be exchanged conveniently and securely in the doctor appointment app, as opposed to alternative methods.
HIPAA
The Health Insurance Portability and Accountability Act (HIPAA) safeguards patients' privacy and medical records. It also establishes the necessary security safeguards and maintains the confidentiality of protected health information.
GDPR
The General Data Protection Regulation (GDPR) applies to all fields that deal with personal information. It is the European Union's (EU) strictest privacy and security law, and it governs data processed in the healthcare industry.
Accessible design
Doctor appointment applications should be simple to use and adopt in order to achieve their objectives. Given that the software will be used by people of all ages and technological backgrounds, the learning curve should be kept as low as possible.
Integrations
The healthcare technology ecosystem today may include a variety of devices and solutions. Making your doctor appointment app as useful as possible may need the safe and secure integration of a variety of internal and third-party systems (medical, financial, reporting, CRMs, and so on) (e.g., insurance).
How Much Does It Cost to Develop a Doctor Appointment App?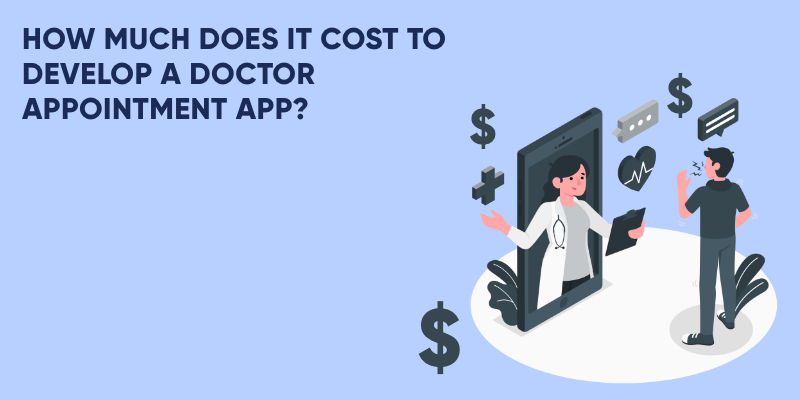 The cost of developing a doctor appointment booking app varies depending on a number of factors:
number of features;
tech stack;
team composition;
third-party API integrations;
deadlines, etc.
When you consider how many people are likely to use such an app in the coming months and years, the cost of developing it is negligible. You will be left behind if you fail to do this, just as you will in many other fields.
Furthermore, if you follow the suggestions we've provided, you can reduce some of the associated expenditures. You'll have a tool that can help you reach a level of return on investment for your medical practice that you probably never imagined was feasible. You will never regret the time and money you spent developing an online doctor appointment app.
There are, however, several stages in the development of an online doctor scheduling application development.
Discovery Phase, Estimation & UI/UX Design
Time: 280 hours
Cost: $8 400
Our business analysts do market research, investigate customer expectations, and assess industry demands during the research stage. Our business analysts use all of the information they collect as a starting point for estimating the project's preliminary budget, which we then agree on with our clients.
We can analyze how well the chosen technology stack, functionalities, and overall aesthetics will fulfill the client's expectations when we start designing the application's UI and UX prototypes. After all, we agree on usability and screen design elements with the customer before moving on to the core program development.
Development Stage
Time: 640 hours
Cost: $25 600
During the core development phase, our development team begins constructing an early version of a fully-fledged product using the previously specified tech stack.
Testing & Launch
Time: 240 hours
Cost: $6 480
The testing phase is critical for gathering user feedback and enhancing the application's functionality to make it more user-friendly and to ensure that the product works properly.
Your program is finally ready to go to market once QA professionals have finished stress testing, unit testing, and security testing, and all application enhancements have been deployed. It also necessitates post-release support in order to introduce new features and stay competitive.
Writing Technical Documentation
Time: 40 hours
Cost: $1 600
This step is essential to generate a single document containing all of your product's information and instructions.
Successful Doctor Appointment Apps in the Market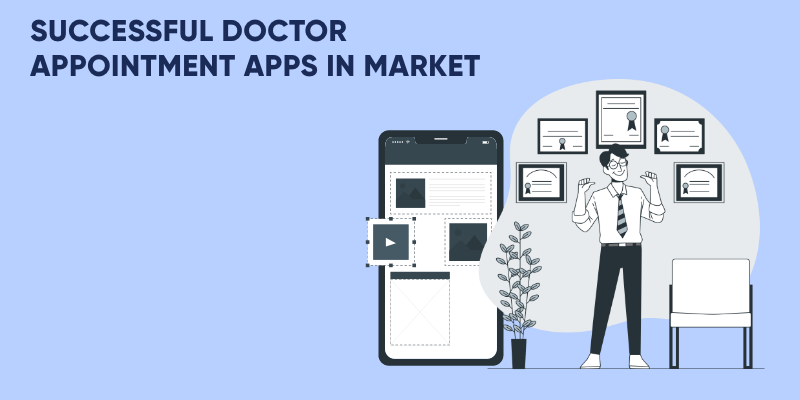 As a result, now that you're aware of the advantages of developing an online doctor appointment system, consider developing this software as an investment that you may profit from in the near future.
Check out some of the most popular doctor appointment scheduling apps available today, such as ZocDoc HealthTap, Practo, and Doctolib. You'll see how these apps benefit both patients and medical professionals in a variety of ways. An appointment app is difficult to overlook as a method of monetizing doctor-on-demand services. Let's take a closer look at each example.
ZocDoc
The app which was founded in 2007, is a marketplace where doctors advertise their services and patients schedule appointments with doctors in three easy steps. ZocDoc uses artificial intelligence to assist patients in finding doctors in more than 50 specialties. Patients may scan their insurance plans and find providers who cover such therapies, which is one of the most remarkable benefits. This app is available as a web app as well as a native mobile app for iOS and Android.
HealthTap
Patients can subscribe to HealthTap's app, which was founded in 2007. Patients can use this app to schedule appointments with doctors via video calls or live chat. Doctors, insurance companies, and employees can pay for a B2B telemedicine service, as well as some items for employees. HealthTap is available as an online service or as a mobile app.
Practo
Practo, a 2008 app, has over five million downloads on Google Play. The popularity of a product is increses after providing more value to its users. Patients may visit their doctors online, submit prescriptions, set pill reminders, schedule physicals, and order medication with this app. Practo is compatible with all web and mobile platforms.
Doctolib
Doctlib, a French unicorn, was founded in 2013. Depending on the type of subscription, its website and app allow users to book medical appointments, provide the option of telemedicine visits, accept payments, view doctors' and patients' profiles, and access other administrative features. Doctolib is currently available in France, Germany, and Italy, with 300,000 practitioners and 60 million users – the majority of them have used the service to schedule an appointment.
In Conclusion
So, if you have any queries about how to design a doctor scheduling app after reading this post, we can assist you in determining the best model for your needs. We understand the primary challenges, risks, and aims of the healthcare business and are willing to share our technical skills with you. We have experience developing healthcare applications of various degrees and complexity.
FAQs
How much will it cost to develop a custom doctor booking app?
The cost of development is often determined by the features and complexity of the desired project, as well as the terms and team members involved. Please contact us for professional advice and the cost of your software development.
How much time do you need to build a custom doctor appointment product?
The length of time it takes to develop a product depends on the number of features, design, complexity, deadline, and business objectives. Clients that are planning a long-term commitment get prior to service. A six-month project is the ideal minimum duration. During this time, we encourage a high degree of collaboration in order to provide a product that best fulfills your needs on schedule.
We provide the entire development process:
Discovery phase
MVP production
UI/UX design
Web and mobile development
Quality Assurance
Support
How to choose a reliable healthcare software development company?
First and foremost, you must choose a reliable partner with a track record of completed projects, positive client feedback, and referrals. Choosing a trustworthy telemedicine software development firm involves selecting a partner who will work with you and create software that is tailored to your specific requirements.
Echo Innovate IT guarantees that we provide the most sophisticated and secure software, including IoT, artificial intelligence, conferencing engines, and AR/VR, to meet all of your requirements. We create telemedicine software that suits your company's values and expands your market reach, allowing you to stay connected in the digital era.